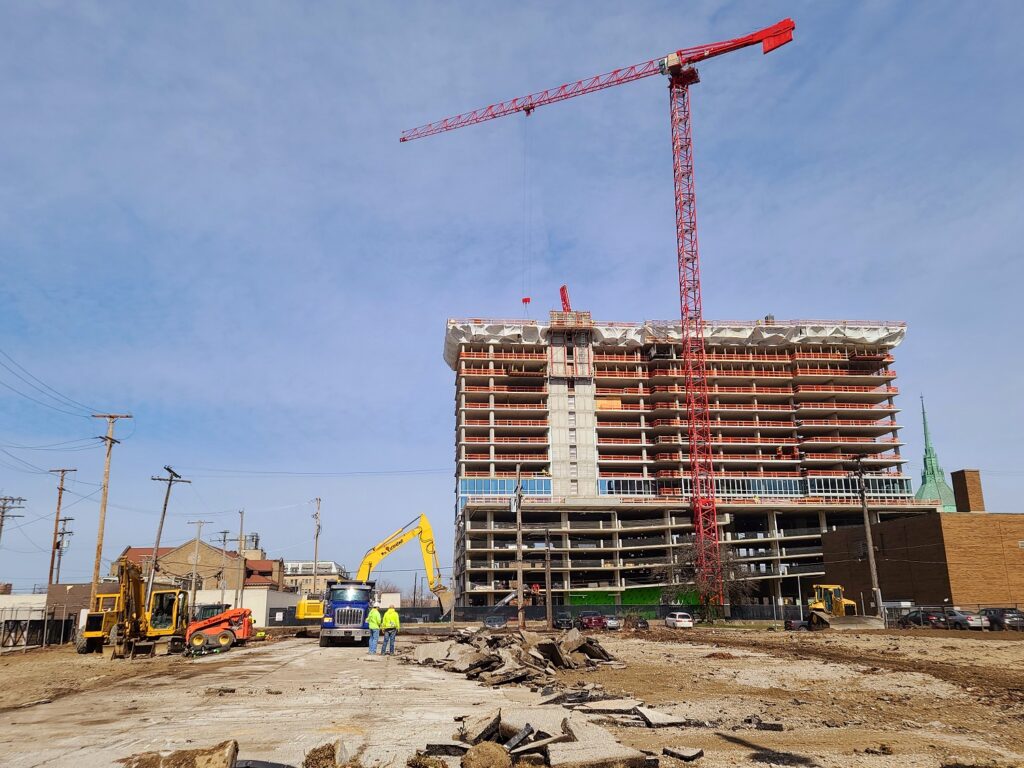 Two high-rise towers at the Circle Square development are under construction in this recent view from Euclid Avenue near East 105th Street in Cleveland's University Circle. The 24-story Artisan is well underway while the 11-story Library Lofts is just getting started in the foreground. More buildings could soon be added at Circle Square if Midwest Development Partners applies for a megaprojects tax credit (KJP). CLICK IMAGES TO ENLARGE THEM
Round two for TMUD applications starts May 18
This week, the Ohio Department of Development announced that it is opening round two of its new and popular Transformational Mixed Use Development (TMUD) tax credits program on May 18. Authorized for four years with up to $100 million in tax credits available each year, the deadline for submitting TMUD applications for Fiscal Year 2023 is 4 p.m. July 8.
As it did last year — the TMUD program's first — the announcement is certain to fuel speculation as to which projects will be submitted by their developers for tax credits. More projects missed out on credits than there were award winners in Fiscal Year 2022. Of 42 applicants, only 13 won credits. And there are likely to be some new applicants this year. Ohio's 2023 fiscal year for the state government starts July 1, 2022.
Last year, the application deadline was Oct. 29. But awards weren't announced until March 2. It is possible that awards may be made more quickly this time around due to the Ohio Tax Credit Authority's (TCA) greater familiarity with the new program.
One of the likely candidates to appear among the new applications is phase two of Harbor Bay Real Estate Advisors LLC's Market Square development in Cleveland's Ohio City. Due to brisk leasing activity at phase one, called INTRO, the Chicago-based developer is looking at a 15- to 16-story-tall residential tower just south of the nine-story first phase along West 25th Street near the West Side Market.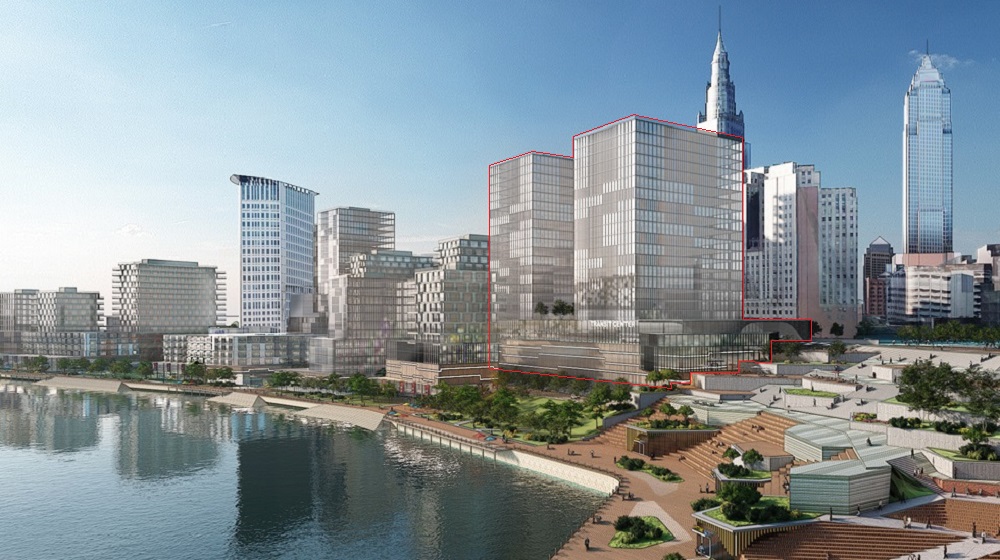 One or more the buildings shown here along the Cuyahoga River are planned by Bedrock but will need substantial public funding for infrastructure and public spaces along downtown Cleveland's "other waterfront." The building outlined in red and featuring offices for Rocket Mortgage and other growing companies may be the priority structure (Bedrock).
Another possible applicant is one or more buildings proposed as part of Bedrock Real Estate's riverfront development next to Tower City Center. The growing local offices for Rocket Mortgage, a sister company under Dan Gilbert's Rock Ventures umbrella, are facing an expiring lease at the end of 2026 in the Higbee Building which is owned by Vici Properties. Bedrock recently hired world-renowned architect Sir David Adjaye to design one or more new riverfront buildings.
Some of the applicants that missed out on awards from the first round are likely to resubmit applications this time. They include the $125 million Studio West 117 campus development at the Lakewood-Cleveland line, the 15- and 18-story Farnsleigh Apartment towers at the Van Aken District in Shaker Heights, plus future phases of the $300+ million Circle Square development in Cleveland's University Circle that could include a hotel, office tower and/or another high-rise apartment tower. Others will likely apply for TMUD credits as well.
In March, four Northeast Ohio projects won a total of $53 million in TMUD credits. Most of that, $40 million, was awarded to a single project — the 1.4-million-square-foot, $465 million Centennial redevelopment of the former Union Trust Bank at 925 Euclid Ave. in downtown Cleveland. The $40 million award represents the maximum allowable credit that can be given to any single applicant.
The others were CC Superior Holding LLC which won $8,562,068 for its $100 million mixed-use development next to Cross Country Mortgage's newly relocated headquarters. Downtown Elyria Redevelopment won $3,414,100 for a $35.7 million project. And Uptown Mentor won $1,158,577 for a $14 million redevelopment of a blighted stretch of Mentor Avenue in its namesake suburb.
Dubbed the "megaprojects program," TMUD tax credits benefit mostly large, costly, complex projects intended to create jobs and new tax revenues for Ohio's largest cities. Up to $80 million is available for megaprojects in or within 10 miles of Ohio cities with 100,000 or more people — i.e.: Akron, Cleveland, Cincinnati, Columbus, Dayton and Toledo.
A megaproject is defined as having a value of at least $50 million and measuring 15 stories or taller or have at least 350,000 square feet among all buildings in connected parcels whose construction or renovation work has not yet been completed.
Projects in smaller cities, called general projects, are eligible for an overall pot of $20 million or more in TMUD tax credits. The state issued more than $20 million — $23,306,045 to be specific — in the first round for general projects.
Megan Nagy, public information officer at the Ohio Department of Development, noted that while the Ohio Revised Code caps urban awards at $80 million, there is no cap for general projects. Major city awards for Fiscal Year 2022 were $76,693,955.
"The Ohio Revised Code states that not more than $80 million can be approved for major city projects, and that for any requests over $80 million for major city or $20 million for general projects, the TCA shall rank and order those projects," Nagy said in a recent interview with NEOtrans. "The next highest-scoring major city project (in 2022) would have put the major city funding amount over the $80 million cap. General funding projects (in total) are allowed to exceed $20 million."
Another interesting factor in the first round is that the TCA, with one exception, did not make partial tax awards to spread around more credits to more applicant projects. Nagy said this was based on scoring criteria approved by the TCA that were noted in the program guidelines.
Beginning with the highest scores in both categories — major city and general — TCA said it will commit the amount requested in the application until there is no longer a sufficient allocation of credits to do so. If an additional allocation of tax credits remains, TCA may offer a partial credit amount to the next-highest scoring applicant, she said.
Nagy noted there was one partial funding award in the first round. The 1 Flax Street-East Riverfront District project in Delaware, north of Columbus, requested $3,604,224 in tax credits but was awarded the remaining amount available — $3,420,795 — based on the total allocation of $100 million.
END