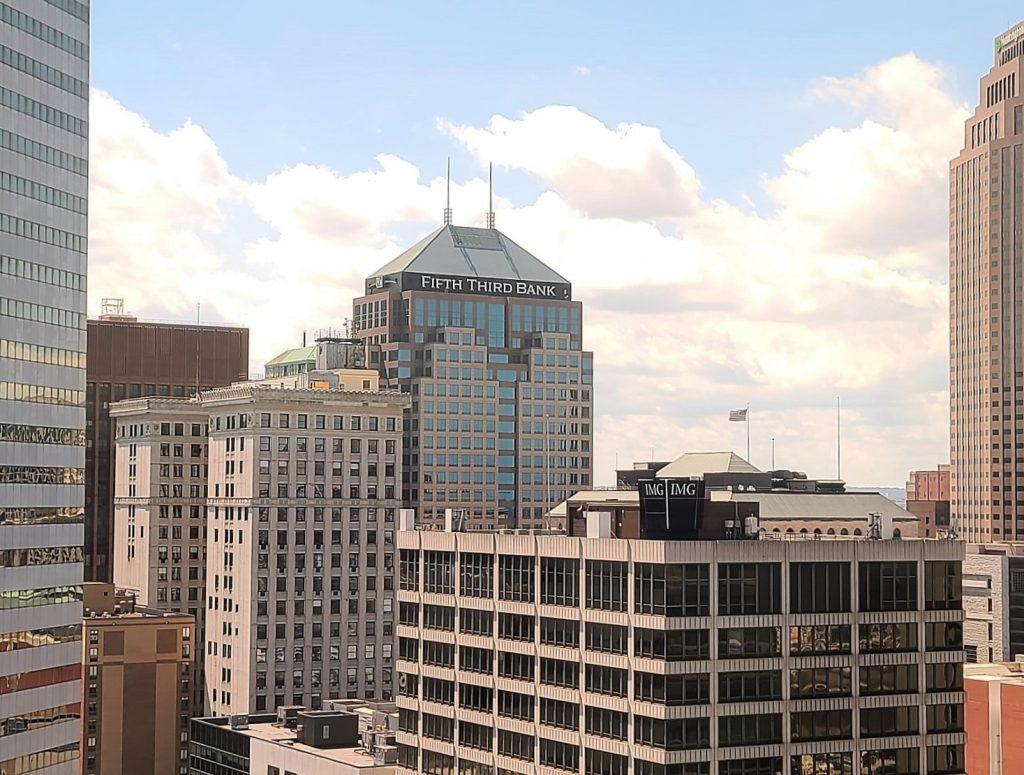 Fifth Third Center is the sixth-tallest building in the downtown Cleveland skyline, but will rank seventh after the new Sherwin-Williams headquarters tops out sometime in 2024. McDonald Hopkins has been at Fifth Third Center since shortly after it was built in 1991 and will remain there for at least another 12 years (KJP). CLICK IMAGES TO ENLARGE THEM
Law firm making big renovations to downtown offices
After announcing its intentions to stay at its current offices in downtown Cleveland, McDonald Hopkins LLC is doing more than just staying put. Last week it submitted architectural documents to the city's Building Department for an $8 million renovation of its headquarters site. The 92-year-old law firm had considered relocating to other buildings, both new and planned, real estate insiders said.
McDonald Hopkins submitted multiple planning documents as part of a construction permit application to renovate the three floors its currently occupies at Fifth Third Center, 600 Superior Ave. It is located on floors 20-22 of the 27-story, 446-foot-tall building. The law firm's occupied space on those three floors total 49,020 square feet of offices, according to the permit application submitted to the city on Aug. 26.
The improvements include new technology, office furniture, cabinetry, carpeting, acoustic features and other interior decorations. But much of the attention will be focused on new heating, air conditioning, ventilating and filtering systems plus ductwork, replaced plumbing and fire suppression equipment, new bathroom fixtures, waste infrastructure, as well as new electrical, lighting and communications systems, plans show. The architect of the planned renovation work is Vocon Partners, LLC of Cleveland which specializes in interior office design. The construction manager is HEAPY Solutions LLC of Dayton.
"It is exciting to be working towards a new workspace with modern efficiencies that foster creative thinking and collaboration while further enhancing our culture and work experience," said David Kall, managing member of McDonald Hopkins' Cleveland office, in a written statement. "We are focusing on the future by being efficient and effective with our space, being more accommodating not only to the needs of our attorneys, but for all our employees. The renovation is geared towards thinking ahead to the way law firms will be practicing 10 or 15 years from now."
The firm, in recognizing how the pandemic has forever transformed office and work life for forward-thinking organizations, has charged a team of architects, technology consultants, and furniture vendors to incorporate innovative ideas such as one-size offices, shared office space, collaborative workspaces, and "Zoom rooms," where attorneys and staff will have state-of-the-art video, audio and lighting equipment to enhance virtual work.
"The new design will allow us to continue to expand and grow," said McDonald Hopkins President Shawn Riley. "During the pandemic, we recognized the ability of our attorneys and staff to work effectively in a hybrid environment. We want to give them the opportunity to continue to work remotely while also understanding that people want to come to the office for the social impact, training, mentoring, brainstorming and strategizing together."
He said the renovated offices will be an important piece of retaining and recruiting new talent to the firm, which he considered a high priority across all jobs sectors right now, and especially for law firms. Real estate brokerage Jones Lang LaSalle (JLL) represented McDonald Hopkins in its relocation vetting process and in negotiating the renewal of the company's lease. JLL's Rob Roe, Jon Vanderplough and Heather Gilleland said the ongoing flight-to-quality trend has continued in Cleveland even throughout the pandemic with companies re-evaluating their space needs and opting for new upgrades to enhance their current offices, or opt for newly renovated buildings with extensive amenity offerings.
Each of the three floors of Fifth Third Center building measures 19,070 square feet, including common areas. But McDonald Hopkins will be occupying 16,340 square feet per floor which can accommodate up to 489 workers. Or, when hosting meetings and events at its 21st-floor main conference room, plans show that up to 665 workers and visitors can be accommodated.
NEOtrans sent two e-mails to McDonald Hopkins media contact Cynthia Tonet-Stewart that were opened but not otherwise responded to prior to publication of this article. Among the questions NEOtrans posed was how many people work for the law firm at its Cleveland headquarters and what the projections are for employment growth in the near future. She was also asked to confirm rumors that the firm had looked at being the anchor tenant in a new, amenity-laden downtown office building that was proposed but since scuttled, according to sources.
Instead, McDonald Hopkins announced last March that it would renew its lease for another 12 years at Fifth Third Center. The firm has been at the downtown tower since it was built as Bank One Center in 1991 on the site of the Hollenden House Hotel. The Class A office building was renamed in 2004 after Bank One was bought out by Morgan Stanley; Fifth Third Bank acquired the property and relocated offices to it.
The 508,397-square-foot building kept its name after Hertz Investment Group of Los Angeles acquired the tower and adjoining parking garage in 2015. Hertz is reportedly selling Fifth Third Center and would focus its efforts on acquiring, improving and possibly repositioning within the market another downtown Cleveland office building, a different source said.
END