Edison, Premium Metals properties sell
In the past week, two significant property sales occurred near the lakefront in Cleveland's Gordon Square neighborhood. While both occurred on different sides of Breakwater Avenue, one sale was of a former light-industrial property that was redeveloped with residential a little more than five years ago. The other sale was of a light-industrial property that has been destined for years to become residential and may now be on a faster ride in that direction.
The sale of the 3.4-acre Premium Metals property, 5901-6001 Breakwater, was recorded Jan. 10 by the Cuyahoga County Fiscal Office. Acquiring the two parcels comprising the Premium Metals site was TD BWA CO LLC, an affiliate of a development company formed in December 2020 called TurnDev. It was launched by several established real estate heavy-hitters including Nathan Wynveen, formerly of Hemingway Development, Jim Doyle of Bellwether Enterprises and Ned Huffman, Bellwether's founder, plus Cross Country Mortgage CEO Ron Leonhardt Jr. and Korman Jackson & Krantz Managing Partner Jon Pinney.
Terms of the sale were not disclosed in public records. When contacted by NEOtrans, Pinney also wouldn't disclose the sale price or outline a detailed development vision for the site yet. However, he confirmed that TurnDev is the buyer and that it anticipates converting the property's use from industrial to residential. He also acknowledged that an assessment of the site's pollutants has been undertaken and showed a residential conversion was feasible — hence the sale.
Cresco had listed the property for sale at $3.4 million, or $1 million per acre, but it was valued at $1,276,000 for tax purposes. There are several buildings on-site, including an historic, two-story brick building that might be suitable for a residential conversion. On the other hand, there are two modern warehouse structures that likely would not offer a potential future use as residential.
"Transforming defunct industrial buildings/land into dense housing or mixed use in a thriving neighborhood market that has less than 5 percent apartment vacancy is a huge win!" said Cresco Vice President David Leb on social media. "Great working with the seller along with my colleague Kevin Kelly to find the right buyer here and get to a successful closing."
In 2017, NRP Group of Cleveland had just finished building The Edison at Gordon Square apartments for $55 million on 3 acres across the street and to 5.2 acres extending another block farther north of an extended Father Caruso Drive. The speed at which the 308 apartments leased out at market rates impressed NRP executives to the point that they began pursuing building on the Premium Metals site a phase two with 318 apartments and a multi-level parking garage. That was on a larger site than is now available following the Krueger Group's two neighboring developments — Breakwater Storage and West 58th Apartments.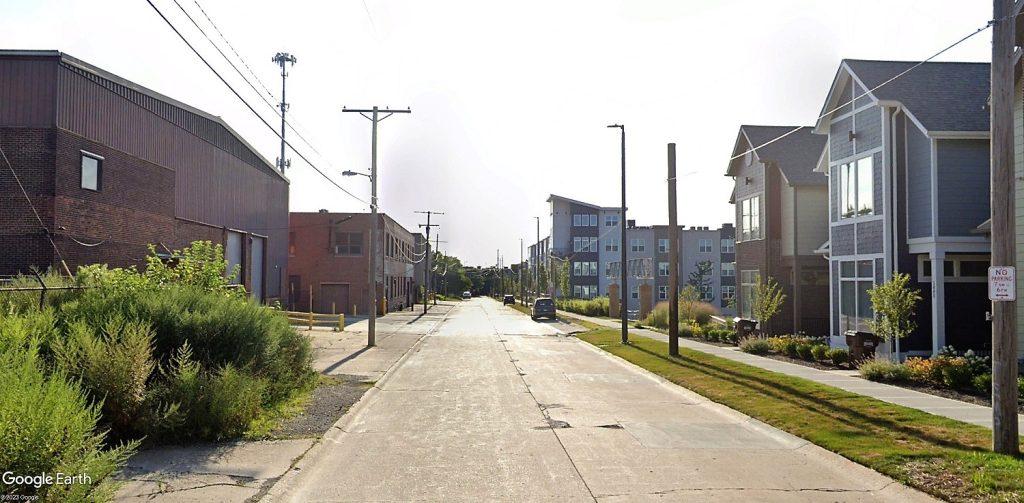 On the left or south side of Breakwater Avenue in Cleveland is Premium Metals, a light-industrial use that was more common among Gordon Square's properties near the lakefront. It will soon be converted to housing which is what the north side of Breakwater became in 2017 with the completion of The Edison. Properties on both sides of the street sold in the past week as part of the immediate area's ongoing evolution toward residential (Google).
Ultimately, NRP reportedly wanted to offer a differentiated residential product that didn't compete with its own property, The Edison. So it began pursuing development of The Peninsula — a 316-unit riverfront apartment and townhouse complex on Scranton Peninsula in the Flats. NRP Group has been securing financing for the project including a $6 million Ohio Brownfields grant and a tax-increment financing arrangement with the city. Having more financial liquidity was a reason behind the other big property sale in the past week in Gordon Square.
Residents of The Edison came home last Friday to find two letters taped to their apartment doors. One was from NRP Group and the other from The Edison's new owners, Columbus-based Coastal Ridge — one of the largest apartment property owners in the country. It has under its management more than $3 billion worth of assets representing in excess of 35,000 apartment units, according to its Web site. Terms of this deal weren't publicly disclosed either. The Edison was valued in 2021 at $38,356,900 by the county for tax purposes.
"It is with regret that we inform that effective 01/05/23, NRP Management LLC will no longer be your management company for The Edison at Gordon Square," the letter to residents from NRP read. "The current ownership of The Edison at Gordon Square is selling the property, and the new owner has decided to manage the community independently. The owner has exercised their right to change management companies."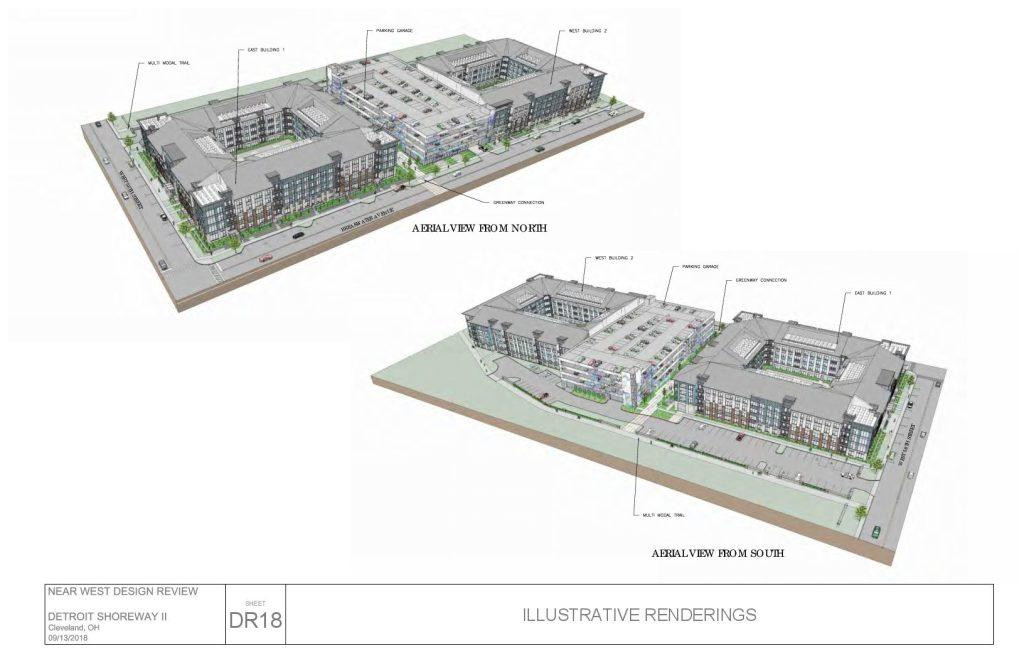 In 2018, NRP Group proposed to build phase two of The Edison at Gordon Square on a larger piece of land than is now available. Back then, the proposal was to build a 318-unit apartment complex in two buildings with a multi-level parking garage in between them. It abandoned the project in favor of developing on Scranton Peninsula in the Flats (NRP).
"We are excited to announce that management for Edison at Gordon Square has changed, effective January 5th, 2023, to Coastal Ridge Real Estate," the letter from Coastal Ridge read. "We already know this is an amazing community, and we look forward to serving the people who call it home! It is our hope that your stay has been great thus far and our goal is to ensure that experience continues."
Speaking on condition of anonymity, residents of The Edison told NEOtrans that they could tell some big changes were coming to the seven-building complex. The Edison's on-site leasing office was open less often, offering fewer hours of business on weekdays and closing completely on weekends. Then, as leasing office staff left for other opportunities, they weren't replaced by new staff, the residents said.
Yet another significant development is in the works in the immediate neighborhood. Interior demolition work continues at the former Westinghouse plant, 1200 W. 58th, in preparation for its planned conversion into a mixed-use complex. Trebilco LLC reportedly plans to redevelop the 1915-built tower into roughly 30 apartments on the top two floors and approximately 92 boutique hotel rooms on floors two through six, according to conceptual plans. A 100,000-square-foot computer hardware recycling warehouse for Trebilco's sister company, MCPC, plus a two-level parking garage for upwards of 250 cars is also under consideration, according to preliminary plans secured by NEOtrans.
END
Our latest Greater Cleveland development news