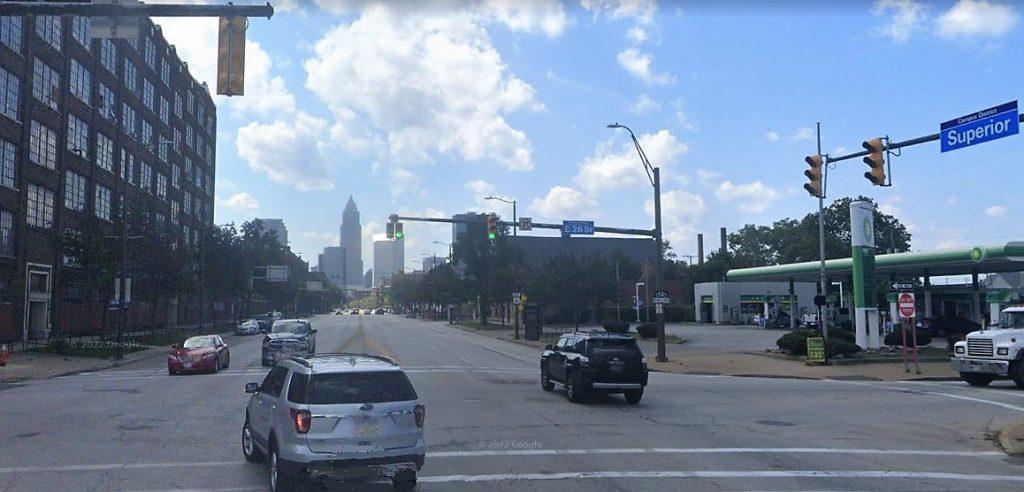 Looking west at Cleveland's Superior Arts District and downtown from the intersection of Superior Avenue and East 26th Street plus the ramps to/from Interstate 90. This is the area in which TurnCap/TurnDev has reportedly made its largest play for properties — about 650,000 square feet and counting. The largest of these is the Artcraft Building, at left (Google). CLICK IMAGES TO ENLARGE THEM
Cleveland urban core a focus of actions
A Beachwood-based real estate development partnership that's less than two years old is making a lot of big moves in acquiring real estate in Cleveland's urban core. The "where, why and how" questions surrounding those acquisitions are answered by "who" is behind those buys.
TurnDev, a firm launched in December 2020 by real estate veteran Nathan Wynveen and other dealmaking powerbrokers aligned with its older — by just 18 months — financing companion TurnCap, is acquiring properties on the west, east and south sides of downtown Cleveland. And one may presume that if Lake Erie wasn't there, it would be buying land on the north side of downtown as well.
Other heavy hitters involved in TurnCap and TurnDev are managing partners Jim Doyle of Bellwether Enterprises and Ned Huffman, Bellwether's founder. And it should be noted that Ron Leonhardt Jr., CEO of CrossCountry Mortgage, also is reportedly an investor in these acquisitions and potential developments. So far, NEOtrans has been able to identify four major property assets or groupings of properties that Turn Cap/TurnDev contractually has under control but not yet deeded to it. They are, by location:
Cleveland Vibrator site — NEOtrans reported in March that there is a purchase agreement in place for this property located in Ohio City's Hingetown neighborhood and was confirmed by Jon Pinney, a managing partner at TurnCap. The property's owner, Joe Kubic, CEO of the downtown-based advertising firm The AdCom Group, said in an e-mail today that he sold the 1.7-acre property at 2828 Clinton Ave.
"Yes, I sold the property this past spring to investors represented by Jon Pinney," Kubic said. Although he didn't disclose the terms or the investors, NEOtrans understands that they included TurnDev/TurnCap as well as Leonhardt.
For its seasonal beer garden, Saucy Brew Works is leasing the former plant of the 99-year-old company which manufactures material handling equipment. Cleveland Vibrator relocated to a larger, more modern facility on Hinckley Industrial Parkway in Cleveland. Saucy Brew Works' founder Brent Zimmerman would not comment on whether the beer garden would be part of the site's redevelopment which may involve several floors of apartments above and/or next to a ground-floor restaurant with a patio.
The Cleveland Vibrator property is one of the last large available parcels left undeveloped in Hingetown, a vibrant neighborhood of restaurants, shops and apartments that are commanding top-of-the-market rents. Zoning for the site allows a building of up to 60 feet tall, although the new Church & State development across Church Avenue reaches 11 stories high.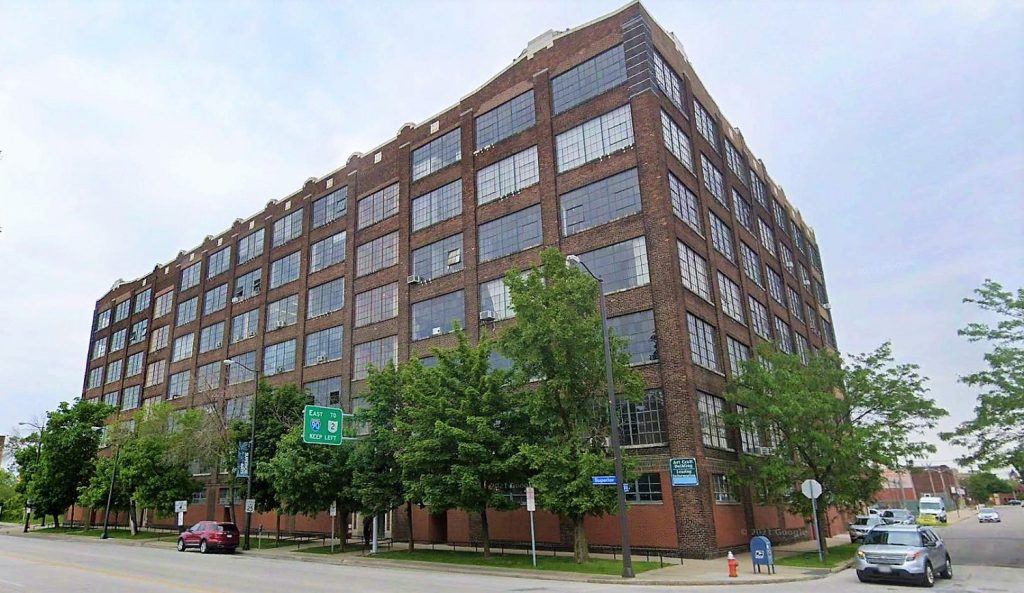 One month ago, NEOtrans learned that the Artcraft Building has a new suitor. Today, we learned who it is — TurnCap/TurnDev. TurnCap is a development financing company while TurnDev is a developer. Both are relatively new players in Cleveland and beyond, but TurnDev wasn't formed until December 2020 (Google).
Artcraft Building — In early July, NEOtrans learned that the K&D Group of Willoughby had ended its pursuit of redeveloping the 103-year-old Artcraft Building, 2530-2570 Superior Ave., into 159 live-work apartments. It's not hard to miss this 259,847-square-foot, seven-story structure. It's the largest building in the city's former garment district, now the Superior Arts District, and overlooks Interstate 90.
Instead of K&D Group, a certificate of disclosure filed July 6 indicated that someone else was in the process of acquiring the Artcraft Building and the 1.5 acres of parking lots behind it. The public record didn't identify the buyer. However, in an e-mail recently sent by a representative of TurnCap to a nearby property owner, the sender confirmed that the financing/development combine had the Artcraft Building under contract. NEOtrans is not revealing the identity of either the sender or recipient of the e-mail, nor is it being quoted directly because neither gave permission for it to be publicly released.
GBX Group, a historic property renovations firm, acquired the Artcraft Building in May and had previously considered buying the building and moving its headquarters to it in the mid-2010s. Instead, GBX established its offices nearby at Superior and East 21st Street. The firm has helped finance numerous renovations and conversions of former garment district buildings in the Superior Arts District in recent years in partnership with Leonhardt. The headquarters of his fast-growing CrossCountry Mortgage is relocating this fall from suburban Brecksville to several 1910s-era buildings totaling 168,000 square feet that are being repurposed for $46 million.
Superior Arts District — Consistent with the Artcraft Building and Leonhardt's interest in improving the surroundings of CrossCountry Mortgage's new headquarters, TurnCap is acquiring multiple other properties along Superior in the East 20s. The aforementioned e-mail referred to TurnCap having 650,000 square feet of properties, be they land or buildings, under purchase agreements or direct ownership.
That significant portfolio includes the nearly 260,000-square-foot Artcraft Building, a large building in its own right. The rest of the almost 400,000 square feet of property is not explicitly identified in the e-mail but acknowledges it is along Superior. It also refers to properties TurnCap doesn't yet control but would like to, including those along sidestreets extending north to St. Clair Avenue. TurnCap declares in the e-mail the firm's intention to "roll up" the district.
The arrival of CrossCountry Mortgage's new headquarters, with more than 600 employees initially and up to 1,000 in coming years, is enough to draw real estate investor interest to the Campus District at the east end of downtown. But if the Cleveland Browns relocate their pro-football stadium and supportive real estate developments to the East 20s area north of St. Clair, TurnCap's play will have been a prescient move. NEOtrans recently reported rumors that at least two sites are reportedly under consideration for a new stadium if a study now underway shows renovating FirstEnergy Stadium is not cost-effective.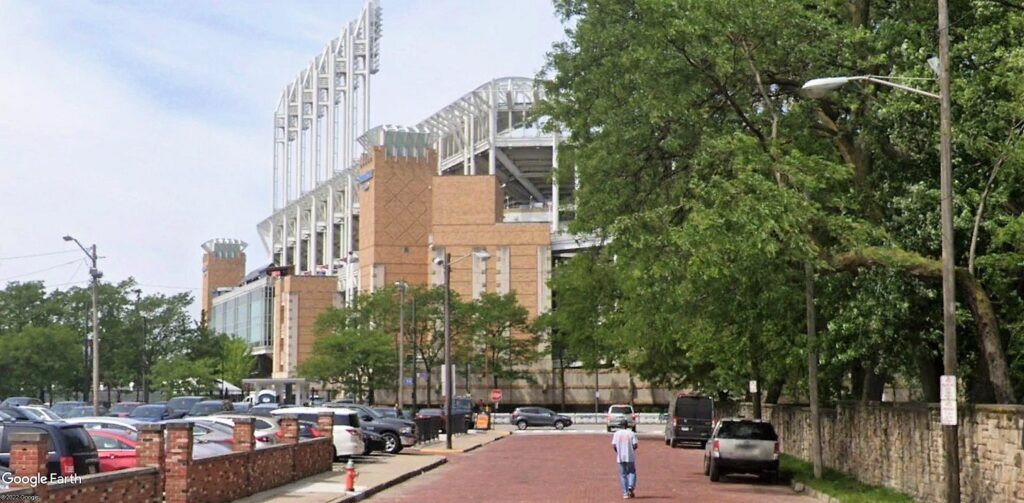 TurnCap/Turn Dev is also reportedly making a play to help develop a Ballpark Village next to Progressive Field, home of the Cleveland Guardians. While the exact location of the development isn't known, by process of elimination it is likely to be south (or left, as seen here) of Erie Street Cemetery and Sumner Court (Google).
Ballpark Village — One of the more intriguing insights shared with NEOtrans is that TurnCap/TurnDev are seeking to invest in buying property and developing land for a "Ballpark Village" just east of Progressive Field, home of the Cleveland Guardians Major League Baseball team. Again, specific properties weren't identified but the source who spoke off the record said a multi-family development was envisioned.
NEOtrans has reported in recent months about potential developments surrounding downtown's professional sports facilities, namely those for the Browns, Guardians and basketball Cleveland Cavaliers. But there's really only one place for TurnCap/TurnDev to join the party in developing a ballpark village — south of Erie Street Cemetery.
Development south and west of Progressive Field is complicated by Interstate 90, the rapid transit tracks and the Cuyahoga Valley. The Guardians recently acquired land north of the ballpark for development but a team spokesman said the Guardians will not act on it until sometime after a $435 million multi-year renovation to Progressive Field is well underway, starting this fall. And, to the east but north of the cemetery, New York City-based Somera Road and Chicago-based Leopardo Companies will team up early next year to build the seven-story, 184-unit The Apartments at Bolivar.
E-mails sent by NEOtrans to Wynveen, a former principal at Hemingway Companies of Cleveland, and CrossCountry Mortgage's Leonhardt seeking more information weren't responded to prior to the publication of this article. Pinney, also a managing partner at Cleveland law firm Kohrman Jackson & Krantz, said in an e-mail that he's been very busy but promised NEOtrans that he "will touch base soon with some responses."
END