This is the twenty-sixth edition of Seeds & Sprouts – Early intelligence on Cleveland-area real estate projects. Because these projects are very early in their process of development or just a long-range plan, a lot can and probably will change their final shape, use and outcome.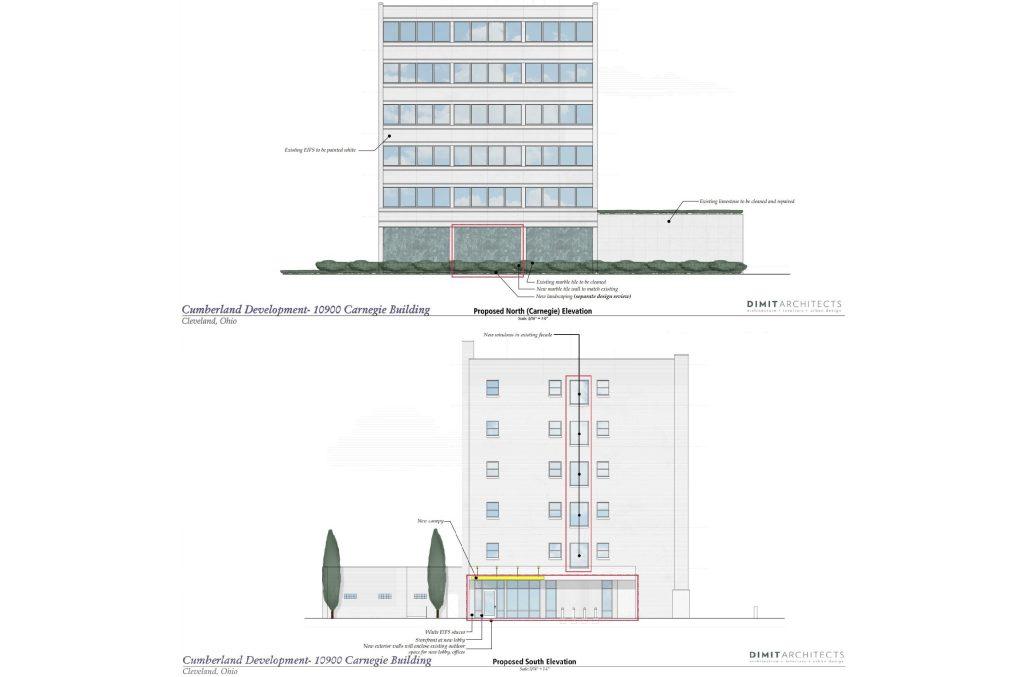 CedarTech and Cumberland Development are joining forces on updating a six-story, 67-year-old office building at 10900 Carnegie Ave. in Cleveland's University Circle district. The renovations include enclosing a driveway under the building and removing a pedestrian entrance facing Carnegie (Dimit). CLICK IMAGES TO ENLARGE THEM
Tech office plans for UC revealed
Plans for renovating a former Cleveland Clinic office building into a place for start-up firms especially for those engaged in health care and bio-tech were revealed when the architect posted the plans on the City of Cleveland's Building Department web portal. Dimit Architects of Lakewood submitted the plans on behalf of CedarTech LLC of Pepper Pike. Those plans show the renovation work is estimated at $1.2 million for the 49,205-square-foot, 1956-built building at 10900 Carnegie Ave. in the University Circle area.
NEOtrans first reported on this project back in October 2021 as being led by Cleveland-based Cumberland Development LLC. However, Cumberland CEO Dick Pace said he is actually a partner in the project with Brian Smith's CedarTech. Smith was in charge of Cleveland Clinic's construction and strategic project development efforts from 1993 to 2019, according to his LinkedIn profile. CedarTech acquired the building and its 1.37 acres of land, mostly used for parking, in July 2022 for $1,357,395, county records show. Cleveland Clinic had used the structure for back-office functions and identified it as the DD building in its letter-based facility identification system.
Although the building has a Carnegie address, its parking lot is accessed from Cedar Avenue to the south. So too will be the building's new main entrance, after renovations are complete. Plans show the driveway under the building and its pedestrian entrance on Carnegie will be removed, making that street-level, north façade a dead space. The city's zoning maps show no requirements for maintaining a pedestrian-friendly frontage on Carnegie, even though it is only 750 and 1,250 feet, respectively, from the Greater Cleveland Regional Transit Authority's Cedar-University bus and rapid transit stations. But the many high-speed, curving roadways in the vicinity make it more conducing to driving than walking.
The driveway under the building will be enclosed and converted into a lobby space. There will also be new exterior walls, paint and windows added. All of the interior, existing walls will remain with the addition of partition walls. New ceiling, wall and floor finishes are also to be installed, according to plans submitted to the city. New lighting, electrical, and heating-ventilating-air conditioning will be provided as well. Pace said his existing office properties nearby, especially the Baker Electric Building, 7100 Euclid Ave., are fully leased and need more space to accommodate new and growing employers.
EO Cleveland to open office downtown
The Cleveland chapter of the 1993-founded Entrepreneurs' Organization is opening offices and meeting facilities downtown after having little more than a mailbox at Clemens Corporate Park on Clemens Road in Westlake. According to a building permit application submitted to the City of Cleveland last week, EO Cleveland will invest approximately $250,000 to establish a 4,121-square-foot office at 1020 Bolivar Ave. in the Gateway District. HSB Architects + Engineers of Cleveland is providing design services for the renovation work that includes non-structural architectural and mechanical-electrical-plumbing elements.
EO Cleveland, which began in 2000, will have its presence on the second floor of the old Ohio Bell Telephone Co. operations building. The four-story building with ground-floor parking was recently renovated with a modernized lobby, tenant lounge and rooftop deck. New York City-based real estate firm SomeraRoad bought the property in 2019 and refurbished it with affordable Class B offices. SomeraRoad also has an office in Pittsburgh.
According to its Web site, the Entrepreneurs' Organization is a member-based group. They host a wide variety of local events designed to help members learn and grow as business leaders. Throughout the year, multiple chapters band together to create business-networking conferences.
"Out of nearly 250 EO chapters worldwide, we're one of four that will actually have an office," said Adam Fleischer, president of EO Cleveland. Fleischer also owns The Wine Spot in Cleveland Heights. "This (downtown office) will be a meeting location for social events and learning events. It will also be a multi-use office space as the organization does have a small staff that will spend some time working out of there. We have close to 200 members."
SomeraRoad and its construction management and co-development partner Leopardo Companies of Chicago are also submitting building permit applications to construct a 184-unit apartment building in place of and atop two neighboring parking garages at 1060-1124 Bolivar. "Given the great location, proximity to the great sports, entertainment and dining options in downtown Cleveland, we believe a high-quality, mixed-use and residential development would be complementary to our renovation of the historic office building at 1020 Bolivar that we recently completed," wrote Andrew Donchez, vice president of development at SomeraRoad, in a 2021 e-mail to NEOtrans.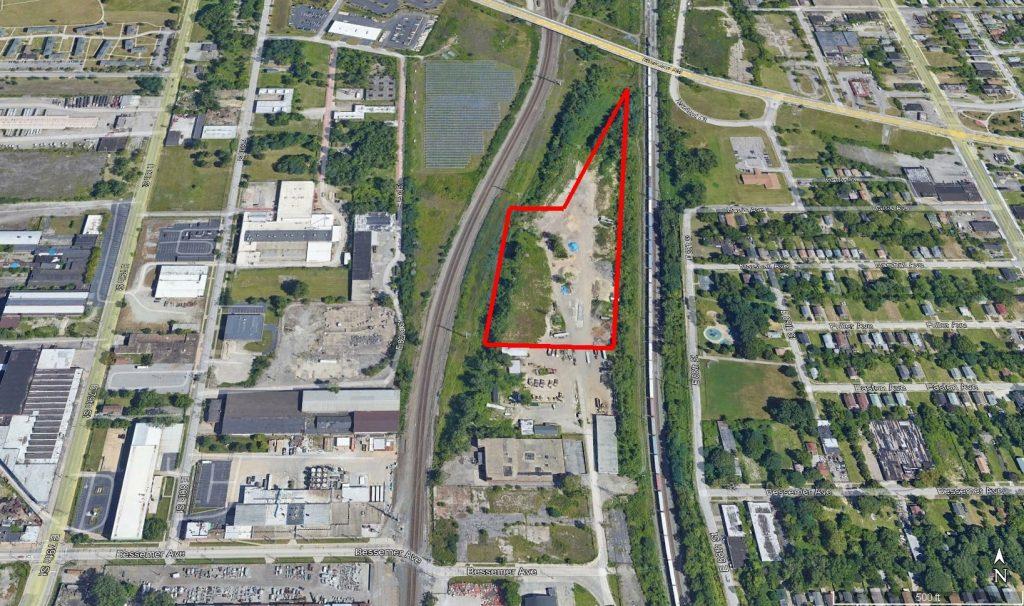 Concrete and aggregates firm Tech Ready Mix is acquiring nearly 8 acres of land for what may be a new production and storage facility. The site, outlined in red, is just north of Bessemer Avenue and south of Kinsman Road in Cleveland. However details about the new facility's intended purpose remain unclear (Google).
Tech Ready Mix acquiring large parcel
According to public records, an affiliate of Tech Ready Mix Inc. is in the process of buying a 7.95-acre parcel of land from Buckeye Welding & Fabricating Inc. in Cleveland's Kinsman neighborhood for what could be a new production and storage facility. The acquisition by the concrete and aggregates wholesaler includes a vehicular easement through the 3.77-acre southern portion of Buckeye's property that it will retain at 3300 E. 87th St. Terms of the deal were not disclosed.
To carry out the transaction, Buckeye's two parcels are to be combined and then split into a newly shaped properties. The new northern parcel will be sold off to Tech Ready Mix, according to documents filed with the city by Haverfield Title Agency, Inc. of Rocky River. Tech Ready Mix's current facility is located at 5000 Crayton Ave., which is owned by Perk Company affiliate CAJ Properties.
Another Perk affiliate, McTech Corp., won design approval from the City Planning Commission in 2021 for its planned Construction Opportunity Institute on 8 acres of city-owned land immediately south of its existing offices at 8100 Grand Ave., next to the Opportunity Corridor Boulevard. However there has been no permitting activity for that proposed 48,000-square-foot facility, let alone future phases that could include an athletic facility, library and dormitory. Perk had previously sought to construct an asphalt and concrete plant instead of the job training institute but the city blocked it as incompatible with existing and planned food production and storage facilities in the surrounding area.
Perk and its related companies were not known to be affiliated with each other until more than a decade ago when they won lucrative construction and material supply contracts with the city, county, Ohio Department of Transportation and the Greater Cleveland Regional Transit Authority. That included the alleged use by white-owned Perk of its claimed minority-owned McTech and Tech Ready Mix to win minority-disadvantaged business contracts. Tech Ready Mix President Mark Perkins opened an e-mail from NEOtrans seeking comment and more information for this article but otherwise did not respond to it.
Joy Johnson, executive director of the Burten Bell Carr Development Inc., said she wasn't aware of what Tech Ready Mix is planning for the site. But in a Jan. 25 e-mail to NEOtrans, she expressed an interest in finding out. After two more e-mails from NEOtrans reminding her about our inquiry, she hadn't gotten back to NEOtrans with more information prior to publication of this article.
END