Called 'Building A' in the Downtown Lakewood redevelopment site plans, this proposed four-story building at Detroit and Belle avenues would have housed the offices of Roundstone Insurance. But after two years of seemingly endless civic deliberations around the project, the fast-growing insurance company has decided to not only leave the project but leave the city. That has put the project back on the drawing board, including to turn this structure into a five-story apartment building (Dimit). CLICK IMAGES TO ENLARGE THEM
Roundstone's departure forces redesign
After two years of seemingly endless meetings surrounding the redevelopment of Lakewood's former hospital site, Roundstone Insurance has not only left the development project but decided to leave the inner-ring suburb entirely. Currently located in the former First Church of Christ Scientist, 15422 Detroit Ave., the headquarters of this fast-growing insurance firm with up to 240 employees and $17.5 million in annual payroll is due to leave Lakewood in April 2024, according to Mayor Meghan George's administration.
Its departure has forced the $100 million Downtown Lakewood redevelopment back to the drawing board and prompted city leaders to engage in some civic self-reflection after this latest setback in trying to redevelop the 6-acre city-owned property that was once home to Lakewood Hospital until 2016 when it closed. The bad news and the self-reflection came at a City Council committee meeting and executive session earlier this week where George and Planning & Development Director Shawn Leininger laid out a "substantial" new design direction for the hospital site. That new direction was received positively by most council members.
"With these changes, the very good news is that we do have a path forward that does meet many of the initial objectives and goals of the downtown development," George said. "In fact with some of the changes we'll talk about, this is going to end up being one of the biggest if not the biggest investments in affordable housing in terms of a major development in the history of Lakewood. That's a good thing along with many of the other main focuses of this project."
Specifically, the four-story office building with ground-floor retail, called Building A, planned at the southeast corner of Detroit and Belle avenues will be redesigned as a five-story apartment building with 80-90 units and feature a little more space for ground-floor retail and other commercial uses. Additionally, the parking garage will have about a half-level of its reverse-ramping decks removed, taking with it about 80 parking spaces. Given Roundstone's demands for free parking and a $1.5 million job-creation and retention grant, Leininger estimates that it will cost the city only about $6,870 more per year over 30 years to deliver the Downtown Lakewood project without Roundstone.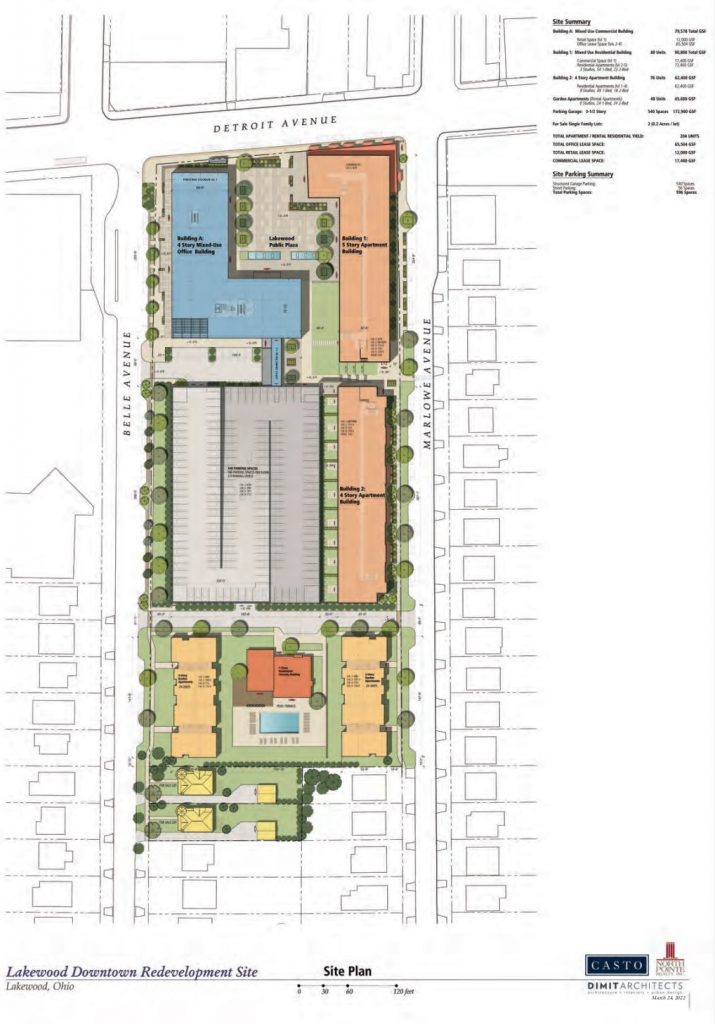 The most recent site plan for the 6-acre Downtown Lakewood development. From directly overhead, this will not be visibly altered as all of the same buildings will be in the same places except the uses for Building A, shown in blue at upper left, will be changed from office to residential. Also the parking deck in the middle will be slightly shorter. The townhouses at the bottom or south end of the site will remain (Dimit).
That may not sound like a big change, but it requires the city and development team, led by Columbus-based CASTO and Mayfield Heights-based North Pointe Realty, to revise its financial assumptions about the project. That includes a new tax-increment financing deal for site improvements, namely the $14 million parking garage, and a new financial agreement with the school district just as it had reached a tentative agreement under the assumption Roundstone would be a part of it.
"We continued to have our conversations with Roundstone to try to see what other options are available to the city to hopefully keep them here in Lakewood," Leininger said. "We talked about a couple of different scenarios. Unfortunately, none of those could satisfy Roundstone. And they shared with us on multiple occasions unequivocally that their position was to move forward with another site."
An e-mail by NEOtrans sent to Roundstone via its Web site seeking comment and more information about its pending departure from Lakewood was not responded to prior to publication of this article.
Roundstone generates $262,500 in annual income taxes to the city. Although city officials said they weren't aware of where Roundstone was moving, there are rumors that it is relocating nearby. One rumor is that the insurance company will move to Rocky River. Wherever it is, city officials said Roundstone has selected a site they will own and have sole occupancy. Most importantly, the firm intends to start construction in April and open one year later at a lower cost than what the Downtown Lakewood development could offer.
"We think the site is nearby where Roundstone is going," Leininger said. "A lot of their employees live in the community. Most likely they'll continue to live in the community so the city will continue to receive the 1 percent income tax that's due to the city by being a resident. Keep in mind this project has always been more than just about Roundstone. This is a 6-acre, mixed-use project that has housing, has affordable housing, has accessible housing, has new retail opportunities in the community, has a community space, more parking opportunities to help benefit downtown, benefit Cleveland Clinic across the street. There's so much more to this project than just Roundstone. Roundstone was an important part and now we need to move forward on how do we replace that component piece."
Two and a half years ago, the city parted ways with Downtown Lakewood developer Carnegie Management & Development of Westlake and paid Carnegie a $255,000 settlement. The project's current developers said they were also growing frustrated with the city and its antiquated zoning and building codes that provide little direction on design standards and provide no guidance on timelines when design reviews should be done. The project's developers said there is no light at the end of the tunnel to suggest the Downtown Lakewood project can start construction anytime soon.
"Is there an end date that one could say, on this particular date, assuming you have fulfilled the normal requirements that any city would require, will you get approval?" asked Bart Simon, chairman of North Pointe Partners. "I'm not sure there is in the city of Lakewood. I've always felt like it's a circular tunnel. But if there was some possibility that there could be a process that literally stipulates if you reach this hurdle and you succeed, you will get approval to begin construction. I don't think we're that far along even though it's been over two years."
"The volume of meetings without real direction or clarity on what is desired is a big issue," said Brent Sobczak, president of CASTO Communities. "We're in communities all across Ohio. We're used to dealing with architecture to changing bricks and rooflines and architectural details but it's always given with a direction and a goal of where the architectural review board and planning commissions want to take a look at the project to fit within whatever district or area that they're trying to work within. Our feedback (in Lakewood) is often 'we don't like it but we're not here to tell you what we want to do.' So we're left guessing and guessing. It's a tough position to be in from our standpoint."
"That's not just happening to this applicant," Leininger said. "This has happened to other applicants. The root of that is the (building and zoning) code. There comes a time when we have to make decision. The comments we make about our process are rooted in our code. We certainly appreciate and respect our volunteers that serve on our boards and commissions. They're only utilizing the tools that we give them and we need to make the tools better."
"To CASTO and North Pointe, I want to thank you for your strong stomach," said At-Large Councilman Tom Bullock. "Apparently the development business rivals Cedar Fair rollercoaster design engineers the need for that because there are a bunch of changes. When you have a publicly owned project site and the community is as engaged as Lakewood, it's a little bit like doing creative writing by a committee of 100."
"But one thing is guaranteed if this (Downtown Lakewood development) happens, it's going to be transformational," Simon said. "It will be an unbelievable project. Probably the best I've seen and I've seen and been involved in some of these in the Cleveland area — Van Aken (District), Pinecrest. This is going to be special."
To that end, Leininger laid out some preliminary financial estimates on what the revised Downtown Lakewood development could look like. He said the annual income tax revenues, at current-year numbers, from the 233 multi-family residential units in the previous development plan was $265,381. With the office building changed to apartments, the number of residential units would grow to 314 and the income tax from them would rise to about $357,838 per year. Thus, without Roundstone, the net annual income tax from the development is $170,043 less, he said. About 10 percent of the apartments would be reserved as affordable units.
The annualized cost of the city's $1.5 million job creation and retention incentive to Roundstone was $50,000 per year over 30 years. The 240 free parking spaces guaranteed by the city for Roundstone employees in the 540-space garage also reduced the city's ability to collect revenue from the garage. So it had to provide $5.8 million in city subsidies to cover the cost of building the garage with Roundstone as part of the development. Without it, Leininger said that subsidy could drop to about $2 million but acknowledged that number was "Squishy" and would be refined.
The planned parking garage will be reduced to about 460 spaces. Plus there are another 20 surface spaces in the development as well an additional number of on-street spaces on nearby streets. Of those spaces in the garage, 75 will continue to be allocated for the Cleveland Clinic. However, those will become available to the public after 6 p.m. on weekdays and throughout each weekend. Residents living in the Downtown Lakewood development would pay for parking. Leininger said he believed the project could end up costing the city only about $6,870 more per year over 30 years without Roundstone.
Ward One Councilman Kyle Baker said that those numbers are incomplete. He noted that office users typically require less police, fire and other city service costs compared with residential uses and asked what attempts the George administration and the development team have made to bring other office users into the development to replace Roundstone.
"There's no market at this time for office," said Tracey Nichols, director of financial services at Project Management Consultants LLC which is part of the development team. "Before, CASTO was willing to build the (office) building because they had an end user. So that was the reason they would undertake an office building in this economy. At this point, there is not an end user and therefore it would be a speculative project which is very hard to finance and very risky in this market."
Derisively called "The Pit" is the location where Lakewood Hospital stood until it was demolished in 2019-20 and where the Downtown Lakewood development has been proposed by two separate development teams. The current development team led by CASTO and North Pointe is now working on its second iteration (KJP).
At-Large Councilman Tristan Rader lauded the development increasing the amount of affordable housing units. He said the Center North Apartments in the former Lakewood Center North office tower, across the street from the Downtown Lakewood development site, were 95 percent occupied. Plus, the Lakewood Center West office building is for sale and the potential buyer is considering a residential conversion.
"This is my neighborhood," Rader said. "I live right across the street from the Center North building. I know in my neighborhood there's a need for housing. So I actually think this is not a bad direction."
"There were a lot of questions about what is the economic impact to the city," Leininger said. "Yes, outside of the incentives, it is a negative economic impact. However, with the amount of incentives that were involved, we end up in a neutral position over 30 years. We're really focused in on this path forward. The past is the past at this point. We think this is the best path forward for the project."
END