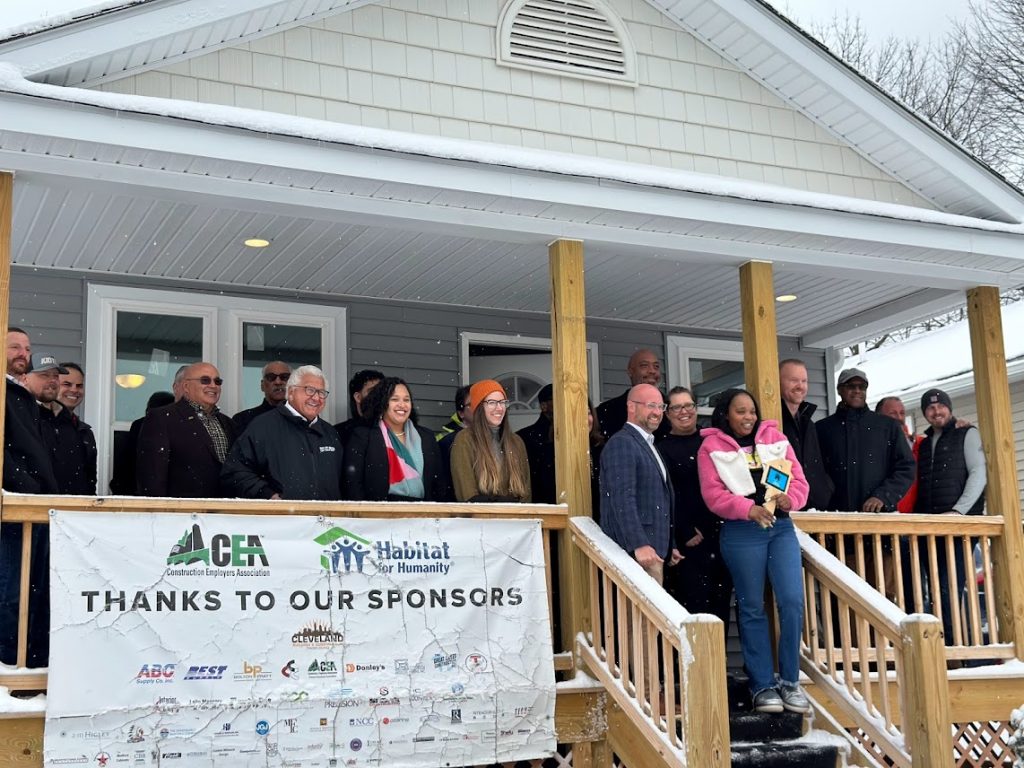 Sierra stands with a large group of people who helped make her new home on Grandview Avenue in Cleveland's Buckeye-Woodhill neighborhood possible. That included those standing closest to her, Habitat for Humanity President/CEO John Litten, Habitat's Associate Director of Affordable Homeownership Jessica Morrison, and Cleveland City Council President Blaine Griffin. Also standing with Sierra are representatives of the city, donors and workers who helped finance and build the home (Emma Wind). CLICK IMAGES TO ENLARGE THEM
A new home on Grandview Avenue was the first all-union-built home in Greater Cleveland to be provided by the Greater Cleveland Habitat for Humanity program. And yesterday its residents got the keys to it. Thanks to the Habitat for Humanity program, the 14th house was built on Grandview Avenue in Cleveland's Buckeye-Woodhill neighborhood. The resident, Sierra, mother of six, couldn't hold back her tears of happiness.
"I want to thank everybody for helping me out and giving me this opportunity, especially Habitat," Sierra said. "I love you all!"
Habitat requests that NEOtrans not use the last names of new homeowners who are are helped by their program. About $250,000 was spent on the project in total, supported by generous in-kind donations from members of the Construction Employers Association (CEA) and the Cleveland Construction Building and Trades Council members and affiliates. Jerry Smith, Greater Cleveland Habitat's director of construction congratulated Sierra and everyone who participated in the facility's construction.
"I witnessed over 440 people, adults and children, as they moved into their homes," Smith said. "This home will add one more to the list. One more family that has a decent place to live. As Winston Churchill once said: we make a living by what we get, but we make a life by what we give. CEA's unselfish giving, the Habitat's vision has done just that. "
CEA and Greater Cleveland Habitat for Humanity teamed up a year ago to build the first home in the Cleveland area. The project was fully funded entirely by donations from CEA and trades council members. The urbanization program improves the standard of living, reduces the level of criminal activity, and stimulates the economic structure of the city.
Alyssa Hernandez City of Cleveland Director of Community Development, also supported Sierra and congratulated all who were involved in this project.
"We know that things like this just don't happen overnight," Hernandez said. "It takes a lot of sweat, a lot of work, a lot of partnership. What it means for Sierra and her family is not just a safe place but really a home. This is where birthdays will be celebrated, this is where holidays will happen, and this is where homework will get done on the tables that are right here. That is home! This is the beginning of generational wealth. Sierra, congratulations, welcome home."
A string of incredible projects, helping those in need and supporting Cleveland families contribute to Cleveland's favorable development and economic potential. Thanks to the Construction Employers Association (CEA) and the Greater Cleveland Habitat for Humanity, people's lives are changing, and Greater Cleveland is improving, attendees said at yesterday's event.
Grandview is located in Cleveland's Buckeye-Woodhill neighborhood which, along with Buckeye-Shaker to the east, is seeing significant new investment. The investment is due in part to the recent opening of the $331 million Opportunity Corridor Boulevard as well as from the $100+ million Buckeye-Woodhill Transformation Plan that's guiding the replacement of the aging Woodhill Homes public housing complex. The latest phase of the transformation project began in January with construction starting on Woodhill Center East.
END