Cleveland received the best news possible today for the redevelopment of one of the city's oldest public housing sites. The Woodhill Homes redevelopment won the largest available federal grant from the Department of Housing and Urban Development (HUD). Last year the project was a finalist for HUD's $35 million Choice Neighborhoods grant but came up just short.
This year, Cleveland's project earned the top grant, along with Los Angeles, CA; Camden, NJ; and Fort Worth, TX. Numerous other cities won lesser HUD Choice Neighborhood grants. In 2018, the city and the Cuyahoga Metropolitan Housing Authority (CMHA) received a $350,000 planning grant for the redevelopment of Woodhill Homes. But without the construction grant, the redevelopment would have to stitch together small pieces of financing and deliver smaller groups of modern housing units more slowly.
Now, the project can proceed much more swiftly and aggressively, allowing the replacement of all 487 existing units at Woodhill Homes with 800 new mixed-income apartments in a neighborhood redlined for decades and unable to tackle its concentrated poverty.
"As part of my Neighborhood Transformation Initiative, our goal has been to transform and revitalize the Buckeye-Woodhill community in a way that prioritizes the needs, concerns and vision of its current residents," said Mayor Frank Jackson in a written statement. "The Choice Neighborhood Implementation Grant ensures our city, partners and residents can continue the important work of making equitable neighborhood development a reality in Cleveland neighborhoods."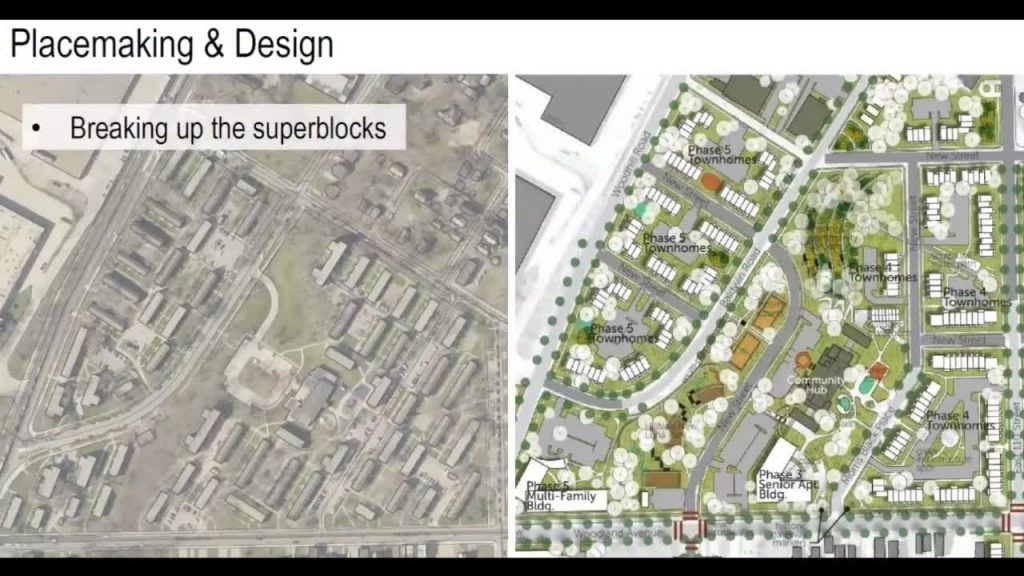 Woodhill Homes currently (at left) and planned (at right). Breaking up the large blocks of housing will increase access and reduce isolation for residents. But before this redevelopment can begin, CMHA needs to build new housing off-site so that residents can be relocated. That will allow the major work to begin (City Planning Commission).
He also thanked President Joe Biden and new HUD Secretary Marcia Fudge, formerly the congresswoman for the 11th District which includes much of the east side of Cleveland and eastern suburbs.
"The project team lead by CMHA, the City of Cleveland and The Community Builders collaborated with a host of residents, community leaders, educational and philanthropic institutions as well as non-profit organizations to continue to keep the project moving ahead despite not receiving the implementation grant award in 2020," said CMHA CEO Jeffery Patterson.
"I will always remember this moment as a day we got the necessary support to transform our community and help people who need it the most," said Ward 6 Councilman Blaine Griffin.
Timing of the Choice Neighborhood award coincides with significant transportation infrastructure investments in the neighborhood, once dubbed The Forgotten Triangle. Most visible to many is the $300 million Opportunity Corridor Boulevard linking Interstates 77 and 490 with University Circle.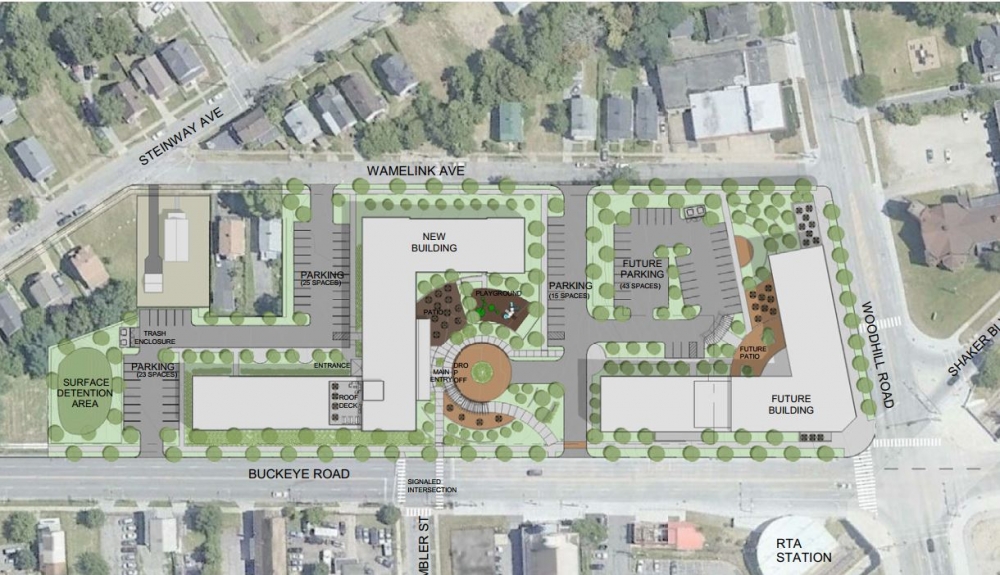 The largest new development to which Woodhill Homes residents may relocate is Woodhill Station. Its convenient location is across Buckeye Road from GCRTA's light-rail Woodhill Station. One in four Cleveland households have no car, making its 189 apartments and pedestrian-accessible commercial spaces attractive to prospective residents (City Architecture).
The roadway has leveled, cleared and cleaned many century-old, abandoned industrial sites, making them usable for redevelopment. NEO Food Hub and the Weston Group are planning a 205,500-square-foot distribution center west of East 79th Street and south of the Orlando Baking Co. plant, according to documents filed with the City Planning Commission. It will bring more than 200 new jobs to the area. This will be the first major private development along the new boulevard that's due to open by the end of this year.
Meanwhile, the Greater Cleveland Regional Transit Authority (GCRTA) is investing hundreds of millions of dollars in its rail system which has several lines converging in this area. GCRTA opened in March its newly rebuilt East 79th Red Line station, an investment of $8 million. It replaced the Blue/Green line tracks west of Woodhill Station last year for $10 million and is reconstructing tracks east of there for $41 million. And, by the end of this year, GCRTA will start ordering new trains to replace its four-decade-old rail fleet, an investment of nearly $300 million.
Burten Bell Carr Development Inc. (BBC) is leading the development of transit-oriented development — mixed uses built along sidewalks near rail and bus rapid transit stations — along East 79th. The Blue/Green station at East 79th is programmed for replacement in the coming years. The next station east, Woodhill Station, was rebuilt by GCRTA in 2012. It attracted the first phase of the Woodhill Homes redevelopment — a 120-unit apartment building called Woodhill Station.
"Construction is already underway for development near the Woodhill RTA station as a part of the (Woodhill Homes) project," said BBC Executive Director Joy Johnson.
A second phase of the Woodhill Homes redevelopment will be built on Woodland Avenue near East 110th Street — 77 housing units including apartments and townhomes called Woodhill Center. A third phase, which wasn't funded until today, would expand the Woodhill Station apartment complex with a second building, adding 69 housing units and commercial space for lease at the northwest corner of Buckeye and Woodhill roads.
As these first phases are completed, residents from the old Woodhill Homes will be relocated to them so that the 1940-built complex can be demolished and replaced with modern housing. Planned on the old Woodhill Homes site is a mix of apartments and townhomes totaling 372 units with 22 percent of them offered as market-rate housing.
"There is a stark change driving west on Larchmere Boulevard as it becomes Woodland Avenue in Cleveland," HUD's project background says. "The bustling, diverse, mixed-use Larchmere District gives way to empty lots, dilapidated buildings, and eventually the worn-down Woodhill Homes."
Constructed on the site of Frederick Ingersoll's Luna Park, Woodhill Homes was a Works Progress Administration urban renewal project built in the late 1930s. Woodhill Homes was ahead of its time and adorned with historical public art pieces celebrated by the community.
But as Woodhill Homes became worn through the years, the neighborhood around it experienced decades of disinvestment and abandonment. Today, the large concentration of severely distressed public housing with an antiquated superblock street design has created persistent challenges of isolation and crime experienced by Woodhill Homes' residents.
END