Downtown development may see construction soon
ARTICLE UPDATED JUNE 18, 2023
Because of their cost and complexity, Downtown Cleveland megaprojects don't usually have a strong track record of becoming a reality. But Bedrock Real Estate's vision for the downtown riverfront between Tower City Center and the Cuyahoga River appears to be coming together more quickly as time goes on. And, in recent weeks, NEOtrans has learned that several large tenants are in the works for the major development.
One of those reportedly is the Cleveland Clinic which is seeking to increase its sports health activities, including for professional athletes. Two sources who spoke on the condition of anonymity said the Cleveland Clinic will open a "significant" sports medical office in the first phase of Bedrock's riverfront development. The Clinic has several sports health facilities around town, including its largest — a 51,686-square-foot office building constructed in 1997 at 5555 Transportation Blvd., Garfield Heights.
Cleveland Clinic also has Adult Rehabilitation & Sports Therapy programs as part of larger Clinic facilities offering additional services in Beachwood, Willoughby and Middleburg Heights. It isn't clear yet what impact this proposed new presence downtown will have on those locations. When asked about the possibility of a Cleveland Clinic medical office downtown, Angela Smith, senior director corporate communications at the Clinic, didn't refute it.
"Sorry, we don't have any information on this," Smith told NEOtrans in an e-mail.
Chanté Jones, associate vice president of communications at Falls & Co., who handles media relations for Bedrock in Cleveland, was sent an e-mail from NEOtrans seeking confirmation and more information about what sources have said about their riverfront megaproject. Other than opening the e-mail, she didn't respond to NEOtrans prior to publication of this article.
The medical office is reportedly tied in with the return of the Cleveland Cavaliers' practice facility and headquarters to downtown Cleveland for the first time in 16 years. The Cavs moved their HQ and practices in 2007 to suburban Independence, branded as the Cleveland Clinic Courts, in part to appease basketball superstar LeBron James who was still in his first stint with the Cavs. LeBron lived in Bath, farther south down Interstate 77. The suburban practice facility was a shorter drive from James' home than downtown. After the facility relocation was announced in 2006, LeBron signed a three-year, $60 million contract extension with the Cavs. But at the end of that deal, he took his talents to Miami before returning to Cleveland.
Two weeks ago, NEOtrans revealed that Bedrock owner Dan Gilbert is bringing the practice facility for his Cleveland Cavaliers back downtown. In conceptual renderings approved by the City Planning Commission, a nearly windowless, roughly 50,000-square-foot structure is shown at the southeast corner of Huron Road and Ontario Street. That site is across Ontario from Rocket Mortgage Fieldhouse where the Cavs play home games. The Cavs existing facility in Independence is also 50,000 square feet. Atop the proposed downtown practice facility is a hotel standing about 11-12 stories tall and measuring at least 170,000 square feet that could accommodate about 150 rooms above a glassy atrium.
Gilbert's huge Rocket Mortgage office presence in Cleveland, now in the Higbee Building, will likely be relocated to the riverfront too. Rocket Mortgage is under a time bind to relocate its 1,400 office employees from nearly 300,000 square feet of space at the Higbee's Building before Rocket Mortgage's lease runs out at the end of 2026. Gilbert doesn't like for his companies to pay rent to landlord firms he doesn't own. Bedrock would need to have a new office building under construction by this time next year so Rocket Mortgage could move before its lease ends.
Bedrock's riverfront masterplan shows a 21-story office building atop a multilevel garage in the first phase of the riverfront development with office floorplates of roughly 14,500 square feet. If that concept holds true when final designs are submitted to the city by architect Gensler and Whiting-Turner Contracting Co. possibly later this year, such a building would measure just over 300,000 square feet and include ground-floor retail. Space wise, that would be a perfect fit for Rocket Mortgage's needs.
And speaking of space, NEOtrans broke the story that Bedrock reached out to a group of restaurateurs to open a space-themed establishment called The Astro Restaurant in the former Hard Rock Cafe at 230 Huron. That location is right across the street from the proposed Rocket Mortgage office tower, leading to speculation that the theme of the restaurant was inspired by the mortgage company's potential nearby presence.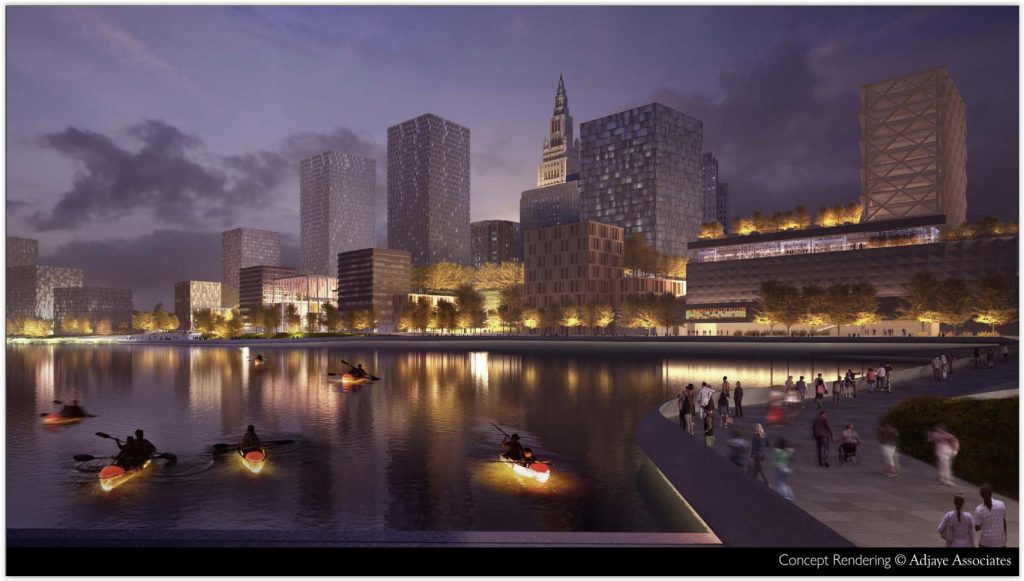 A twilight view of Bedrock's riverfront development from Collision Bend on the Cuyahoga River. The structures below and to the right of Terminal Tower's spire are the first phase of Bedrock's development. At the far right is a hotel atop the Cleveland Cavaliers' new practice facility. To the left of it is a roughly 21-story office tower, apparently for Rocket Mortgage, Cleveland Clinic and other tenants (Adjaye Associates).
More than $9 million worth of infrastructure improvements needed for the riverfront development have been funded so far. Bedrock is providing $4.2 million of its own funding while the city of Cleveland has approved $3 million in American Rescue Program Act funds for Cuyahoga River bulkheads and boardwalks, plus sewer replacements and the relocation of Canal Road closer to the river. Additionally, the state's upcoming two-year budget under House Bill 33 directs $2 million from $77.26 million in Ohio Department of Natural Resources' Local Parks, Recreation, and Conservation Projects to "Cleveland Tower City and Bedrock Development Activities."
At this time, the latter involves relocating only the section of roadway near the river's Collision Bend, moving it from a dank underpass below the Greater Cleveland Regional Transit Authority's tracks on one side of the closed Cleveland Thermal's steam heating plant to the river-side of the plant. According to GCRTA planning documents, the transit authority intends to spend $8 million in 2027 to renovate its bridge over Canal which will be converted by Bedrock into a service/delivery vehicle roadway to access structures in its first phase.
NEOtrans understands that additional office users downtown are seeking more modern office space and at least one has expressed interest in relocating to Bedrock's riverfront development. According to another source who spoke off the record, that prospective tenant said that, in the absence of more modern office space downtown, it would have relocated to the suburbs. The source said Bedrock has lease commitments for 80 percent of its proposed riverfront office space — presumably for the first phase. At this time, the only other proposed office space in the development masterplan is in the third phase and farther west along Huron, next to the Carl B. Stokes U.S. Courthouse Tower.
The timing and scale of such plans and phasing could be moved up if Bedrock shows interest in responding to Cuyahoga County's pending request for proposals for consolidating about 1 million square feet of local judicial offices and courtrooms into a new courthouse tower. Those functions are now spread among multiple structures, including the aging, overcrowded Justice Center, 1300 Ontario.
Efforts by the 12-member city-county Justice Center Steering Committee to identify a downtown site for a new Cuyahoga County Courthouse were put on hold two years ago but are about to get under way again. A new courthouse, along with several buildings in Bedrock's riverfront first phase, are among the many high-rises in the works for downtown. Bedrock's plan also shows additional towers that could be built in later phases including two that appear to be about 500 feet tall each, just across Huron from The Avenue shopping mall which is slated to have the middle of its three levels removed.
END