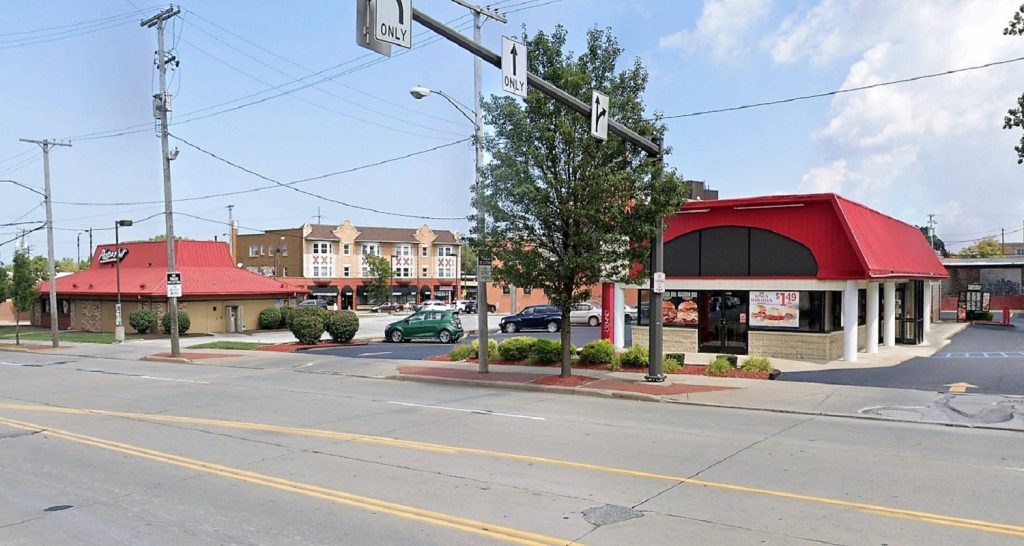 Changes are coming for three fast-food restaurants along a short section of a West 117th Street in Cleveland, across the street from Lakewood. The Pizza Hut at left will be replaced by an urgent care center while the Arby's at right will be razed and replaced with a new-style Arby's. Less than 1,000 feet north, a Wendy's is also getting a new appearance (Google). CLICK IMAGES TO ENLARGE THEM.
Street to maintain a semi-suburban look
The sites of three fast-food restaurants in a short stretch of the Cleveland side of West 117th Street are about to get a new look. But only one of them isn't going to be slinging its quick, cheap chow anymore. The other two will continue to offer fast food and to make it easy, if not easier to grab the grub and go without having to get out of your car. And all three sites will continue the practice of building single-use structures along a busy thoroughfare whose car-dependent land-use patterns have more in common with outer suburbia than being in the midst of one of Greater Cleveland's most densely populated areas.
Among the three sites, the biggest and most visible change is coming to the Pizza Hut at the southeast corner of West 117th and Detroit Avenue. It will be demolished and replaced by an Urgent Care By WellStreet clinic. WellStreet is an Atlanta-based national chain of small walk-in clinics that partner with large, regional health care systems to offer diagnostics and treatment for non-life-threatening conditions. In Greater Cleveland, WellStreet is partnering with University Hospitals. NEOtrans first reported on this development last winter.
Each clinic is open seven days a week, including holidays, and equipped to provide immediate, walk-in care for a wide range of non-life-threatening conditions. Most locations in Greater Cleveland are open from 8 a.m. to 8 p.m. weekdays and from 9 a.m. to 5 p.m. weekends and holidays. Although walk-ins are accepted, in-person or virtual visits can be booked on-line or by phone in advance to eliminate wait times. Each clinic offers X-rays and lab tests on-site and has an in-clinic pharmacy. Most insurance is accepted along with self-pay plans and options.
According to city records, the new urgent care structure will cost about $1 million to build, not including medical equipment, measure about 4,090 square feet, larger than the 2,691-square-foot Pizza Hut and be set nearer to the intersection of West 117th and Detroit. The site is zoned for local retail business with a pedestrian retail overlay (PRO) along the two streets. Ironically, Lakewood Urgent Care is on the opposite corridor, in a former Payless Shoe Source store, 11716 Detroit Ave., Lakewood.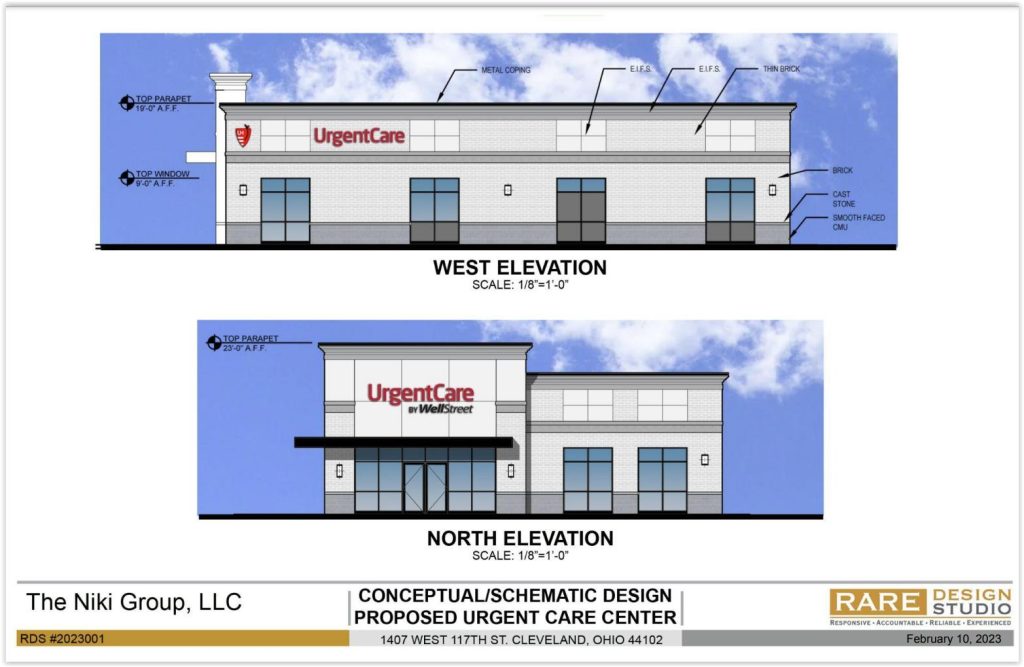 This Urgent Care by WellStreet will have its main entrance on the northeast side, facing Detroit Avenue and the clinic's parking lot. The west side facing West 117th Street will actually be the back of the clinic but will have larger than originally planned at the urging of the city. The windows will be glazed to offer privacy in the examination rooms (RARE).
That PRO prompted the developer Niki Group LLC of San Diego, CA and architect RARE Design Studio of Richfield to redesign the structural and site plans after feedback from the city's Far West Design Review Committee. The PRO requires at least 65 percent of the street-facing facades along Detroit and West 117th to have clear glass to provide a more pedestrian-friendly setting. A pedestrian plaza with benches and landscaping will be placed at the street corner, plans show. Dave Sambor, managing principal at RARE Design Studio, said the addition of landscaping would "soften up" the edges of the building and make it more pedestrian friendly.
Pizza Hut has stood since 1987 at 1407 W. 117th St., replacing a Shell Oil gas station. In 1970, the gas station replaced the ornate, Spanish-style Granada Theater that closed the year before. Built as a vaudeville and silent movie theater in 1927, the 2,500-seat venue for Loew's Ohio Theatres Inc. was locally famous for its lobby and auditorium having atmospheric-style ceilings that even had projectors displaying moving clouds onto the lobby's blue sky ceiling. The Spanish decor was removed and the theater modernized by architect Jack Bialosky in the 1950s, according to Historic Theatre Photos.
At the southern edge of the former theater's lot, an Arby's fast-food restaurant was built in 1970 on a parcel owned by Granada Amusement Inc. It's an affiliate of Atlanta-based Inspire Brands which owns Arby's, Baskin-Robbins, Buffalo Wild Wings, Dunkin', Jimmy John's and Sonic restaurants. The existing 2,574-square-foot Arby's restaurant at 1421 W. 117th was remodeled in 1990, city records show.
"The existing Arby's restaurant site is to be completely demolished to make way for a new Arby's site which will include an associated 2,475-square-foot restaurant, double drive-through, parking and landscaping," wrote Matt Yanda, a project manager for architecture and engineering firm CESO Inc. of Akron, in submitting plans for the project to the city.
The new Arby's will be built perhaps 10-20 feet farther north than the existing structure to make room for the two drive-through lanes on the southeast side of the building. There are so many cars using the drive-through that sometimes cars back up out into the street, neighborhood residents say. That happens even more often at Inspire Brands' other restaurant nearby, the Dunkin' at 1520 W. 117th, Lakewood, which also has a single drive-through lane.
And, despite the PRO, a new driveway will be built between the sidewalk and the Arby's restaurant so cars can drive around all sides of the restaurant. The reason is that 11 parking spaces will no longer exist on the north side of the restaurant. Instead, seven spaces on the south side of the restaurant will grow to 11 spaces. However, the 15 spaces along the east edge of the property will remain; 10 of those are shared with the neighboring Brothers Lounge. Arby's will spend $1 million on constructing the new restaurant, city records show.
To the north, at 1331 W. 117th, the Wendy's restaurant and its half-acre of land transferred ownership in January from one affiliate of Jonathan Fox of Rochester, NY to another. The property has been owned by the Fox family since 1998, public records show. Following its latest paper transfer, Fox will invest $175,000 to renovate the public areas of the restaurant but not the kitchen. The 3,089-square-foot restaurant was built in 2009 after a tear-down/rebuild like what is about to happen with the nearby Arby's.
"The work includes all labor, materials and equipment to replace existing prefabricated fascia and interior finishes for a proposed refresh of an existing restaurant for the owner," wrote Lee Manske, a project manager for GLMV Architecture of Witchita, KS, wrote in his permit application to the city. "No work (is) proposed in (the) kitchen."
One of the more interesting changes is the planned creation of an enclosed meeting space measuring nearly 250 square feet, to the right of the restaurant's entrance from the parking lot, according to plans submitted to the city's building department. A part of the dining room with 22 seats and six tables is there now. The other part of the dining room with 40 seats and 14 tables will be redesigned with 43 seats and 13 tables including a trio of pub-style pedestal tables surrounded by three high-stools. The result is a reduction of 19 dining room seats but the addition of a private meeting room amenity.
Past plans by the cities of Cleveland and Lakewood for the portion of the West 117th Street corridor that is shared by those two cities, north of Berea Road, proposed reducing car dependency and promoting more pedestrian- and transit-supportive land uses. They suggested more mixed-use developments with retail, restaurants and some offices on the ground floors of residential buildings. Those plans from two decades ago also proposed consolidating parking lots while also getting rid of on-street parking along West 117th and capitalizing on the presence of the West 117th-Madison Red Line rail station.
END