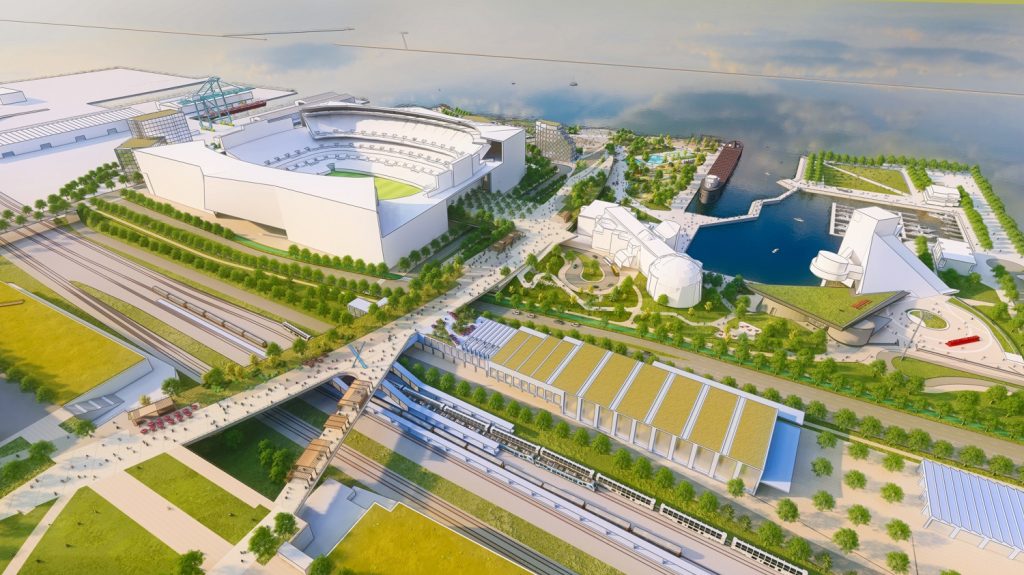 An aerial view of proposed plans for redeveloping Downtown Cleveland's lakefront are shown looking northwesterly from the perspective of downtown. The landscaped malls are at lower left from which a new North Coast Connector land bridge would cross the lakefront railroad tracks and Shoreway highway converted into a boulevard. A transportation center with parking plus a rail and bus station is planned next to the connector which would end at Lake Erie's shore (FO), CLICK IMAGES TO ENLARGE THEM.
Nonprofit corporation to implement lakefront plans
With updated plans for redeveloping downtown Cleveland's lakefront steadily rolling in like Lake Erie's waves, the nonprofit development corporation charged with funding and implementing those plans also is coming together. Today, Cleveland Mayor Justin Bibb announced the initial board of directors for the new North Coast Waterfront Development Corp. (NCWDC) and its chair, David Gilbert, CEO of Destination Cleveland and the Greater Cleveland Sports Commission.
Those plans, due to be finalized in January, include rebuilding the downtown waterfront with more recreation, housing, attractions and infrastructure. That latter includes a new land bridge linking downtown and the Lake Erie waterfront called the North Coast Connector. It would bridge the lakefront railroad tracks and Shoreway highway that is proposed to be turned into a pedestrian-friendly boulevard along which new development could be accommodated.
With the NCWDC board in place — a board which could grow larger if the Cuyahoga County Council votes to join it — the NCWDC is seeking to hire an executive director who would then hire additional support staff. The NCWDC is authorized under local and state laws to raise taxes and fees, issue debt, pursue local, state and federal grants, seek value-capture funding mechanisms like tax-increment financing, and receive private-sector investment and philanthropy to implement the plan. Without the staffing to implement, modify or expand it across multiple mayoral administrations, Bibb said this lakefront plan would otherwise sit on a shelf like many others in the past.
"We are making great progress on the lakefront and North Coast Connector planning and this focused and purpose-driven entity is the way to ensure that our planning translates into action," Bibb said in a written statement. "This is a long-term project, and the development authority model is a best practice that ensures the work continues, regardless of future leadership changes."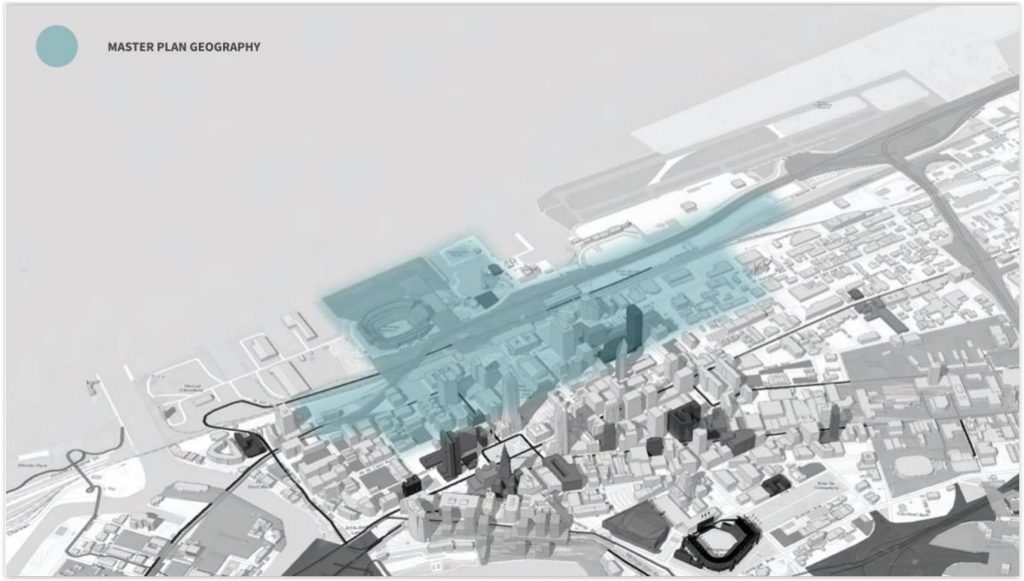 This blue-shaded area of Downtown Cleveland is the area of jurisdiction for the new North Coast Waterfront Development Corp. The area is north of St. Clair Avenue, between West 6th Street and East 18th Street in the central business district and from West 9th Street to East 22nd Street along and near the Shoreway (CPC).
He said the executive director would spearhead the implementation of the community's vision for Cleveland's Lakefront. The ideal candidate will be a dynamic, collaborative, and experienced leader who can build the organization from the ground up. The executive director will be responsible for organizational leadership, advocacy, funding strategies, and maintaining alignment with public and private sector stakeholders, Bibb added. The application for the executive director position was posted on LinkedIn today.
Legislation to create the development corporation was passed by Cleveland City Council in May. It established a hybrid public-private structure like many neighborhood-specific community development corporations in the city. While Downtown Cleveland Inc. is such an organization, its board has been reluctant to engage its staff more actively in development and infrastructure projects.
Also, Cuyahoga County Council has so far declined to offer support to the NCWDC, amounting to $750,000 over a three-year period. Most of council said the city has too much say on the board and the county not enough. If the county did financially support the board as currently proposed, that would give it two NCWDC board seats to the city's seven, plus the officer positions of chair, vice-chair and treasurer. That ultimately brings the total to 10 board members, not including the officers. But more board members could be added in the future, city officials noted.
The first NCWDC board members include Chair David Gilbert; Vice Chair Ayonna Blue Donald, vice president of Ohio market for Enterprise Community Partners; Treasurer Michael Taylor, PNC Community Development Banking (retired); Cleveland Mayor Justin Bibb; Cleveland City Council President Blaine Griffin; Pat Rios, executive director of Buildings and Design for the Cleveland Clinic; Greg Harris, CEO of the Rock and Roll Hall of Fame and Museum; Kirsten Ellenbogen, CEO of the Great Lakes Science Center; Will Friedman, CEO of the Cleveland-Cuyahoga County Port Authority; David Jenkins, CEO of the Haslam Sports Group.
"I am honored the city selected me as the first chair of the North Coast Waterfront Development Corporation," Gilbert said. "My whole career has been dedicated to improving Cleveland and strengthening its economy for everyone, and I look forward to working with the board, the city, and the community to implement our collective vision for the lakefront."
Earlier this year, Cleveland City Council authorized using $3 million of its $163 million in federal American Rescue Plan Act (ARPA) funding to support the staffing and operations of NCWDC. Council also authorized directing $3 million in ARPA funds to help pay the estimated $8 million to $10 million cost for detailed design and engineering work for a $200+ million North Coast Connector. Another $1 million in ARPA money was directed to finalizing the North Coast Harbor plan so its proposals can be eligible for federal construction funds.
"Council is committed to collaborating on moving the lakefront project forward," Griffin said. "I am pleased to be part of the new board and look forward to the progress we will make together."
END