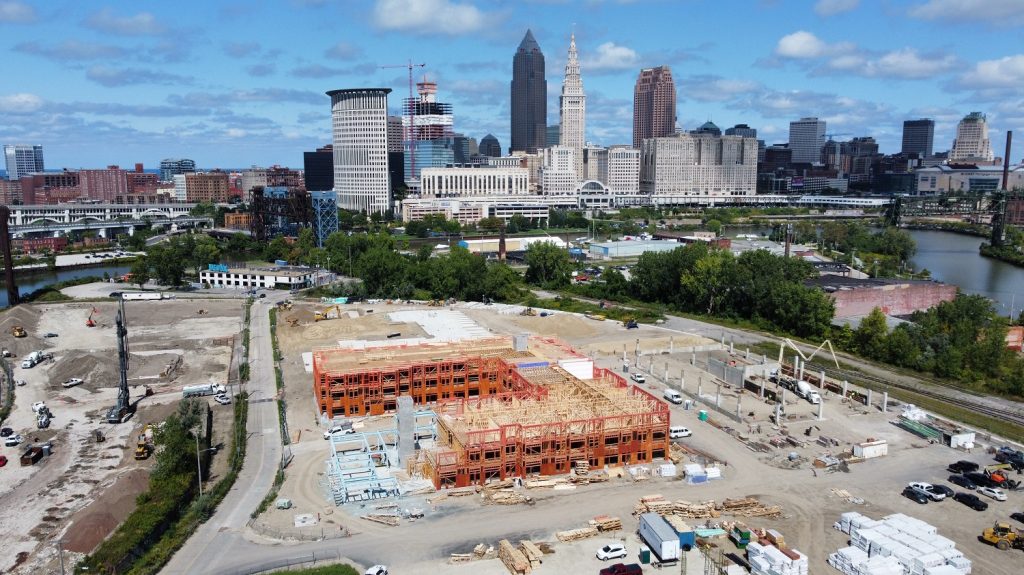 Just south of downtown Cleveland, the Scranton Peninsula site of a former Republic Steel mill that manufactured chrome-plated nuts and bolts will soon become home to about 1,000 residents in more than 600 apartments roughly equally split among two developments. One of those is the NRP Group's The Peninsula, in the center-foreground, which won a $6 million Brownfield grant from the state last year for site clean up (Adam Greene). CLICK IMAGES TO ENLARGE THEM.
Grants aid Cleveland's post-industrial transformation
Several things have long slowed Cleveland's post-industrial transition to embrace new economic drivers. One of the biggest is the lack of large, clean properties near existing labor. The city recently announced a $50 million land assembly program that could be boosted to $100 million with other funding. While some of that funding could come from the private sector, another source may well come from a new round of state funding to aid redevelopment, announced today.
The Ohio Department of Development released details on a new round of grant funding available through a program that has already helped hundreds of communities across the state clean up hazardous sites and prepare them for redevelopment. Development released detailed guidelines on the upcoming round of the Ohio Brownfield Remediation Program, including project requirements, eligibility, and the timeline for awards.
This new round of the Brownfield Remediation Program will provide nearly $350 million in grants over the course of the state's two-year budget (2024-25 which started on July 1, 2023) to clean up industrial, commercial, and institutional brownfield sites that are abandoned, idled, or underutilized due to a known or potential release of hazardous substances or petroleum.
"Many of these longtime eyesores are standing in the way of growth in our communities," said Governor Mike DeWine in a written statement. "Since launching this program, we've helped remove these barriers to progress across the state, and we're excited to partner with local leaders in even more communities to continue this important work."
The first three rounds of the program – announced in April, June, and December of 2022 – provided nearly $350 million to support 313 projects in 83 counties. The last award included multiple projects in Greater Cleveland, including eight projects in Cleveland and one each in suburban Middleburg Heights and Solon won a total of $20 million in Brownfield grants.
The largest of those was a $6 million grant to clean up the former Republic Steel's Upson Nut & Bolt Plant site on Scranton Peninsula just south of downtown Cleveland. That funding was used to remediate soil for a 316-unit apartment complex called The Peninsula now under construction by NRP Group. Another big winner was K&D Group which got $4.66 million to clean up downtown Cleveland's historic United Church of Christ building, 700 Prospect Ave., for conversion to 120 apartments and 6,800 square feet of ground-floor commercial uses.
"As I've traveled across the state, I've seen firsthand how this funding is not just cleaning up hazardous sites – it's breathing new life into our neighborhoods, our small towns, and our cities," said Lydia Mihalik, director of the Department of Development. "Under the leadership of Governor DeWine and Lt. Governor Husted, and with support of the Ohio legislature, we're empowering communities to turn what was once a source of concern into a beacon of hope for the future."
The DeWine-Husted Administration created the Brownfield Remediation Program in 2021 in partnership with the Ohio General Assembly. This new round of funding was made possible through continued support in the 2023 biennium budget bill, House Bill 33. The Department of Development administers the program. As required by House Bill 33, each county will have access to a $1 million set-aside, with the remaining funds awarded on a first-come, first-served basis.
Projects that assess or remediate brownfield properties are eligible for funding. Each county has designated a lead entity which may apply for funding on behalf of the county. Entities that contributed to the contamination of properties are not eligible to apply. The Brownfield Remediation Program is part of Governor Mike DeWine's Ohio BUILDS Initiative, which focuses on supporting targeted solutions that impact quality of life, such as water infrastructure improvements, broadband expansion, brownfield redevelopment, and the demolition of blighted buildings.
The Department of Development will begin accepting grant applications on Tuesday, Dec. 5, 2023. Applications will close at 11:59 p.m. Monday, April 1, 2024. Development staff will host a webinar at 10 a.m. on Monday, Nov. 20, to present the guidelines in detail and allow interested parties to ask questions. Program information and full guidelines can be found on the program webpage.
END