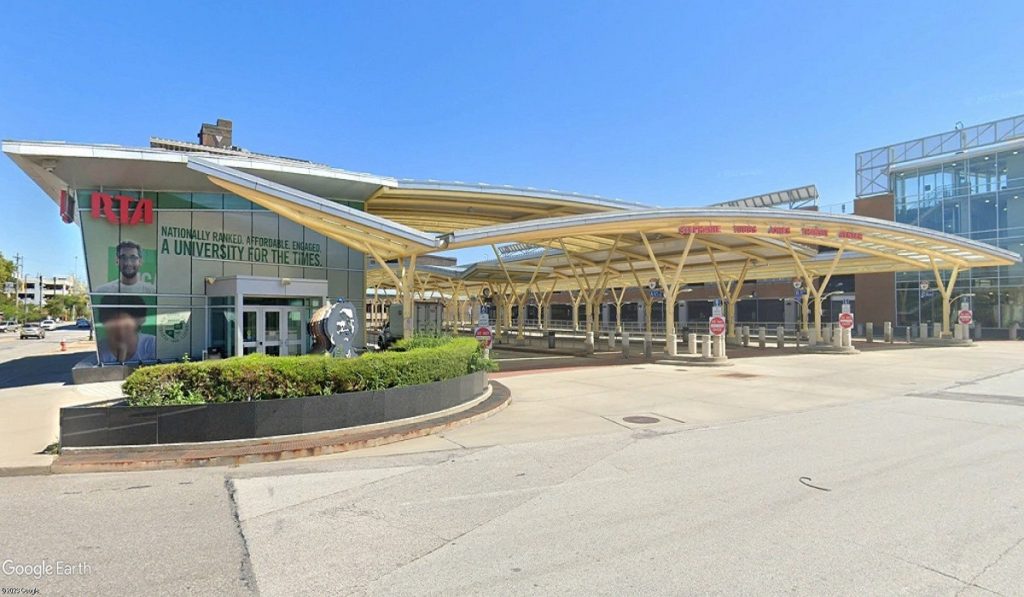 The Stephanie Tubbs Jones Transit Center near Cleveland State University is a relatively quiet place after years of service cuts by the Greater Cleveland Regional Transit Authority. But it may soon see renewed activity if the transit agency is able to reach a deal with Barons Bus Inc. for use of its downtown station plus the Red Line rail stop at Puritas-West 150th (Google). CLICK IMAGES TO ENLARGE THEM.
Lakefront multimodal hub is long-term site, officials say
With the clock ticking down to an eventual departure from the 75-year-old Greyhound station in Downtown Cleveland, the operator of long-distance bus services is seeking new stations to serve area travelers. After an earlier plan to relocate Cleveland's station to the Triskett Red Line rapid transit station on the west side met civic resistance, Barons Bus Inc. is pursuing two stations locally. Cleveland-based Barons operates bus service under a license with Greyhound.
The two stations Barons is seeking to serve are both owned and maintained by the Greater Cleveland Regional Transit Authority (GCRTA). One is the Stephanie Tubbs Jones (STJ) Transit Center near Cleveland State University and the other is the Puritas-West 150th Red Line rapid transit station in Cleveland's West Park neighborhood, said GCRTA Public Information Officer Robert Fleig in an e-mail to NEOtrans today.
"GCRTA remains in discussions with Barons Bus Inc. to lease use of an existing bus lane and bus layover locations, at the Puritas Station to provide a multi-modal transfer location for GCRTA, Barons and Greyhound (as licensee to Barons) customers," Fleig said. "The details of the agreement have yet to be finalized. Daily service will also include several bus routes that originate/terminate at the Stephanie Tubbs Jones Transit Center."
Greyhound and Barons bus services are seeking a new Cleveland station because their current home, 1465 Chester Ave., was acquired earlier this year by Twenty Lake Holdings LLC of Stamford, CT for a potentially significant redevelopment by partner Glimcher Capital Group of Westport, CT. The bus operators continue to pay rent on a flexible, month-to-month lease but could be evicted from the Greyhound station at any time when a decision to redevelop the site is made.
The 36,580-square-foot bus station was added in 1999 to the National Register of Historic Places. It was designed in the Art Deco variant Streamline Moderne style of which Cleveland has few examples. Although still preliminary, the Connecticut-based development team intends to preserve and redevelop the bus station. Possible uses include a jazz club, supper club and/or education space with a residential building and parking constructed next door.
It is not clear yet which new Greyhound/Barons bus station would become Cleveland's primary stop and which would be the satellite stop. The Puritas-West 150th station is two station stops west on the Red Line from the Triskett station. Both stations are next to interstate highways; Triskett is next to I-90 and Puritas-West 150th is next to I-71.
The latter was a Cleveland satellite stop, in addition to downtown, for Greyhound for many years on the carrier's route to Columbus and beyond when it offered more than two direct, daytime buses each way on that route as it does now. Puritas station is near restaurants and hotels and is directly served by GCRTA bus service on the No. 78 route. Triskett station offers none of those features. But neither station is in a pedestrian-friendly area or has public restrooms and on-site food service.
At the east end of downtown, at 2115 E. 22nd St., STJ is more centrally located with access to nearby, 24-hour GCRTA bus services. But STJ also lacks an open, climate-controlled waiting room, public restrooms and on-site food service unlike the existing Greyhound station which has all of those features. When it opened in 2010, STJ was served by numerous GCRTA routes and Megabus intercity buses. Today, its remaining service is as the endpoint for the No. 55 Cleveland State Line buses from the western suburbs, with service from 4 a.m. to 11 p.m. Roughly one-third of Greyhound's/Barons' 15 daily arrivals and 15 daily departures at Cleveland serve it between midnight and 6 a.m.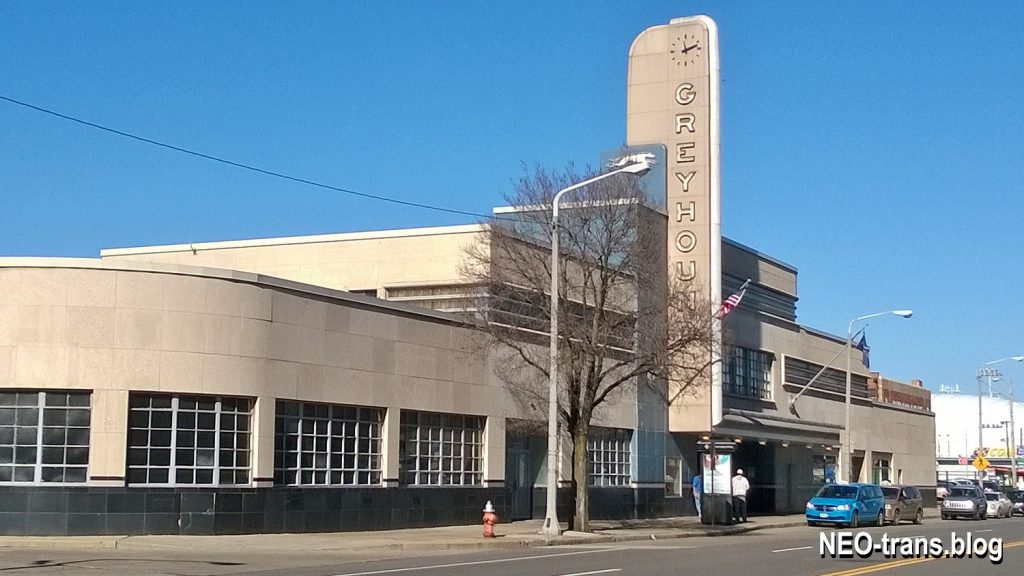 Cleveland's Greyhound station has stood on Chester Avenue at the north edge of Playhouse Square since 1948. At its peak in the 1960s, the Art Deco station served 200 buses per day. Today, only 30 buses per day call at the depot which was bought by a Connecticut investor seeking to redevelop it (KJP).
If the STJ transit center was returned to full service with on-site passenger services, Ward 3 City Councilman Kerry McCormack said it could be a good alternative. But he said the better alternative in the long-term would be to build a proposed, 150,000-square-foot lakefront multimodal transportation center uniting Greyhound and Barons buses, Amtrak trains, and GCRTA light-rail and bus services under one roof.
"I think STJ is a great option," said McCormack whose ward includes downtown. He also chairs council's Transportation and Mobility Committee. "I love the idea of multimodal on the lakefront. But STJ could be a good shorter-term option."
Given the fluid nature of the situation, it is still uncertain as to which station will be served by most of Greyhound's and Barons' buses. That uncertainty and the lack of station services currently available for long-distance travelers at both facilities leaves Ward 17 City Councilman Charles Slife with a wait-and-see approach. His ward includes the area surrounding the Puritas-West 150th station. He is the vice-chair of council's Transportation and Mobility Committee.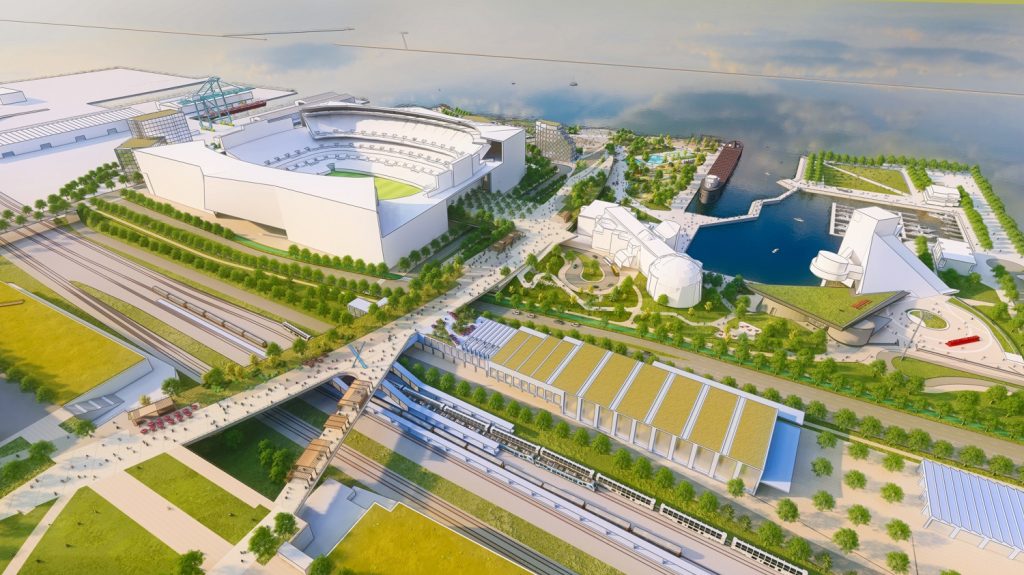 An aerial view of proposed plans for redeveloping Downtown Cleveland's lakefront show a new North Coast Connector land bridge that would cross the lakefront railroad tracks and Shoreway converted into a boulevard. A transportation center with parking plus a rail and bus station is planned next to the connector which would end at Lake Erie's shore (FO).
"It's having people congregate somewhere without services," Slife said in a message to NEOtrans. "Disappointing how Greyhound has devolved into random bus stops like you're waiting to take the (GCRTA No.) 22 to work. It would still be useful to know what the impacts would be on the surrounding area, city services, etcetera."
Megabus' last lease contract with GCRTA for using the STJ Transit Center was authorized in 2018 for overnight bus service between Cleveland and New York City. Megabus agreed to pay GCRTA $28,000 per year over two years. But the service ended with the onset of the COVID-19 pandemic in early 2020 and has not been restored. Previously, Megabus offered service from Cleveland to New York, Chicago, Detroit, Pittsburgh, Columbus and Cincinnati, often serving downtowns and college campuses from curbside stops.
Greyhound has since since been adopting that model. But instead of serving walkable, service-laden areas like downtowns and college campuses, it has been opting for remote, transit-inaccessible areas in suburban or industrial areas that are convenient to highway ramps. Many of Greyhound's customers are lower-income travelers who may not have a reliable car available for city-to-city trips. All Aboard Ohio, a nonprofit public transportation advocacy group, said Greyhound was making it services less convenient and accessible for its customers.
END