With final approval secured today from the City Planning Commission, developers of the Library Lofts apartment building, 10541 Euclid Ave., and its ground-floor Martin Luther King Jr. Branch Library hope to start construction in August.
The 11-story, 207-unit apartment building and Cleveland Public Library branch will be one of many large structures likely to be under construction at this time next year in University Circle. One of those is already underway — the Artisan, a 24-story apartment tower at 10600 Chester Ave. that will be the tallest building in the nationally renowned cultural district.
That tower adjoins the site where Library Lofts will rise. Both are in the Circle Square development — a $300 million to-do list of new towers between Euclid and Chester avenues, plus MLK Boulevard and East 105th Street.
Library Lofts' façade is designed by Bialosky + Partners Architects, LLC to look like fully stocked bookshelves. Panzica Construction Co. is the general contractor. Different architects, SO-IL of Brooklyn, NY and JKURTZ Architects of Cleveland, designed the new MLK Branch Library.
The first two buildings in Circle Square are projected by developers White Oak Realty Partners of Chicago and Midwest Development Partners of Cleveland to add about 750 residents among 505 market-rate apartments. Future phases are planned to add another apartment tower roughly as tall as Artisan, a hotel and an office tower, most with neighborhood-oriented ground-floor retailers, plans show.
To make that possible, it will require changes to roadway infrastructure that was redesigned in the 1940s and 50s. University Circle's main thoroughfares were redesigned from being pedestrian- and transit-oriented 100 years ago to become "vehicular cattle chutes," as described by University Circle Inc.'s President Chris Ronayne.
Initial improvements include removing the high-speed turning lanes from Chester east to Stokes south to create a 90-degree angle, thus slowing down vehicular traffic and making walking safer again. That work is underway, coinciding with the Artisan's construction.
But nearly $8 million more in public funding is needed to remove high-speed turning lanes from Chester east to MLK Boulevard south, as well as a short stretch of Liberty Boulevard between MLK and Stokes. Reconstructed/added roads/lanes and the utilities below them are planned along Chester between Stokes and MLK, along MLK southbound and counted into a rebuilt Reserve Court.
Some new infrastructure doesn't involve roads. It involves two new public spaces. One is Library Plaza, envisioned between Library Lofts/MLK Library and Fenway Manor Apartments. The other is University Circle Plaza. The latter would restore part of the old traffic circle that gave this urban district neighborhood its name, but would do so as a pedestrian plaza in front of a proposed office tower.
"We always thought University Circle and the Cleveland Clinic campuses would eventually become one," Ronayne said. "Circle Square is the linchpin that brings them together as one place. This project changes the game. This infill development is knitting it together."
The traffic circle named University Circle used to be a walkable, transit friendly place with Uptown at Euclid and East 105th to the west and the 195-year-old Western Reserve University plus Case Institute of Technology to the east. Ronayne and others have called it Cleveland's second downtown.
"It had vibrant walkable streets and great transit service but became an auto district," he said. "The roadway infrastructure divided University Circle and Cleveland Clinic."
He said disinvestment from surrounding neighborhoods like Hough and Fairfax combined with suburban investment and outmigration turned University Circle into a place that people either sped through or briefly visited. Few people lived there even as Cleveland Clinic, University Hospitals, Case Western Reserve University and other "eds and meds" employment grew quickly in recent decades.
"The institutions stayed through divestiture," Ronayne added. "We didn't lose them to outmigration. Much is owed to them. They're why the neighborhood has come back around. Library Lofts is turning a place out of a parking lot."
He said construction on Library Lofts and the MLK Branch Library is due to start in late summer, as early as August. The new building will measure about 184,000 square feet and cost about $55 million to build. Of that, the library will be about 28,000 square feet and $18 million. It will replace the 51-year-old, 18,200-square-foot MLK branch library which will be demolished when the new library opens.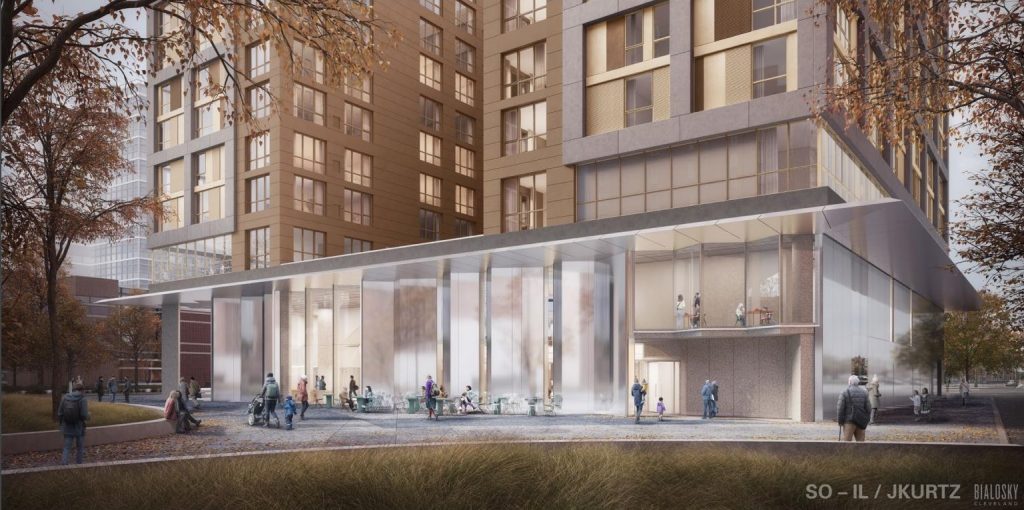 How Library Lofts and the new MLK Branch Library will look from a planned new Library Plaza on the east side of the new building, next to Fenway Manor (Bialosky, SO-IL/JKURTZ).
Thanks to a 2017 levy, Cleveland Public Library is in the midst of a 10-year, $100 million facilities improvement program to renovate or build new 27 branch libraries throughout the city. That work will be followed by a $65 million renovation of the Main Library downtown.
"We're happy to fulfill our promise to the community," said library Chief Operations Officer John Lang in a written statement. "We're creating more modern, accessible and inclusive spaces that will benefit the community for years to come. Each branch will pay homage to its neighborhood through design and public art."
Steve Rubin, a principal with Midwest Development Partners, did not respond prior to publication of this article to an email seeking comment and additional information.
By this time next year and within a few blocks of East 105th, between the Veterans Administration Hospital and East 105th/Quincy Red Line station, construction should be under way on the following major projects of 100,000 square feet or more among all phases:
Artisan –10600 Chester Ave., 24-story, 342,805-square-foot apartment tower over structured parking and ground-floor retail, White Oak Realty Partners; construction began in April 2021.
Addis View Apartments — 1870 E. 90th St., a four-phase development totaling 400 apartments on both sides of East 90th started with a 93,000-square-foot, 141-unit first phase, The Inspiron Group; construction began May 3, 2021.
How East 105th Street south of Cedar Avenue looks now might bear little resemblance to how it could appear a year from now. By then, multiple construction projects will likely be visible here. And there will be more traffic with the completion of last segment of the Opportunity Corridor Boulevard through to Interstates 77 and 490 (KJP).
Innovation Square – 2258 E. 105th St., a three-phase mixed-use development totaling 223 housing units starting with an 80,000-square-foot, 85-unit first phase, Fairfax Renaissance Development Corp.; groundbreaking is due spring 2021.
ARPI Apartments – 1866 E. 93rd St., a two-phase development expanding over to East 90th Street totaling 160 units but starting with 42 apartments and 40,000 square feet in phase one, ARPI Development LLC; groundbreaking due in early summer 2021.
Library Lofts/MLK Branch Library – 10541 Euclid Ave., an 11-story, 184,000-square-foot apartment tower over public library, Midwest Development Partners; groundbreaking due in August 2021.
Cedar-105 mixed-use development – 10408 Cedar Ave., a 5-10 story, roughly 150,000-square-foot development with 250-300 micro-unit apartments and urban-format Meijer grocery store, Fairmount Properties and Cleveland Clinic Foundation; groundbreaking possible in late 2021.
Cleveland Clinic new Neurological Institute – 9606 Euclid Ave., a 5-10 story, 400,000-square-foot hospital building, Cleveland Clinic Foundation; groundbreaking possible in winter 2021-22.
Cleveland Clinic Cole Eye Institute expansion – 2030 E. 105th St., a 4-6 story, 100,000-square-foot hospital building, Cleveland Clinic Foundation; groundbreaking possible in winter 2021-22.
Global Center for Pathogen Research & Human Health – vicinity of Cedar Avenue and East 105th, a 5-10 story, 400,000 square feet office and research facility, Cleveland Clinic Foundation; groundbreaking possible in Spring 2022.
END