Looking south on East 89th Street, two 1920-built apartment buildings stand across the street from each other. Each faces a decidedly different future. The one on the left is structurally unsound and likely to be demolished. The building at right will be renovated and expanded with workforce apartments (Google). CLICK IMAGES TO ENLARGE THEM
One apartment block in limbo, the other saved
Two century-old, walk-up apartment buildings face each other on East 89th Street in Cleveland's Hough neighborhood. One is structurally unsound and in danger of collapse after it was neglected by a so-called foundation facing a huge unpaid tax bill. The other will have its renovation and expansion plan reviewed by a committee of the City Planning Commission starting this week after it was bought by a successful, civic-minded local investor.
The latter building is a three-story structure called the Havyn Apartments located at 1780 E. 89th St. It's a 10,905-square-foot, nine-unit building with six full baths and six half-baths built in 1920. Last October, it was acquired by MAN Properties Cleveland, LLC for $165,000, according to county property records. MAN is an acronym for Michael A. Nance, a lawyer and businessman who splits his time between Cleveland and Chicago.
He is co-founder of 127 Wall Holdings, a minority-owned holding company that supports promising entrepreneurs and businesses. Their offices are located in a former LTK Steel plant office building, now called the Ferrum 77 Building, 3100 E. 45th St. As an investor, he joined a partnership last year to acquire 32 Save A Lot discount grocery stores in Cleveland and other cities from corporate ownership. An e-mail sent to Nance's 127 Wall Holdings address was opened but not answered prior to publication of this article.
The Tremont resident also is part of a partnership with Giancarlo Calicchia that acquired the 97-year-old Sokolowski's University Inn that closed in 2020. The Tremont restaurant is to be demolished and the property redeveloped into a six-story, 56-unit luxury apartment building. On the ground floor, a 4,178-square-foot retail/restaurant space will be provided for up to two commercial tenants.
His Hough development, although physically smaller, is no less significant. Rather than just refurbish the existing apartment building, Nance proposes to add on to it on the property's west side, facing a narrow alley called East 88th Place where the building's garage stood until it was recently demolished. Several nearby vacant houses were also recently razed. The addition will more than double the size of the building to 23,817 square feet and allow it to offer 16 large apartments by activating the basement with four apartments, all with windowed light wells.
Interestingly, and unlike many additions to historic buildings, the street-facing façade of the new portion is designed by Cleveland-based LDA architects, Inc. to look almost exactly like the street-facing façade of the original structure. If the plans are to be taken literally, the only visible difference between the new and the old is the color of gabled roofs atop the column of balconies. The original roofs are red while the new ones are black. And, the decorative frames for the exterior doorways are slightly different as well.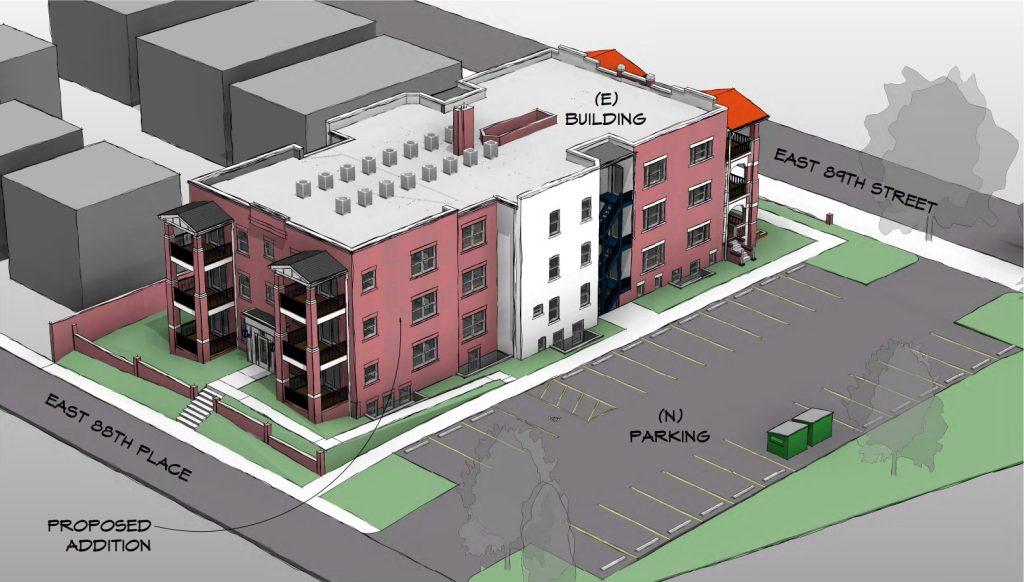 This is the "addition" side of the Havyn Apartments at 1780 E. 89th St., showing the added facade will look almost exactly like the existing one at the opposite end of the 102-year-old walk-up apartment building. It's the kind of apartment block that sprouted everywhere in Hough in the early 20th century as Cleveland grew to become the nation's fifth-largest city in the 1920s (LDA).
Most of the units will be two-bedroom, two-bath apartments ranging in size from 1,122 to 1,183 square feet by having the units in the new part of the building extend by one bedroom-bath combination into the older part. The basement units offer the property's extremes in apartment sizes. Two one-bedroom apartments in the addition will offer about 833 square feet while a pair of two-bedroom units in the original basement will measure about 1,393 square feet.
The latter units are comparable in the size to the original apartments in rest the building, but they had three bedrooms with only one bathroom per residence. A light well through the center of the building will remain. On the roof, plans show the building will gain 16 condenser units, meaning that each apartment will have and control its own heating-ventilating-air conditioning.
County records show MAN Properties Cleveland also acquired the parcel immediately south of the apartment building for $13,500 last December. The developer has an agreement to acquire a city land bank lot just south of that, too. According to plans submitted to the city, Nance will put on those two parcels a 25-space parking lot along with a pad large enough to accommodate two Dumpsters. That lot will have access from both East 89th and East 88th.
"We have so much housing stock the can be reinvested in instead of replaced," said Richard Pace, CEO of Cumberland Development, LLC and a member of the Euclid Corridor Design Review Committee that will review plans for 1780 East 89th on Sept. 1. "Design for new housing is so generic and so similar across the country that we are losing our sense of place. Besides, renovation is the green and sustainable solution."
Across the street at 1779 E. 89th, a slightly larger walk-up apartment building stands but perhaps not for long. Unlike it's neighbor, it is in much worse condition. Like its neighbor, it was built 102 years ago but is four stories tall, has 14 apartments and 14 bathrooms, and measures 23,648 square feet. It has a fascinating mix of box-shaped wood and rounded metal balconies which unfortunately are starting to fail from neglect. Satellite views indicate the roof is caving in over the eastern half of the building while the top of the street-facing brick façade is crumbling.
County records show the building has been declared structurally unsound and city building department records list numerous violations which stopped in Sept. 2020 after the structure was boarded up by a city contractor multiple times over the past four years. The property was forfeited to the state in 2016 after two attempts to sell the property at a sheriff's auction earlier that year yielded no buyer interest. It has sat in limbo ever since.
Cuyahoga County Magistrate Monica Klein ordered the property forfeited at the conclusion of a tax case in which the owner, the Inner City Development and Personal Growth Foundation, failed to pay tax and other liens of $92,083.10 to the federal government, $84,000 to the Cleveland Municipal Court Criminal Division, $41,442.27 to Cuyahoga County, $12,349.73 to the Ohio Department of Taxation, $101.45 to the Ohio Department of Job and Family Services, totaling nearly $230,000 plus costs and interest to each lien holder, court records show. It is just one of many parallel tax and debtor cases involving the so-called foundation and its ownership of nearby properties, some of which are still proceeding.
The foundation's statutory agent was identified in court records as Michael Nelson, 1255 E. 79th St. in Cleveland. County records show his home's ownership was transferred by quit-claim deed on Aug. 23 to Hosanna Mahaley, but the property's tax mailing address lists to "Leonard Michael Nelson et al." Another defendant in the 1779 E. 89th tax case was Albert Walker and an "unknown spouse" residing at 1711 E. 68th Pl., in Cleveland. The house at that address appears to have been vacant for a long time. None of the defendants could be located by NEOtrans for comment.
East 89th has gained a lot of investor interest lately. NEOtrans reported last May about four dozen classically designed new homes planned at the Fairfax neighborhood's end of the street. Building them is We Rise Development founded by Timothy Tramble Sr. who is president and chief executive officer of the Saint Luke's Foundation. From 2000-20, he was executive director of Burten Bell Carr Development, Inc., a community development corporation on the city's southeast side.
On East 90th Street north of Chester Avenue, every historic walk-up apartment building was demolished in August 2020 by the Inspiron Group for its Addis View Apartments including several that were structurally sound. The first phase of Addis View is to be completed this year (Karl Brunjes).
But the area around the Hough-end of this street is where most of the development action is. One block east, along East 90th Street, The Inspiron Group Ltd. is building the first phase of the Addis View Apartments, offering 131 workforce residences. The next three phases promise to bring the total number of living units to more than 400 along both sides of East 90th. Geis Cos. is constructing multiple apartment buildings and townhomes in this part of Hough, on East 82nd, East 90th, East 93rd, East 97th and East 101st streets, totaling more than 150 residential units, offering a mix of workforce and market-rate housing.
North of Chester, all eight historic apartment buildings on East 90th were demolished to make way for Addis View although a couple still stand the next block east. They were all three- and four-story brick walkups built in the 1910s and 20s, similar to the Havyn Apartments. South of Chester, only one historic walk-up apartment building still stands amid a sea of Cleveland Clinic properties.
A 12-unit building at 1934 E. 90th was bought in 2018 and renovated a year later by Meilin Liu, an Alameda, Calif.-based real estate broker. She said she invested in the property for the same reason other investors are attracted to Hough — because of its proximity to the growing Cleveland Clinic. That apartment building got the same welcome investment Havyn is receiving, but that 1779 East 89th and many others were denied.
END