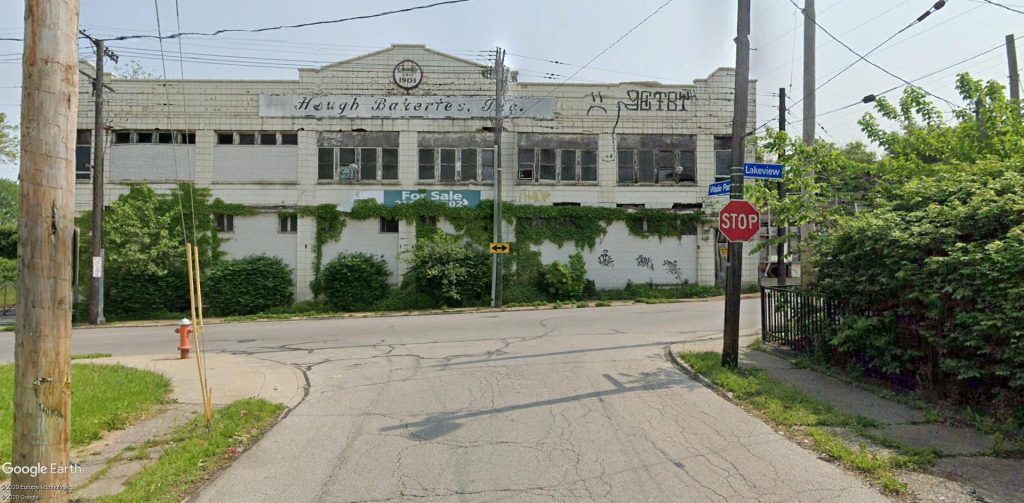 For nearly 30 years, a local institution beloved by many Greater Clevelanders has sat vacant at the intersection of Lakeview and Wade Park avenues. Knez Homes this week confirmed plans for the site which the Painesville-based real estate developer hopes to start renovating by this time next year (Google).
CLICK IMAGES TO ENLARGE THEM
Few businesses are as symbolic of the rise and fall of Greater Cleveland's fortunes as homegrown confectioner Hough Bakeries. Its former headquarters and plant at 1519 Lakeview Road on the border of Cleveland and East Cleveland has sat vacant since the bakery, once the nation's 10th largest, went bankrupt and closed in 1992.
But its redevelopment may be equally symbolic of Cleveland's reversal of fortunes.
Starting next year, Knez Homes, one of the largest homebuilders in Northeast Ohio, hopes to start construction on renovating the nearly 5-acre plant into a mixed-use complex of housing, offices and possibly a restaurant.
Preliminary plans for the bakery site, contained in a promotional piece about Knez's development activity in the overall Circle North area of Cleveland's Glenville neighborhood, were provided to NEOtrans recently.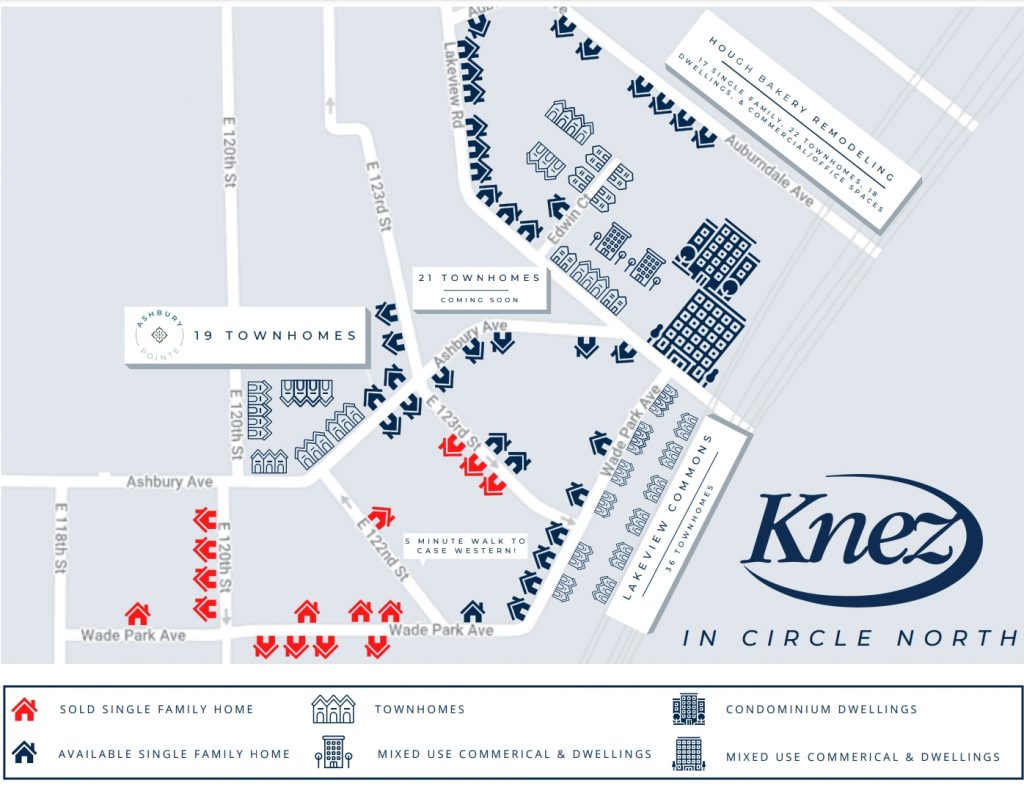 Knez Homes' plans for the Circle North area of Glenville, just north of Cleveland's University Circle, that is being circulated among interested home buyers (Knez).
When contacted, Knez Homes founder and CEO Bo Knez confirmed the plans and expressed his excitement in being able to redevelop a site whose corporate history and products are near and dear to many Greater Clevelanders.
"This is a big deal for us," Knez said. "Considering how complicated the site is, the plan has gone better than expected."
Specifically, plans show 17 single-family homes, 22 townhouses, 18 apartments possibly for student housing plus a significant amount of commercial space. The commercial spaces would primarily be for offices and measure roughly 180,000 square feet.
Knez said two companies are looking at the site for office space but until they were signed, he could not identify them. While the site plan has no retail, a restaurateur expressed interest in locating in the bakery's old carriage house. The pandemic put the kibosh on those plans.
"There's no restaurant currently under consideration but we're open to it," Knez said.
None of the structures facing Lakeview to the south, which is the Cleveland side, or Auburndale Avenue on north, that is the East Cleveland side, would be demolished for the redevelopment project. Knez said they will be refurbished including their original historical features, such as the terra cotta façade facing Lakeview.
Like many other developments in Circle North, the Hough Bakeries redevelopment will be mixed income. Public funding usually requires it and there is a mix of local and state dollars going into the bakery project.
In addition to making it possible so that area residents can afford to live there, Knez said his firm is seeing a big demand for student housing in Circle North. Nearby are Case Western Reserve University, Cleveland Institute of Art and the Cleveland Institute of Music.
He pointed out that the condominiums proposed in the Hough Bakeries redevelopment are actually fee-simple townhomes. That means the buyer has control of their property but the surrounding site is maintained through a homeowners association.
In Circle North, Knez is building up to 400 new housing units. Across Lakeview, on 0.9-acres of land on the railroad side of Wade Park Avenue, was the employees' parking lot for Hough Bakeries. There, Knez is building the 36-unit Lakeview Commons townhouse development.
The primary impetus for Knez developing in the Circle North area in general and Hough Bakeries in particular was Mayor Frank Jackson's Neighborhood Transformation Initiative (NTI), he said.
The program targets four neighborhoods and taps into the Cleveland Impact Fund, a $44 million account to support mixed-income and mixed-use developments. Buckeye-Woodhill, the East 79th Street Corridor, and Clark-Fulton are the other neighborhoods in the mayor's NTI program.
There is a strong demand for market-rate housing in and near University Circle which is why Knez is also developing homes in the Fairfax area south of the Cleveland Clinic. Between the growth of the Clinic, educational institutions and other employers in the area, Knez and other developers believe there is a demand for up to 10,000 new housing units near University Circle over the next decade.
Through an affiliate company, Knez acquired the Hough Bakeries plant in December 2019 for $225,000. Some site improvements were made to secure the property and some earthmoving has been done to prepare the site for redevelopment as well as to improve views for new homeowners in the area.
There are also a number of vacant residential properties around the perimeter of the former bakery that Knez is developing with single-family homes. Some will be sold at market rates and others will be made available to qualifying low-income families with the support of the Famicos Foundation, Knez said.
Hough Bakeries started in 1903 with a single store on Hough Avenue at East 87th Street in what was then a middle-class urban neighborhood. A growing Hough Bakeries in 1941 bought the Star Bakery plant at 1519 Lakeview Rd. But into the 1980s, the local firm could not reduce costs enough to fend off outside competition and ultimately went bankrupt.
END