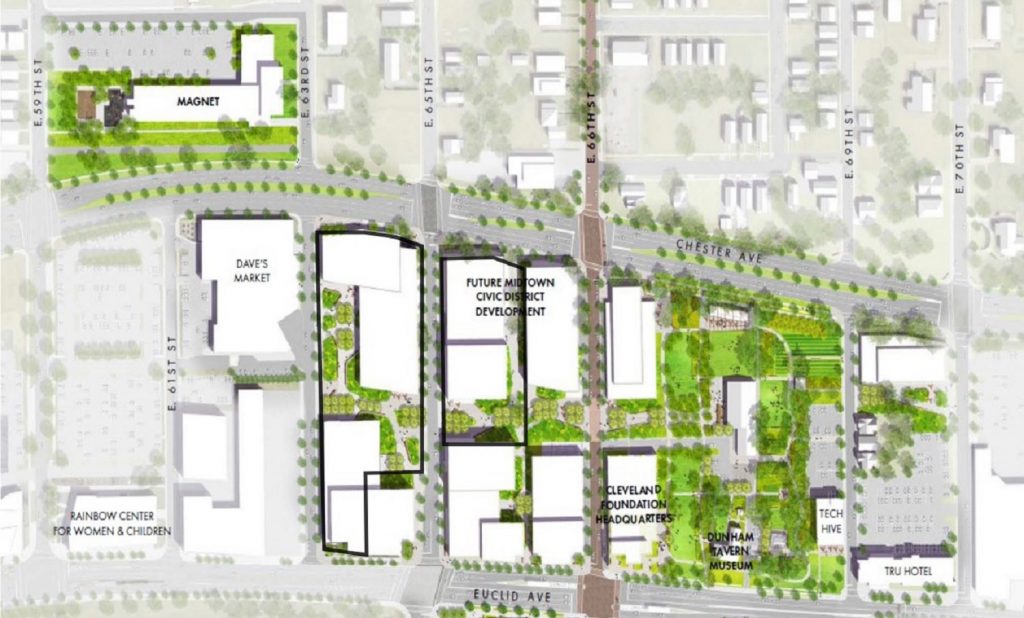 Demolition of the closed MPC Plating Inc. plant on both sides of East 63rd Street, between Euclid and Chester avenues, in Cleveland's Midtown neighborhood opens the door to the expansion of mixed-use developments that were built or underway along East 61st and East 66th streets. The MPC Plating properties are outlined with black lines (Merritt Chase). CLICK IMAGES TO ENLARGE THEM
Demolition clears the way for ambitious innovation district
A Midtown Cleveland development site is about to get twice as large. Even better, a developer is ready, willing and able to construct mixed-use developments on it, assuming a demolition request is approved. Community development officials said they are excited about the outcomes of clearing and cleaning the site left vacant by a former industrial user.
Demolition of multiple structures that were used for four decades by a metal and plastic plating company at 1859 E. 63rd St. is due to be approved by City Planning Commission as early as tomorrow. Once demolition debris and any polluted soils are cleared and cleaned by HZW Environmental Consultants Inc. of Mentor, the site will be ready for development.
"Those four buildings are empty and need to be demolished," said MidTown Cleveland Inc. Executive Director Jeffrey Epstein. "We want to get that site ready for development."
He declined to say whether MidTown Cleveland, through its real estate affiliate Lassi Enterprises LLC, would acquire MPC Plating Inc.'s 5.57 total acreage — 3.73 acres on the west side of East 63rd Street and 1.84 on the east side of it. Lassi already owns five parcels total among both blocks totaling 2.15 acres. And the Cleveland Foundation owns 1 acre on the east side of East 63rd, closer to East 66th Street.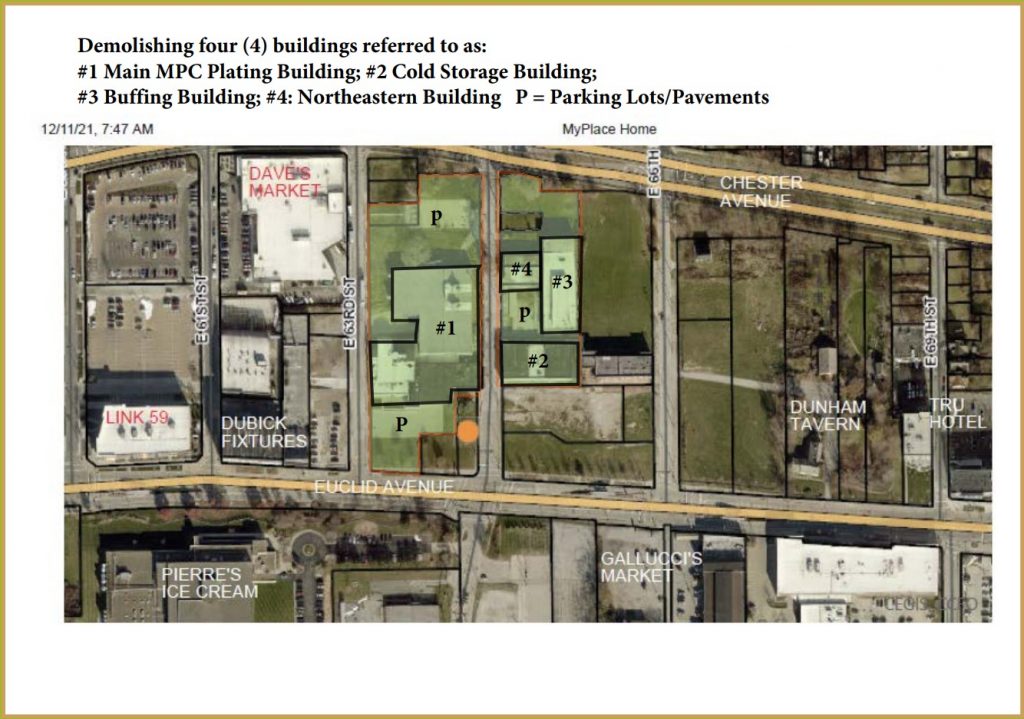 Structures within the MPC Plating properties that are due to be demolished, pending city approval. Each building is identified by the key on the map. Efforts are also underway to acquire MPC Plating's properties for a major redevelopment called the Innovation District with up to 2 million square feet of offices, labs and start-up business incubation spaces, plus ground-floor retail/restaurants and structured parking facilities (CPC).
Epstein acknowledged the developer for those properties will be Wexford Science and Technology, LLC of Baltimore. MidTown Cleveland along with the Cleveland Foundation and JumpStart identified 16 acres across several blocks between Euclid and Chester as the MidTown Innovation District and established a master plan to guide its development.
Wexford is the master developer they partnered with to build 2 million square feet of mixed uses — mostly offices and labs above restaurants and retail — to fill out this innovation district. Wexford has developed 15 similar, large-scale innovation and knowledge communities around the USA near universities, research centers and downtowns. Total investment required to build out the innovation district is $400 million, making it larger than Sherwin-Williams' new headquarters downtown or the massive Circle Square development in University Circle. Both are under construction.
Also under construction is the new $22 million headquarters of the Cleveland Foundation, at the northeast corner of Euclid and East 66th, across the street from Gust Gallucci's Italian Foods & Market. The 55,000 square foot, three-story office building is next to the Dunham Tavern Museum campus, a 200-year-old landmark and former stagecoach stop.
Next is what may be the largest office building in Midtown's history — a five-story, 150,000-square-foot office and lab building on the west side of East 66th. The building would be large enough to accommodate anywhere from 750 to 1,000 office, lab and research workers.
As for its design, conceptual renderings by Vocon Partners reportedly show glassy, ground-floor retail-café spaces facing Euclid with a 700-space, 175,000-square-foot parking garage built to the north of it near Chester, according to a source who described them on the condition of anonymity.
No construction cost figure was provided but considering the potential space needs, it could be a $50 million to $70 million development project. Construction is expected to start in early 2022.
"It's in the works but I can't discuss the details publicly yet," Epstein said in September. "The types of tenants will be technology, innovation, entrepreneurial-type tenants. This project will add to the density and vibrancy of the area."
Those types of tenants are growing rapidly in Midtown, aided in part by JobsOhio's designation and funding of a Cleveland Innovation District 11 months ago. Hundreds of millions of dollars are becoming available to boost the development of facilities and programs to support research and commercialization activities from downtown to University Circle and Midtown in between. Up to 20,000 direct and spin-off jobs are projected to result.
Wexford usually doesn't give the go-ahead to start construction until it has a building at least 50 percent pre-leased. So the proposed timeline of starting work on the five-story office building in the coming months suggests that leasing is moving along well. The robust leasing market apparently is what's also driving the demolition of the four buildings MPC Plating vacated.
Other buildings proposed in the innovation district's masterplan would be of similar size to the one Wexford would like to start building next year. Additional details about next phases will also reportedly be shared early next year. Epstein would not discuss leasing activity but said he was optimistic about the growth of the innovation district, adding "We're very excited about it."
That's not all he was excited about. Epstein said the presence of MPC Plating and its obnoxious odors caused problems for neighbors in Hough and discouraged redevelopment of the surrounding area. Its relocation to the Clinton Road industrial area in suburban Brooklyn was considered a positive by Epstein. United Church of Christ in 2020 ranked MPC Plating No. 72 on its "Toxic 100 super polluters in populated areas across the USA."
"Taking that plant offline in terms of emissions and have them move elsewhere in Northeast Ohio is a big deal for us," Epstein said.
In other MidTown Cleveland news, Epstein noted that the community development corporation received an unidentified number of responses to its request for qualifications (RFQ) for an ambitious rebirth of the Euclid-East 55th Street intersection and surrounding area. The deadline for responding to the RFQ was Dec. 8.
The goal of the RFQ is to find a developer to construct at Euclid and East 55th up to 1 million square feet of new mixed-use space — residential, retail, lodging and offices/labs for research, start-up firms and established employers. Epstein says it will be developed with MidTown Cleveland's newly adopted Neighborhood Vision Plan in mind to maximize employment and/or residential density, create a sense of place while honoring, valuing and connecting the neighborhood to its surroundings.
Although he said he didn't have a deadline date as to when a developer would be selected, Epstein said he hoped it would be soon.
"I'd like to be moving forward yesterday," he added.
END