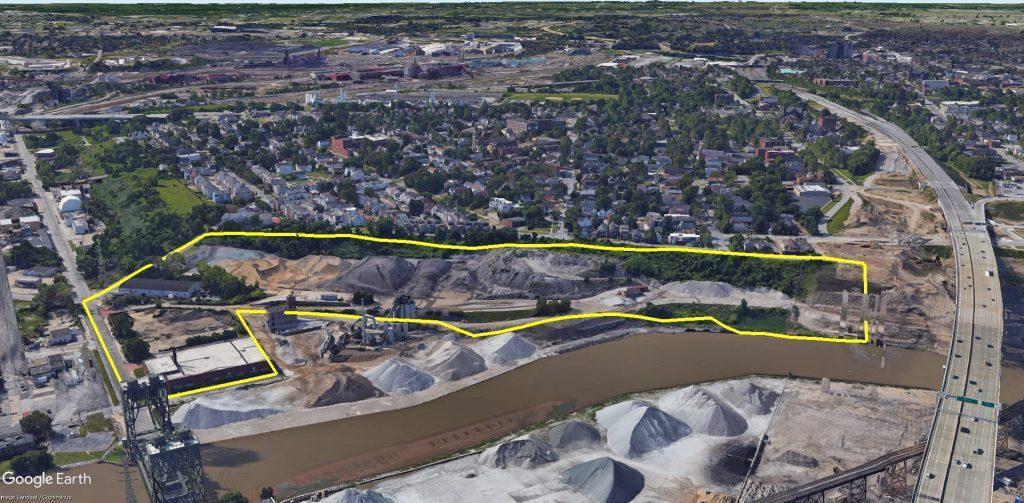 Potentially one of the largest and most attractive development sites in the city of Cleveland is being assembled on a Tremont hillside above the Cuyahoga River. Tremont-based developer J Roc Development has at least 18 acres under a purchase agreement with up to 25 acres to be rezoned for a mixed-use residential-retail development (Google). CLICK IMAGES TO ENLARGE THEM.
Former rail yard may become homes, shops, restaurants
ARTICLE UPDATED JAN. 18, 2023
A former railroad yard-turned-asphalt plant at the edge of one of Cleveland's hottest neighborhoods is the location of an emerging, large development site that could add shops, restaurants, other small businesses and hundreds of homes at a riverfront location. The developer leading the charge for this nearly 25-acre site is the same one involved in helping to move forward the 25-acre Thunderbird development on Scranton Peninsula in the Flats. But there appears to be some disagreement as to whether neighbors support or oppose the development.
While Thunderbird is somewhat isolated from other activity centers by the curving Cuyahoga River and the hillside above it, J Roc Development LLC's latest pursuit could be better connected to a vibrant city neighborhood. Although no formal plans have been publicized by J Roc as to what it intends to do with the site, a proposed rezoning provides some insight.
On Friday, City Planning Commission will weigh in on a proposed change to the city's zoning map which would convert up to 25 acres of land north of University Road in Tremont from an industrial classification to limited retail and open/space recreation. While the existing industrial zoning prevents housing development, the proposed retail classification allows it as well as neighborhood-scale retailers, restaurants and other small businesses. The open space/recreation zoning would be applied to a small portion of the affected area that's closest to the Inner Belt-Interstate 90 bridge. It would be below an overlook built as part of the Towpath Trail next to the former Sokolowski's Inn, to be redeveloped with a mid-rise residential-retail building.
The proposed rezoning would also include an urban form overlay along the west side of Literary Road and West 3rd Street. Such an overlay requires buildings to be located 10 feet or less from the street with patios or lots of windows and doors to promote pedestrian interaction with sidewalks. In the overlay, parking is kept to a minimum and placed next to or behind buildings, according to the city's building code. J Roc also reportedly seeks to increase the site's height district to 250 feet which could allow buildings to built up to roughly 25 stories. The current height limit is 115 feet, roughly equivalent to an 11-story building.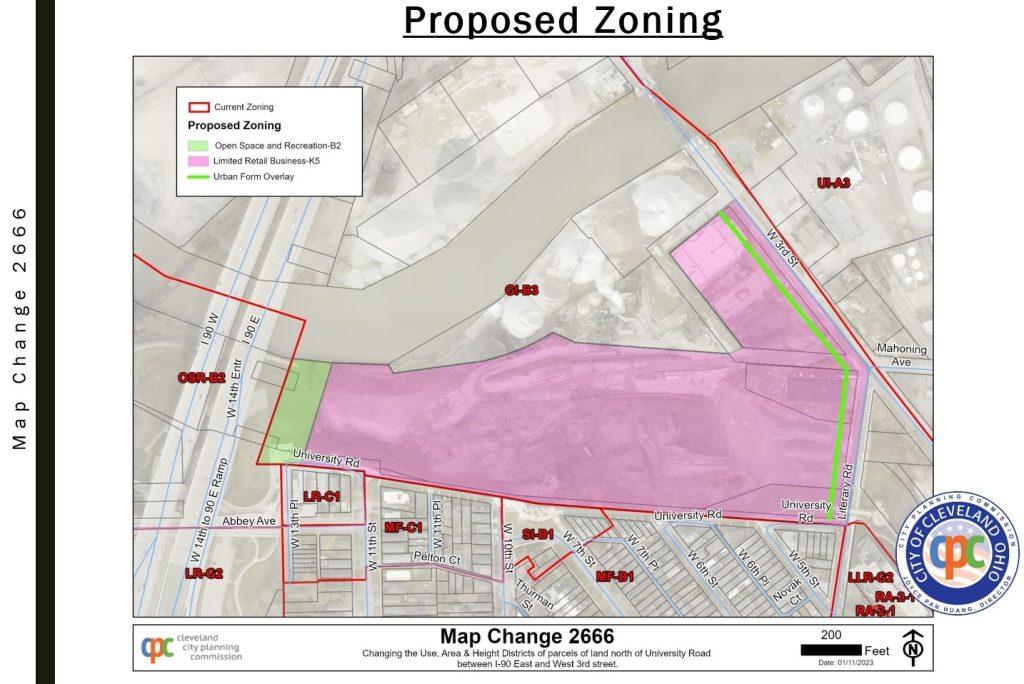 The green and pink areas on this map show the parcels to be rezoned, along with a short stretch of Mahoning Avenue. The green portion at left would correct a split-zoning of a single parcel among two different use categories. University Road has been partially converted into the Towpath Trail (CPC).
A presentation regarding the proposed rezoning was drafted by the City Planning Commission staff and sent to the Design Review Committee members and the media in advance of the committee's next scheduled meeting Jan. 20. The presentation said the zoning change is being sought to remove legacy industrial zoning and to correct a split-zoning occurrence as the westernmost parcel is zoned as both open space/recreation and general industry.
But the most visible goal of the rezoning is "to promote a variety of uses – multi-family, townhomes, single family, light commercial and neighborhood retail, and to align with the Vision for the Valley plan and Connecting Cleveland 2020," according to the city's presentation.
City officials said the Tremont portion of the Vision for the Valley recommends connecting the Tremont neighborhood to the waterfront, cleaning up legacy environmental issues within the river valley and restoring native riparian landscapes along the riverfront to manage stormwater runoff, improve water quality, and improve the aesthetic quality of the river valley. "This is an industrial site we can remediate as a part of the development process," the rezoning presentation notes.
Officials in large cities like Cleveland invariably have a lot on their to-do list, so they usually only pursue parcel-specific zoning changes when someone else requests them. The interested party was revealed to be J Roc Principal Aaron Taylor, as noted in the City Planning Commission's staff presentation that was sent Monday to Design Review Committee members and the media. He was identified by commission staff in part of an e-mail from Ward 3 Councilman Kerry McCormack informing others of his support for the rezoning. That e-mail included a clip of a Jan. 7 e-mail to which McCormack responded, written by Taylor who was requesting McCormack's documented support.
As a matter of course, McCormack requests all development and zoning change applications to be presented to block clubs first before he decides whether to support them. Taylor said the North Of Literary Block Club (NOL BC) is supportive of the zoning change.
"After sending the rezoning packet and reviewing the zoning change request with NOL BC Chair, a subsequent conversation was had between the Chair and the TWDC (Tremont West Development Corp.), and it was decided that we do not need to represent at the (Jan.) 17th BC meeting to obtain NOL support," Taylor wrote in his Jan. 7 email to McCormack. "The Chair will make the BC aware of the zoning change intent and will let us know if there are any issues or follow-up questions, but there is a strong belief that the BC will support the zoning change without dispute."
Block club members met yesterday evening in Tremont to view the same presentation that will be shown to City Planning Commission later this week. But neighbors expressed concerns about the site's pollutants, the noise, traffic and structural impacts from developing next to existing residences, the lack of a detailed development plan, as well as the proposed 250-foot building height.
"There was a lot of opposition to the rezoning request," said Tremont resident Michael Meyer who was at last night's block club meeting. "Taylor's statement is not accurate."
Taylor, Tremont West Development Corp. Executive Director Cory Riordan as well as North Of Literary Block Club co-chairs Fred Calatrello and Jim Naccarato opened but did not respond to e-mails from NEOtrans prior to publication of this article. The e-mails requested confirmation of their support for redeveloping the hillside site with housing and neighborhood shops, restaurants or other businesses and in the rezoning necessary to accommodate them.
The current, primary user of the area to be rezoned is The Shelly Co. which leases a 17.9-acre parcel owned by Emerald Dock Inc. as Asphalt Plant 76, 2214 W. 3rd St. J Roc reportedly has a purchase agreement with Emerald Dock, which has owned the parcel since acquiring it in 2005 from River West Dock, Inc. While no purchase price is yet available, Cuyahoga County has valued the property for tax purposes at $1,014,600. The Shelly Co., successor by merger of S.E. Johnson Companies, Inc., began leasing the property in July 27, 2003 for three successive five-year terms with the fourth and final term concluding July 27, 2023, according to a lease recorded with the county's fiscal officer.
McCormack acknowledged a real estate developer has a purchase agreement for the asphalt plant property and had requested the rezoning but he would not comment on who it is. The proposed rezoning also affects two other parcels. One is a 1.16-acre lot at 360 Literary owned by the Zemaitis family since 1985 and used by Northern Chemical Blending Corp. It was purchased for $225,000 and valued for taxes in 2021 at just $179,000.
The last property affected by the rezoning is a 3.104-acre parcel owned by the city for an 88-year-old, two-story brick building once used by the Division of Motor Vehicle Maintenance, 2200 W. 3rd. The parcel also has an address of 260 Mahoning Ave. which is not a passable street; its right of way is partially included in the rezoning. This property was valued for taxes at $1,014,600.
McCormack said he was not aware of whether the real estate developer had interest in any parcel other than the one owned by Emerald Dock. He said the existing asphalt plant use would be grandfathered in any rezoning until the plant permanently ceases operation.
Looking north from University Road in 1955, in the foreground was the Erie Railroad's Literary Street Yard. Just beyond it was Sherwin Williams' linseed oil factory and power plant with Cleveland Builders Supply warehouse barely visible. In the background is the Inner Belt highway bridge under construction and downtown Cleveland (Fred Bultman photo).
Before it was abandoned in 1981, the Emerald Dock property was used by the Consolidated Rail Corp. (Conrail) and its predecessors going back to 1856 when the Cleveland & Mahoning Valley Railroad built tracks linking its Lake Erie port facilities on Riverbed Street to the Youngstown area, historical records show. Specifically, the property was the site of the Erie Railroad's Literary Street Yard with about a dozen tracks to facilitate interchanging freight cars with the Baltimore & Ohio and Wheeling & Lake Erie railroads, according to a 1977 track chart from the Erie-Lackawanna Historical Society.
Just north of the rail yard was Sherwin-Williams' linseed oil plant, from which a five-story concrete and brick building survives. A long-gone Cleveland Builders Supply warehouse stood next to West 3rd's lift bridge. The Sherwin-Williams and Cleveland Builders Supply properties are now owned by Lafarge Corp. but the city's presentation shows they are not part of the proposed rezoning. Lafarge uses its property as an aggregate transload between ships and trucks.
J Roc is an active developer with many significant projects recently built, underway or planned in Cleveland. Recent projects include the 130-unit Electric Gardens apartments that opened in 2021 very close to the rezoning site at 425 Literary in Tremont. An underway project by J Roc is the 97-unit Driftwood Apartments with a small retail space at 1209 Fairfield Ave. in Tremont, across the street from the South Side Restaurant. J Roc is also planning a 13-story apartment building overlooking Edgewater Park next to the Shoreway Apartments it converted from a warehouse in 2014. Additionally, the firm has built numerous townhouses on the city's near-West Side.
One of J Roc's biggest developments is its partnership with Fred Geis and a Savannah, GA-based investor group called East West Alliance to redevelop 25 acres of the neglected and forgotten Scranton Peninsula, across the river from Tower City Center. The partnership was called Thunderbird which envisioned the polluted, former industrial haven as a mixed-use riverfront district to be developed mostly by others. But J Roc was first to develop there, opening the BrewDog Cleveland Outpost brewpub in 2021 in a long-vacant former industrial building on the river. More than 600 apartments and a Great Lakes Brewing Co. production facility and tasting room are due to start construction on Scranton Peninsula this year.
END
Our latest Greater Cleveland development news