Two significant lakefront developments near Gordon Park were put on the back burner by their developers during the depths of the pandemic. But now, both developers are bringing their projects forward to get them cooking again.
Part of the reason is the Cleveland Metroparks is leading a comprehensive effort to improve the lakefront near its Gordon Park and East 55th Street Marina which is a popular recreational area.
One project is a mixed-use development sought by Knez Homes on the south side of Interstate 90 and just east of East 55th. Up to 150 market-rate residential units and 8,000 square feet of commercial space are proposed for the former site of a 12-story Howard Johnson's hotel razed in 2009.
The other project is a residential development by The Landmark Companies on the water's edge of Lake Erie, north of I-90 and just west of East 55th. Proposed is a five-story building with 212 market-rate apartments called The Shoreline Phase II.
Bo Knez, founder and president of Knez Homes, said he has asked his development team to bring its project at 5700 South Marginal Rd. back to the fore. The site measures 4.24 acres of city-owned land which Knez has an option to buy.
"We're back on the drawing board for East 55th," Knez said in a phone interview. "We're giving RSA (Architects LLC) directions to move plans forward."
In February 2019, Knez proposed a conceptual plan with 50-60 townhouses including eight homes above commercial spaces such as restaurants, retail and/or offices along South Marginal. Tucked behind would be 90-100 apartments in a five-story building.
But back then, some City Planning Commission members said the project was too dense and not connected to the surrounding neighborhood. Knez, who was born in Slovenia and raised nearby in the East 55th-St. Clair Avenue neighborhood, said there's no immediate neighborhood within an easy walk. Instead, he would be creating one.
RSA Architects will refine the plans in order to secure final approval, Knez added. But he said he did not know when those revised plans would be ready to be submitted to the city.
On the other side of Interstate 90 and East 55th, The Landmark Companies began pursuing city approvals for Shoreline Phase II. It's the next phase after the former Nicholson Terminal warehouse was renovated into Quay 55 and 138 apartments in 2002. Landmark bought Quay 55 in 2017, renamed it The Shoreline and converted some of its indoor parking into 29 additional apartments.
Phase II would result in a second, five-story building just east of the first, bringing more apartments, a larger swimming pool and 322 more outdoor surface parking spaces plus 95 indoor spaces. In Phase I are 63 indoor and 67 outdoor parking spaces. Total parking would be 561 spaces. City Planning Commission approved the conceptual designs two years ago.
John M. Carney, a principal with Landmark Management said the project was delayed by the pandemic and by having to secure some additional property from the city. But, contrary to rumors that the project was dead, he said the project is most definitely active.
"Right now, we're working it," Carney said in a brief phone interview. "The plan is to proceed per the plans that received preliminary approval from the city. We're working on a few things with the city of Cleveland on the east boundary."
Although Carney wouldn't specify exactly what is being pursued, there is a vacant piece of city-owned, waterfront land measuring just over 1 acre immediately east of the 10 acres Landmark owns. Of that 10 acres, phase two would rise on 4 acres of vacant land at 5455 North Marginal Road.
This area along the lakefront, from Burke Lakefront Airport east to the Cleveland Lakefront Nature Preserve, is the subject of a multi-agency planning effort led by the Cleveland Metroparks. Called the Cleveland Harbor Eastern Embayment Resilience Study (CHEERS), the goal is to accommodate dredge disposal, create additional aquatic and terrestrial habitat, protect existing highway infrastructure and enhance the lakefront.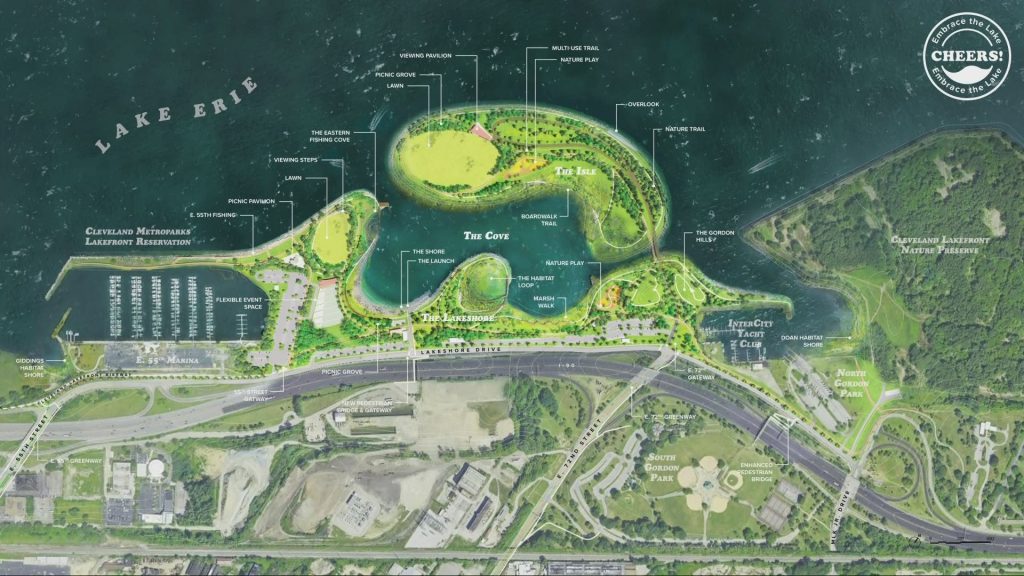 Cleveland Metroparks plans a major expansion of Gordon Park by using lake and river dredgings to extend the shoreline and create an island. The development of more recreational and public spaces along the lakefront could boost residential development south of I-90 where FirstEnergy's power plant stood until 2017 (Metroparks).
I-90 has been battered in recent years by storm-driven waves that pushed abnormally high lake levels onto the roadway and into a water inlet below the highway. Water from that inlet was used by the former FirstEnergy Lake Shore Power Plant until it was closed and demolished in 2017.
With the power plant gone, there was no longer a reason for I-90 to be routed around it next to the lake. Some wanted to see I-90 moved south, through the former power plant's property. Instead, a less costly option was embraced by the CHEERS effort — push the lake shore farther north, including the creation of a park island and a cove between it and the lake shore.
The Green Ribbon Coalition, which promotes an enhanced and more accessible lakefront, said the Metroparks' proposed improvements could lead to additional development and expansion of public spaces. That may include redeveloping much of the 62 acres of land on which the power plant sat. FirstEnergy said the site was cleaned of pollutants when it demolished the plant.
END