A parking lot with nearly 2,000 parking spaces is proposed to be built on 18 acres of downtown lakefront land, with parking spaces being placed right up next to the water's edge of Lake Erie. That's according to a building permit application submitted to the city this past week on behalf of the Greater Cleveland Sports Commission.
The application, drafted by Osborn Engineering, proposes to add 1,175 parking spaces to the 775 spaces that are already existing along and immediately north of Erieside Avenue and First Energy Stadium, home of the Cleveland Browns. The total number of parking spaces would be 1,950 if the application is approved by the city's Building Department.
Existing parking on the site is located more than 300 feet away from the water's edge and, for the most part, was used by a smattering of workers at the Port of Cleveland, stadium employees and visitors to North Coast Harbor. The existing and proposed parking lot land is owned by the City of Cleveland.
But most of the spaces were placed there for use by fans and workers attending eight regular season and one or two preseason Cleveland Browns football games per year. That is how the additional spaces are proposed to be used, too.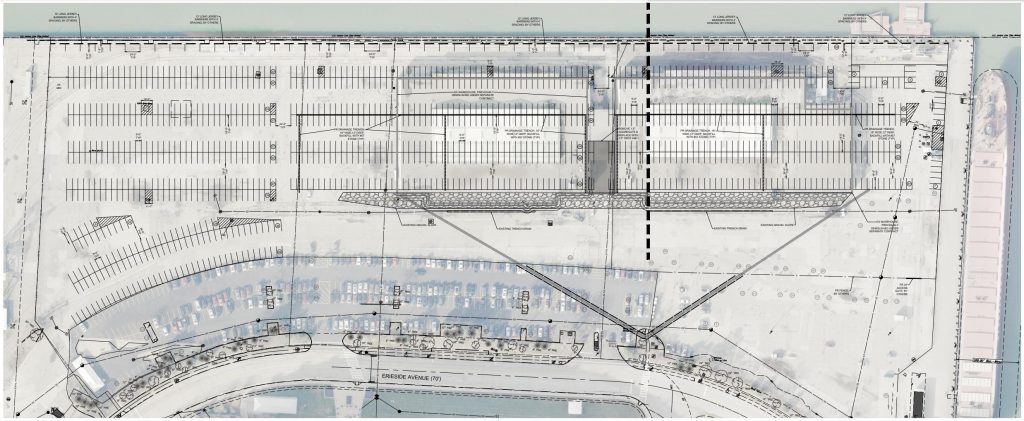 Site plan for the parking lot expansion north of First Energy Stadium, seen at bottom. Lake Erie is on the north. Port of Cleveland property is on the left and the Steamship William G. Mather Museum is at the right. This site plan was spread across two pages that were combined electronically for clarity (Osborne).
Neither Meredith Painter, director of marketing and communications, or Marketing Coordinator Rachel Gill, both at the Greater Cleveland Sports Commission, responded to requests for comments and additional information prior to publication of this article. However, both acknowledged receiving the e-mailed requests.
In the permit application to the city, Jon-Michael Lemon, director of civil engineering at Osborn Engineering, wrote "We are planning to restripe a large portion of the existing parking lot, north of Erieside."
However, much of the site proposed for the additional parking spaces was never a parking lot. Until this winter, there were two vacant port warehouses on the city-owned land. They were demolished, their foundations removed and the site paved to host a temporary stage and support facilities for the National Football League's 2021 Draft to select eligible players to play professional football.
Osborn Engineering estimated the cost of adding the 1,175 parking spaces to the downtown lakefront at about $80,000, according to the permit application. The parking lot is proposed to be "temporary" as the Haslam family, owners of the Cleveland Browns, are proposing a major redevelopment of the lakefront. Osborn is part of the redevelopment team. The Haslam's Harbor Development Plan includes new housing, offices, hotels, restaurants, retail and public spaces.
But some in the city and among lakefront advocates said such plans are years away from being realized. Instead, they wondered why a temporary greenspace wasn't proposed instead of a temporary parking lot. They vowed to fight the proposed parking expansion.
"Generally, using our waterfront for parking is a terrible idea," said Ward 3 City Councilman Kerry McCormack, whose ward includes downtown. "I would hope that we are trying to correct this type of use (surface parking) that we already have too much of in Cleveland."
Dick Clough, executive board chair of the Green Ribbon Coalition which promotes public access to and use of the lakefront, responded angrily to the idea of putting a parking lot on the downtown waterfront.
"It just amazes me that we would devote prime lakefront land for eight Browns dates versus developing a public park that could be enjoyed every day during three seasons," Clough said. "As usual, it's a complete lack of vision and a huge missed opportunity."
He suggested that the Greater Cleveland Sports Commission should partner with the Greater Cleveland Regional Transit Authority (GCRTA) to encourage Browns fans to use public transportation to attend Browns games thereby reducing the parking needs.
Clough pointed out that the $80,000 proposed to be spent on expanding the parking lot with 1,175 parking could instead buy GCRTA day passes for 2,000 fans for eight Browns regular season home games. Or they could sell the passes at a discount and make them last for two or more seasons, he said.
"We could recreate the Donald Gray Gardens on that site," Clough added, referring to a public gardens that existing on the north side of the old Cleveland Municipal Stadium that stood where First Energy Stadium is now.
"A great lakefront does not include dedicating prime land with lake access for a giant parking lot used for a few hours on a few days," Clough said. "We're awaiting the implementation of the recently announced Browns Harbor Development Plan which is probably five or 10 years down the road. In the meantime, the only temporary thing we should be creating is a public green space on the real estate north of the stadium."
END