Forget everything you know about commercial office space. Expect the unexpected; anything is possible. We may be at a turning point in how, especially where office space is being delivered — and it's not just about working from home.
Consider, for example, Brickhaus Partners' Bighaus project at Clifton and West boulevards in Cleveland's Edgewater-Cudell neighborhood. It was originally proposed as a five-unit townhouse development. Hardly a surprise. That's what Brickhaus does — construct high-end townhomes.
But when a small, unidentified office tenant approach Brickhaus about locating its office just beyond the West Shoreway, the Warrensville Heights-based developer reworked its plan for Bighaus. Instead, documents were submitted last week to construct an 11,255-square-foot building described in a permit application as an "office building with two residences."
A source who was familiar with the project but not authorized to speak on the record about it said Brickhaus will have to get a variance from the city's Board of Zoning Appeals in order to develop the site with offices. The site is located in a district zoned for one-family uses.
Brickhaus' five-unit townhouse plan for Bighaus at Clifton and West boulevards in Cleveland's Edgewater-Cudell neighborhood may be changed. Instead, two residences over a suite of ground-floor offices is being considered for this busy corner although the building' exterior design may not change much (Bowen).
In a brief phone interview, Brickhaus Principal Andrew Brickman confirmed that he is considering adding the office component to the Bighaus project but hasn't made any formal decisions about moving forward with it. Of course, that will also depend on neighborhood reaction and whether the city approves it.
Ward 11 Councilman Brian Mooney acknowledged receiving an e-mail from NEOtrans asking questions about Brickhaus' proposal, but otherwise did not respond to it.
Brickman did say, however, that if he does go with the residents-over-offices plan, that the exterior design of the structure won't change much if at all. Parking would be behind and under the structure, accessed off West Boulevard. The exterior design evokes the form of other large houses on the other three corners of the intersection of Clifton and West.
Brickhaus acquired the 0.38-acre property last October for $200,000, county records show. Multiple owners and developers have attempted to develop the land for five decades. It has sat vacant since a large house on the site burned down in the mid-1960s.
Small office projects seem to be popping up in Cleveland neighborhoods with greater frequency, as do some unconventional residential/remote-work projects.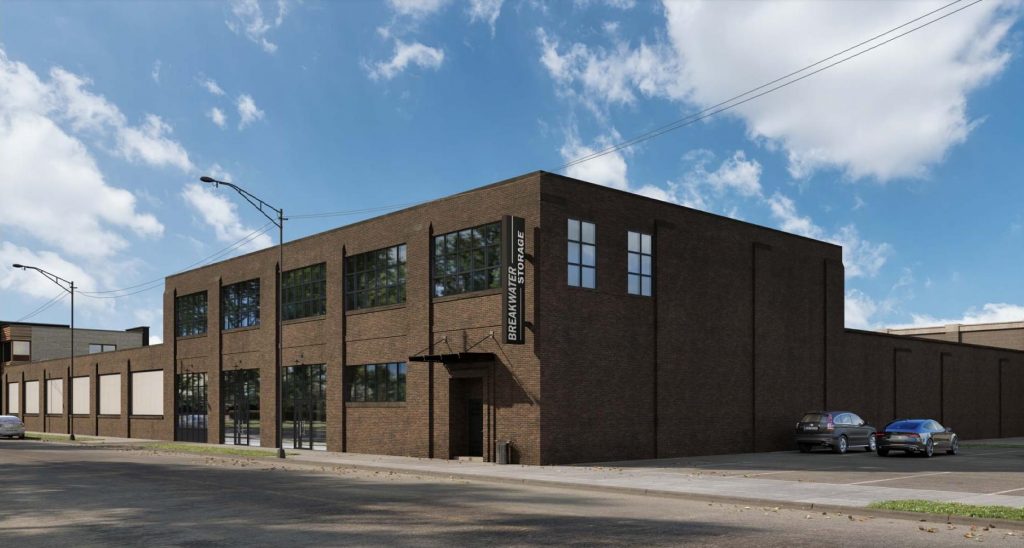 The second floor of this former warehouse and printing plant was renovated by The Krueger Group as offices for a 10-person law firm. While the immediate neighborhood in Gordon Square has a growing number of new residential developments and some light industrial uses, this will be its first law office (Dimit).
Another example is The Krueger Group's development on the southwest corner of West 58th Street and Breakwater Avenue in Cleveland's Gordon Square neighborhood. In addition to a new-construction, 27-unit apartment building, Cleveland-based Krueger has renovated a former auto parts warehouse-turned printing plant into a self-storage facility.
The self-storage facility is the dominant part of the 44,163-square-foot former warehouse structure, comprising 37,411 square feet on the first floor. The 6,752-square-foot second floor was renovated into offices for a 10-person law firm, said Dan Krueger, vice president of preconstruction at The Krueger Group.
Estimated cost of the warehouse renovation was a very affordable $500,000, according to city Building Department records. Self-storage businesses are usually very profitable since they require little staffing. Having a daytime office component upstairs and a new residential building next door will mean a nearly round-the-clock, eyes-on-the-street presence for the neighborhood.
The size of the office component is slightly smaller than the office space Brickhaus will likely be offering to its prospective tenant, also reportedly a law firm, a source said. The commercial component of the Krueger Group's project is completed; the residential part is still working its way through the city approvals process.
In downtown Cleveland, Dallas-based Blueloft Inc. and investor Kenny Wolfe are planning a unique live-work environment in what may be Cleveland's first post-pandemic remote-work tower.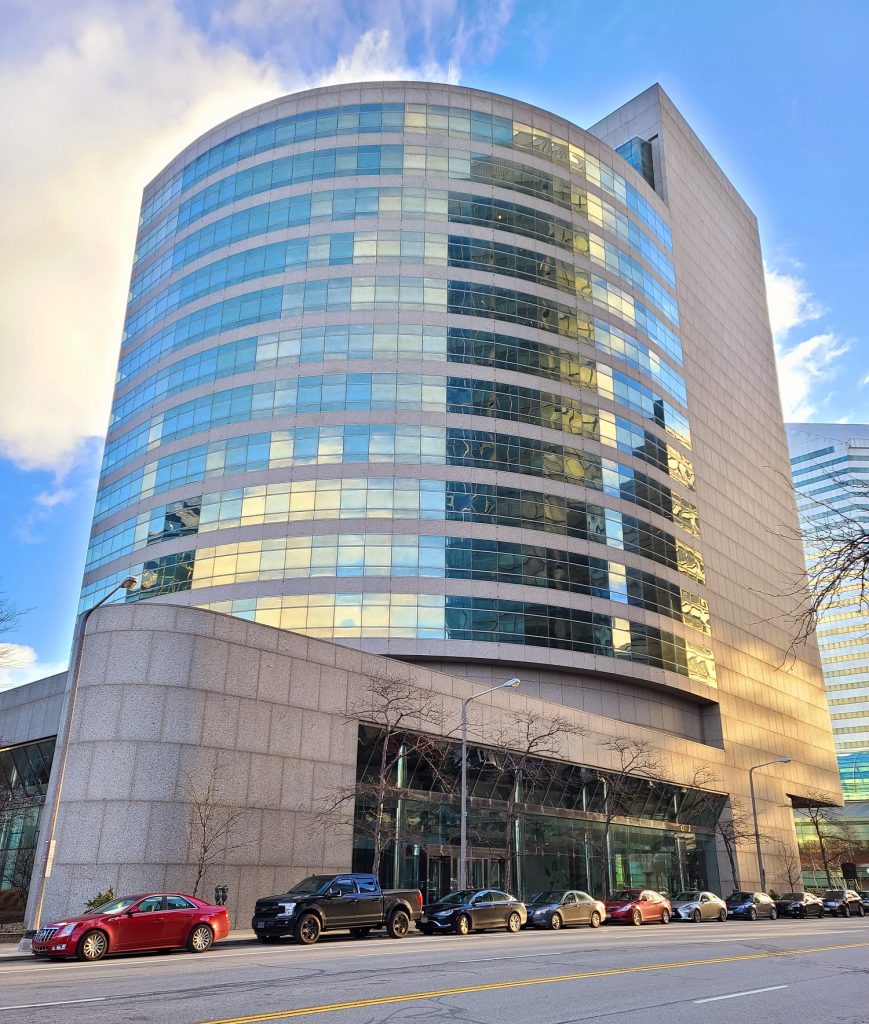 Looks like an office building. But looks and the contemporary office market can be deceiving. Instead, a pair of Dallas investors want to convert 45 Erieview Plaza, located at Lakeside Avenue and East 9th Street downtown, into a live-work city-within-a-city (KJP).
The building, 45 Erieview Plaza, constructed in 1983 as the headquarters of the Ohio Bell Telephone Co., is proposed to be a city-within-a-city with amenities ranging from gaming rooms, movie theater, rock-climbing wall, pet spa, pickleball court and much more.
About 200 market-rate apartments will line the curving outer walls and windows of the 16-story, 496,000-square-foot building, offering great views of Lake Erie. But the window-less inner part of the structure will be used as remote-working spaces.
The city's building code requires residential units to have windows. That and the huge, 37,000-square-foot floorplates in much of 45 Erieview discouraged other prospective buyers who couldn't image how to use the building's interior.
The many amenities being offered, including co-working lounges, spas, conference rooms and other social settings will support planned meetings or happenstance discussions of innovative business ideas. And they will be useful to residents who would live in what is still predominantly an office district. There aren't as many residential amenities nearby here as there are elsewhere downtown, such as along Euclid Avenue.
In fact, along Euclid, some building landlords and office tenants in downtown Cleveland are converting parts of offices to residential or giving some of their leasable office spaces to landlords. As NEOtrans first reported in March, Jori Maron of Cleveland-based MRN Ltd., doing business as 629 Euclid Ltd., is converting at least two office floors of the New England Building, 629 Euclid, into residential.
Each 13,740-square-foot floor conversion from offices into 11 market-rate apartments and residential amenities like a fitness center is costing about $1,275,000, according to city building permit records and plans submitted by SA Group of Cleveland. The New England Building was constructed in 1896.
Plans show the fitness center would measure 2,945 square feet and the apartments average about 1,000 square feet each. The rest of the 17-story building is used for a Holiday Inn Express hotel and an office building including tenants like digital marketer Rosetta Inc. and real estate firm Stark Enterprises.
Over at the 45-story 200 Public Square tower, accounting powerhouse Pricewaterhouse Coopers, LLP (PwC) is giving back to the landlord 8,040 square feet of space on the 18th floor. On the same floor, PwC will retain 9,334 square feet of office space.
Cleveland-based architect Vocon Partners submitted to the city planning documents for the change, including a new partition divider costing $150,000, public records show. The tower's 18th floor measures 24,440 square feet. The building's owner is an investor group led by New York-based DRA Advisors called G&I IX Public Square LLC.
END