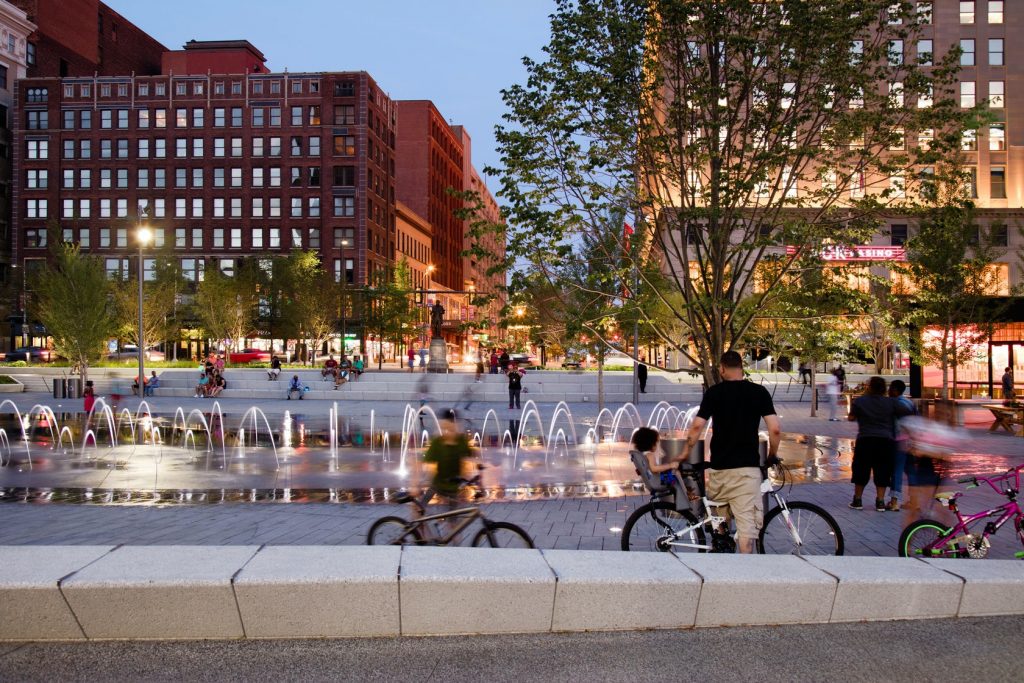 On a peaceful summer evening in downtown Cleveland, people from all sorts of backgrounds gather at Public Square. It's a world away from war-torn Afghanistan right now but soon such places won't be for thousands of Afghan refugees. They're being airlifted to Cleveland and 18 other U.S. cities by the State Department so they can start new lives in a peaceful setting like this (GPC).
CLICK IMAGES TO ENLARGE THEM
With Cleveland being listed by the U.S. State Department as one of 19 cities suggested for resettlement of Afghan and Iraqi refugees, numerous local organizations are ramping up efforts to attract as many as possible in light of the crisis in Afghanistan.
But they need your help as soon as possible.
This evening, representatives of the local organizations and charities who aid new refugees and immigrants to Greater Cleveland are meeting to design their offer to the State Department. The more help that Greater Cleveland can pledge now, the more Afghans and Iraqis can resettle here.
NEOtrans is a real estate, business and construction blog, so it might seem surprising that we're covering this story. But Cleveland and its economy was built by risk-taking immigrants, many of them fleeing difficult situations elsewhere in the world.
Cleveland needs more jobs, and immigrants start more new businesses than natives. And since Cleveland needs to reverse its decades-long population slide, attracting more immigrants is essential. Immigration is economic development, especially when the immigrants possess desired skills.
The local organizations' offer to the State Department could be delivered as early as tomorrow, so the pledges of affordable housing, clothing, food, jobs and donations need to be made promptly, said Joe Cimperman, president of Global Cleveland.
"The State Department says we have to meet three criteria — willingness to accept refugees, a capacity to accommodate refugees, and what kind of community do we have to support refugees," Cimperman said. "We already have a strong Muslim community in Cleveland with a strong support network here. Will we welcome and support and love them here? I think the answer is yes."
Being able to answer those questions will determine how many Afghan refugees will find their way to Cleveland. So organizations in Cleveland are looking for pledges of housing such as affordable apartments, granny flats and other accommodations that are within walking distance of basic necessities and public transportation.
To identify housing, Global Cleveland is working closely with the Cleveland Chapter of The Council on American-Islamic Relations, Catholic Charities of Cleveland, US Together, the U.S. Committee for Refugees and Immigrants, Refugee Response, Asian Services In Action-Ohio, and Building Hope in the City. All are collecting offers of temporary or permanent housing, food, clothing, furniture and financial donations. Contact each for details on how to donate. Prospective landlords will be pre-screened.
"We're going to give a report to the State Department tomorrow to show that we've got our act together," Cimperman said.
He said Afghan families have already begun to land in the USA at two Air Force bases. Tens of thousands more are being air-lifted out of Afghanistan to U.S. bases in Germany, Hungary and France. Once they are out of harm's way, security-screened and interviewed to determine whether they will enter the USA as refugees or as Green Card holders with immediately marketable skills.
The State Department selected Cleveland as one of 19 cities it is recommending for resettlement of Afghan and Iraqi refugees under Special Immigrant Visas. However, refugees who already have family or friends in the USA may opt to resettle with them.
"These (19) locations have been identified by the Resettlement Agencies as locations with reasonable cost of living, housing availability, supportive services and welcoming communities with volunteers and resources," the State Department explained.
The State Department will give three months of free rent and six months of food stamps to refugees. After that, they're on their own. So the State Department wants to see refugees relocate to lower-cost markets like Cleveland to make the aid go farther.
"Unless you have close relatives or friends in these areas who are able to provide financial support and housing until you find employment that covers your living expenses, it is best to allow a resettlement agency to choose a suitable location for you," the department continued.
Cimperman said recent migrations have kept Cuyahoga County's population from falling farther than the 1 percent it dropped since 2010. In fact, Census data shows Cuyahoga County's adult population actually rose 2 percent in the same period.
"Had we not had the influx of immigrants, it would have been far worse," he said. "In the next three to five to 10 years, we'll see an increase in population because of this."
He noted that the resettlement of Jews during and after the breakup of the Soviet Union 30 years ago brought 40,000 immigrants to Greater Cleveland. Many of them settled in the eastern and southern suburbs where they opened shops and started other businesses.
After the war in the former Yugoslavia 25 years ago, thousands of Albanians came to Lakewood and Cleveland's West Side while Kosovar refugees settled in Cleveland's St. Clair-Superior neighborhood. The Serbian population grew in the southern suburbs. Lebanese, Iranians and Iraqis settled primarily on the city's West Side.
"The first Ethiopian restaurant in Ohio, Empress Taytu on St. Clair (Avenue), was the result of refugees fleeing African hunger," Cimperman said. "Shopping districts in Beachwood and the Heights are active due to thousands of Soviet Jews coming here. Immigrants bring life to our communities. Afghan refugees can, too."
END