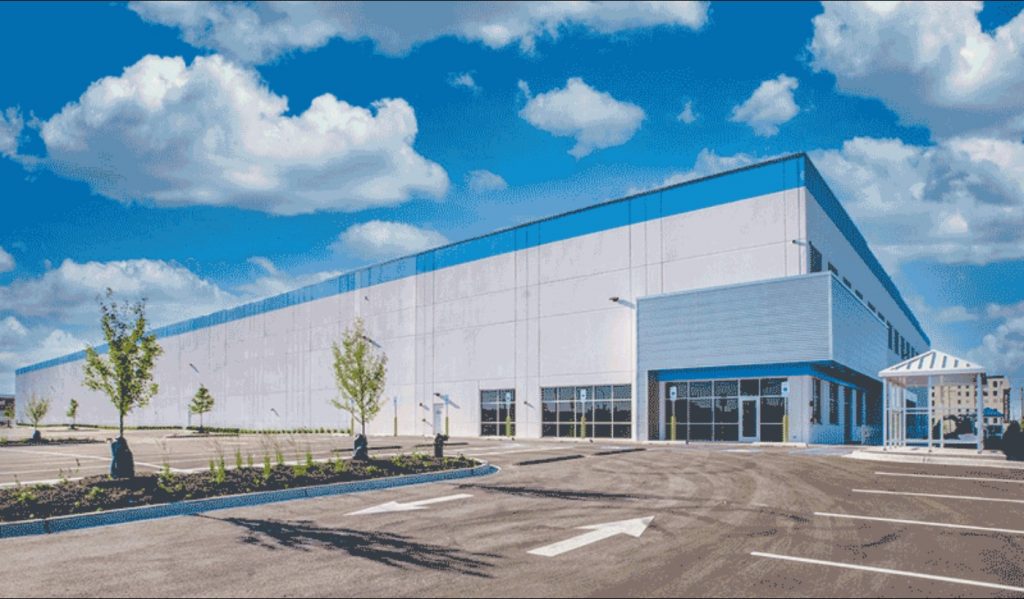 A large warehousing, distribution and logistics development called Commerce Park 77 is planned for Cleveland's Slavic Village neighborhood. It could add hundreds of jobs and hundreds of thousands of square feet of new warehousing space on the east side Interstate 77 that's accessible to labor including from the Broadway Avenue transit corridor. This image is an example of the type of large-scale warehouse structures the developer has financed and/or developed (ULI). CLICK IMAGES TO ENLARGE THEM
Up to 500,000 square feet of warehouse space available
Due in part to the explosive growth in e-commerce, developers can't build warehousing, distribution and logistics centers in Northeast Ohio fast enough to meet demand. The challenge for shippers, investors and community development officials is to find sites big enough and close enough to existing transportation routes and customer markets, as well as to an existing workforce.
Building on so-called infill sites in Cleveland and its inner-ring suburbs would achieve those goals. But having large available development sites in already developed communities tends to be a contradiction in terms. Even when large swaths of vacant land exist, they are usually not readily available. They are sometimes environmentally compromised and often divided up among multiple owners, some of whom face liens or other legal constraints.
That tends to push developers away from potential infill sites in Cleveland and their nearby labor market, nearly one-fourth of which lacks access to cars, to the clean, wide-open farmlands and forests beyond the urban fringe, exacerbating urban sprawl.
But in Cleveland's Slavic Village, a new 40-acre site has been assembled from 25 parcels just east of Interstate 77 and is located within a 15-minute walk of Broadway Avenue that hosts several bus lines with service every few minutes. As many as 30 more small parcels around the perimeter of the site could be acquired but are not essential for moving forward with the commerce park right now.
On that infill site, Atlanta-based Stonemont Financial Group and real estate brokerage Jones Lang LaSalle (JLL) intend to market and develop up to 500,000 square feet of structures for a warehousing, distribution and logistics complex called Commerce Park 77. Much of that land has been used by Morabito Enterprises Inc. for nearly 50 years for bulk storage of aggregates such as stone and gravel. Morabito intends to continue to use the site for another year or two, said James Greene, the city's commissioner of neighborhood development.
"This type of land assembly is consistent to other prior-year goals that the city has exercised to incite future development," Greene said. "Examples of that would include Upper Chester and Opportunity Corridor. In both of those examples, multiple partners controlled aggregated land holdings in partnership to spur development that took place."
David Stecker, senior vice president at JLL which is marketing Commerce Park 77, said he would be able to comment on Stonemont's investment in this project soon, possibly as early as next week. Stonemont is a real estate investment manager and developer for large commercial projects including but not limited to distribution centers such as this.
A partnership of Morabito and Slavic Village Development are acquiring more land in this area, east of I-77 and East 49th Street, west of East 55th Street, north of Kirkham Avenue and south of the new Morgana Run Trail. Their latest acquisition was the 1.273-acre site of the former Mound Elementary School on Mound Avenue at East 55th. Acquisition of that vacant parcel for $38,000 by the Morabito-Slavic Village Development partnership won approval today from the City Planning Commission.
The second of two conceptual site plans for Commerce Park 77 shows less space but still large — about 430,000 square feet. It could be divided into two large buildings of nearly equal size. Ultimately a wider variety of site plans are possible and the options could increase if more adjoining land is acquired (JLL).
"Their goal is to include the Mound site into their holdings for another business (Stonemont) to invest here," Greene said.
"We have been working with (owner) Mr. (Ben) Morabito and his team," said Chris Alvarado, executive director of Slavic Village Development. "Our understanding is that he is working with a broker and may have a potential buyer down the road."
He said much of the property is zoned for semi-industry and that outgoing Ward 12 Councilman Anthony Brancatelli was in support of the proposed development. It is not known how is successor, Rebecca Maurer who won election earlier this week, feels about the project.
Remaining property acquisitions are limited to smaller parcels around the perimeter of the site, mainly along East 49th and in a small block bounded by Mound, Eliza Avenue plus East 53rd and 54th streets, just west of the old Mound School. Alvarado said acquiring those properties is important so that the proposed warehouse structures do not need to crowd up against the Morgana Run Trail.
"Currently there is not much of a buffer between the trail and the bulk storage to the south," he said at the planning commission meeting. "So part of our work with Mr. Morabito is the incorporation of a buffering between the trail and future development of the site."
Two basic site plan concepts for Commerce Park 77 were shown in a new promotional piece for the project. One had a roughly 415,000-square-foot cross-dock warehouse planned next to and abutting the trail with a 75,000 square foot commercial building proposed farther south. The other conceptual site plan had two comparably sized warehouses, a 250,000-square-foot cross-dock building and a 180,000-square-foot structure, to offer suggestions to end-users how the site could be utilized.
Crossing through the site are several unused street rights of way, the most prominent of which is the curving east-west former Morgana Avenue. Intersecting it from the north is the unused right of way extension of East 52nd Street. Intersecting Morgana from the south is the unused right of way extension of East 53rd Street. In one of the two site plan concepts, only one of the unused street rights of way is shown to be reactivated — that of Morgana Avenue.
Alvarado said in a brief interview that public financing could eventually come into play as the development proposal is refined. The public financing could include the city constructing street and utility infrastructure which is often necessary for major projects of similar scale.
In its third-quarter 2021 industrial report issued last month, Jones Lang LaSalle said the Greater Cleveland area saw more than 915,000 square feet of mostly warehouse space absorbed (leased or otherwise filled) in the prior three months. It marked the fourth consecutive quarter of positive absorption for Cleveland's industrial market. Despite this, JLL said vacancy grew 10 basis points to 5.2 percent due to an abundance of new construction deliveries.
"This remains near Cleveland's historical low despite over 10 million square feet of construction deliveries since 2018," the JLL report said. "Occupier demand has outpaced new supply in the region creating upwards pressure on market rents. Industrial asking rents have grown over 16 percent in the last five years."
The Commerce Park 77 site is across I-77 from the 59-acre Cuyahoga Valley Industrial Center Job Ready Site, off Heidtman Parkway. Two users, the Ohio Department of Transportation and Ohio High Reach, have located in the center, which was first reported by NEOtrans in 2017.
The third site in the center was to be used for an Amazon Delivery Station and then for the NEO Food Hub. But the Amazon deal fell through and the food hub chose to build on the Opportunity Corridor at East 75th Street. Forty acres remain available in the Cuyahoga Valley Industrial Center, a former steel mill property.
Tyler Kapusta contributed to this article.
END