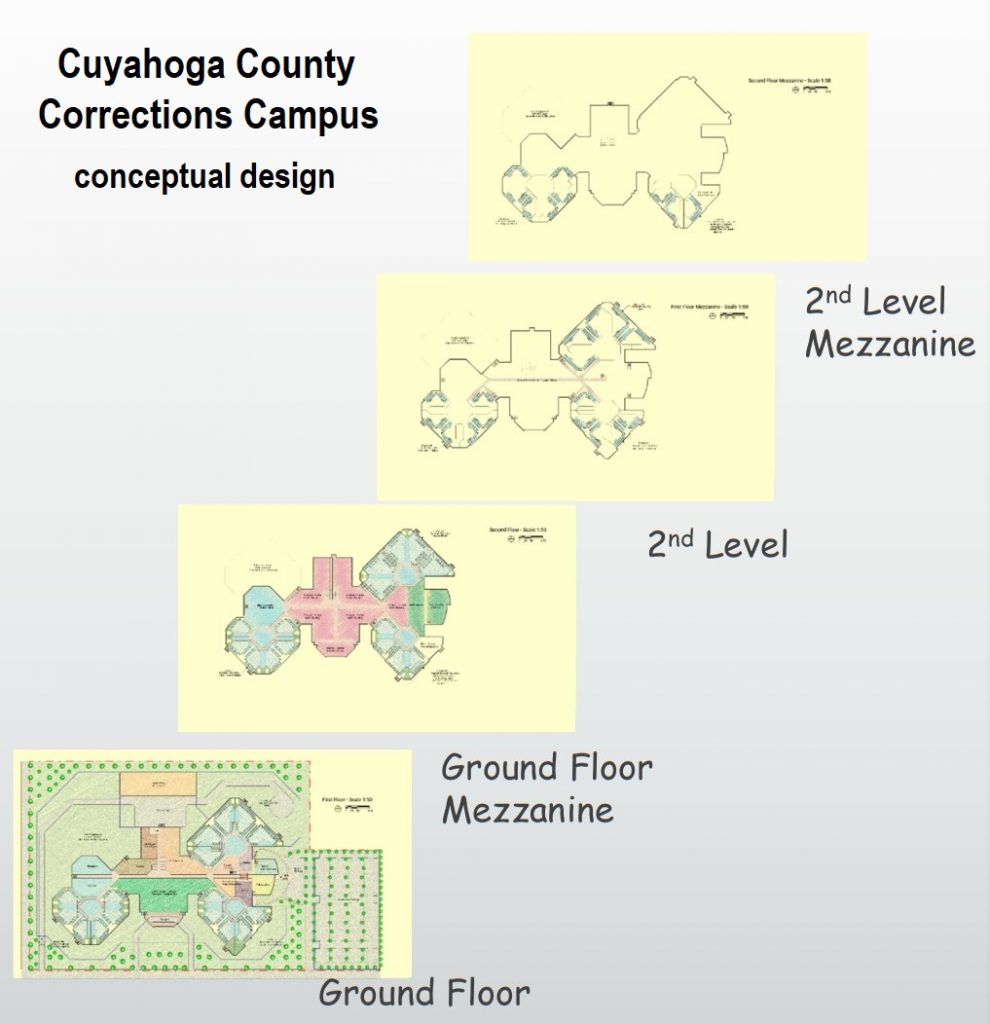 A Cuyahoga County steering committee has supported this basic, conceptual design of a new jail facility called the Cuyahoga County Corrections Center. The big question now is where to put it. An request for proposals was issued yesterday to help answer that question (JCESC). CLICK IMAGES TO ENLARGE THEM
County seeks proposals from owners of 30+ acre lots
It's definitely an unusual move. Typically, when a government agency needs a property for a new facility, it does an alternatives analysis of all the properties that meet its criteria. It then ranks them according to that criteria and then pursues acquisition of their preferred property or properties. If that doesn't work out, the agency pursues its second favorite site. And so on.
Not Cuyahoga County. Instead of approaching owners of big, development-ready sites for its sprawling integrated Cuyahoga County Corrections Center (CCCC), the county wants you to come to them.
To that end, the Cuyahoga County Department of Public Works yesterday issued a request for proposals (RFP) to Greater Cleveland real estate brokers asking them or their clients to submit eligible properties for consideration. The criteria for the CCCC-eligible properties are few:
It must be in Cuyahoga County
Offers a minimum of 30 acres of contiguous, buildable land
The county prefers properties with 40 or more contiguous buildable acres in a regular geometric configuration allowing for efficient planning
It will favor CCCC sites that have the shortest drive time to the Cuyahoga County Courthouse and the Cuyahoga County Common Pleas Court downtown

CCCC sites that are in close proximity to hospitals/

major medical facilities will be favored
Neighboring property ownership and uses will be a factor.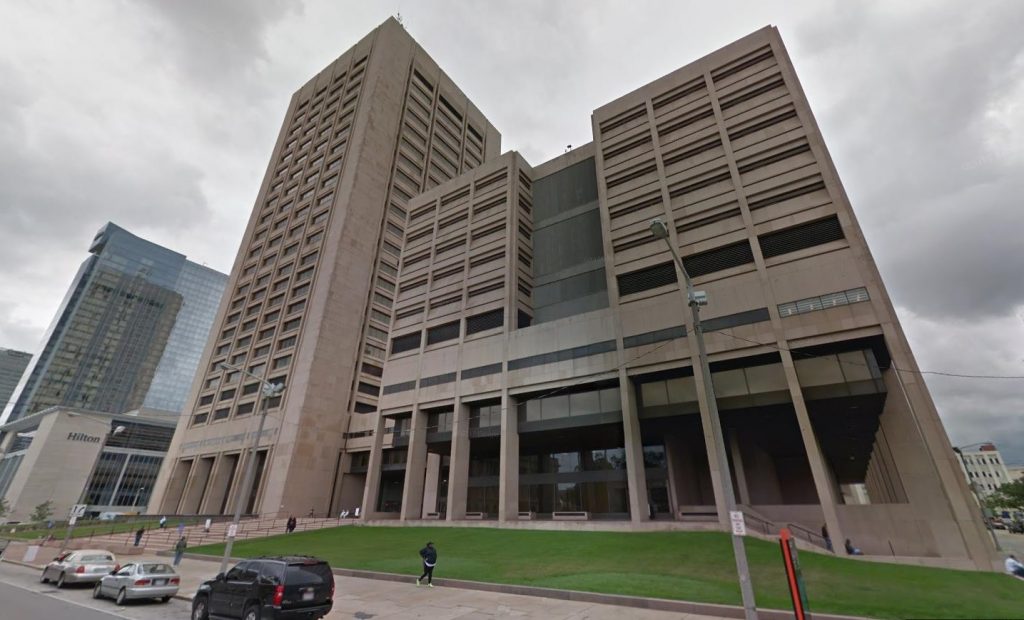 Cuyahoga County's existing jail, seen at right, fails to meet 84 state standards for the design and operation of a corrections facility, according to a 2019 report by the Ohio Department of Rehabilitation and Correction. The aging facility is costing county taxpayers more money — funds that the county expects to save and direct to the construction of a new, safer and more efficient jail (Google).
The county will use a scoring system to rank the best sites submitted. Properties that fare best on the location criteria will be given up to 50 points. The site with the best economics (lowest, fee-simple sale price) can get as much as 25 points, according to the RFP. The criteria do not include such things as highway or transit access. But the RFP states that the county prefers sites where utilities already exist and there are no leases, liens or other encumbrances on the property.
A pre-proposal conference for interested property owners will be held at 10 a.m. Dec. 20. Deadline for submitting proposals to the county is 11 a.m. Feb. 7, 2022. The new jail is projected to cost between $525 million and $550 million to build. To help pay for it, County Executive Armond Budish has proposed to indefinitely extending a quarter-percent sales tax that's due to expire in 2027.
Ironically, the county, guided by its Justice Center Executive Steering Committee comprised of city and county administrators, council members, judges and others, developed a list of 28 potential CCCC locations. None of the sites were released publicly — or at least not officially.
One of the sites was leaked publicly — the abandoned General Electric Lighting Division manufacturing plant bounded by Noble Road, Ivanhoe Road and East 152nd Street in East Cleveland. Budish said the site, which will require extensive clean up of polluted soils, would put 500 workers in a depressed inner-ring suburb that's desperate for new income tax revenue. It resulted in pushback from nearby residents and others claiming Budish made an end-run around the site-selection process.
Steering committee member County Council member Michael Gallagher was reportedly told by Allegro Realty principal Damon Taseff, who does a lot of work with the county on real estate matters, that Budish was working secretly to push one of four potential jail sites in East Cleveland. Budish denied the accusation. Taseff, in an e-mail interview with NEOtrans, said this RFP process will help the county find the best site and the best deal.
"(The) public procurement process requires that the public has a chance to bid (offer sites) regarding the opportunity," Taseff wrote. "This is the mechanism for that. It is a clunky process — but what code dictates. I would imagine the preferred sites are already under control and this (RFP) is to ensure proper process is being followed from a code perspective."
The steering committee has agreed that the new CCCC will be located outside of downtown and that the courthouse will remain downtown. It hasn't been determined yet if the existing courthouse tower can be affordably rebuilt and expanded or if it would cost less over the next 30 years to replace it.
The new CCCC will involve a newly built facility to replace the poorly designed, unsafe and rotting 11-story jail on West 3rd Street. The new facility will be only two stories tall, requiring it to be spread out on the 30-plus-acre site. The CCCC is proposed to measure 783,297 gross square feet plus 270,000 square feet for parking, commissary, health care, staff support and more, according to county documents.
The integrated CCCC will have a central core for staffing support, security operations, food service, library, central intake, central plant, laundry and more. Surrounding it will be housing pods with 1,488 male beds and 324 female beds or 1,812 grand total. The CCCC will be designed for future expansion, however the county is trying to reduce the prison population through a diversion program to address mental health problems.
END