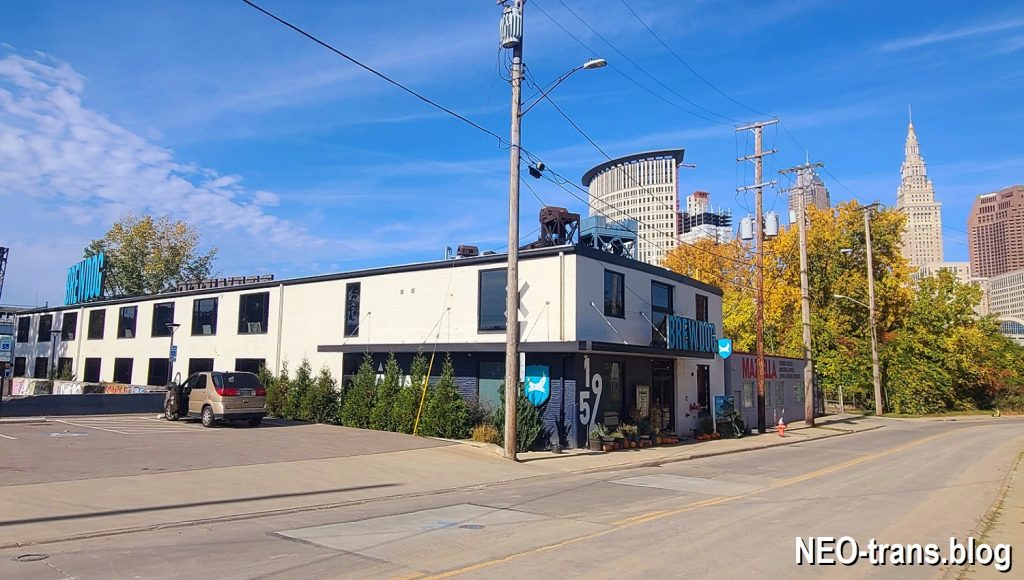 Next spring, Skylight Financial Group intends to relocate into a smaller space above the BrewDog Cleveland Outpost on Scranton Peninsula near downtown Cleveland. As recently as two years ago, this was a lonely outpost in a desolate part of the Flats but is steadily gaining more commercial and residential neighbors (KJP). CLICK IMAGES TO ENLARGE THEM.
Skylight Financial to shrink office space with move
ARTICLE UPDATED OCT. 25, 2023
Another significant office tenant with naming rights to their building is on the move — and shrinking. This time, it's Cleveland-based financial planning firm Skylight Financial Group which is a general agency of Massachusetts Mutual Life Insurance Co. (MassMutual) in multiple Ohio cities. But unlike Ernst & Young (now EY) moving from one side of downtown Cleveland to the other, Skylight Financial will be leaving Ohio City's Market District in 2024 for Scranton Peninsula in the Flats.
Both Skylight Financial and MassMutual have naming rights to the United Bank Building, 2012 W. 25th St., from which they are due to depart by next spring for the second floor of The Avian at Thunderbird, 1956 Carter Rd., on Scranton Peninsula in the Flats. Like EY, Skylight Financial is shrinking. Its office space will be reduced from 17,688 square feet at the penthouse of the United Bank Building to just 8,250 square feet at the Avian, according to LoopNet and Cleveland Building Department records.
Their new offices will be above the BrewDog Cleveland Outpost which opened in December 2021 and occupies the entire 10,000-square-foot first floor of the former Cuyahoga Lumber Co. sawmill, built 105 years ago out of steel-reinforced concrete. A permit application filed with the city last week by Philadelphia-based architectural firm Hellyer Lewis Smith Inc. notes that Skylight Financial intends to invest about $775,000 on building out its new office space.
Under the city's building code, the amount of office space it will lease from landlord EWAT Avian, LLC allows an occupancy of up to 82 people. But the plans suggest the occupancy will be far less than that — perhaps only about 53 people. In addition to a reception area, the space will have 27 offices around its perimeter plus 25 work stations in an open office area in the middle of the second floor, plans show.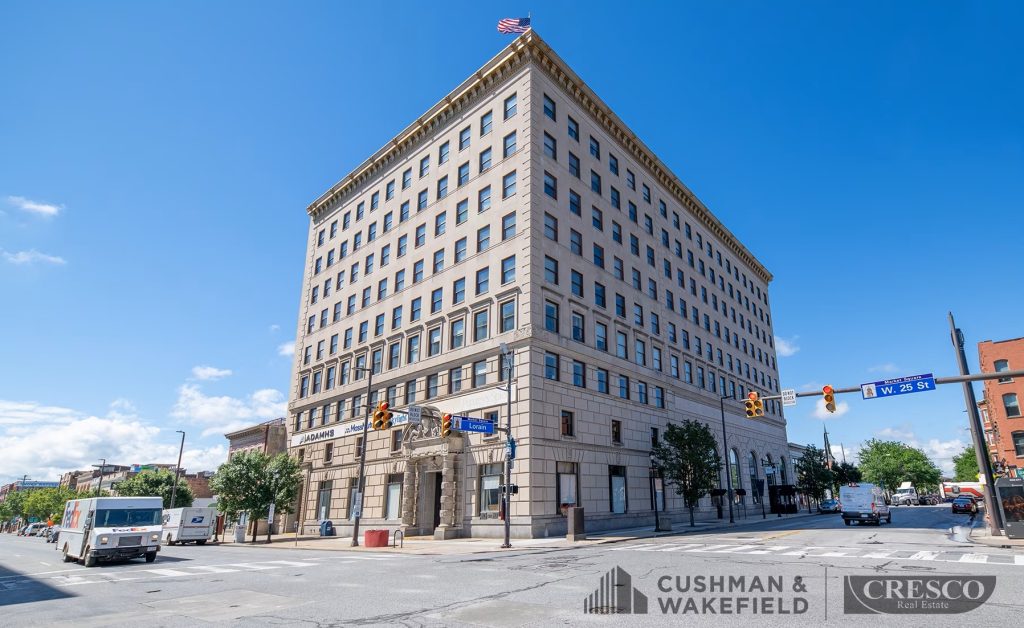 For nearly a decade, offices for Skylight Financial Group-MassMutual have occupied the top two floors of the United Bank Building at West 25th Street and Lorain Avenue in Cleveland's Ohio City neighborhood. That space, including a 10th-floor penthouse not visible from the street, is now available for lease or sale through Cushman & Wakefield's Cleveland brokerage Cresco Real Estate (LoopNet).
The new office space has other features as well, including a large conference room for about a dozen people, a medium conference room for at least six persons, and two small conference rooms for from four to six people. There are also rooms for mothers/wellness, information technology, storage and supplies, a collaboration room, break room and mail room. The only second-floor spaces not part of Skylight Financial's lease are the stairwell and a clerestory at the front of the building, according to public records.
When Skylight Financial moved to the United Bank Building from the Skylight Office Building at Tower City Center in April 2014, it had about 100 employees in its Cleveland office, according to a report. United Bank Building owner MRN Ltd. added a 10th floor to the 103-year-old building for Skylight Financial, which occupied the ninth and 10th floors under a 10-year lease. In addition to offices in Ohio's major cities, Skylight Financing also has an office in suburban Beachwood. Since the pandemic, many companies are embracing remote work and smaller office footprints. Skylight Financial is no different.
"Cleveland is one of our many offices in the state and our lease is up in April of next year," said Skylight Financial Chief Operating Officer Trisha Rutherford. "The decision has been made to relocate the office to the Carter Road location at that time. We are beyond excited to design a new space and be one of the first of many new companies and business to move to that area. Actually we have more employees and advisors than before but the flexibility of being able to work anywhere had us reevaluate our space needs. Plus, a large part of the current Cleveland office was used to host client engagement events which isn't as popular post-COVID like they were."
MRN Ltd. Principal Ari Maron opened an e-mail from NEOtrans seeking comment but did not responded prior to publication of this article. EWAT Avian agent Nick Catanzarite did not open an e-mail from NEOtrans requesting more information. MassMutual has been in Cleveland for nearly 140 years but wasn't organized under Skylight Financial until 2017.
"Our history can be traced back to when Massachusetts Mutual Life Insurance Company (MassMutual) founded an office in Cleveland in 1886," Skylight Financial's Web site noted. "Over the years, many MassMutual agencies were established throughout the state of Ohio. It wasn't until 2017 when each one of those agencies came together under Skylight Financial Group and created our organization as we know it today. With over 200 financial professionals and $8.4 billion in assets serviced, Skylight is considered by clients, colleagues and communities as one of the leading financial planning firms."
On or before Oct. 2, the last time the United Bank Building LoopNet real estate listing was updated by Cushman & Wakefield's Cleveland brokerage CRESCO Real Estate, Maron has made Skylight Financial's space atop the Ohio City building available for lease or sale. Although an availability date is not shown, Skylight Financial took occupancy to the ninth and 10th floors in April 2014 on its 10-year lease. A monthly lease rate for the space is listed at $22.50 per square foot.
Skylight Financial's new home is part of the 25-acre Thunderbird development on the 80-acre Scranton Peninsula, once dominated by Republic Steel's Upson Nut Division plant which closed in 1973 and the sprawling Northern Ohio Lumber site that shrank for many years before moving in 2001 to 2850 W. 3rd St. Thunderbird is a consortium of developers comprised of Fred Geis, J Roc Development and investors like Savannah, GA-based Matt Weiner organized as East West Alliance. Thunderbird, in Native American mythology, is a powerful spirit in the form of a bird that waters the earth and causes things to grow.
J Roc redeveloped The Avian at Thunderbird building. Skylight Financial soon have more neighbors. Earlier this year, Mazzella Lifting Technologies Inc. opened next door at 1948 Carter, in a long-vacant building owned by Scranton-Averell Inc. of Rocky River. Scranton-Averell, whose origins go back two centuries, owns most of Scranton Peninsula and lands extending up Walworth Run, one of Cleveland's earliest industrial districts.
Also, two large neighboring developments offering more than 600 apartments are under construction simultaneously nearby on Carter on Scranton Peninsula. Cleveland-based NRP Group's The Peninsula is slightly farther ahead in construction of several buildings and townhomes with 316 apartments while the riverside Silverhills at Thunderbird, developed by Silver Hills of Cleveland and Edwards Communities of Columbus, will add two buildings with another 300 apartments total.
END