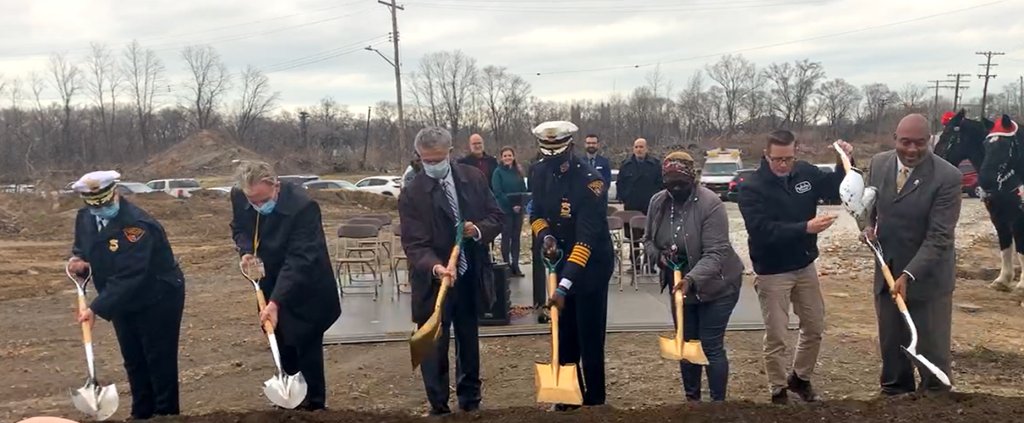 Cleveland city officials hold a ceremonial groundbreaking for the new Cleveland Division of Police Headquarters Dec. 16 at East 75th Street and the Opportunity Corridor on the city's East Side. It was one of three new public safety facilities for which groundbreaking ceremonies were held last week (City of Cleveland). CLICK IMAGES TO ENLARGE THEM
Groundbreakings to put hundreds of jobs on East Side
City officials broke ground for three major developments for the Department of Public Safety last week, in the waning days of Mayor Frank Jackson's administration. They were a new police department headquarters, a relocated Mounted Police facility and a new Fire Station No. 26, replacing Cleveland's longest-operating fire station. All three new developments are located on the city's East Side.
The city had been planning each project for many years without any visible progress. But the Jackson Administration wanted to get the projects ceremonially under way before the end of his 16 years in office. Mayor-elect Justin Bibb will replace Jackson in January. City Planning Commission had yet to approve final designs for any of the safety projects at the time of their groundbreakings.
First to receive final approval by planning commission was the new Cleveland Division of Police Headquarters, coming one day after its Dec. 16 groundbreaking. The new $107 million facility will rise on 10.5 acres at 2750 E. 75th St. next to the Opportunity Corridor Boulevard. The 187,000 square-foot, four-story facility will have offices for the police command, administrative and special investigative units plus a two-story training wing and fitness/wellness spaces for offices. Although the police HQ was recently staffed at about 700 employees, actual staffing is now far less.
"A new state of the art Cleveland Police Headquarters will be a welcomed addition to the resources needed by the Cleveland Division of Police," Jackson said in a written statement. "The new building will also give our officers more opportunity for community engagement and relationship building."
The new police HQ will have a Community Civic Plaza for public engagement and a community room that can seat 150 people. The building's design will feature a more open concept than the downtown location, allowing for easier access for the public, city officials said. But construction of the HQ isn't due to be completed until 2026, suggesting that the actual start of construction is many months away.
There will also be free public parking. The police HQ site is within 10-15 minutes walking distance to two Greater Cleveland Regional Transit Authority train stations and a 5-minute walk to the hourly No. 2 bus on East 79th Street.
"Safety is paramount to our residents and to their daily needs and quality of life," said Cleveland Director of Public Safety Karrie Howard. "Having a new police headquarters with upgraded working space and technology will allow our police officers to provide enhanced services throughout the city of Cleveland."
"The Cleveland Division of Police has long been in need of a new place to call home," said Cleveland Police Chief Calvin Williams who is stepping down at year's end. "I am thankful to see these plans take shape and I know that the new building will not only provide the necessary workspace to conduct contemporary law enforcement operations, but allow for the men and women of the Division of Police to grow closer to the community they serve."
Another police department facility was the subject of a groundbreaking ceremony Dec. 16 — for the new 38,000-square-foot, $12 million Mounted Police Unit. The event was held although final design approval by planning commission isn't likely until next month at the earliest. Proposed to rise at 6018 Thackeray Ave. is a new mounted unit is needed so the 70-year-old 11,660-square-foot facility at 1150 E. 38th St. can be demolished for the realignment of Dead Man's Curve on Interstate 90.
The new 6.5-acre facility will have stables for up to 16 horses, indoor training arena with public viewing area, community room, horse care "hub" including washing, grooming, veterinarian and farrier (horse trimming and shoeing) areas. Outside will be a community park with views into the horse paddock and training area. Construction is scheduled for completion in 2024.
The Mounted Police Unit administration offices, locker rooms and police garage will be located at this facility. The public art component of the project will include the relocation from the old facility and restoration of the historic O'Neill memorial sculpture by noted Cleveland artist and designer Viktor Schreckengost.
"The Cleveland Mounted Police are an essential element of the Cleveland Division of Police, and an important part of the City's history," Jackson said in a separate written statement. "The new stables will be a welcomed addition to the community and will provide opportunities for engagement."
"The Cleveland Division of Police Mounted Unit is one of the oldest mounted units in the United States," Williams added. "Our mounted police have an honorable history of participating in parades, funerals, assisting with community engagement as well as with pedestrian traffic at events. It is wonderful to see the horses get a new home."
Lastly, the oldest operating fire station in the city, the 123-year-old station No. 26 at Kinsman Avenue and East 79th, will close when its replacement opens in 2024 at 9026 Kinsman. The new $10 million, 16,500-square-foot station will also consolidate Fire Station No. 41 and its Emergency Medical Services (EMS) unit from 3090 E. 116th St. Its groundbreaking ceremony was held Dec. 14.
"This new Fire and EMS station is another demonstration of the ongoing investment in the Kinsman area neighborhood that will not only improve the delivery of service but also help spur development," Jackson said. "Additionally, by building a new Fire Station 26, we can help provide our service members the tools they need to succeed and create a better environment for building relationships with members of this community."
An iconic hose tower, inspired by the existing historic Fire Station 26 tower, will provide a landmark presence for the Divisions of Fire and EMS on this highly visible site. The new facility will have specialized mechanical/ventilation systems to separate the apparatus bay and equipment/locker/decontamination areas from the living/sleeping quarters for 12 firefighters. There will also be a fitness center and 1,200-square-foot community meeting facility with patio and green space.
"This new station will serve the neighborhood well," said Fire Chief Angelo Calvillo. "This is a state of the art fire station and will be in an ideal location to serve the citizens of Cleveland. It is built with the comforts of health and safety for not only firefighters but also EMS."
"It's always exciting when you see projects like this come to fruition," said Ward 6 Councilman Blaine Griffin who is also chair of council's Safety Committee and will be council president starting in January. "We've been working on this for a long time and now we are breaking dirt. The East 93rd Street and Kinsman Avenue corridor is a vital corridor leading into the southeast part of town and these types of investments are critical for this area."
END