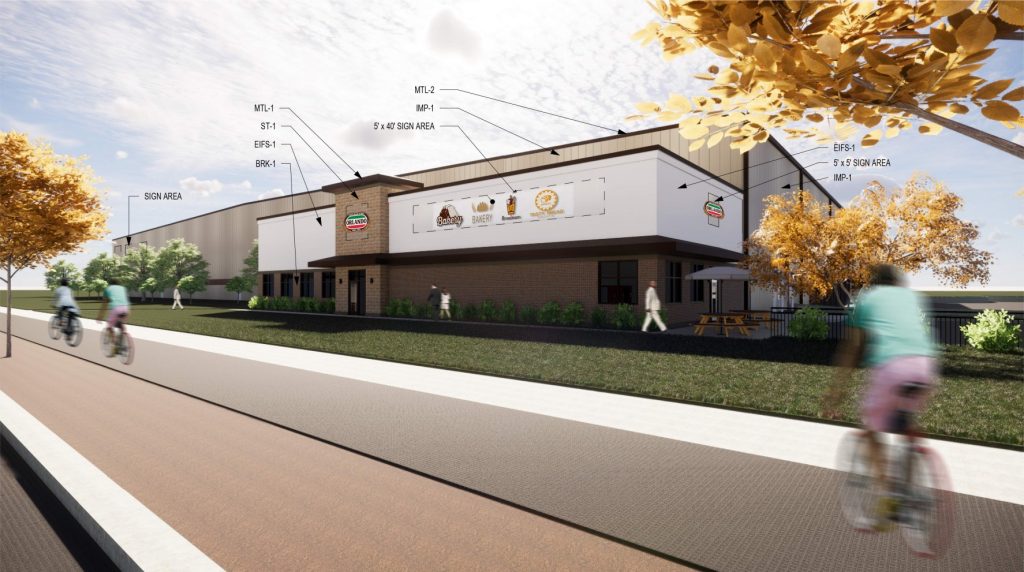 The northwest corner of the planned Cleveland Cold Storage warehouse, nearest to the corner of Opportunity Corridor Boulevard and East 75th Street, will include a 4,000-square-foot office building that will be "bumped out" from the warehouse to be closer to the street and the all-purpose trail along the Opportunity Corridor to give a better street presence and pedestrian access for workers coming from nearby public transportation. (GMA). CLICK IMAGES TO ENLARGE THEM
Large warehouse approved by planning commission
Opinions varied on the physical appearance of a large new warehouse, as approved Friday by Cleveland's City Planning Commission. But the project was lauded as the kind of catalytic development that's needed for Cleveland's food manufacturing sector, one that belongs on the newly opened Opportunity Corridor Boulevard. Construction of the distribution center is due to start this winter.
The $30 million, 156,775-square-foot Cleveland Cold Storage building at the southeast corner of Opportunity Corridor and East 75th Street will be used by the neighboring Orlando Baking Co. and Miceli Dairy Products Co., plus the Pierre Ice Cream Co. in Cleveland's Midtown neighborhood. But it will also be made available to smaller businesses in Cleveland and Northeast Ohio so they can save money from not having to build their own cold-storage facilities or partially filling refrigerated trucks. Hundreds of new jobs will likely result from the project, backers say.
Local companies would lease only the pallet space they need in the warehouse. Using software, Cleveland Cold Storage would employ a technique called "consolidation warehousing" to combine shipments from local companies into larger, more economical shipping loads to various markets, thereby minimizing transportation costs, according to a project summary provided by Weston Inc. which is developing the facility.
Additionally, Cleveland-based grocers and food-service operators would utilize Cleveland Cold Storage as a consolidation center to manage numerous inbound deliveries from suppliers that can be brought to the grocers' warehouse or sent directly to their stores, the project summary notes. Food manufacturing in Northeast Ohio is a $3.4-billion-per-year industry that employs 22,000 people, growth of which would be supported by this project.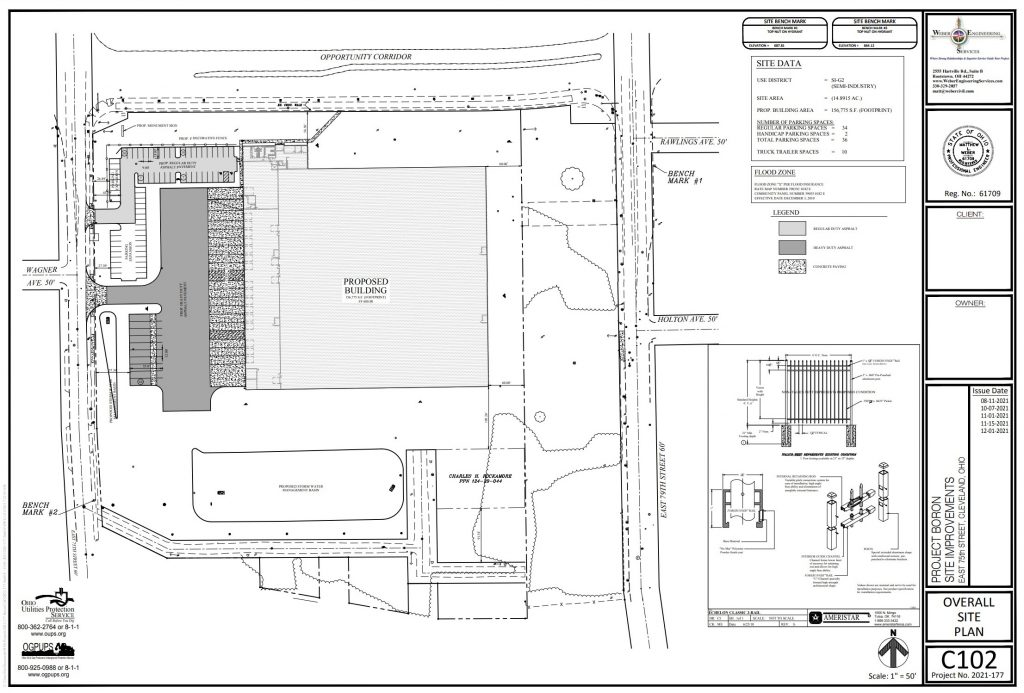 Final site plan of the 15-acre, 156,775-square-foot Cleveland Cold Storage warehouse as approved by the City Planning Commission. Opportunity Corridor is across the top of the image, East 75th Street to the left and East 79th Street to the right of the warehouse. North is at the top of this image (Weber).
It's a fast-growing market, populated by new-start entrepreneurs and established large firms alike, including Orlando, Miceli, Pierre, Green City Growers/Evergreen Cooperatives, Rid-All Green Partnership urban farms, Cleveland Central Kitchen food hub in Midtown with its various tenants and more.
"Cold storage is a huge issue in the market," said David Ebersole, Cleveland's director of economic development. "Orlando rents space in Columbus. I dealt with another business who was looking for space. The best they could find was Harrisburg, Pennsylvania. So this is a huge economic asset to the city when it gets constructed."
"This type of product is very much needed in Cleveland," concurred City Planning Commission Chair David Bowen.
"It's a big building," said Kurt Updegraff, director of development at Weston Inc. of the proposed design. "It's about 40 feet high. It presents itself to the Opportunity Corridor which is why we put this bump-out (4,000-square-foot office space) which is a lower-scale addition to break up that large façade. It's a freezer building so there really can't be any openings in it."
In addition lead developer Weston of Warrensville Heights, the development team includes GMA Architects of St. Louis, ARCO National Construction of Cincinnati and Weber Engineering Services of Rootstown, OH.
The location of Cleveland Cold Storage is another factor that could also help boost Cleveland's fortunes. Not only is it accessible to trucks traveling to and from the Interstate highway system via the boulevard, it's also accessible to workers coming from two nearby rapid transit stations. Both Greater Cleveland Regional Transit Authority (RTA) train stations are on East 79th Street. One station is served by trains on the Airport-Downtown-Windermere Red Line. The other is served by trains on the Downtown-Shaker Heights Blue/Green lines.
"It (Cleveland Cold Storage) is only a couple of blocks from either of those two RTA stations which I think makes this very exciting," Updegraff said. "We've added sidewalks to connect to the Opportunity Corridor trail to connect with the RTA stations."
The East 79th stations are two of the least-used in RTA's 36-mile, 50-station rail system. The transit agency considered closing or relocating the stations several years ago. But RTA last year completely rebuilt the East 79th Red Line station for $8 million at the urging of city officials, Burten, Bell, Carr Development, Inc. and Orlando Baking who said it would help support economic development efforts in Cleveland's impoverished Kinsman neighborhood.
Looking east Nov. 10 on the new Opportunity Corridor Boulevard at the East 75th Street intersection, Orlando Baking Co. with its red roof is at left or north. Across Opportunity Corridor, at right, is the site where the Cleveland Cold Storage will be built starting this winter. At the lower left is the site where construction has started on the new Cleveland Police Department headquarters (TacoSlayer/YouTube).
By contrast to the Red Line station, the East 79th Blue/Green line station is in serious disrepair. RTA's 2022 capital budget shows the agency has allocated $6.5 million to replace the 42-year-old station facility and with work getting underway before 2023. Although a construction timeline was not immediately available, based on other station modernization projects, construction on the new East 79th Blue/Green line station could take a little more than a year.
In recent years, many warehouses of this size could be built only in the outer suburbs where large plots of easily developable land are available. But the Opportunity Corridor and other land assembly efforts are creating places where the seemingly insatiable demand for warehouse space can be met while also being near to Cleveland's labor market, one-fourth of whom don't have access to cars, Census data shows.
Through an affiliate called Project Boron LLC, Weston intends to acquire nearly 15 acres of mostly city land bank properties for the Cleveland Cold Storage site. The city is entering into a tax increment financing agreement with Project Boron to provide a debt reserve for the financing of the warehouse and to provide for payments to the Cleveland Metropolitan School District, planning documents show.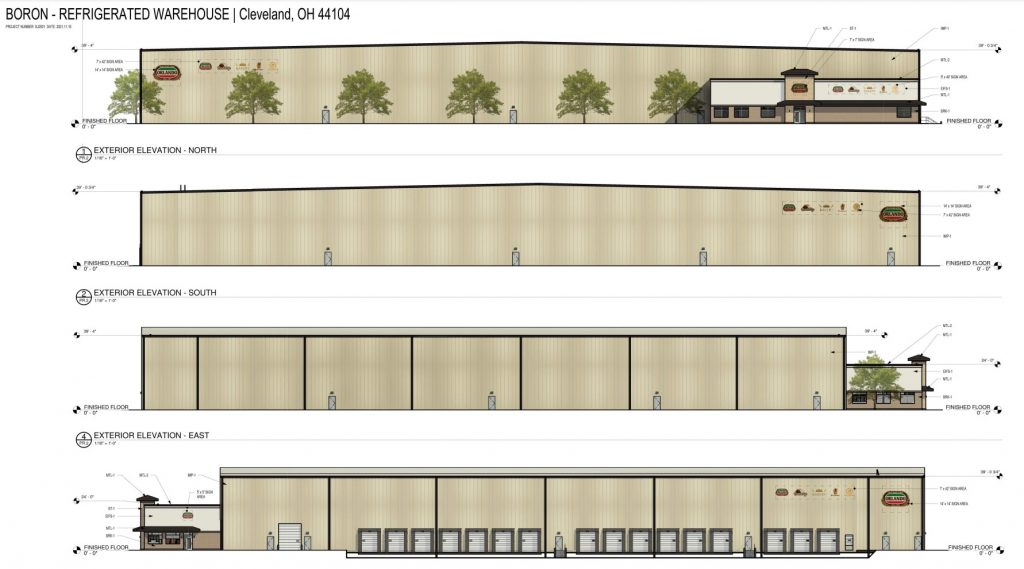 Elevations showing all four sides of the planned Cleveland Cold Storage warehouse. The top elevation is the front, facing north. The next view faces south. The truck docks face west toward East 79th Street. Because it is a refrigerated building, the number of openings including doors and windows must be limited, according to its developer Weston Inc. (GMA).
The city also vacated several streets for the Cleveland Cold Storage site. Vacated was a portion of Rawlings Avenue between East 75th and East 79th streets, a portion of Holton Avenue between East 75th and East 79th and a portion of East 78th Street from the south line of Holton. The property was rezoned to a semi-industry classification by the city earlier this year so that no zoning variances would be needed to construct the warehouse.
Cleveland Cold Storage's site is caddy-corner to where the new Cleveland Police Department headquarters is about to rise. Ground was broken Dec. 16 for the new 187,000 square-foot, $108 million CPD HQ on the northwest corner of Opportunity Corridor and East 75th.
In addition to Cleveland Cold Storage, three other large warehouse sites are proposed to be developed in nearby Slavic Village. They include Atlanta-based Stonemont Financial Group's nearly 500,000-square-foot Commerce Park 77 on East 49th Street east of Interstate 77, Cleveland-based Premier Development Partners' 182,000-square-foot facility on East 55th south of Opportunity Corridor, and the Cuyahoga Valley Industrial Center on Heidtman Parkway on the west side of I-77.
END