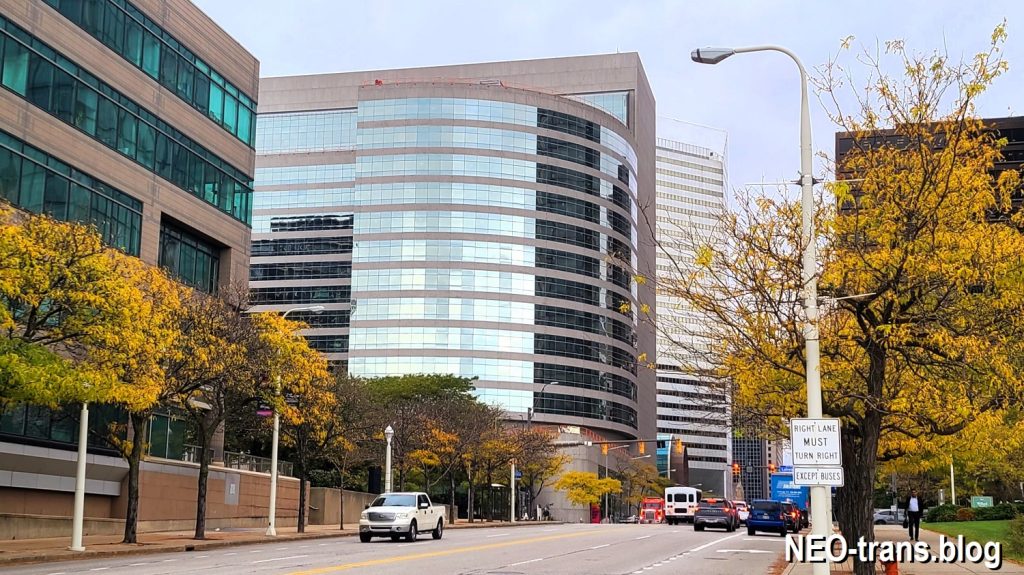 The former Ohio Bell headquarters on East 9th Street in downtown Cleveland was custom-designed for a specific office user. When Ohio Bell successor AT&T left in 2019, it was a difficult office space to fill, especially in a weak office market. It was also a difficult residential conversion due to the building's large floor plates and blank walls on the east and west sides. But The Bell's development team is pulling it off, with an April 2024 target for opening (KJP). CLICK IMAGES TO ENLARGE THEM
Apartments take shape at former Ohio Bell HQ
At first, construction work at The Bell has a familiar ring to it. But this isn't the usual conversion of a zombie office building in downtown Cleveland into residential or hotel uses. Instead, conversion of the former Ohio Bell Company headquarters, ongoing since July 2022, has been a different calling. What were once large, wide-open floors at the 16-story, 40-year-old office building have since been divided up into an average of 31 apartments per floor in the residential portions of the building at the southeast corner of Lakeside Avenue and East 9th Street.
Previously called 45 Erieview, The Bell's large floors forced Cleveland-based Sandvick Architects Inc. to get more creative. For context, floorplates in downtown's latest, new-construction residential towers like The Lumen, The Beacon and The City Club range from 11,000 to 13,500 square feet. At The Bell, most of the floorplates measure 37,000 square feet. That has required some rather unique floorplans for many of the apartments, including extra-long hallways, locating kitchens or bedrooms along those hallways, having bedrooms with windows facing the hallways that end in living rooms offering the unit's exterior views.
Rents range from $1,322 for a 499-square-foot one-bedroom unit to $3,305 for a 1,247-square-foot, two-bedroom, two-bath suite, according to The Bell's Web site. Building and apartment security is provided by Yale, including combination locks on apartment doors. In each unit are European-style bathrooms, soft-close cabinet hinges, quartz countertops, Bosch microwave-wall oven combination units, and smooth-surface electric stovetops. Also in each suite are a washer-drier combo, a heating-ventilating-air conditioning unit and a hot water heater.
Apartments having some of the longest in-suite hallways are at the west and southwest part of the building where a ground-to-roof blank wall is located next to East 9th Street. The building tapped $5 million in historic tax credits thanks to it being in the Erieview Historic District, designated in 2020 by the U.S. Department of the Interior. While providing an important source of funding, the historic tax credits restricted the development team from making changes to the structural design of the building. That precluded adding windows to the blank wall above East 9th, or to another blank wall facing east.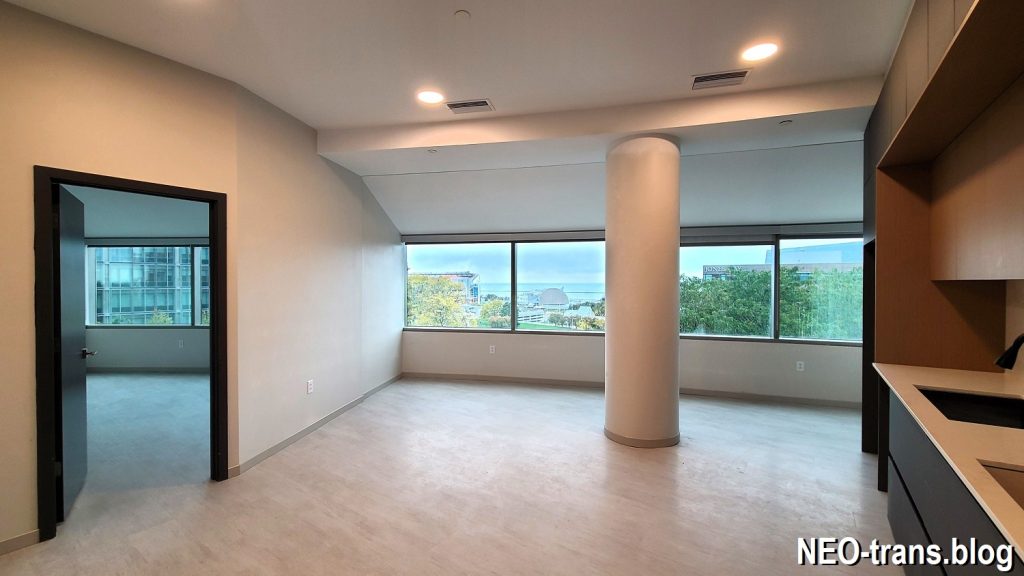 This is one of the apartments along the building's curving façade looking toward Lake Erie. This one-bedroom unit has 741 square feet and a support pole left over from the large open floorplates from when The Bell was an office building. It is also one of about one-third of the apartments with a bedroom having an outside window (KJP).
Renovation and conversion work is due to be completed by the end of April 2024, according to a spokesman for the project's Chicago-based general contractor Leopardo Companies who provided a guided tour of the 500,000-square-foot building yesterday. The property was acquired by Twain Financial Partners of St. Louis with a ground lease extended to the development team led by Leopardo along with Bluelofts Inc. and Wolfe Investments. The latter two firms are in Greater Dallas. A leasing office will be established on the ground floor next to the Galleria, the spokesman said.
The large floorplates also mean that none of the 367 apartments at The Bell are smaller than one-bedroom units. You won't find a studio or micro-unit here. But what tenants will find is an amenity-laden property with views of downtown's Lake Erie waterfront. While not every apartment has a lake view, the building's high and low rooftop decks each have mostly unobstructed views of the lakefront. The high deck is a 15th-floor pool deck with an outdoor pool and jacuzzi will have some of the best views of our Great Lake of any downtown residential building.
Walking inside from the pool deck brings you to a 2,193-square-foot community room next to a lobby with five passenger elevators. A sixth elevator is in an adjacent service/mechanical area on each floor at the center of the building. Also on each floor, to the east of the service area, will be storage lockers reserved for each apartment. Most of the lockers will measure 52 square feet. On the third floor is the low rooftop deck — for a dog yard at the northwest corner of the building.
On the lower level, first floor and second floor of The Bell will be additional building amenities. Off the first-floor lobby, the restaurant, coffee shop and retail spaces have some interested parties but no publicized tenants yet. Co-working space also will be available on the first floor. On the lower level, an eSports venue offering video game competitions is planned. On the second-floor is a large fitness center, which the Leopardo spokesman contends will be the largest gym for any apartment building in downtown Cleveland. It's big enough to have its own indoor running track, plans show.
Elsewhere on the second floor is a 21,000-square-foot leasable office space. It will be white-boxed by construction crews to make it ready for a future tenant. The property includes a 348-space parking garage next to the building plus 32 parking spaces under The Bell. For those who are pressed for time, a 24-hour valet parking service will be available to tenants.
"This is a good building that doesn't require a lot of repairs," said Kenny Wolfe, president at Wolfe Investments, at a July 12, 2022 groundbreaking ceremony. "It's a thoughtful repositioning of a building and a sustainable adaptive reuse. It's the ultimate upcycle."
Downtown Cleveland has been a national leader in repurposing obsolete or unwanted office buildings into residential and/or hotel uses. So far, 10 million square feet of office space has been converted to housing and hotel rooms, with 80 percent of those conversions happening in just the last five years, according to Downtown Cleveland Inc., a nonprofit development corporation. That has aided downtown's recovery from the pandemic in which remote working has become more popular. Ohio Bell successor AT&T has left 45 Erieview vacant since 2019.
"Innovation is the ability to see change as an opportunity not a threat, and there is a crisis behind this glass that most people don't see – the rising vacancies in office buildings and the shortage of housing within urban markets," said John Williams, co-founder of Bluelofts with Ike Bams. "We can't wait to see this beautiful building reborn with much-needed housing and commercial activities."
END