Ex-CEI downtown HQ becomes apartments
The 107-year-old 75 Public Square building began its third life two days before the end of 2021. In the coming weeks and months, as more tenants call it home, the building will become more lively and be "illuminated" once again. Two Cleveland-area companies helped this Classical Revival example of architecture get its third wind.
Cleveland Construction Inc. of Mentor and The Millennia Companies of Cleveland completed the $43 million historic renovation and adaptive reuse of the 75 Public Square building from office space to a multi-family luxury apartment development. The building's first residential tenants began moving into the building on Dec. 29, 2021.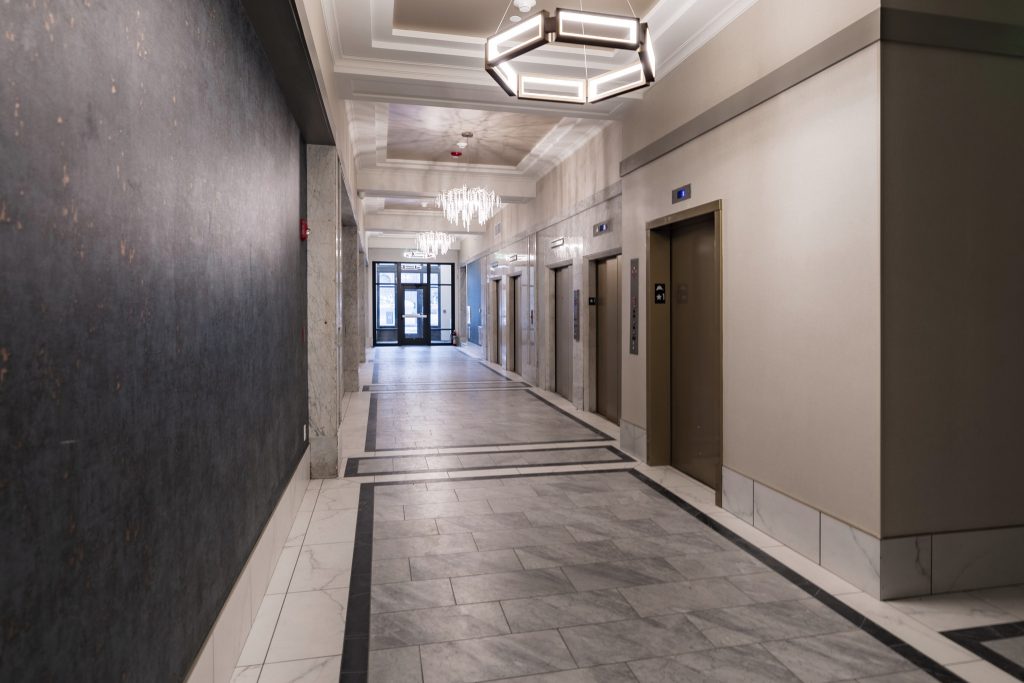 First-floor elevator lobby at 75 Public Square, representing a mix of historic masonry and modern, elegant lighting. The nearest elevator is a service elevator. The two beyond it are passenger elevators. And the last two doors are for abandoned elevator shafts that have floors extended into their shafts starting on the second floor and higher.
Formerly named the Cleveland Electric Illuminating Co. (CEI) building, extensive work on the 15-story, 131,000-square-foot structure included complete historic renovation and adaptive reuse of the office space on floors 2-14 into 93 one-bedroom and 21 two-bedroom luxury apartment suites, along with the total renovation of both the building's interior and restoration of the exterior façade. Common areas and tenant amenities also were created, and infrastructure such as elevators, plumbing, heating/ventilating/cooling and electrical systems, were installed new.
Crews provided first-floor construction shells for future retail tenants and basement space for a new tenant lounge, fully equipped fitness and exercise area, self-service pet salon, bicycle storage, leasing office, and mailroom. A luxurious 600-square-foot deck, including restroom facilities and a full outdoor kitchen highlight the building's rooftop.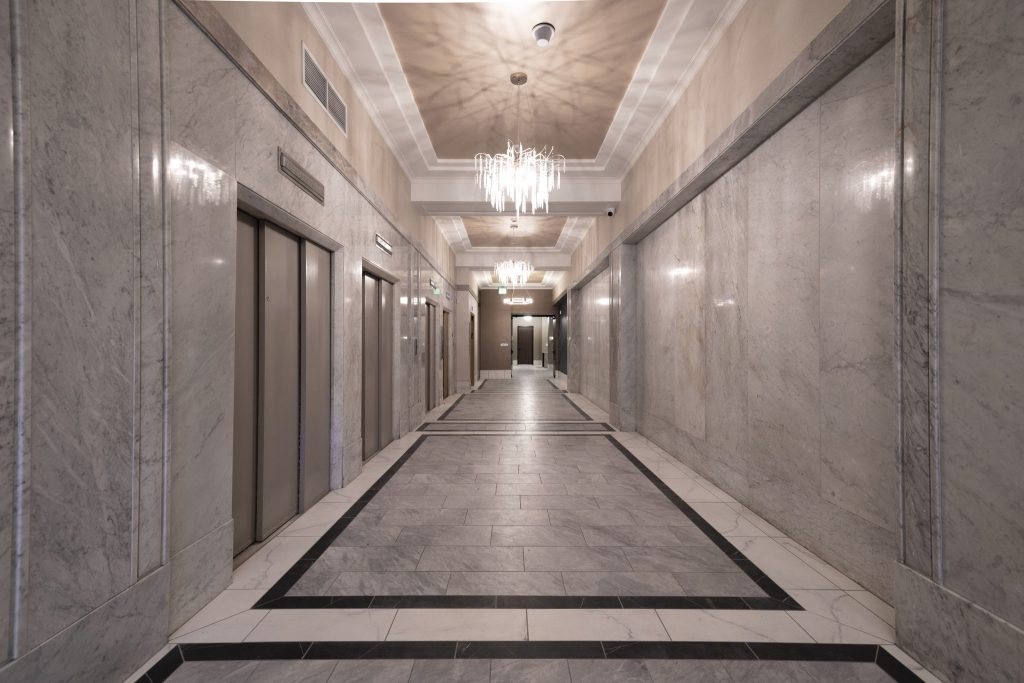 Marble floors and walls give 75 Public Square a sense of Gilded Age luxury that no modern apartment building can match. And yet the building is also equipped with the latest technology, amenities and security features as any other newly built tower. The pair of historic elevator doors at left are for the abandoned shafts.
Work included demolition, historic rehabilitation, facilities upgrades and adaptive reuse construction. Under Cleveland Construction's management, the renovation project was completed in 18 months, culminating on Dec. 29, despite the project starting with uncertainty around the COVID-19 pandemic during the Spring of 2020.
Vice President of Construction Dan Dietrich said performing the renovation through the height of the pandemic presented several new challenges. In addition to material procurement and delivery issues exacerbated by supply chain disruption, working effectively and safely on an older building required some outside-the-box thinking.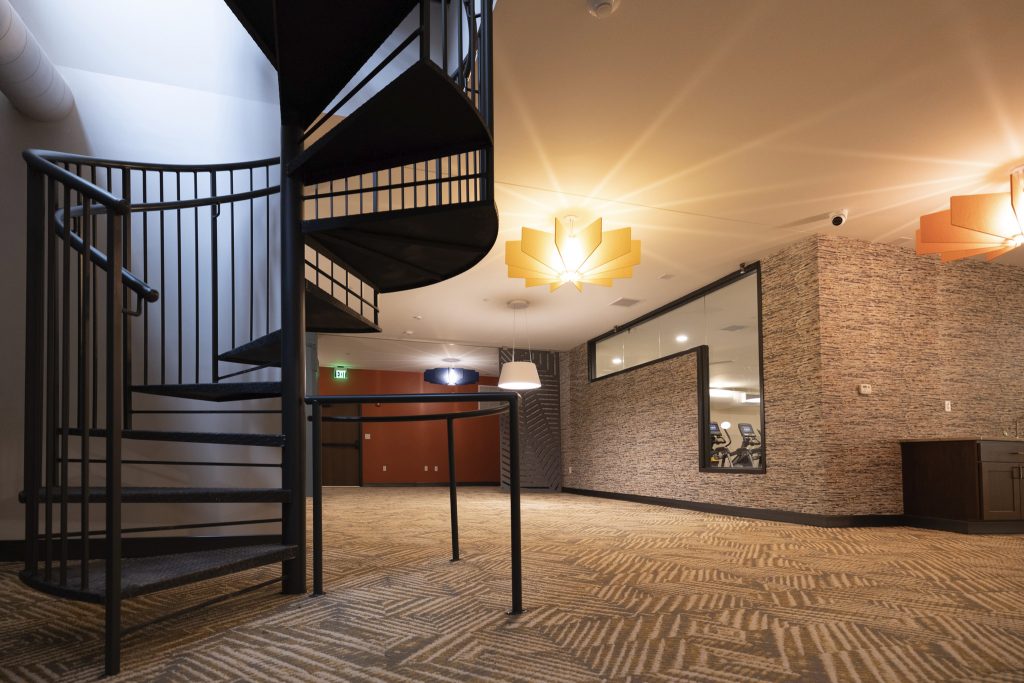 The spiral staircase and service elevator extend into the refurbished basement where the fitness area, group exercise room, lounge, game lounge, indoor pet park, pet wash and resident storage lockers are located. On the first floor is bicycle parking, a community space, another resident lounge and two retail spaces, one that's 3,000 square feet and another 1,230 square feet.
"We developed a comprehensive COVID-19 plan, with safety protocols from the very beginning of the project, which coincided with the onset of the virus in the Spring of 2020," Dietrich said in a written statement. "I'm proud of how our team established new means of project communication and management to ease fears and create a safer work environment that also allowed the renovation to progress on schedule."
As with many historic buildings, traditional project-specific construction safety plans were developed and adapted to the building's unique conditions. The roof has no parapet; it presented major safety challenges for individuals to perform work. A rooftop patio was added for residents' use.
Cleveland Construction, along with the trade contractors, shared in the cost to install a temporary railing system around the roof perimeter. This roof railing system, in conjunction with Cleveland Construction's site safety plan, eliminated the need for potentially cumbersome fall protection harnesses so workers could perform their jobs efficiently and safely.
Cleveland Construction ensured historical accuracy in renovating 75 Public Square, which is on the National Register of Historic Places. This included restoring the historic brick and terra cotta exterior finishes and maintaining the building's original overall appearance and installing new aluminum windows that conformed to historical configurations.
"Seventy-Five Public Square has the amenities residents have come to expect in luxury apartment communities in addition to an unrivaled location," said Frank Sinito, chief executive officer of The Millennia Companies. "Cleveland Construction flawlessly executed the vision to transform this historic building into a premier boutique living destination."
Originally completed in 1915, the building served as the city's electric utility company HQ until 1958 until the "new" 22-story Illuminating Co.'s HQ was built. That building is also being renovated by Cleveland Construction but for K&D Group as part of an adaptive reuse project, converting it from offices into apartments and modern office spaces over restaurant and retail spaces. The construction firm has many projects underway downtown, prompting it to open an office there last year.
Cleveland Construction followed all Secretary of the Interior historic standards during the renovation. The renovations also received approval from the Ohio Historic Preservation Office and the National Parks Service and meets Cleveland Green Building standards by complying with Enterprise Green Communities criteria.
Local architectural firm Hubbell & Benes originally designed the CEI HQ building. The same firm also was responsible for the recognizable appearances of other local landmarks including the YMCA Building (1908), The West Side Market (1912), Wade Park and The Cleveland Museum of Art (1916) and the Ohio Bell Telephone Building (1927).
The 75 Public Square renovation project was designed by Sandvick Architects and developed by The Millennia Companies as part the group's Century Modern Collection with interior design provided by K2M Design. Three engineering firms also were involved. Barber & Hoffman completed the structural work. Denk Associates handled mechanical, electrical and plumbing work. Riverstone performed the civil engineering work.
END