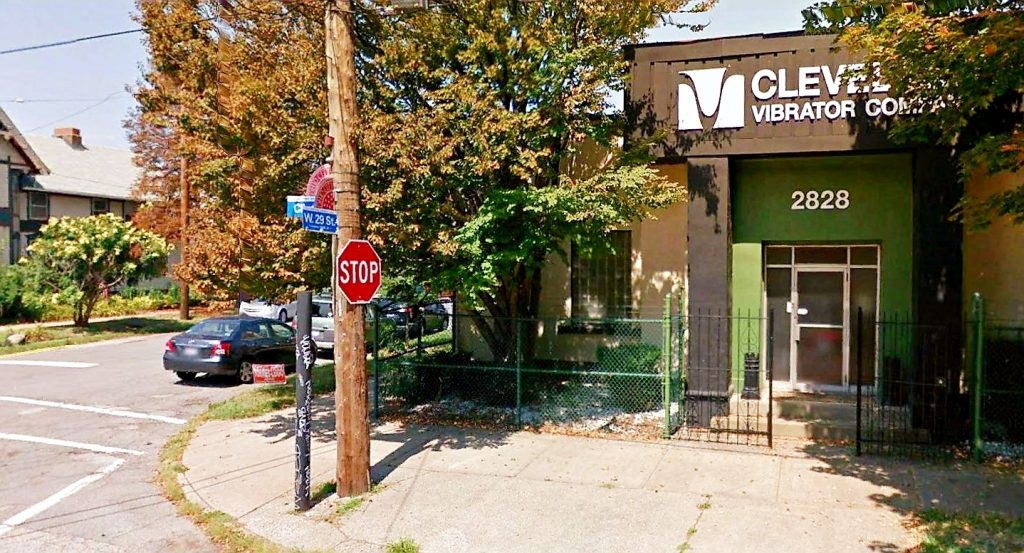 The former Cleveland Vibrator manufacturing plant in the Hingetown section of Cleveland's Ohio City neighborhood is on a path to transfer to a new ownership group with deep pockets and a desire to develop the site, probably with multi-family housing and ground-floor retail (Google). CLICK IMAGES TO ENLARGE THEM
Ohio City property may become mixed-use project
Ownership of the former Cleveland Vibrator site, one of the few under-developed yet large properties in the booming Hingetown section of Cleveland's Ohio City neighborhood, is set to transfer to a new ownership group as early as next month. The group is comprised of multiple heavy hitters in Greater Cleveland's business community.
The investor group is led by Jon Pinney, managing partner at the downtown Cleveland law firm Kohrman Jackson & Krantz and at TurnCap, a real estate investment firm that provides bridge loans for multifamily and commercial projects. According to two sources close to the transaction, the principal investor is reportedly Ron Leonhardt Jr., CEO of CrossCountry Mortgage, a fast-growing company that is building a new headquarters on the east side of downtown Cleveland.
The sources, who are not authorized to speak publicly about the deal, said the new ownership group is interested in building a mixed-use development on the 1.7-acre site featuring ground-floor retail/restaurants and public spaces with apartments on the upper floors. However, a vertical development like the neighboring, 11-story Church+State is apparently not in the cards owing to the larger property involved, the sources said.
Located at 2828 Clinton Ave., the former Cleveland Vibrator Co. offices, machine shop and storage yard is now used by Saucy Brew Works' Vibe Garden, a seasonal brew garden. Cleveland Vibrator moved out in 2019 when it sold the 14-parcel site for $3 million to 2828 Clinton Avenue LLC, an affiliate created by the Snavely Group of Chagrin Falls, according to public records. But one of the owners in the affiliate, The Adcom Group co-founder and CEO Joe Kubic, has since become the point person in 2828 Clinton Avenue.
In an e-mail to NEOtrans, Pinney, who helps guide the investments of one of Greater Cleveland's wealthiest families — the Risman family, confirmed that he is part of an investor group that has the property under a purchase agreement but the sale hasn't closed as of yet.
"(I would) prefer not to comment about investors at this point until we finalize," Pinney said. "As for use, multi-family makes sense but nothing has been finalized."
Kubic also acknowledged the pending deal and suggested that he might remain as part of a new ownership structure that will take title to the property and oversee its development.
"I have been softly marketing the property," Kubic said. "I haven't officially sold it yet, but there are parties going through due diligence on it. We are kicking the tires on the direction with some new potential partners. Check back in a month or so if you'd like."
Another who could become a part of a future development here is Brent Zimmerman, owner of the Saucy Brew Works chain whose first location is across Church Avenue at 2885 Detroit Ave. Saucy leases the former Cleveland Vibrator building and property for its Vibe Garden which will be open for business this spring, summer and fall, Zimmerman said.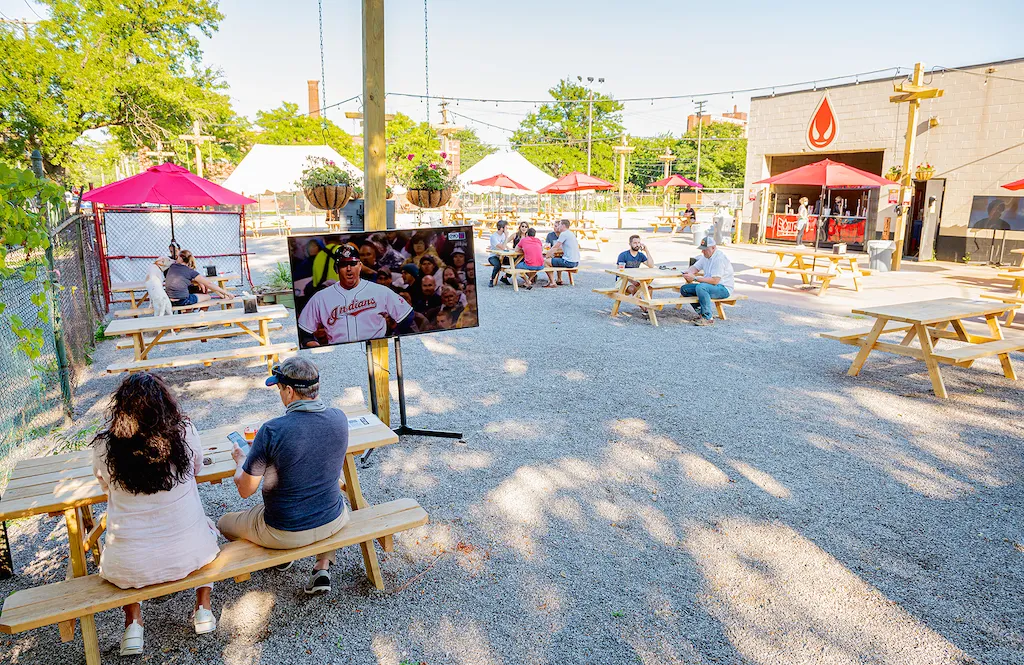 During the worst of the pandemic when outdoor dining was the only way for Clevelanders to eat out, Saucy Brew Works leased the neighboring ex-Cleveland Vibrator property for its Vibe Garden. The beer garden will again be offered this spring-summer-fall. After that, construction of a new development here may halt the Vibe Garden, but perhaps only temporarily (thefullpint.com).
As to whether Saucy Brew Works' seasonal beer garden might figure into the site's redevelopment, he replied "no comment."
"The site is zoned as local retail which opens lots of possibilities," said Ohio City Inc. Executive Director Tom McNair. "It's a unique site as it sits in an area that transitions from commercial (uses) to housing."
Local retail zoning allows for business uses that are normally required for the daily local retail business needs of nearby residents only such as neighborhood-scale stores and restaurants. It also permits offices and services such as barber/beauty shops, laundries and other small businesses that do not need more than five people working there at the same time. Residential is allowed as an accessory use. Maximum height for a building on this block is 60 feet — about five or six stories. North of Church it rises to 115 feet.
Three years ago, Snavely Group was interested in this site for a future phase of its The Quarter development that progressed west along Detroit Avenue from West 25th Street. But Snavely has been kept busy in its many real estate endeavors including general contracting. Kubic said he was originally interested in this site as a future location for Adcom's offices, mixed with residential above. Instead, the growing firm stayed in downtown's Warehouse District, expanding from an office on West 6th Street to a new address on West 9th Street.
Cleveland Vibrator relocated to a facility at 4544 Hinckley Industrial Parkway in Cleveland. The 99-year-old company manufactures material handling equipment.
END