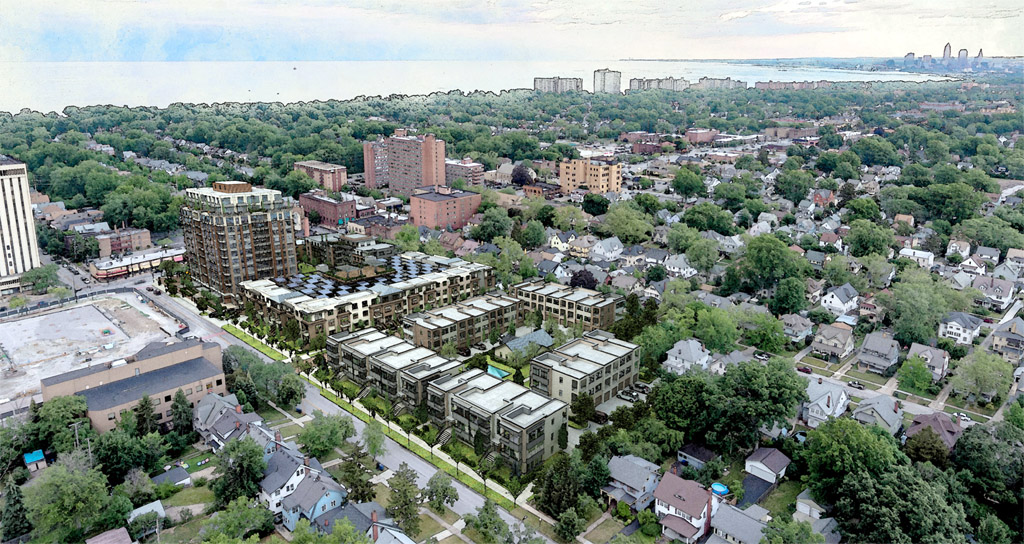 A mixed-use development planned by CASTO is proposed to be built on the former Lakewood Hospital site with an announcement due in a few weeks. That development will reportedly be anchored by the offices for a growing, Lakewood-based health insurance firm. This is a northward-looking view of a previous plan by CASTO for the hospital site in the center-left portion of the image (Dimit). CLICK IMAGES TO ENLARGE THEM
City, developer to reveal plans, agreement
Lakewood Mayor Meghan George's office revealed today that an agreement for the redevelopment of the city's ex-hospital site is being finalized and could be announced in April. There has been significant progress in negotiations with the ex-hospital site developer — so much so that a conceptual plan and development agreement between the city and a developer, CASTO, could be submitted to the public and City Council for review in less than a month.
The city-owned former Lakewood Hospital site is a 5.7-acre property in the heart of this inner-ring suburb's downtown. While the specifics of the proposed development are unknown, it may be similar to the one Columbus-based CASTO submitted to the city in 2017 before losing out to Westlake-based Carnegie Management and Development Corp.
The announcement will reportedly be timed to coincide with the mayor's State Of The City speech April 6 although there may be a special event a couple of days before where all parties involved in the project announce it, according to two source close to the development team.
NEOtrans broke the story in April 2020 that Carnegie was withdrawing from the project in a dispute with the city over who should pay for $2 million in unanticipated site clean-up costs. The city paid Carnegie a $255,000 settlement later that year to walk away without facing further legal action and so it could begin negotiations with runner-up CASTO to secure a development agreement. Terms of that deal are now being finalized.
"We are working through some typical last-minute items/details regarding the term sheet, which is being updated," said the mayor's Chief of Staff John Storey. "We anticipate this being completed in the coming weeks with an aim to be in front of City Council next month."
"We are getting closer," said City Council President Dan O'Malley. "Council will have to authorize any development agreement, but I think the (George) administration is pretty close to presenting something to us."
Lauren Bowers, marketing and communications manager at CASTO, did not respond to an e-mail from NEOtrans seeking comment prior to publication of this article. CASTO has built more than 100 real estate development projects in the eastern United States including The Dexter in Cleveland's Ohio City neighborhood.
According to the two development team sources, CASTO has secured a commitment from a major commercial tenant for the Lakewood development — Roundstone Insurance. The 19-year-old firm relocated in 2016 from Westlake to space in the renovated First Church of Christ, Scientist, 15422 Detroit Ave. Its offices are located across the street from the main Lakewood Public Library.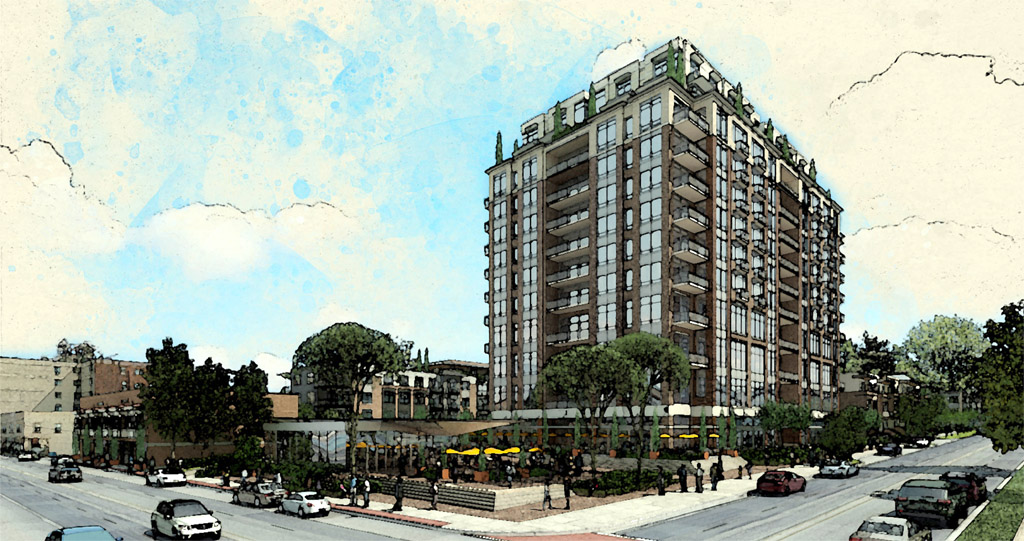 Looking southeast from the corner of Detroit and Belle avenues, the largest building in CASTO's 2017 plan stands out here. Proposed at 12 stories and featuring a mix of ground-level entertainment and community uses, the next three floors above would provide office space topped by eight stories of apartments (Dimit).
Terri White, Roundstone's director of marketing, opened but otherwise did not respond to an e-mail from NEOtrans seeking confirmation about the company's inclusion in CASTO's proposed development. The firm provides employee health insurance to small and mid-sized client companies.
Roundstone occupies about 14,000 square feet in the 100-year-old converted church. The space is designed to comfortably accommodate about 100 workers but, in the past year the firm added 41 employees and now has a staff of approximately 115 people. Roundstone has apparently been looking for a new office space in and beyond Lakewood. Their relocation to the CASTO development means they will stay in Lakewood and have more room to grow there, the sources said.
Before Carnegie and the city parted ways, Rhode Island-based insurer FM Global planned to relocate its Cleveland-area offices and about 100 employees from North Olmsted to Carnegie's planned project, One Lakewood Place. However, the sources said FM Global is not a prospective tenant for CASTO's development.
In 2017 CASTO, in partnership with North Pointe Realty of Mayfield Heights and Dimit Architects of Lakewood, submitted a $62 million mixed-use development plan. It proposed 280 residential units (216 apartments, 64 townhomes), 23,673 square feet of ground-floor retail, restaurants and community spaces, 50,265 square feet of offices plus 569 parking spaces.
CASTO's proposed office space from five years ago, if it remain unchanged in the current plan, would be sufficient to accommodate more than 250 office workers. The two sources said CASTO and the city have gotten creative to close a financing gap for the project that had previously existed. However, there are still unresolved differences related to project's parking and scale that are being worked out, they said.
In its earlier plan, CASTO proposed a public plaza fronting Detroit Avenue at its southeast corner with Belle Avenue. To the south of that plaza, a 12-story, 195,705-square-foot building was proposed with ground-level entertainment and community uses, offices on the three floors above that, and apartments on the top eight floors.
To the east of the public plaza on the Detroit, CASTO's development team planned a one-story, 2,500-square-foot retail pavilion. East of that is the historic, yet vacant Curtis Block that would be restored with its original purpose — street-level commercial spaces topped by five apartments, the 2017 plan showed.
South of the Curtis Block along the west side of Marlowe Avenue, CASTO's old plan had a five-story, 53,064-square-foot apartment building with 58 units in it. Between this building and the 12-story building would have been a public lawn. South of them, linking Belle and Marlowe, a 20-foot-wide public street was planned.
South of that new street would be a three-level parking garage with 381 spaces and disguised on three sides by liner buildings with 45 apartments total. Only the north side of the parking deck would not have a liner building, according to the 2017 CASTO plan. The opposite side of the parking deck would also have a new but wider public street connecting Belle and Marlowe. It would be 40 feet wide.
In the last part of the old development plan, moving from north to south, five groups of townhomes, a residents' clubhouse and an outdoor pool were proposed. Each group of townhomes would have either four or six townhomes in each cluster. Each townhome would have a two-car garage plus outdoor parking for six guest vehicles.
END