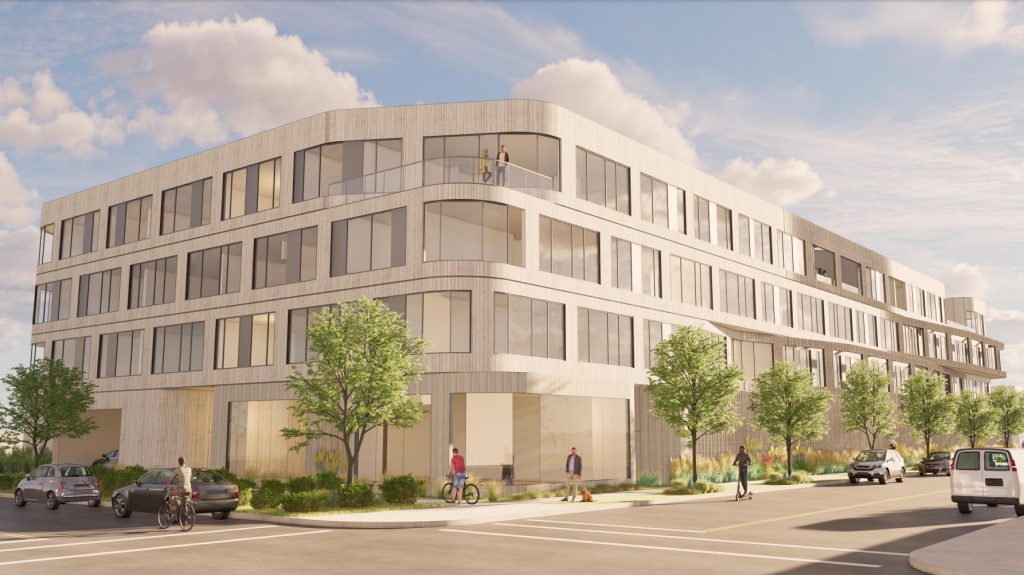 From vacant lot to active corner, J-Roc Development plans this mixed-use development called Driftwood at the southwest corner of Fairfield Avenue and West 11th Street in Tremont. Just out of view to the left is the South Side Restaurant which is expanding and will add more activity to this neighborhood (EAO). CLICK IMAGES TO ENLARGE THEM
New apartments, retail, restaurant expansion due
More details are emerging about a proposed new apartment building at 1209 Fairfield Ave. in Tremont, to be called Driftwood. In addition to its inclusion of a ground-floor retail space and a larger lot, the development may be joined nearby by an expansion of the South Side Restaurant.
J Roc Development LLC of Cleveland plans a 97-unit, 128,125-square-foot apartment building that proposes to add a 2,300-square-foot commercial/retail space at the southwest corner of Fairfield and West 11th Street. No tenant is identified yet but is scaled to be a neighborhood-type business like a corner market, bakery, bank branch or similar.
That's not the only change to the conceptual plans from the last report on this project by NEOtrans published a month ago, which preceded input from the North of Literary Block Club late last month. The developer also is adding additional property to its site for Driftwood that allowed it to shrink the building's height from five stories to four while reducing the apartment count by only two units.
Initially, J Roc started with 0.8 acres it acquired in September 2020 via an affiliate 1209 Fairfield LLC. Selling the property was Mike Tricarichi's Fairfield Eleven LLC, as he could not raise the financing for his own planned development on the site.
Now, J Roc reportedly has a purchase agreement to acquire a single-family home and its 0.1-acre parcel at 2220 W. 11th. On that parcel is a house which, according to Cuyahoga County records, was built in 1862 and would be demolished.
A similar fate might befall an old house next door at 2226 W. 11th. An exact date of construction of that structure is not available but also appears to be a 19th-century house. The developer seeks to acquire that house and its 0.173-acre parcel so the house can be razed for expansion of parking, per a revised site plan submitted to the city this past week.
The residential building would have 92 indoor parking spaces — 86 in an underground garage and six electric vehicle parking spaces on the first level with vehicle access from West 11th. Preliminary plans show that if 2226 W. 11th is acquired, 25 more parking spaces would be added along the outside of the south flank of the apartment building. Parking was the primary concern expressed by the North of Literary Block Club, according to residents who spoke off the record to NEOtrans.
J Roc Development Principal Jesse Grant did not respond to recent e-mails from NEOtrans seeking comment.
The developer recently completed construction of the $30 million, 130-unit Electric Gardens Apartments, 425 Literary Rd. in Tremont, which leased out in a year. In 2016 and one block away from the Driftwood site, J Roc built a group of eight townhouses called Tremont Black that sold out before they were completed.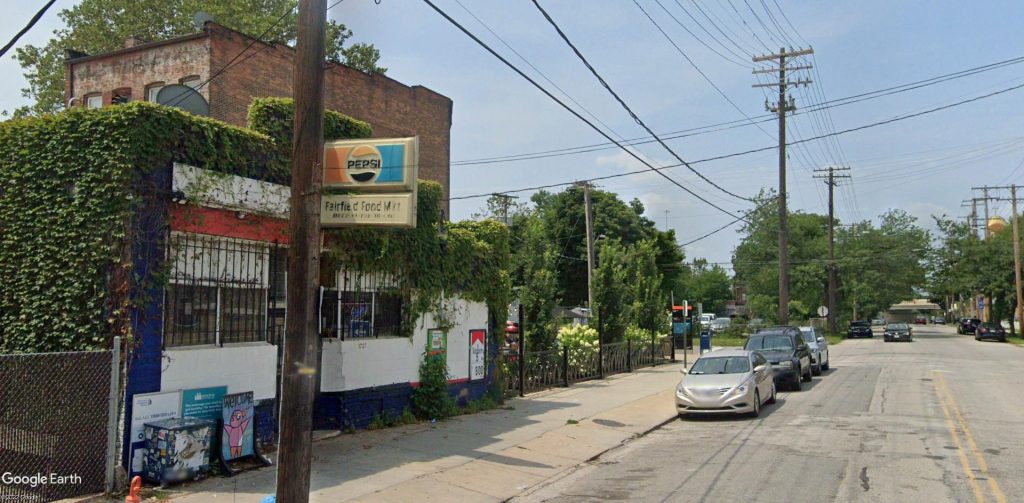 A view that has already changed since this west-looking streetview was captured in July 2021 on Fairfield Avenue is likely to change further in the next year or two, and possibly in a big way. At left, the Fairfield Food Market is already gone, due to be replaced by South Side Restaurant's new party room. In the background, beyond West 11th Street and the trio of parked cars, the four-story Driftwood apartments is proposed to rise (Google).
Next for J Roc is for its Driftwood plans to appear before the Near West Design Review Committee. The committee's next meeting is March 9 but this project is not on that agenda as of this writing. If it appears before the committee and gets a favorable reaction, the plans will then go before the City Planning Commission for conceptual and schematic reviews prior to a possible final approval.
The architect is Evident Architecture Office of Portland, OR. Cory Riordan, executive director of Tremont West Development Corp., said the community development corporation has had an introductory meeting with the developer about the project.
Riordan also said that, since the previous owner of the development site had received city approvals for a 75-unit apartment complex, he doesn't anticipate much push back from the city on J Roc's proposal. The previous owner had demolished historic but blighted structures on the site to prepare for its development.
"The (J Roc) proposal additionally meets the intent of the (zoning) code for the area, (it) may need a variance based on final footprint because of split zoning districts, and is an improvement design-wise on previous iterations for the site," Riordan said in a e-mail to NEOtrans. "With that said, I look forward to the community having an opportunity to weigh in on the project."
At the same time, South Side Restaurant is bringing forward its long-rumored expansion plans. Its intent to expand became visible when a demolition contractor hired by South Side owner Sherman DeLozier on Dec. 2, 2021 razed the venerable Fairfield Food Market, 1027 Fairfield. Southside Holdings LLC acquired the tiny market property for $75,000 last September, according to county records.
Replacing it, per plans submitted yesterday to the city, is a 1,450-square-foot, single-story addition to the restaurant. The proposed use for the addition is a party room. Although exterior construction materials appear to show masonry, likely brick, the architect's submittal to the city for site plan approval and a zoning review avoids that discussion for now.
"Construction type and estimated construction costs have not been determined," said the architect of record Jim Clarke of Sixmo Architects + Engineers in his application to the city.
END