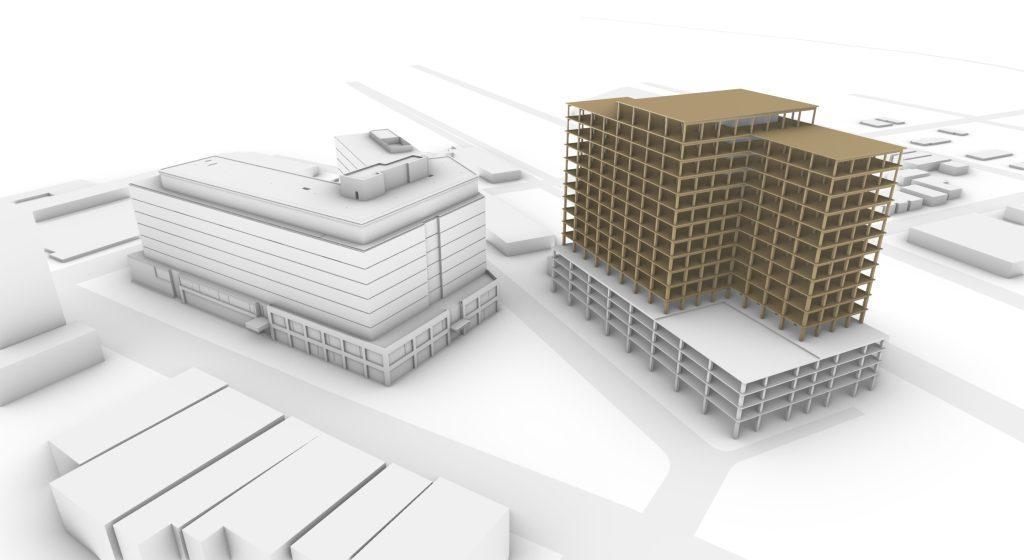 A structural study of Harbor Bay Real Estate Advisors' INTRO phase two shows a 16-story residential tower between Gehring Avenue and the Greater Cleveland Regional Transit Authority's Red Line. West 25th Street is across the bottom of this northeastward-looking image. Phase one of INTRO is seen to the left of the proposed new tower. The shape of the actual phase two will be somewhat different than this early concept but the location, use of wood and a concrete parking podium will likely be the same (HBREA). CLICK IMAGES TO ENLARGE THEM
Phase 3 of development could feature offices
After a developer entered a project design contest recently, it did more than just win some money. It also gave some insights into its next big construction project in Cleveland's Ohio City neighborhood. But a spokesman for the developer, Harbor Bay Real Estate Advisors, cautioned that the basic design it submitted was merely a study of how the project's second phase could be built in an innovative way.
Harbor Bay's INTRO phase two was one of six winners out of nearly 60 entrants in the "Mass Timber Competition: Building to Net-Zero Carbon" contest sponsored by the United States Forest Service, an agency of the U.S. Department of Agriculture (USDA) and the Oregon City, OR-based Softwood Lumber Board (SLB), an industry group. The six winners divvied up $2 million in grant money, with the top design getting $500,000. It was not revealed how much each winner received. In an e-mail to NEOtrans, an SLB spokesperson said the organization "is not disclosing specific award amounts at this time."
Among the insights into Harbor Bay's phase two of the INTRO development in Ohio City's Market District is that, like the first phase at West 25th Street and Lorain Avenue, mass timber will be extensively used in its construction.
"We love timber and how sustainable it is," said Dan Whalen, vice president of design and development at Harbor Bay, a Northbrook, IL-based development and property management firm. "It fits within the mayor's climate and sustainability goals."
And why significantly change a major feature in the second phase, considering the remarkable success of phase one? The first phase, a 512,000-square-foot mixed-use development that is the largest mass-timber project in the country, is scheduled to have its official grand opening Aug. 10. As of today, according to INTRO's Web site, there are only 14 studio apartments and one penthouse currently available among INTRO's 297 units — a 95 percent occupancy. A new development is typically considered a success if it leases out within two years. INTRO leased out before it opened, and it did so at the top-of-the-market rents of roughly $3 per square foot.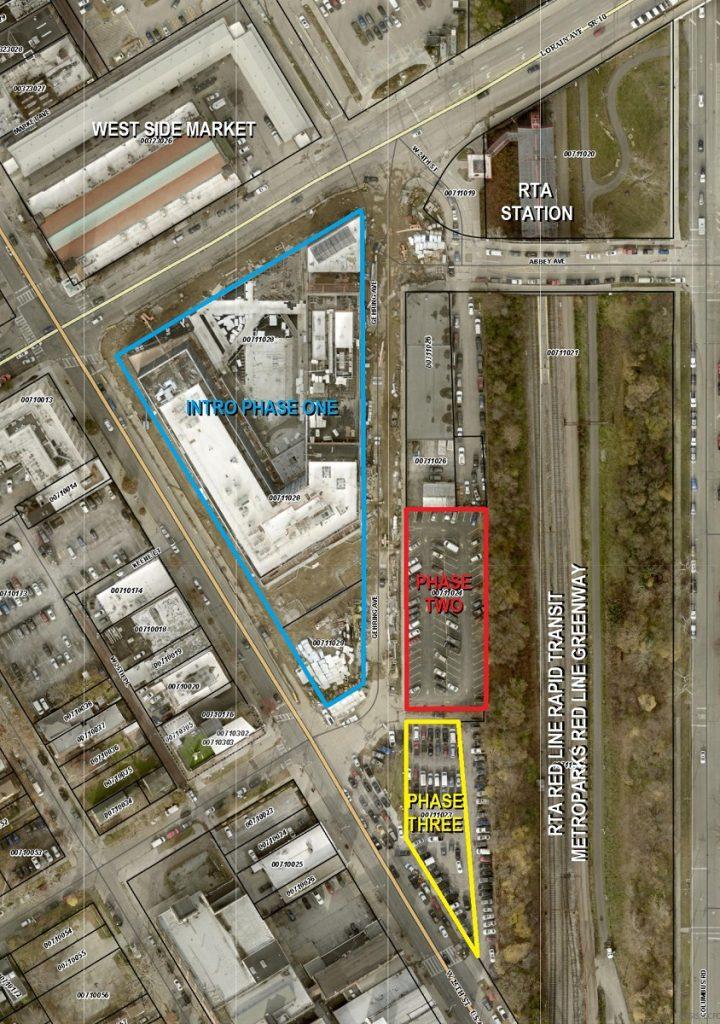 The new location for INTRO's phase two is a 0.65-acre parking lots owned by the West Side Market Tenants Association. During construction, the tenants' parking will temporarily move to the phase three site. After phase two opens, the tenants parking will move into the garage for phase two, to be shared with the tower's residents. Then phase three could be developed, possibly with offices (MyPlaceCuyahoga).
Harbor Bay wants to formally announce phase two "soon," Whalen said without elaborating. Harbor Bay is confident in the prospects of a second phase and so eager to move forward on it that it is skipping the pursuit of a Transformational Mixed Use Development (TMUD) tax credit for the project. A 15-story height and a $50 million project cost are among the minimum requirements for a proposed or under-construction development to tap the TMUD program.
Phase two of INTRO would have likely qualified for a TMUD credit based on Harbor Bay's submittal to the USDA/SLB which shows a 16-story multi-family tower. That would fit under the 175-foot zoning height maximum for that site. The intentionally simplified design concept has 12 stories of mass-timber residential tower over a four-level concrete podium for parking and ground-floor retail. Harbor Bay's competition application submitted in February also publicly mentions a potential third phase for the first time.
"INTRO phase two will expand upon the success of phase one by building a 16-story mass timber building that focuses on additional residential space," Harbor Bay's entry reads. "A future phase three project will also bring additional office space in order to truly create a 'walkable' neighborhood where one can work, live, and enrich the local community simultaneously."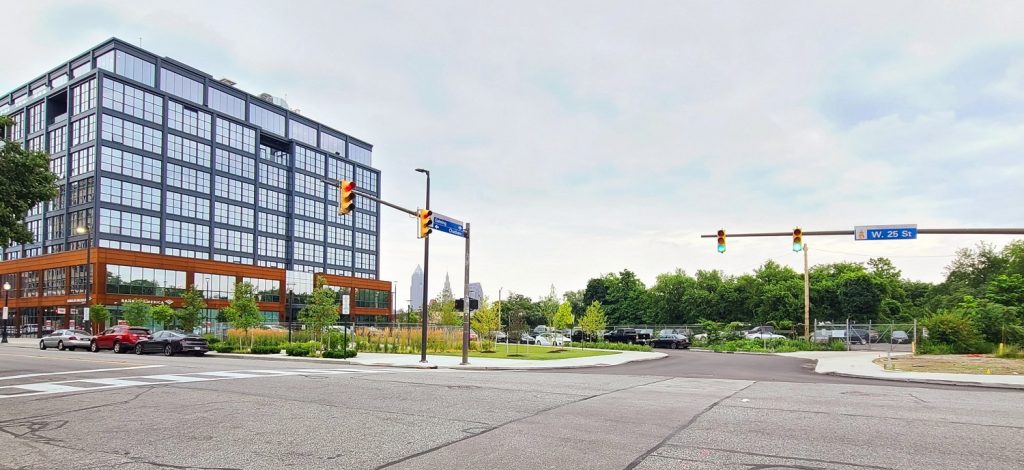 Looking east across West 25th Street at the intersection of Gehring Avenue, the first phase of INTRO is at left with the second phase proposed to rise in the middle of the image where the fenced-in parking lot is located. Phase three could someday rise off to the right of this view. Downtown Cleveland is in the distance (KJP).
Harbor Bay had planned a 10-story office building on West 25th immediately south of the mostly residential phase one. In 2019, it sought $150 million in 30-year bonds plus a 30-year property tax exemption from the Ohio Air Quality Development Authority. But officials from the city, school district and Cleveland Metroparks said the state shouldn't be awarding tax abatements, especially without any income tax sharing arrangement common in locally authorized tax abatements. With Harbor Bay's application blocked, the 150,000-square-foot office building promising up to 1,000 new daytime workers for the Market District would have to wait.
Harbor Bay's newly submitted design shows phase two rising in a different location than the originally proposed office building or the residential high rise that would replace it. Instead, the project shifted east and south toward the Greater Cleveland Regional Transit Authority Red Line property. In October 2021, Harbor Bay paid top dollar — $2 million to MRN Ltd. for the former Voss Industries parking lot. That lot at 2149 W. 25th measures one-third of an acre and was considered for the second phase. Now that lot may be used for the third phase.
The new spot for the second phase has it set back from West 25th on a Gehring Avenue parcel measuring two-thirds of an acre. That parcel is owned by the West Side Market Tenants Association and currently is used for tenants parking. Whalen did not comment on whether Harbor Bay has site control of this parcel, such as via a purchase or lease agreement. Donald Whitaker, president of the tenants association, did not respond to an e-mail from NEOtrans seeking more information prior to publication of this article.
"The plan has always been if a phase two were constructed to temporarily relocate them (West Side Market tenants parking spaces) to the former MRN/Voss lot they (Harbor Bay) purchased and then give them (the market tenants) spaces in the structured parking of the phase two building," said Tom McNair, executive director of Ohio City Inc.
Hartshorne Plunkard Architecture and Forefront Structural Engineers are part of Harbor Bay's development team on INTRO phase two. They contributed to the design that was submitted to the competition. But Whalen said the design that was presented was merely a structural massing that will continue to get refined as the design process gets into progressively more detailed work.
"This is just a structural study that got us a grant for innovation," he said.
On the other hand, the USDA/SLB competition winners must show progress in implementing the designs they originally proposed in order to receive their grant funding. Competition winners are financially encouraged to provide quarterly updates to inform the USDA and SLB of their progress. "Payouts of competition funds will correspond to reported progress," an SLB press release noted.
The innovation Harbor Bay proposes would be in constructing a high-rise building, at least above the fourth level, primarily of wood. High-rise building frames are typically built of steel or reinforced concrete. Mass timber is increasingly seen as more environmentally benign in terms of pollutants emitted during manufacturing, construction and post-construction in terms of indoor air quality.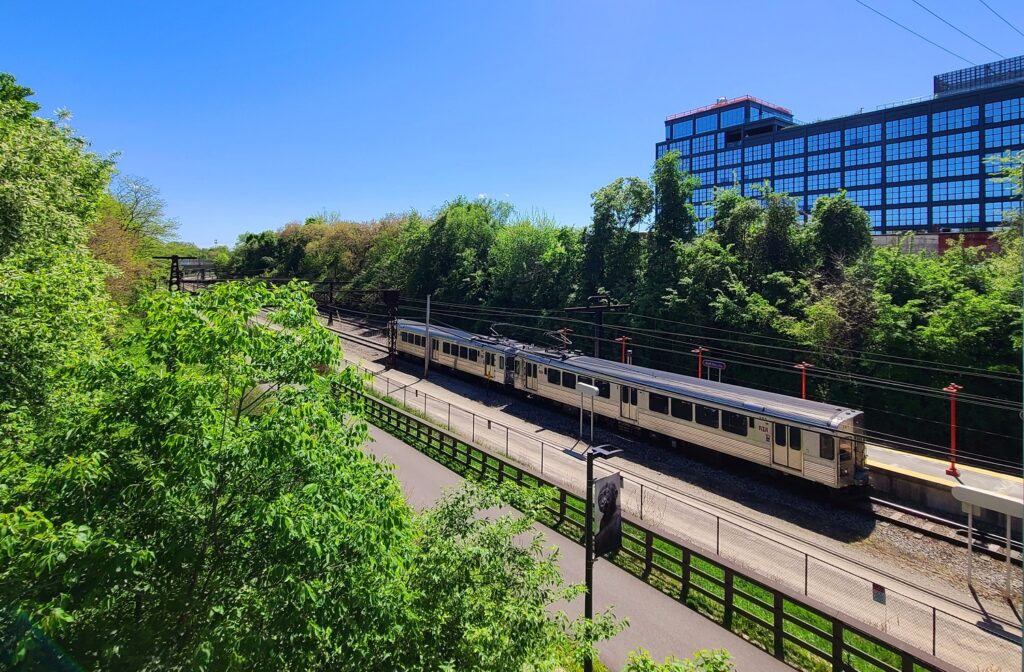 Looking south from Abbey Road and the Red Line train station, Harbor Bay's phase two would rise immediately left of phase one and tower over the adjacent rapid transit tracks and parallel Red Line Greenway (KJP).
"The mass timber tower will consist of glulam (glue-laminated wood) columns and girders with CLT (cross-laminated timber) floor slabs," Harbor Bay's entry narrative continued. "Wood is estimated to comprise 50 percent of the total structure. Design and construction efficiencies will be shared with the design and construction community to further advance the viability and cost competitiveness of mass timber in this building type application."
A nonprofit organization called WoodWorks managed the competition which sought to "showcase mass timber's innovative applications in architectural design and highlight its significant role in reducing the carbon footprint of the built environment," according to the SLB press release.
"With carbon stored in the timber and avoided carbon emissions, the carbon benefit is 6,483 metric tons of carbon dioxide in phase two of INTRO, according to the WoodWorks Carbon Calculator," Harbor Bay wrote in its USDA/SLB submittal. "A comparative carbon impact analysis of this project demonstrates a 39 percent – 56 percent reduction in embodied carbon."
A wide range of building types — commercial, institutional, educational, industrial, mixed-use and affordable multifamily housing developments — were eligible for submission to the competition so long as the timber sourced for the project demonstrates sustainable forest management and contributes to forest and watershed health. Single-family homes were not eligible and evaluation preference was given to typologies in which timber construction is largely underrepresented including healthcare facilities, large warehouse distribution centers, big-box retailers and tall buildings ranging from six to 18 stories, the SLB said.
END