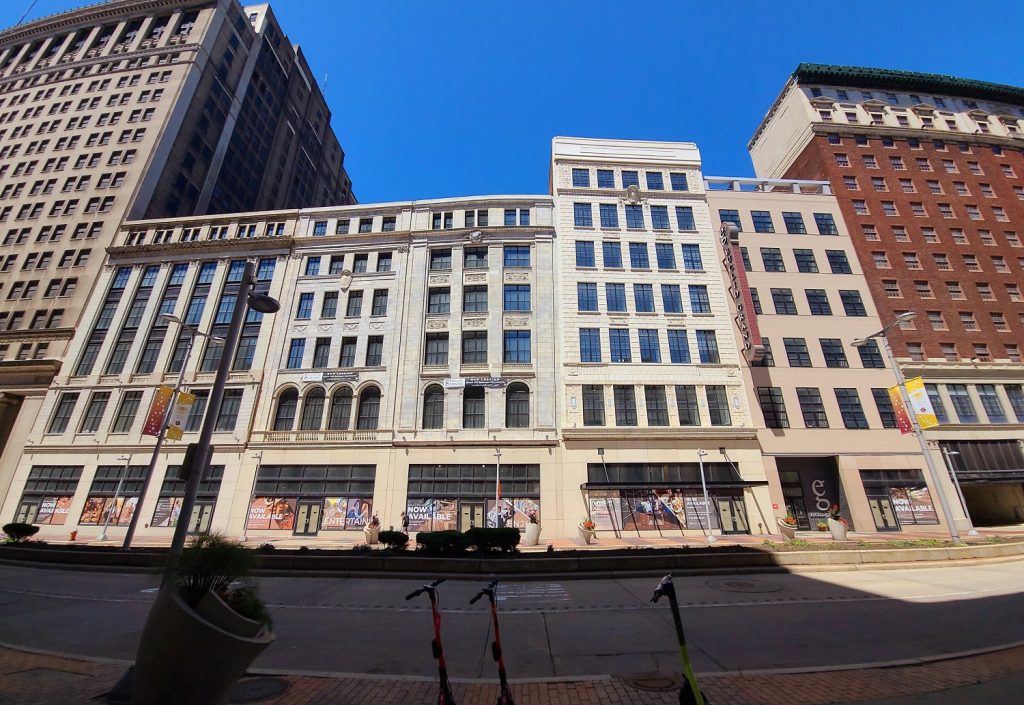 The 1000-block of Euclid Avenue in downtown Cleveland won't be quiet much longer, even when golfers step up to take their strokes at Five Iron Golf. The New York-based interactive sports gaming business will fill four of the five ground-floor storefronts at the Euclid Grand development. The only space it won't fill is the one next to the Euclid Grand apartments' lobby, at right. The Centennial at left and The Statler Apartments bookend the site (KJP). CLICK IMAGES TO ENLARGE THEM
Interactive sports venue to boost Euclid Ave.
Downtown Cleveland's Euclid Avenue is a bit of a dead zone between East 9th and East 12th streets, but it's not for a lack of residential. Almost every building on both sides of the street was converted from offices to residential uses over the past decade. What silences this stretch of downtown's historic main street is the scarcity of ground-floor activities.
But that's about to change. In May, Five Iron Golf, a New York-based chain of urban indoor golf simulators announced it would add Cleveland to its list of eight cities nationwide hosting the five-year-old company. While the company said it would occupy 16,000 square feet of space in the new Euclid Grand redevelopment at 1101 Euclid, the full scale of its sidewalk presence wasn't yet clarified.
Last week, it was. Five Iron will fill four contiguous storefronts along the north side of Euclid, between bookend buildings in that block between East 9th and East 12th, according to architectural plans submitted on July 22 to the city's Building Department. Electrical, mechanical and audio-visual plans were also submitted so the chain can secure building permits for the project. Five Iron representatives said they hope to open up in early 2023.
Those plans by DxU architects of Chicago show that the golfing simulator tenant will invest $1.75 million to build out the large space. It will have 14 golf simulator rooms, two putting greens, men's and women's locker rooms, a main bar and an auxiliary bar, restaurant, kitchen, club room, Fitting Lab, sofa lounges, billiards and foosball tables, reception area and golf shop. The space will be retrofitted with millwork wood trim, frames, doors and cabinets as is common at Five Iron Golf's other locations, DxU documents show.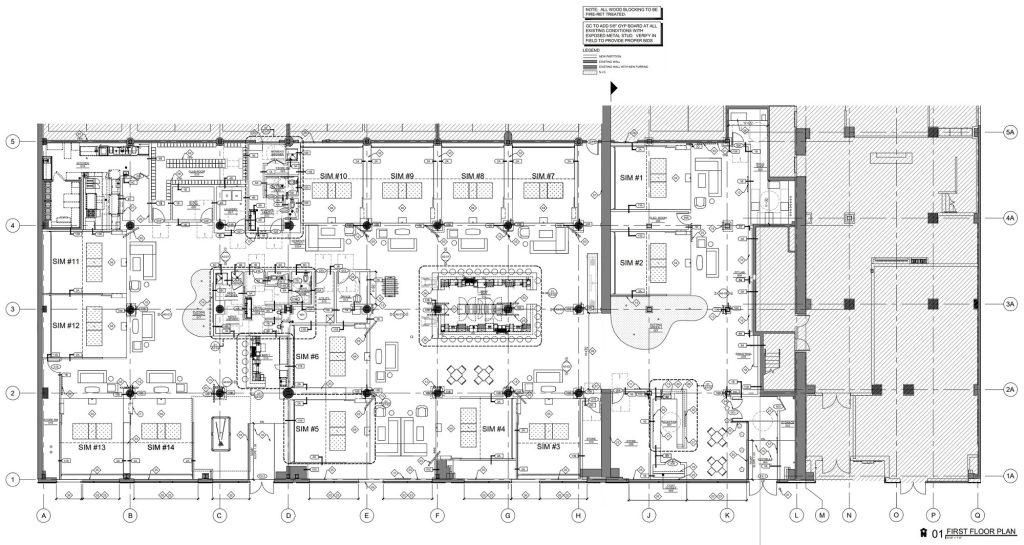 Floor plans and other documents were submitted last week by Five Iron Golf's architect to the city's Building Department to secure permits so work can begin on building out the first floor of the Euclid Grand. This view shows the plan for the entire first floor of all five buildings in Euclid Grand (DxU).
To give a sense of how large the space is, it starts at its west end from next to the 1.36-million-square-foot 925 Euclid — site of the future Centennial redevelopment which may see construction start by fall if its dozens of different sources of financing can be closed by then. The 21-story Centennial will add 868 apartments and more than 1,000 residents to downtown. To the east, the Euclid Grand ends next to The Statler, a 14-story, 295-unit apartment building converted to housing in 2003 at the corner of Euclid and East 12th.
The only ground-level storefront space that Five Iron will not occupy in the Euclid Grand complex is the eastern one which has a small retail space and the lobby entrance for the 240 apartments in the six floors above the ground level. The Euclid Grand opened in 2020 after the five historic John Hartness Brown buildings, including one with a modern façade that was since removed, were renovated for $77 million by Alto Partners of Istanbul, Turkey.
Five Iron locates in urban areas as it is not always easy for young professionals in major cities to find the time to get out to the suburbs or beyond to spend hours on a nine-, 18- or especially a 36-hole course. Instead, the nearest "course" will be just down the street and will turn traditional golfing on its head, its backers claim.
"The Five Iron mission to simultaneously welcome first-timers while prioritizing the needs of dedicated players translates perfectly to a city like Cleveland," Jared Solomon, CEO and co-founder of Five Iron Golf, said in a written statement. "With a culture so enriched in sports and entertainment, our dynamic offering of best-in-class instructional technology, leagues and alternative entertainment options will provide one-of-a-kind experiences to everyone."
The 14 custom-built golf simulators at Five Iron Golf Cleveland will feature multiple high-speed cameras to capture every angle of the golf swing, and will offer complimentary top-of-the-line equipment, custom club fitting at The Fitting Lab — a Golf Digest Top 100 Clubfitter — widescreen TVs, leisure games, a full-service restaurant and bar serving creatively curated and seasonal fare, league play, private lessons, clinics and social events.
"Alto Partners is extremely excited to bring such a unique tenant to Euclid Grand. The Five Iron experience is a perfect complement to our community and to downtown Cleveland as a whole. With the growing downtown population and the returning workforce, the timing is perfect for Five Iron to enter the Cleveland scene," said Andy Wollschleger, CFO of Alto Partners.
END