Site adds to Van Aken District activity
UPDATED AUG. 20, 2022 WITH ADDITIONAL AND HIGHER-RESOLUTION RENDERINGS.
The City of Shaker Heights has entered into a preliminary agreement with a Columbus-based developer interested in constructing an architecturally distinctive, mixed-use building on vacant city-owned land, formerly the Qua Buick-Pontiac car dealership, across Warrensville Center Road from the existing first phase of the Van Aken District.
This comes after the financial assistance from the city last month made it possible for RMS Partners to start construction, possibly by the end of this month, on phase two of the Van Aken District. The second phase is Farnsleigh Apartments featuring two high rises — one 18 stories tall and the other 15 stories. Now another party wants to join in on the fun.
The dealership site's developer, Columbus-based Metropolitan Holdings Limited, intends to purchase the 2.4 acres of city-owned property at 3393 Warrensville Center Rd. and construct an approximately 250,000-square-foot building to house approximately 140 rental units including a mix of market-rate and affordable apartment units, and townhome-style rental units, and over 18,000 square feet of active commercial/retail and office space.
The construction will blend urban and suburban design with:
A signature corner with ground floor retail and amenity spaces, second floor offices, and three floors of multifamily apartments facing Warrensville Center Road
Five floors of multifamily residential apartments facing Farnsleigh Road
Two-and-a-half story townhouse-style construction facing Helen Road and complementing the existing single-family homes located on Helen Road
Parking for approximately 200 cars, largely contained within the building
Shaker Heights-based RDL Architects will design the project and is the intended primary office end user.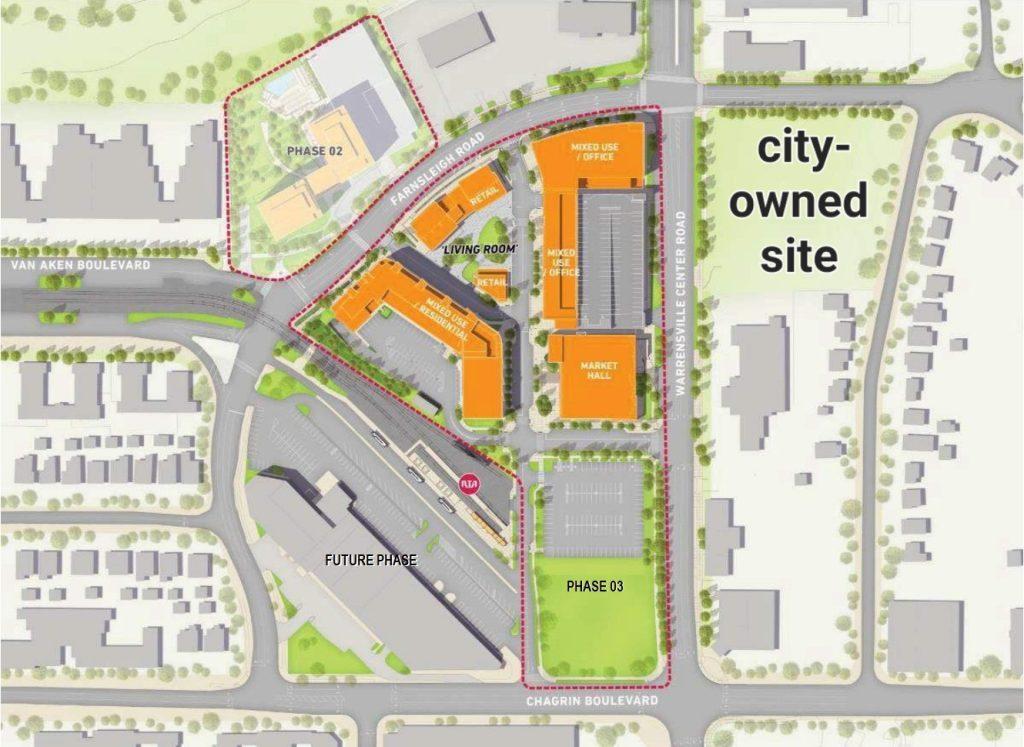 Location of the former car dealership is shown here as "city-owned site" at the southeast corner of Warrensville Center and Farnsleigh roads. Across Warrensville Center is the first phase of the Van Aken District which is about to start phase two — a pair of high-rise apartment towers. North is at the top of the map (RMS).
Metropolitan Holdings and RDL Architects will present the proposed project at a City Council work session immediately following its regular council meeting on Aug. 22, 2022, which begins at 7 p.m. in City Hall, 3400 Lee Rd. Those interested may attend in-person or watch online at www.shakeronline.com/livestream.
"We are very pleased to be working with Metropolitan Holdings and RDL Architects on this next exciting expansion of the Van Aken District," said Shaker Heights Mayor David E. Weiss in a written statement. "It will add vibrancy to an already popular destination, increase the housing options within the district, while overall enhancing and complementing the greater Van Aken District. Residents of this new complex will have easy access to RTA rail and bus routes, shopping, dining, banking, and recreation. And the city will benefit with increased tax revenues while also having RDL Architects, one of our top employers, as an anchor for this project."
The property is surrounded by Shaker Rocks climbing gym; city-owned Thornton Park, with its swimming pool, ice rink and other recreation amenities; an established residential neighborhood; a local church; the Van Aken District – phase one, a premier destination shopping, dining, office and residential development; and a bank. The Farnsleigh Apartments representing the Van Aken District's second phase will add more than 225 new rental housing units on the north side of Farnsleigh Road at Van Aken Blvd.
View looking northeast across Warrensville Center Road from the Van Aken District at a conceptual rendering of the proposed Metropolitan Holdings development. The potential scale of the proposed project is what this rendering is trying to convey including the lower height profile of the townhomes in back, along Helen Road (RDL).
"Expect to see trucks and equipment on the (high-rise development) site soon," Weiss added in his August mayor's report.
"We are honored and humbled that the city of Shaker Heights has chosen our proposal in this competitive RFP process," said Matt Vekasy, founder and CEO of Metropolitan Holdings. "The ability to work with the City of Shaker Heights and RDL Architects President and Founder Ron Lloyd on a signature corner of real estate within the established Van Aken District is an opportunity to align our collective visions to further smart urban development within Shaker Heights."
"RDL Architects has been committed to Shaker Heights for more than 25 years and we look forward to the next 25 years and beyond in our new office," said Lloyd. "We are extremely grateful to be Metropolitan Holdings' selected architectural partner on such a dynamic and impactful project for this community."
The initial agreement signed by the city, Metropolitan Holdings, and RDL Architects is a letter of intent to negotiate a binding agreement for the development of this project. The project will be subject to local approvals by the city's Planning Commission/Board of Zoning Appeals, Architectural Board of Review, and City Council.
The parties will seek mutually acceptable financing arrangements for the project. The property is located within both an existing Community Reinvestment Area, in which tax abatement is permitted for commercial and residential development, and a Tax Increment Financing District.
The city and development team will be working with the Shaker Heights City School District, including any required School District approvals, as financing for the project is developed and finalized.
Mayor Weiss commented, "We look forward to this continued growth of the Van Aken District, and the many benefits generated by this project for our community including job creation, increased tax revenues, enhanced property values, and providing an attractive, vibrant and inclusive gathering place for our entire community."
The project property was the site of Qua Buick-Pontiac until its closing in 2005. In 2013, the city purchased the property and in 2015 the city partnered with the Cuyahoga County Land Bank to demolish the existing buildings and prepare the site for redevelopment. The land has been idle since that time.
The City of Shaker Heights has created a project webpage at www.shakeronline.com/3393-WCR. This page will be updated as the project proceeds.
END