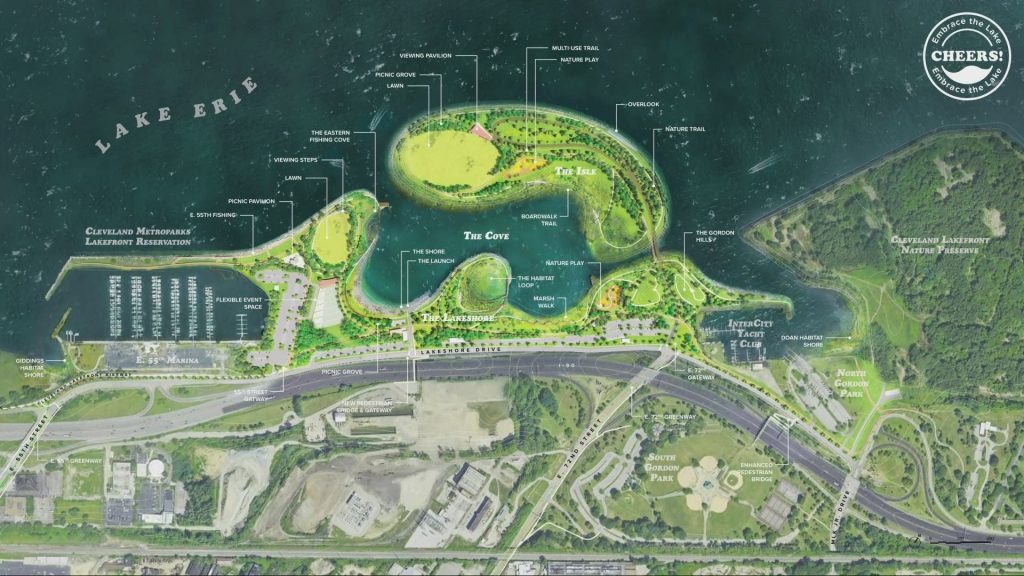 Masterplan map for the Cleveland Harbor Eastern Embayment Resilience Strategy (CHEERS) project, located just east of downtown Cleveland along the city's Lake Erie waterfront. The project will increase access to recreation, expand sanctuaries for wildlife, protect Interstate 90 from wave action from storms and possibly promote development of the former First Energy Lakeshore Power Plant, west of East 72nd Street (Cleveland Metroparks). CLICK IMAGES TO ENLARGE THEM.
But construction depends on Metroparks levy
ARTICLE UPDATED OCTOBER 14, 2022
While there's been lots of studies about how to improve Cleveland's lakefront, one is actually moving forward into formal design and construction permitting — the last step before acquiring funding and construction for an expanded lakefront park just east of downtown. And although the detailed design and permitting work will continue through to the end of 2024, a big piece of funding for lakefront park expansion will be decided by voters next month.
At its October meeting held today, the Port of Cleveland's Board of Directors approved a $3.75 million contract with Arup Engineering of London, England to undertake the design and permitting services needed to proceed with the Cleveland Harbor Eastern Embayment Resilience Strategy (CHEERS) project. Arup was chosen after federal funds for the design work were secured nearly a year ago, a request for proposal was released in March and a review of the submissions was made by CHEERS partner organizations, determining that Arup was the most qualified firm for the project, according to a press release.
The project envisions returning the hardened edge of Cleveland's East Side lakefront to a natural living shoreline with play spaces, amenities, trails, picnic lawns, fishing areas, habitats and overlooks. The beneficial use of dredge material from the Cuyahoga River will be used to create a more naturalized shoreline of habitat and parks, mitigate the impacts of the lake on existing infrastructure, including Interstate 90, and create a sheltered embayment where visitors can safely access Lake Erie. The estimated 30-year plan envisions a phased development of shoreline and features including creating a new accessible isle along the lake. NEOtrans has reported on this project going back to its origins more than two years ago.
"We're excited to be moving forward into the design phase of this transformational and vital project that will benefit Northeast Ohio communities for generations to come," said Will Friedman, president and CEO of the port. He also confirmed to NEOtrans yesterday that the two-year contract with Arup includes developing a funding strategy for construction of the CHEERS project.
Expansion of Gordon Park into the lake will be the first phase, called The Lakeshore. Phase two, called The Isle, will create a 36-acre island to shelter from Lake Erie storms a new cove between it and The Shoreline. The Isle will offer a new wildlife habitat and the cove will provide a new place for fishing and boating. Both phases will also protect Interstate 90 from rising lake water levels resulting from climate change. The highway has been battered by waves from recent storms and rising lake levels, including 18-foot waves wrought by Superstorm Sandy in 2012.
"This project has the potential to have transformational impact on Cleveland's East Side lakefront and to eliminate longstanding barriers to access for residents," said Cleveland's Chief of Integrated Development Jeff Epstein.
CHEERS project partners include the City of Cleveland, Ohio Department of Transportation, Ohio Department of Natural Resources, Black Environmental Leaders Association, Cleveland Metroparks and the Port of Cleveland. Work is funded through a combination of matching funds provided by each partner and grant funding from the National Fish and Wildlife Foundation's National Coastal Resilience Fund and the Maritime Assistance Program.
The Port of Cleveland is hiring the designer because it is responsible for the dredging of the navigable portions of the Cuyahoga River and Cleveland's Lake Erie harbor. Once the permitting is done with the Army Corps of Engineers, construction can begin by taking material that is dredged from the river and harbor and depositing it into new locations along the lakefront. Currently, the active confined disposal facility (CDF) for dredged material is at the northeast corner of Burke Lakefront Airport.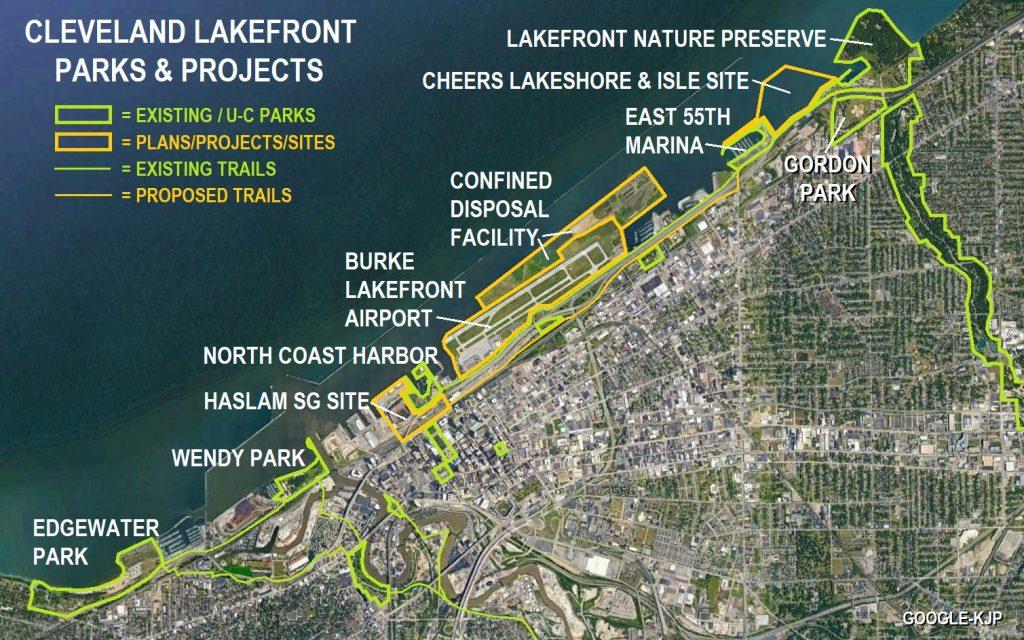 Map of significant sites along Cleveland's lakefront including the CHEERS Lakeshore and Isle project locations along with confined disposal facilities for depositing material from the navigable portions of the Cuyahoga River and Cleveland's Lake Erie harbor (Google-KJP).
"It's a unique project for the Great Lakes in terms of large-scale reclamation fill," Friedman told NEOtrans in a recent interview. "We're proposing to use dredged material (mostly sand and gravel) to create new land masses and shifting material from existing CDFs that would give us more control over timing as opposed to waiting for dredging to contributed to the fill. The dredged material from the last decade or two is pretty clean. The CHEERS project will protect I-90, provide a nice amenity, a new natural habitat, and adds shoreline for east side residents. It does a lot of beneficial things at the same time."
Part of the funding will include additional resources raised by a replacement of the Cleveland Metroparks' 10-year, 2.7-mill property tax levy next month, on the ballot as Issue 5 throughout in Cuyahoga County and as Issue 10 in Hinckley Township in Summit County. Because it is replacing a levy rather than renewing it, the levy will capture the increase in property values since it was last approved by voters a decade ago. Thus it would increase property taxes by about $27 per year for every $100,000 of home valuation, according to Metroparks officials.
"We're thrilled to move the CHEERS project into the design phase and create a more resilient, equitable and prosperous lakefront," said Cleveland Metroparks CEO Brian M. Zimmerman. "The CHEERS project will be transformational for Cleveland's East Side by protecting critical infrastructure, improving park access, and expanding natural habitat along the Lake Erie shoreline."
The replacement levy for the Metroparks will generate $12 million to $14 million more per year for the park system and allow it to contribute its share of funding to the CHEERS project which could cost $300 million over 30 years of development. It will also help support an expansion of the Metroparks along more areas of the lakefront and at inland locations, as well. That includes taking over the management of East Cleveland's share of Forest Hills Park which also extends into Cleveland Heights.
Cleveland Metroparks spans more than 24,000 acres across Northeast Ohio and includes 18 reservations, more than 325 miles of trails, eight golf courses, eight lakefront parks, dining and retail venues, and the Cleveland Metroparks Zoo. Included in the zoo is The RainForest building which is also under consideration for expansion as a result of additional funding from the replacement levy.
END
Our latest Greater Cleveland development news