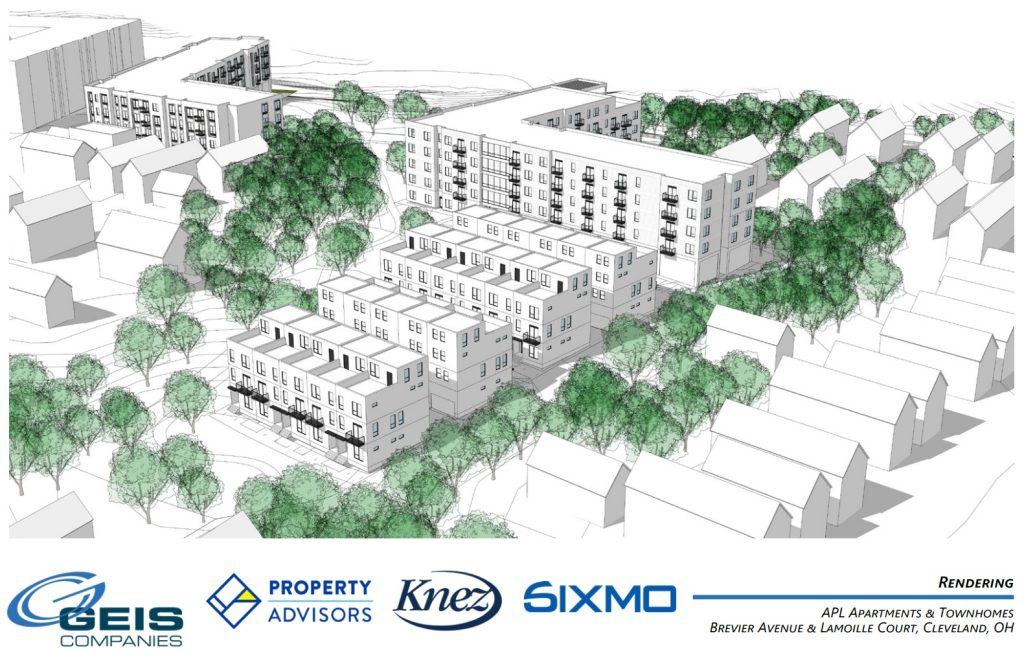 Looking northwest toward the former APL site in Tremont with West 18th Place at the right, the proposed APL Apartments and Townhomes fill the middle of the image. An improved greenspace is planned to the left of the proposed development. No building colors or textures are shown here as this rendering is intended to show only the scale and siting of proposed buildings. At the upper left, near West 25th Street, is the planned West 20th Apartments and the Treo mixed-use development that's nearly completed (Sixmo). CLICK IMAGES TO ENLARGE THEM
Former APL site adds to booming area
ARTICLE UPDATED NOV. 9, 2022
Perhaps the largest never-developed piece of land on Cleveland's near-west side now has a plan for developing it. Tomorrow, a neighborhood-level committee of the City Planning Commission will see and hear a presentation by a development team led by Knez Homes and Property Advisors Group to construct 129 housing units on a 3.65-acre plot of Tremont land Knez acquired last February, a story first reported by NEOtrans.
Conceptual plans show a five-story, 100,000-square-foot apartment building with 107 units, roughly equally divided among studios, one-bedroom efficiencies, one-bedroom apartments and two-bedroom suites. There will be a rooftop terrace and 31 covered parking spaces. Total number of parking spaces for the apartment building will be 107 spaces. In addition, the 22 townhomes will average 2,318 square feet each and have two ground-floor garaged parking spaces per unit, according to a copy of the development team's presentation, secured by NEOtrans from a source.
Those plans show two-way vehicular access to and from the site will be via Brevier Avenue, off Scranton Road, with a one-way exit only onto the narrow Lamoille Court. Lamoille reaches other narrow streets that access Scranton via Barber Avenue or Auburn Avenue, as well as to West 25th Street and Interstate 90. To reach the new townhomes from Brievier, vehicles will have to drive under a part of the apartment building that's proposed in this development.
For now, the development is called the APL Apartments and Townhomes, which is a working title, because the site on which they are proposed to rise was acquired from the Cleveland Animal Protective League (APL). Real estate broker Conor Coakley, now with Cresco, facilitated the deal when he was with CBRE Cleveland. The APL in 2020 renovated its 28,700-square-foot animal shelter on Willey Avenue and expanded it by 7,000 square feet for $13.5 million. Also included was a new 77-space parking lot next to the railroad tracks and west of the shelter. After it completed that project, the APL realized it no longer needed half of the property it owned.
APL Apartments and Townhomes will include a 1.24-acre swath of park/greenspace that represents 35 percent of the development site. Within that swath will be a public, all-purpose trail from Brevier that will reach an extension of Moltke Court. That extension is being constructed as part of two large apartment building projects that will be accessed from West 25th Street. Moltke cannot extend further, such as to Brevier, right now because developers haven't been able to secure a vacant 0.8-acre parcel. However, the trail will link a rapidly developing stretch of West 25th to Scranton Road and the heart of Tremont via Kenilworth Avenue, the plans show.
The two large apartment building projects are the West 20th Apartments and Treo. The West 20th Apartments are being developed by Agostino Pintus of Cleveland and designed-built-managed by Geis Companies of Streetsboro but with an office in downtown Cleveland. Just west of that 85-unit development is an even larger apartment building called Treo that's in advanced construction. Treo has 171 apartments and a 2,375-square-foot restaurant/retail space at the corner of West 25th and Moltke. Its development team includes Mavrek Development of Chicago, The Krueger Group of Cleveland and Schiff Capital Group Ltd. of Columbus.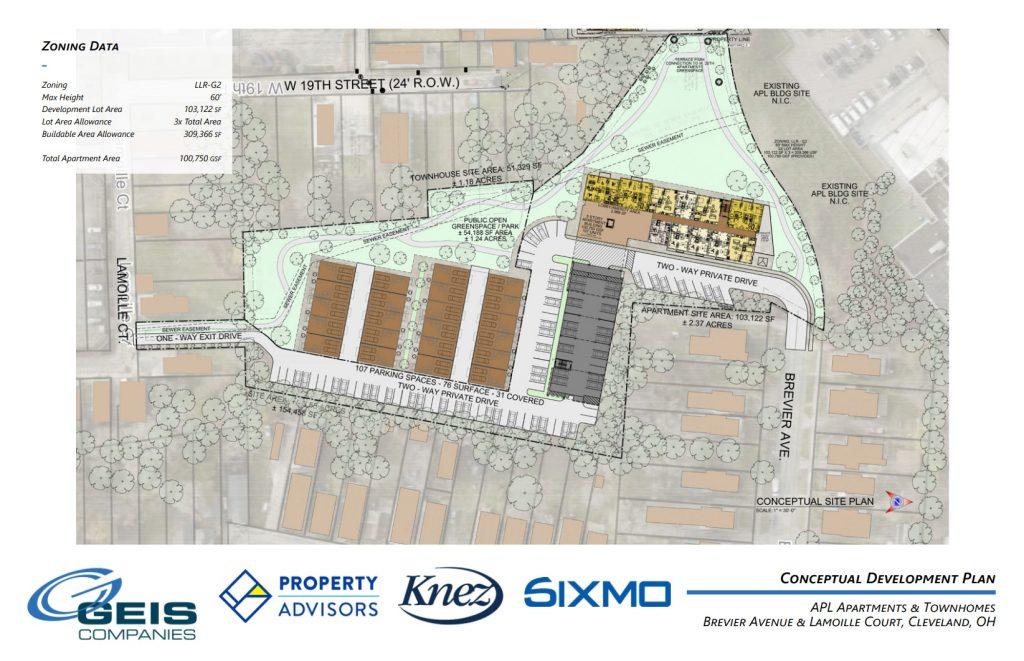 A closer view and more detailed plan for the former APL site, with north to the right. Two-way vehicular access to and from the APL Apartments and townhomes will be via Brevier Avenue and be routed under a portion of the proposed apartment building. A narrow one-way exit will be to Lamoille Court which routes cars into a neighborhood served by other narrow streets (Sixmo).
One of the reasons why a portion of the APL site will remain undeveloped is to ensure that the city retains access to a storm sewer. Another reason for the greenspace is to conform with a development masterplan for this site and the surrounding Lincoln Heights neighborhood. The Reaching Lincoln Heights masterplan was developed in early 2020 with community input by Seventh Hill Design and adopted by the City Planning Commission.
The plan was sought to help guide a surge of interest in development in the Lincoln Heights neighborhood, especially the unused portion of the APL property that was hitting the market. According to historical records, the APL property Knez acquired has never been developed. In the 19th century a man-made pond was created here by damming a drainage swale to provide water to and flush out the Beck Provision Co., a hog slaughterhouse. Ward 3 Councilman Kerry McCormack, the Tremont West Development Corp. and local block clubs sponsored the masterplan.
"Knez builds a really good for-sale product, so I'm confident that, working with the community, they will come up with something really exciting," McCormack said to NEOtrans last year after the APL chose to sell its excess property to Knez. The Painesville-based developer of townhouses and unattached single-family homes acquired the property for $550,000.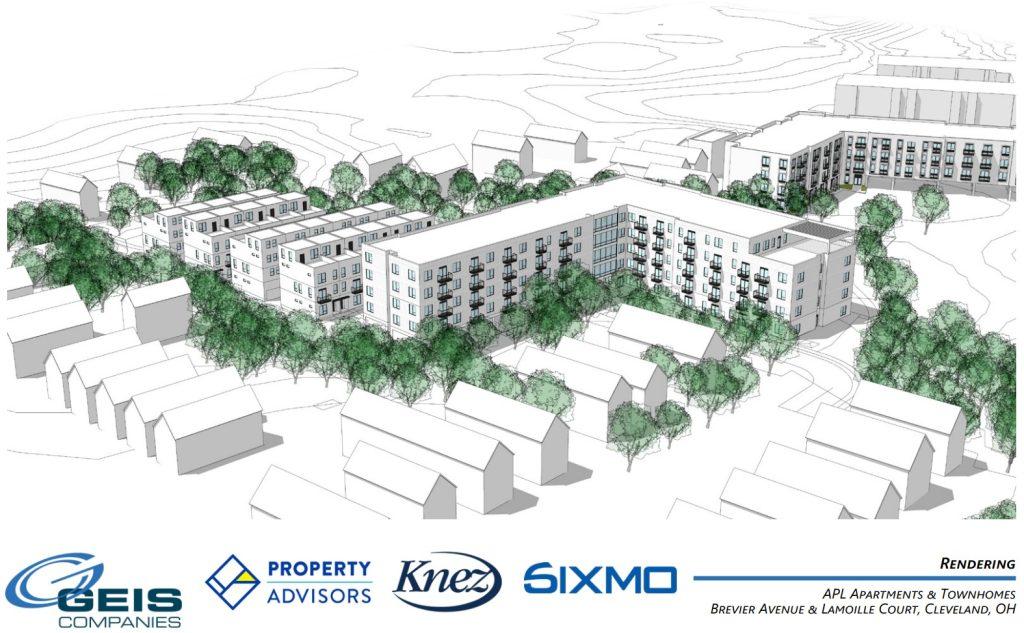 Brevier Avenue is at the bottom-center, extending into the aouthwesterly view with an angle to the right. From the end of that street would be a private, two-way driveway in and out of the APL Apartments and Townhomes. The driveway will go under the new apartment building to reach the townhomes to the left of it. The West 20th Apartments and Treo are in the backround at the right (Sixmo).
Bo Knez, founder, president and CEO of Knez Homes said he would have no comment on the development team's conceptual plans until after the planning commission has had a chance to review them. However, in past interviews, he said the plans now pending before the commission were based on the Reaching Lincoln Heights vision which featured a mix of apartments, townhomes and greenspace, plus a trail linking Brevier to West 25th.
"It's pretty big for us," Knez said in 2021. "It's one of the biggest pieces available on the West Side. It's a prime piece of property. We put in our bid for it and we're lucky to get it. Tremont is a growing area and we're happy to have this opportunity to invest in the neighborhood."
Currently, Knez's largest development site on Cleveland's West Side is the Bailey Bridge Townhomes (previously called Fulton Row), located on a 2.1-acre former junk yard at Fulton Road and Bailey Avenue. Construction is near to wrapping up on the 55-unit, $15 million development.
The APL site plans were drafted by Sixmo Architects and Geis Companies' design branch GLSD Architects. Brandon Kline, director of design development at Geis, acknowledged that he is working with Knez and Property Advisors Group on the APL site plans but, like Knez, said he would not comment on the project until after the presentation tomorrow before the Near West Design Review Committee.
Also, Geis will not only build the apartments but provide on-site management of the property thereafter, as is common with the apartment building projects for which it serves as general contractor. Brad Nosan, vice president of leasing and acquisitions at Property Advisors Group of Beachwood, did not reply to an e-mail sent to him by NEOtrans seeking comment.
The same real estate development players have teamed up before. They are developing a mix of apartments and townhomes at 8400 Lake Ave. in Cleveland's Cudell-Edgewater neighborhood with demolition of existing buildings and site preparation to begin any day now. Before that, all of the same team members joined with M. Panzica Development and Gustav Development in building apartments and townhomes at the Woodhill site in Cleveland's Little Italy which is now in an advanced stage of construction.
END
Our latest Greater Cleveland development news