Looking south on West 20th Street from near the Norfolk Southern railroad tracks, the West 20th Apartments would continue to add to the growing housing density of the Lincoln Heights section of Cleveland's Tremont. The first level along this wing of the building is proposed to be enclosed parking (GLSD). CLICK IMAGES TO ENLARGE THEM
Tremont's Lincoln Heights to gain more housing
If it's Tuesday, then the West Side must be adding another apartment building. With remarkable frequency, Tremont, Ohio City and other near-west-side Cleveland neighborhoods continue to attract new residential developments. And given the current tight state of the local real estate market, that means more apartments. Lots of them.
The latest to pop up on the city's review list is the 85-unit West 20th Apartments — a working title until Akron-based developer Agostino Pintus and his design-build-manage partner Geis Companies of Streetsboro come up with something more flowery. Given the site's obstruction-free views of downtown across Walworth Run, perhaps that attribute might figure into the apartment building's permanent name.
This 76,056-square-foot development, planned at 2485 W. 20th St., along with the 99-unit Driftwood Apartments by J Roc Development which NEOtrans broke the story about in early February are appearing this week before the city's Near West Design Review Committee. Driftwood is proposed to be built on a vacant lot at Fairfield Avenue and West 11th Street in the heart of Tremont.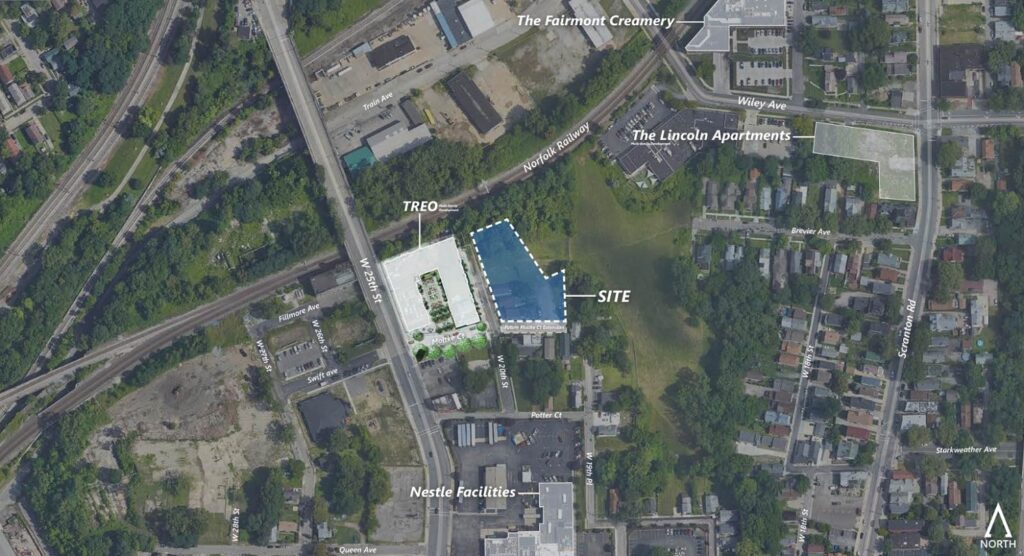 The site of the West 20th Apartments is next to the Treo development on West 25th Street. Several other recent developments nearby are shown, but many more are planned on vacant land in this area. That includes the never-developed greenspace to the right or east of the West 20th Apartments site where Knez Homes plans to build (GLSD).
Unlike Driftwood, the West 20th Apartments are planned for a part of Tremont that people sometimes mistake as the southern part of Ohio City. West of Interstate 90 to West 25th Street and south of the railroad tracks, this area is called the Lincoln Heights section of Tremont. And if you haven't already snapped up land here, you may already be too late.
Agostino is the latest to acquire property through purchase agreements but not yet through deeds. The 1.17-acre site is comprised of seven parcels, the largest of which is a vacant, 0.8-acre city Land Bank lot. The other six are divided among private owners with five belonging to The Cle Vue LLC, an affiliate of Tremont-based Solo Development, a builder of Tremont condos and townhomes.
The sixth parcel belongs to a resident whose house along with two other homes on Cle Vue-owned parcels are to be demolished to make way for the West 20th Apartments. They are the only houses still standing on West 20th Street north of Moltke Court. These two dead-end streets are being consumed by surrounding underbrush.
Proposed is a four-story building with 85 parking spaces behind and below a portion of the building, which appears L-shaped from overhead. At the corner of the two wings of the building, at the northeast corner of West 20th and Moltke Court will be a 4,372-square-foot lobby and community room. Plans show the building will have 18 two-bedroom units, 30 apartments with one bedroom each and 37 studios.
Moltke is a very narrow street — just 16 feet wide. The West 20th Apartments development team is urging the city to widen the street right of way to 22 feet for better vehicular access, including for safety vehicles. Moltke also provides vehicle access to several houses on the south side of this alley.
Pintus opened but did not yet respond to an e-mail from NEOtrans asking questions about the project and the market's demand for more housing. Brandon Kline, director of design development for Geis Companies, declined to discuss the project prior to the Near West Design Review Committee meeting tomorrow.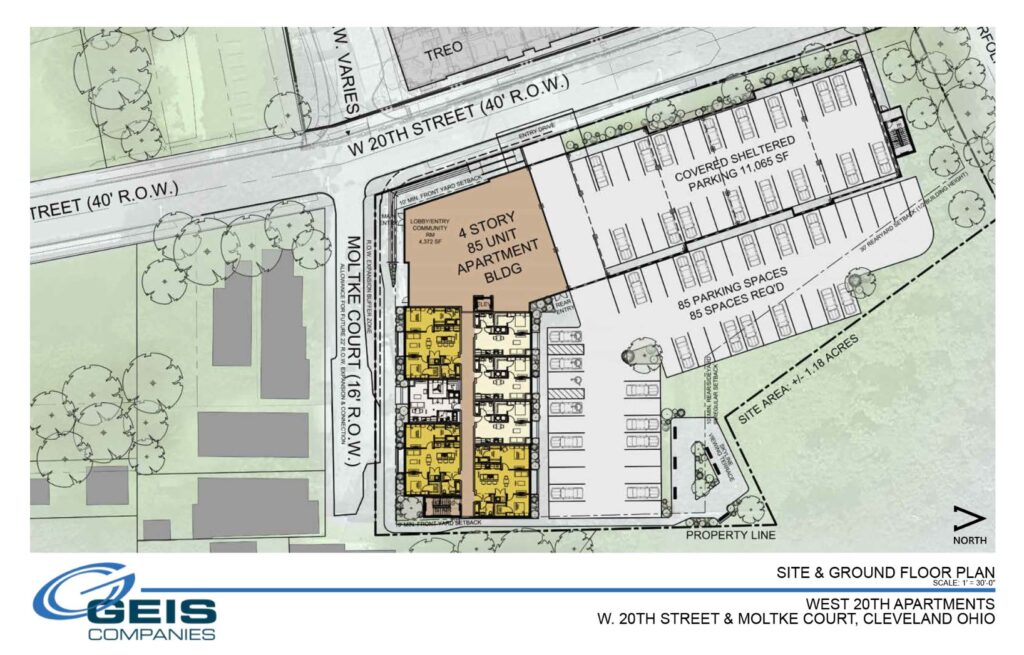 Ground-floor site plan for the West 20th Apartments with north to the right. Note the addition of a skyline viewing terrace on the lower-right, which would be perched on a slope overlooking Walworth Run and offering an obstruction-free view of downtown Cleveland. Moltke Court is being extended west to West 25th Street as part of the Treo project (GLSD).
"It is our company's policy to not provide information or speak about project specifics ahead of public meetings," Kline said. "For this, I apologize, for not being able to provide you with additional details at this time."
Presenters to neighborhood-level design review committees typically use the input from those meetings to refine their project's designs for presentation to the citywide Design Review of Planning Commission and/or Landmarks Commission. Kline said he hoped to be able to present plans for the West 20th Apartments to the City Planning Commission at its May 6 meeting.
Other houses on West 20th and a nearby auto repair and scrapyard business on West 25th Street were razed in 2020 for the $38 million Treo development that is due for completion later this year. Chicago-based Mavrek Development teamed with Cleveland-based Krueger Group to deliver the project with 171 apartments over a 2,235-square-foot ground-floor retail/restaurant space.
As part of the Treo development, Moltke Court is being extended to West 25th Street to provide direct access for residents and visitors of Treo. However, the same benefit will apply to the neighboring West 20th Apartments.
To the east of the planned site for the West 20th Apartments, Knez Homes wants to develop a 3.55-acre chunk of never-developed land it acquired in February from the Cleveland Animal Protective League for $550,000, according to Bo Knez, founder, president and CEO of the Painesville-based firm.
If Knez's entire plot of land is developed, it would be Knez's largest development yet on Cleveland's west side. But, in addition to dozens of townhomes, Knez is likely to provide greenspace and a possible street or trail connector between West 25th Street and Scranton Avenue via Brevier Avenue and possibly Moltke Court. Such a connector was proposed in a recent neighborhood development masterplan.

Two aerial views of the Lincoln Heights neighborhood where West 20th Apartments are planned. Crossing diagonally through both views is West 25th Street including its bridge over Walworth Run. In the second photo taken earlier this spring, the Treo development has topped out. Just beyond it is where the West 20th Apartments would rise. Both developments will have views of downtown Cleveland (V1DroneMedia, Dan Krueger).
"The Reaching Lincoln Heights Plan … speaks to the expectation the community has for development in the area," said Cory Riordan, executive director of the Tremont West Development Corp. in an e-mail to NEOtrans in February. "We look forward to working with developers to fulfill the promise and potential for the area."
To say that a lot of development has come to Lincoln Heights and adjoining land in recent years is an understatement. If a start date and place of the current development momentum can be identified, it would probably be 2014 when Sustainable Community Associates redeveloped the long-vacant Fairmount Creamery with 30 apartments and 23,000-square-feet of commercial space on Willey Avenue at West 17th Street.
What followed since was a string of developments — both repurposed buildings and new construction. They included the 59-unit Wagner Awning, The Tappan and its 95 apartments plus Leavened bakery, the 60-unit St. Joseph Commons, The Lincoln mixed-use building opening this spring, another mixed-use activity in the old Scranton Carriage Works, as well as Treo noted earlier, The Pearl planned just across Walworth Run and potentially even more mixed-use development close by.
END