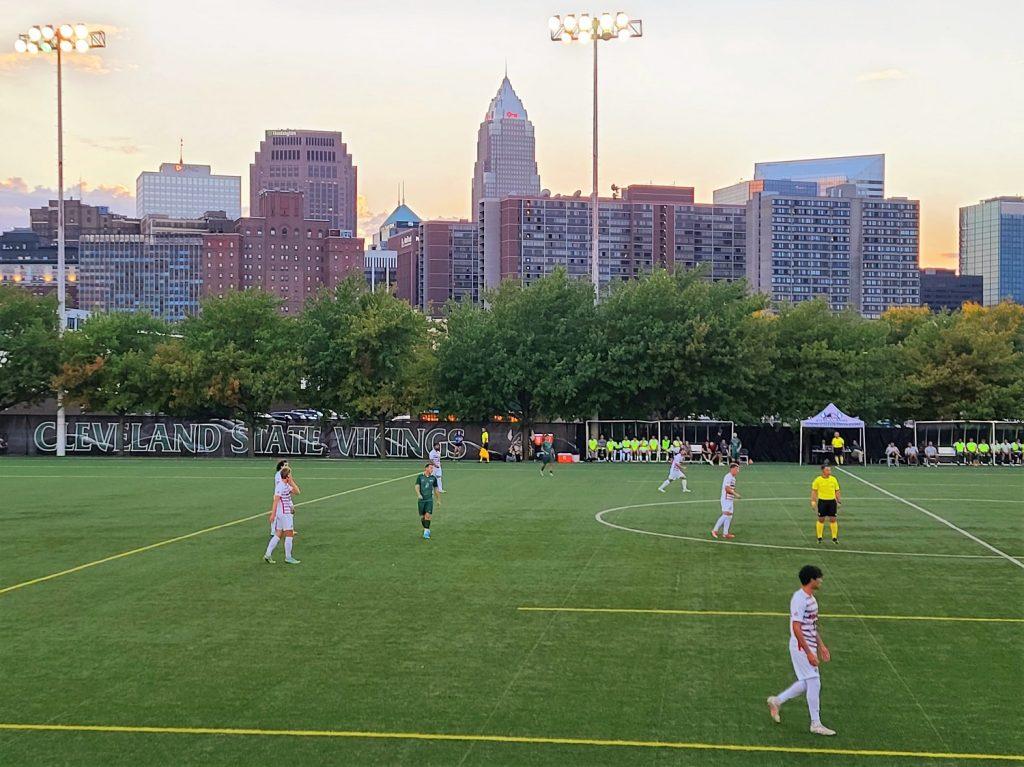 Krenzler Field in downtown Cleveland is the home of the Cleveland State Vikings soccer and lacrosse teams as well as the Cleveland Soccer Club semi-pro team. If available, Krenzler Field and its seating capacity may need to be expanded to accommodate Cleveland's new Major League Soccer NEXT Pro team (KJP). CLICK IMAGES TO ENLARGE THEM
Soccer stadium site not yet ID'd
The reserve league of top-tier Major League Soccer is expected to announce on Monday that it will expand to Cleveland in 2025 as the next city to gain a professional soccer team, according to sources who spoke off the record. The announcement will be made at 1 p.m. Nov. 21 at Pins Mechanical on West 25th Street in Ohio City by Michael Murphy. He led the effort locally to land the MLS NEXT Pro (MLSNP) team.
Murphy, president of independent film distributor Gravitas Ventures of Cleveland, acknowledged to NEOtrans that the MLSNP expansion will be announced at that event but said he would have no further comment until then. Gravitas was acquired last year for $73 million by Toronto-based Anthem Sports and Entertainment, a multinational media company. Monday's announcement will precede the USA National Men's Team playing Wales in the World Cup.
But there are still some unresolved matters regarding the planned expansion including where the new team will play. What is known is that, unlike most teams in MLSNP, it will not be affiliated as a "farm team" for a top-tier MLS club. As such, it will be the third independent team in the developmental league that began play in 2022 with 21 teams. The first independent team was the Rochester New York FC which qualified for the playoffs in its first season.
MLSNP expects to add seven more teams in 2023, including Atlanta United, Austin FC, Charlotte FC, LA Galaxy, Los Angeles Football Club, Nashville Soccer Club and New York Red Bulls. All are affiliates of MLS teams and all have the same names as the big-league clubs with which they are affiliated. But a second unaffiliated MLSNP team, this one starting play in 2024, was announced last week — Carolina Core FC, based in High Point, NC.
"Strong independent teams are a critical component of our growth strategy for MLS NEXT Pro," said Charles Altchek, president of MLSNP, in a written statement.
Dan Courtemanche, MLS's executive vice president of communications, opened an e-mail from NEOtrans seeking comment and more information about Cleveland gaining an MLSNP team but otherwise did not respond to it prior to publication of this article.
Reserve league teams rarely played in the stadiums of their big-league clubs last year considering their seasons overlapped. MLSNP played from March 25 to Oct. 8 in 2022, including playoffs. Columbus Crew 2, like its MLS parent, is owned by the Haslam Sports Group, owners of the Cleveland Browns. But Crew 2 plays at the 19,968-seat Historic Crew Stadium, built in 1998 north of downtown while the Columbus Crew plays west of downtown in the new 20,371-seat, $314 million Lower.com Field built exclusively for soccer in 2021. Most MLSNP teams play in stadiums having anywhere from 3,000 to 20,000 seats. The Haslams reportedly assisted Murphy in securing an MLSNP team.
MLSNP's already existing two independent teams may offer some insight as to the size, type and cost of stadium needed to host MLSNP games. Rochester's home field is the 13,768-seat Community Sports Complex Stadium built for $35 million in 2006. Carolina Core FC will play its home matches at Truist Point, now the home of the High Point Rockers of the Atlantic League of Professional Baseball. Renovations are planned to add 500 seats to this 4,500-seat ballpark that was built in 2019 for $36 million as a baseball-only facility. Now it will become a multi-purpose venue to provide "both players and spectators with an authentic soccer gameday experience," according to a press release from MLSNP.
Among those planning to attend Monday's announcement is Tom Chema, an attorney now in private practice. But he was executive director of the Gateway Economic Development Corporation during its early 1990s construction of the $200-plus million Gateway sports and entertainment complex. It features a 20,000-seat indoor arena now called Rocket Mortgage FieldHouse and a 42,000-seat baseball stadium, now called Progressive Field and since reduced to 35,000 seats.
He said he was not aware if a playing site for the new MLSNP club has been determined. However, he was involved in recent efforts to construct a 10,000-seat stadium for a United Soccer League (USL) franchise sought by brothers Greg and Shaw Abrams, co-owners of six Force Sports fitness centers in Greater Cleveland. Chema is listed in Ohio Secretary of State records as the statutory agent for the Cleveland Soccer Stadium Corp., incorporated in 2017. The incorporation was due to expire this year but renewed in November 2021 by Chema, public records show.
Their favored location for a soccer stadium was on 30-acres of mostly vacant land owned by the Ohio Department of Transportation just south of the Interstate 90 Inner Belt around downtown Cleveland. The site is off Ontario Street and the new East 9th Street Extension, next to the Greater Cleveland Regional Transit Authority's rapid transit rail lines. The 30 acres was part of a larger, 49-acre property for which ODOT began organizing an auction in spring 2020 — right when the pandemic hit.
ODOT District 12 Public Information Officer Brent Kovacs told NEOtrans in October 2020 that no buyer was selected and that the process of setting up the auction was put on indefinite hold. NEOtrans sent Kovacs an e-mail to see if there were any plans to offer the property for sale again.
"ODOT has not made a decision about the property," he said.
Another site that could be temporarily offered to an MLS NEXT Pro team in Cleveland is Krenzler Field on the Cleveland State University (CSU) downtown campus. That's where the Cleveland State Vikings soccer and lacrosse teams play their home games. The Cleveland Soccer Club semi-pro club of the National Premier Soccer League plays many of its home games there as well, along with Baldwin Wallace University's George Finnie Stadium and at Lakewood High School's First Federal Lakewood Stadium. In 2022, Cleveland SC won the Midwest Region's Rust Belt Conference championship.
Krenzler Field was built in 1985 and gains an air-supported dome in winter months to make it a year-round facility. However, the venue seats only 1,680 people — likely too small for a permanent MLSNP venue. And there was no mention of expanding it in CSU's newly released campus master plan. The facility was renovated by CSU in 2018 for $2.9 million.
On social networks and online discussion forums, Cleveland soccer fans expressed disappointment in Cleveland getting an MLSNP team rather than a USL team. An MLSNP team, they reasoned, would have difficulty developing a fan base and following because reserves and developmental players wouldn't be in for Cleveland for years. Instead, they would come and go to different MLS teams. But not everyone was disappointed.
"Soccer is like music — it's an international language," said Joe Cimperman, president of Global Cleveland, an economic development agency that strives to attract immigrants, refugees and global investment to Greater Cleveland. "What we're doing in terms of our community is to bring in more people from around the world. It (professional soccer) is going to help us keep and attract more international talent. That's why I support what Michael (Murphy) is doing."
Cimperman noted that soccer not only helps improve Cleveland's international connection but also its connections between people within the inner city and between suburbs and inner city. So instead of people of different nationalities, cultures, religions and ideologies fighting each other on a battlefield or in the streets, they play together in a way that's healthy and constructive.
"What makes your city more international is health care, universities and soccer," said Cimperman who played goalie for St. Ignatius High School's soccer team. "That stuff matters. It sends a signal that Cleveland is serious about internationalism."
END
Our latest Greater Cleveland development news