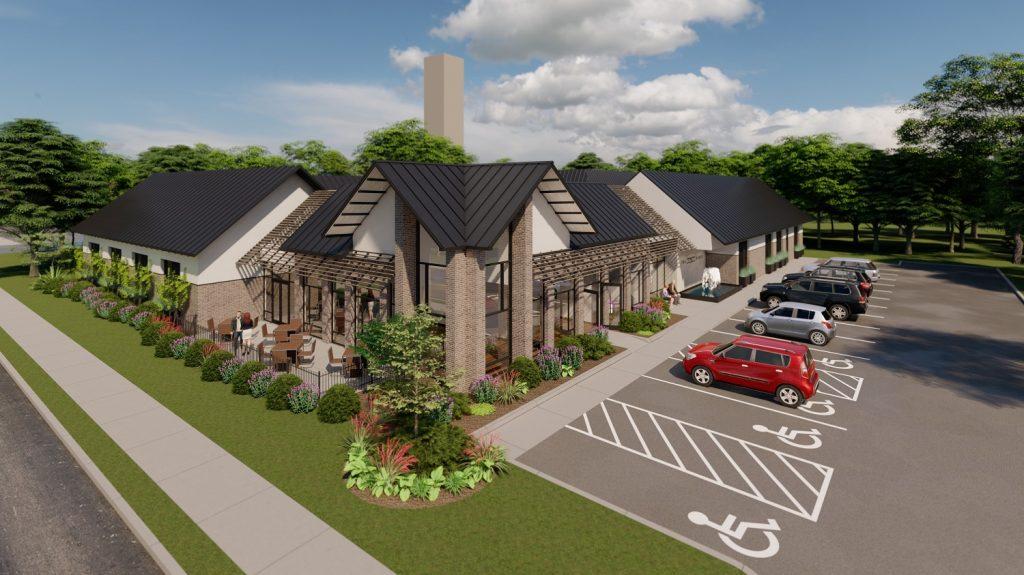 Over the next few weeks, the nonprofit Mark Kalina Jr. Foundation needs the generosity of Greater Cleveland and beyond to realize dreams of building the Kalina House along East 79th Street between Euclid and Carnegie avenues. The site was selected due to its proximity to the HealthLine bus rapid transit and its connectivity to Cleveland's largest medical institutions (AoDK). CLICK IMAGES TO ENLARGE THEM
Project offers a Buy-A-Brick Fundraiser until Dec. 31
Although a proposed building in Cleveland's Fairfax neighborhood to support individuals with traumatic injuries and their families is physically small, the need for the facility is large. To that end, the nonprofit Mark Kalina Jr. Foundation will host a Buy-A-Brick Fundraiser over the coming weeks in support of the proposed housing facility – The Kalina House. This opportunity for charity will run from Giving Tuesday on Nov. 29 until New Year's Eve.
The Buy-A-Brick campaign provides friends, family and community members the opportunity to be a part of the legacy and founding story of The Kalina House – helping hundreds trauma survivors and their families each year. Bricks will be laser engraved with the inscription of the donors choosing and all proceeds will go directly to construction costs. The bricks will be placed in visible locations throughout the courtyard of The Kalina House, to be located at 2055 E. 79th St., between Euclid and Carnegie avenues.
Individuals interested in supporting the Buy-A-Brick Fundraiser can do so by going to Kalina.givesmart.com or texting Kalina to 76278.
Mark Kalina Jr., who lost both of his legs and a pinky in a train-pedestrian accident in Columbus in October 2012, is a perfect example of what happens when someone is supported by their families, their communities and their environments. His compelling story is told in this YouTube video. Not everyone is so lucky and it shouldn't take luck to help someone survive a traumatic injury and build a new life within their changed reality.
"If every survivor had what Mark had, that made Mark the man he is today — a survivor, a peer mentor, a father, a husband, a healthcare professional and a leader — our world would be a better place," said Sara Hendrickson, director of Centers for Health Resilience and Trauma Recovery at the MetroHealth System in a written statement. "This is exactly why I support the mission and vision of the Kalina House. All survivors deserve the very best chance at getting back to a life they love living. The Kalina House will be the start of a powerful journey for many and a home away from home for everyone that comes through their doors."
"Bringing not only development, but development with purpose will have an everlasting impact in our city," wrote Ward 6 Councilman and City Council President Blaine Griffin in a letter to Kalina. "Having a program like The Kalina House in our community will provide direct benefits to individuals impacted by traumatic injury — giving them the skills and environment needed to thrive. This project will serve as a platform for self resilience and a beacon of opportunity for friends, family members and community members within the Fairfax neighborhood and beyond."
In the Greater Cleveland area, thousands of individuals each year suffer from traumatic injuries that can impact their mobility; temporarily or permanently. An unplanned medical event like a traumatic injury causes significant disruption to the lives of those directly and indirectly affected. The office of Health and Human Services estimates 50 percent of an individual's health outcomes can be attributed to social determinants of health such as housing, employment, etc. Plans for The Kalina House and it's programming are designed to address these barriers to recovery.
Those plans received conceptual approval in June 2021 from the City Planning Commission. Current plans for the Kalina House show a 15,000-square-foot transitional housing facility. It will be a single-story building with 20 apartment-style units — a mix of studio, one-bedroom and two-bedroom options for guests. There will be a courtyard and several shared living spaces to allow guests and their families to gather. Additionally, there is roughly 2,000 to 3,000 square feet that is planned for rotating programming and/or social services to support guests' return to independence.
The project backers wanted a site on the HealthLine bus rapid transit route, near Cleveland's largest medical facilities. David Grunenwald, vice president of development at Jacobs Investments, Inc. Grunenwald assisted Kalina in finding a site for The Kalina House, choosing architect AoDK Architecture of Lakewood and developing an appropriately scaled program for the facility. There are renderings and an animated "fly through" the facility at The Kalina House.
Just being around others recovering from a similar traumatic situation helps with one of the biggest challenges — a feeling of isolation and loneliness. Residents and their families and friends will be able to see and talk with others going through the same challenges they are and thus provide an all-important support group. With the proper financial support and completion of the city approvals process, construction could begin in 2023 and take about one year to complete.
"Some individuals face tremendous obstacles in their recovery," said Kalina, a Twinsburg native. "This (new facility) is how we plan to fix that. We have received some financing commitments for the project and are currently evaluating the best structure. These (Buy-A-Brick) fundraising efforts are critical for ensuring our long-term success and growth."
END
Our latest Greater Cleveland development news