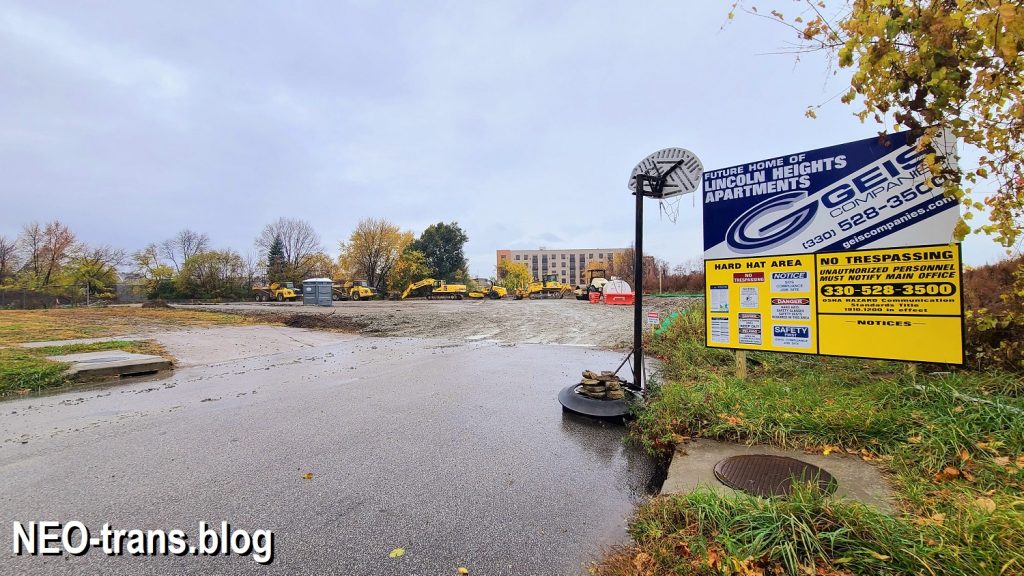 An unofficial groundbreaking was held yesterday for the Lincoln Heights Apartments in Cleveland's Tremont neighborhood and construction vehicles were delivered to the site at the west end of Breiver Avenue. However, townhomes at the former Cleveland Animal Protective League property may be pursued at a later date (KJP). CLICK IMAGES TO ENLARGE THEM.
Knez townhomes portion postponed, site is for sale
Hidden away behind houses and trees, construction on another large development in Cleveland's Tremont neighborhood got under way this week. And while this latest development project is largely shielded from view, it simultaneously reveals the continuing strength of Cleveland's multi-family market as well as the comparative weakness of its for-sale housing market. That's especially true in certain neighborhoods that, starting next year, will lose their ability to offer 100 percent property tax abatement for new, for-sale homes.
An informal groundbreaking ceremony was held yesterday at the west end of Brevier Avenue for the Lincoln Heights Apartments. Construction equipment also was delivered to the never-developed site this week. The site is a 2.3-acre plot of land previously owned by the Cleveland Animal Protective League whose offices and kennels remain on an adjoining property on Willey Avenue.
Over the next 12-18 months, developer Property Advisors Group and construction crews led by Geis Companies will build a 107-unit, market-rate apartment building with an unobstructed view of downtown. Surrounding the building will be a public, 1.15-acre park and new trails that will link West 25th Street and Scranton Road. A formal groundbreaking ceremony will be held in the spring.
It's the latest of many market-rate and workforce apartment complexes to be announced or see construction in Cleveland with most of them concentrated on the city's near-west side. In several recent scorecards, like one in June by Bank of America, Greater Cleveland has ranked among the top metro areas benefitting from pandemic-instigated domestic migration trends. Rent.com data has shown that Greater Cleveland has the fastest-rising apartment rents in the state. Yet compared to larger cities, it is still an affordable market which, when combined with remote working, has made it an attractive market for college graduates.
That same data also shows that young people aren't looking to buy housing. But even older persons are shying away from buying homes right now due to high interest rates. That's one of the reasons why Knez Homes pulled out of the Lincoln Heights development in which it was to build 21 townhomes and has put its portion of the project site up for sale. He's asking $700,000 for 1.33 acres to which physical road and utility access will be provided at completion of the Lincoln Heights Apartments.
"We just have way too much land at this time and (we're) trying to reduce land holdings where we have excess," said Bo Knez, owner of B.R.Knez Construction and Knez Homes, both based in Painesville.
"PAG (Property Advisors Group) is not involved with the townhome development financially," said Brad Nosan, vice president of leasing and acquisitions at Property Advisors Group of Beachwood. "But we want to see the whole site developed to fit the master plan."
Both Knez and Nosan noted that they are still working together at other locations, including with M. Panzica Development and Gustav Development to construct apartments and townhomes at the Woodhill site in Cleveland's Little Italy. An 80-unit apartment building was recently completed and leased entirely by Case Western Reserve University through the 2023-24 school year to address a student housing shortage. The first four of Knez's 17 planned townhomes were already built at Little Italy, along East 123rd Street.
Looking northeast from the above the Nestle plant on West 25th Street, the L-shaped Lincoln Heights Apartments are near the center of the image with the future townhomes to the right. Access to the townhomes will be via a driveway under the apartment building. At the far-left is the planned West 20th Apartments (GLSD).
Both Tremont and Little Italy are among Cleveland's hottest neighborhoods (along with downtown, Ohio City, Gordon Square and West Park) in which new residential developments will lose eligibility for 15-year, 100 percent property tax abatements from the city at the end of this year. In those strong market-rate areas, new single-family construction will be tax-abated at 85 percent, capped at $350,000 which means if a new construction house sells for $450,000 that additional $100,000 is fully taxed and the remainder is taxed at a 15 percent of what is the full amount.
But because building permits were issued for the next 13 of 17 Little Italy townhomes, all in the 1800 block of Coltman Avenue, before the 100 percent abatement expired, they can still offer the full abatement at the point of sale. Those building permits were issued on May 2, 2022, according to Cleveland Building Department records, and no construction has started yet. There is no expiration date listed on the permits that were retrieved from the Building Department's web portal.
Knez acquired the former Animal Protective League property last year for $550,000, county property records showed. In April 2021, NEOtrans was first to report that the property had a buyer and that the buyer was Knez. The undeveloped site and its surrounding area was the subject of a community masterplan in 2020 by Tremont West Development Corp. and its consultant Seventh Hill Design. The plan was approved by affected block clubs and the City Planning Commission.
Soon after, development plans began popping up around the area, including for The Lincoln, an 83-unit apartments building on Scranton and the 171-unit Treo apartments which opened earlier this year on West 25th. Residential leasing has been brisk at both buildings which also have ground-floor commercial spaces. The Lincoln leased its ground-floor space to Urban Planting Cleveland. And soon, Treo's 2,119-square-foot ground-floor commercial space will be occupied by Junker Fitness, a personal training studio. The Cleveland-based business plans to invest $65,000 to build out the space, according to plans submitted to the city.
END