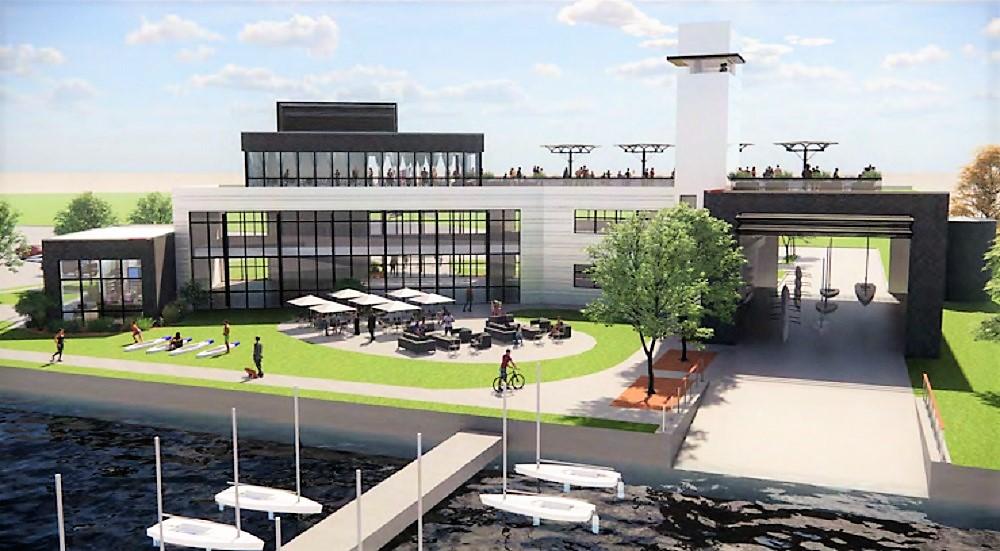 This is one of the ideas for improving the East 55th Marina area on Cleveland's lakefront. This concept is for a new multi-use facility on North Marginal Road at the marina, which is being considered by the Cleveland Metroparks. This and other ideas are being considered as part of a larger vision called the Cleveland Harbor Eastern Embayment Resilience Strategy (Contributed). CLICK IMAGES TO ENLARGE THEM
Projects may signal early starts to bigger changes
ARTICLE UPDATED DEC. 5, 2022
Depositing of fill dirt, removal of a pedestrian bridge and plans for a combined restaurant, event center and boat launch are all in the works along Cleveland's lakefront. And these activities are early, yet tangible indications of potential next steps for even larger changes along where the city meets its greatest natural asset.
There are lots of plans underway for the city's lakefront. There have always been lakefront plans. That's not the unfortunate thing. What's unfortunate is that city, county, state and park officials have seldom done much with them. The plans get stale after a few years and the market, natural conditions, regulations and cost figures evolve, requiring new plans to be drawn up. Plans can range from conceptual feasibility studies which aren't needed for construction to occur, to alternative analyses to determine what to build and where so the project can be eligible for federal funding, to detailed final engineering plans which are essential for construction.
Right now, there are pending planning efforts along Cuyahoga County's entire lakefront, with the bulk of them concentrated in and near downtown Cleveland. They include the Cuyahoga County Lakefront Public Access Plan, the Cleveland Browns FirstEnergy Stadium renovation feasibility study, a study comparing the economic impacts of keeping Burke Lakefront Airport open or redeveloping it with other uses, plus an alternatives analysis for a possible boulevard conversion or removal of the Shoreway as part of a new landbridge linking downtown and North Coast Harbor. From downtown east to Gordon Park, the Cleveland Harbor Eastern Embayment Resilience Strategy (CHEERS) project is advancing into detailed design work. And, there's a masterplanning effort to coordinate all of the proposals involving downtown Cleveland's lakefront.
Metroparks plans progress at East 55th
According to sources familiar with the Cleveland Metroparks' lakefront plans, the region's park district has developed conceptual designs for a new multi-use facility that could include a restaurant, event center and boat launch site on North Marginal Road at the East 55th Street Marina. In one plan option for which a rendering was shared anonymously with NEOtrans, a new multi-use facility could be slightly smaller than the 12,000-square-foot Edgewater Beach House which the Metroparks built five years ago on the west side.
A wide variety of interests are impressed with the Metroparks' revival of Edgewater Park since the State of Ohio transferred ownership and operations to the Metroparks in 2013. In that year, 700,000 people visited Edgewater Park. Now, more than 1.3 million visit the park annually causing traffic jams on the Shoreway and spurring development in the Gordon Square neighborhood south of the lakefront highway and parallel railroad tracks.
Among those impressed with the Metroparks' operations and improvements at Edgewater are those on the East Side who see a similar opportunity with the 19th-century Gordon Park, once Cleveland's largest park before it was sliced in half by the East Shoreway highway, built 70 years ago and converted to an interstate in the late 1960s. A new multi-use facility is intended to boost the park by offering a year-round lakefront venue to the public — an amenity that Edgewater Park cannot match.
A new multi-use facility at East 55th could be an early outcome of the CHEERS project and possibly have funding available to it thanks in part to voters easily renewing Issue 5, a 10-year levy replacement for the Metroparks that will generate up to $14 million more per year for the park district. But Metroparks spokesperson Jacqueline Gerling cautioned that no decisions have been made on what a potential multi-use facility could look like or even if one will be built.
"We're still evaluating that portion of the lakefront," Gerling said. "We have not committed to anything. At this point we haven't publicly shared anything about it (a proposed multi-use center). We're really excited about the progress we're making with the CHEERS project. There's a lot of work we still have to do about solidifying our plans about adding amenities."
Fill dirt can be interesting
As part of apparent site clean-up efforts at the former FirstEnergy Lake Shore Power Station, 6800 S. Marginal Rd., a coal-fired plant demolished in 2017, permit applications were submitted last week to the city's Building Department to change the use of 62 acres of land to accept the stockpiling of soil. Since 2020, the property is owned by Energy Harbor Corp. of Akron. The applicant seeking the change of use was Chieftan Trucking & Excavating of Cleveland. Neither Chieftan President Eileen Martin or Jason Copsey and Todd Morgano of Falls Communications, a client of Energy Harbor, responded to e-mails prior to publication of this article.
Site clean-up, including adding a layer of clean soil, is necessary for any re-use of the site, be it for expansion of Gordon Park or lakefront housing. Prior to demolition of the power plant and at the request of the city, FirstEnergy prepared a report on the reuse of the large property. It showed several alternatives for reusing the site, including for recreation, development or a mix thereof. It also proposed pushing Interstate 90 slightly south from the vulnerable edge of Lake Erie that regularly takes a beating from waves during storms on the inland sea.
Most of the site is 40-60 feet above the land along the waterfront that includes I-90 and South Marginal, making it attractive for development that would offer a commanding view of the lakefront. Existing zoning allows commercial structures on the site up to 115 feet high, or about 11 stories. Although the site is near Burke Lakefront Airport, Federal Aviation Administration regulations restrict building heights to 250 feet between 4,000 and 10,000 feet from the end of a runway and near its flight path, the FirstEnergy report noted.
Re-use of the site may be limited by the presence of electrical facilities left over from when the power plant was here. Energy Harbor has voltage regulating equipment remaining on its property while First Energy retains ownership of 7.5 acres of land off East 72nd Street for an electrical substation. Both companies said they consider their facilities to be critical pieces of the region's electrical grid and contend that they cannot be removed.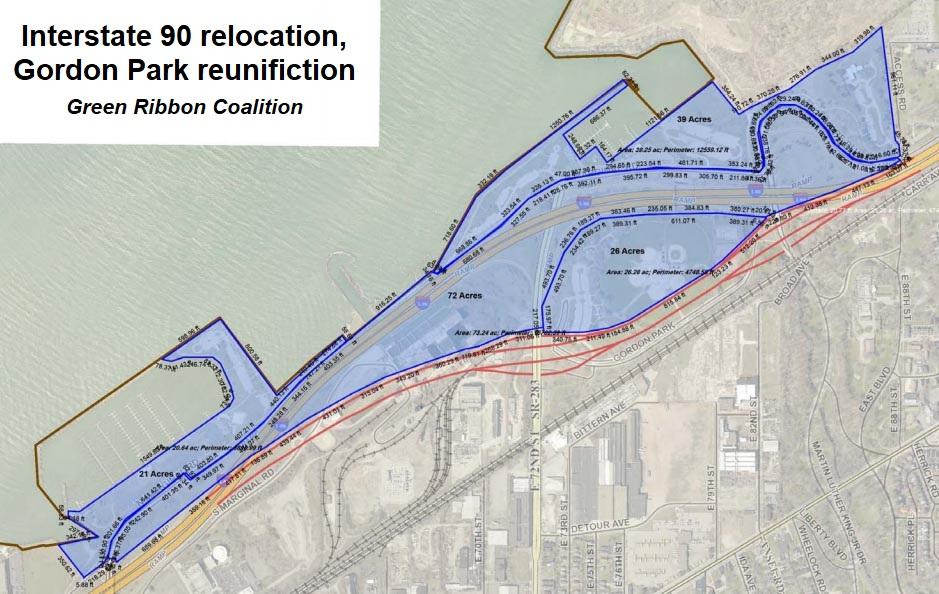 With the Lake Shore Power Plant gone, The Green Ribbon Coalition says there's no reason for Interstate 90 to travel so close to the lake anymore. Instead it can be routed through part of the plant site to reunite Gordon Park and still offer dozens of acres of former power plant land for lakefront development (GRC).
A lakefront advocacy group, The Green Ribbon Coalition, said they want to move the electrical facilities, not eliminate them. Same for moving I-90 away from the lake to open up more land for recreation and development. Green Ribbon Coalition (GRC) proposed a more aggressive relocation of I-90 than FirstEnergy's report. The coalition issued a report showing how the highway could be moved next to the CSX Transportation Inc. railroad right of way, as it is east of MLK Boulevard. West of MLK, I-90 would hug the railroad to west of near East 72nd before curving north to its existing alignment, the coalition suggested.
"The revised route hugs the railroad and really opens-up Gordon Park and the power plant site," said Dick Clough, GRC's executive board chair. "I am planning to start beating the drum for the proposal hard next year. It is the best idea and could be done in three to five years with the political will to do so. Adding the new shoreline and island under the CHEERS plan will take decades."
So far, the Ohio Department of Transportation has not been interested in moving the East Shoreway to reunite Gordon Park, which Clough said would increase Gordon Park's land area from 105 acres to 158 acres. Instead of moving the highway from Lake Erie's waves, ODOT said it supports the Metroparks-led CHEERS project in moving the shoreline away from the highway. Grace Gallucci, executive director and CEO of the Northeast Ohio Areawide Coordinating Agency (NOACA) which distributes federal funding to Greater Cleveland's transportation projects, said she supports the CHEERS project and is intrigued by the idea of moving the highway next to the railroad tracks.
"NOACA is open to the idea as we did some preliminary analysis a few years ago that showed it was feasible," Gallucci said. "But we also like and support the CHEERS proposal, which may marginalize its need and impact."
"The idea to set back I-90 to the tracks was offered 20 years ago with a concept plan called 'Reclaiming our Lakefront'," said Chris Ronayne in a June 2020 NEOtrans article. He was referring to when he was Cleveland Planning director under then-Mayor Jane Campbell and led lakefront planning efforts. But those plans were largely left on the shelf by her successor, Frank Jackson. But Ronayne, who was elected last month as Cuyahoga County executive, said "It was a good idea then and an even better idea now."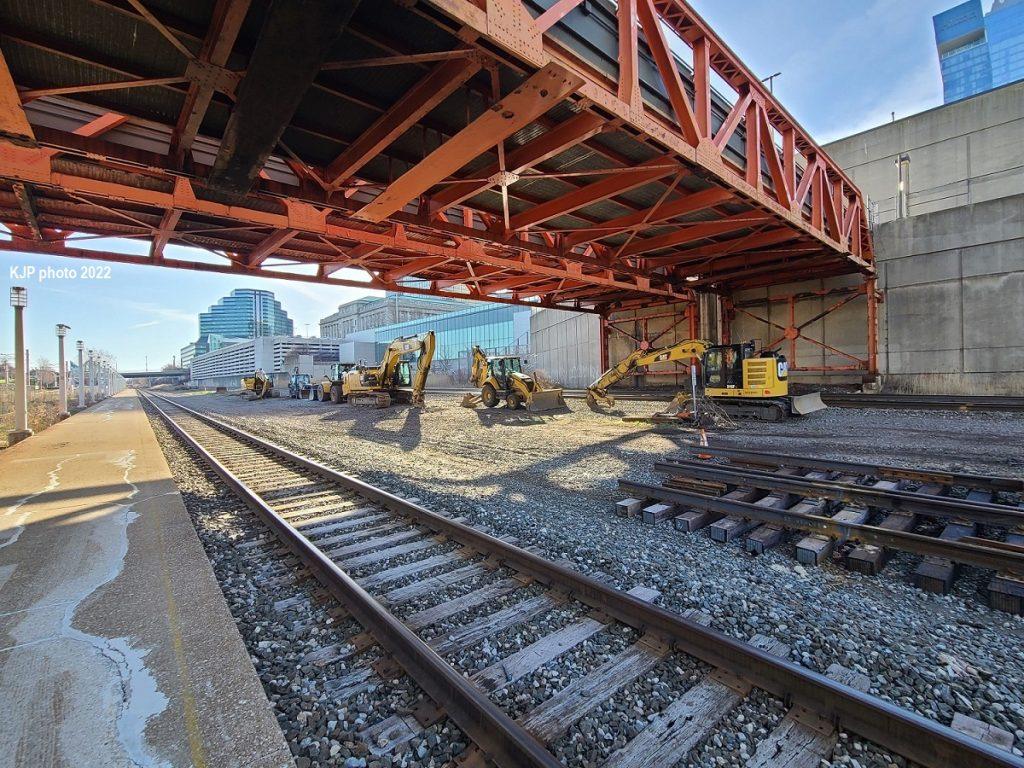 A pair of footbridges over the lakefront railroad tracks are due to be removed soon after they were condemned as unsafe in 2014. Their removal will leave East 9th and West 3rd streets as the only two publicly available pedestrian access routes between downtown Cleveland and the lakefront. Proponents of a new landbridge say it will reconnect the city with its most important natural asset (KJP).
Bye-bye footbridge, hello landbridge?
According to a construction industry source, demolition of the existing footbridges over the lakefront railroad tracks is due to get underway soon. The source said work crews are being trained in Federal Railroad Administration safety regulations prior to removing the pair of 80-year-old bridges. They were closed by the city in 2014 after a bridge inspector reportedly condemned the walkways as unsafe.
A source said they could have been fixed for $50,000 at that time but are in worse condition now. Instead, the city was considering plans for a multimodal transportation center that included a new pedestrian walkway from downtown to the lakefront via a new rail and bus station where the Amtrak station now stands. The old, failing bridges barely clear double-stack container trains on the busy Norfolk Southern Corp. tracks below. Amtrak's station track and Greater Cleveland Regional Transit Authority tracks also pass below the bridges.
Removal of those bridges leaves only two pedestrian access routes open to the public between downtown and the lakefront — East 9th Street and West 3rd Street. West 9th Street is available but only for authorized personnel accessing the Port of Cleveland. City officials, the Haslam Sports Group and others have said that such limited access makes it difficult to develop the lakefront and to increase utility of attractions and amenities around North Coast Harbor. GRC proposed the landbridge as a solution.
Thus, planning work is moving forward on a new landbridge that connects the Group Plan Malls in downtown Cleveland with the harbor. Planning work has revealed that the Shoreway bridge that starts west of East 9th physically blocks the landbridge. So now the traffic impacts are being studied of removing the Shoreway bridge over West 3rd and the tracks and converting the highway into a boulevard, or removing it altogether east of West 9th. Proponents say removing the bridge would not only make it possible to build the landbridge but would open up land north of Lakeside Avenue west of West 3rd to new development. Opponents say it will make it more difficult for them to drive through downtown Cleveland without stopping.
END
Our latest Greater Cleveland development news