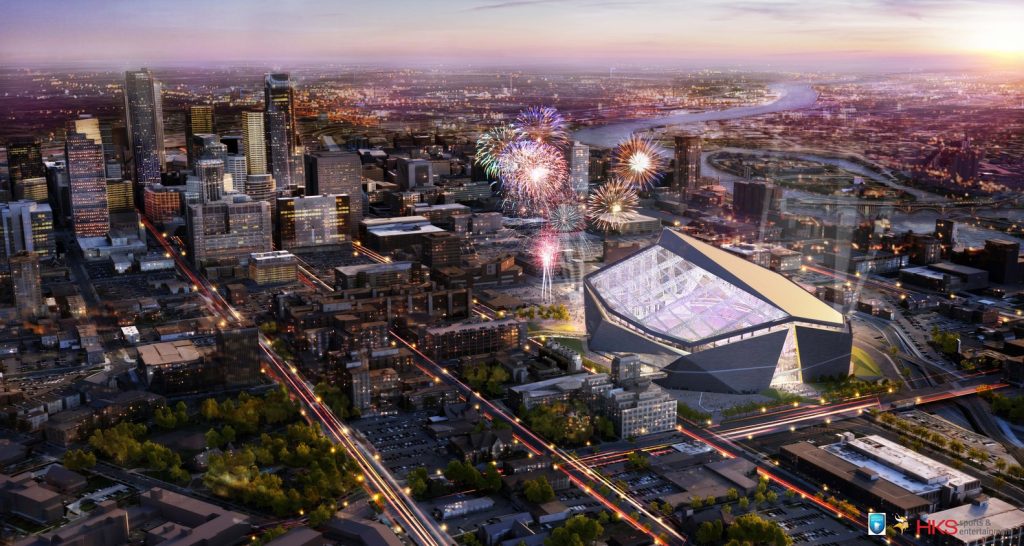 In Minneapolis, the $975 million US Bank Stadium is well-integrated with its downtown surroundings, making it easier for downtown visitors and residents to access the multi-purpose facility. It is next to hotels and other hospitality venues and accessible by light-rail. As a domed facility, it is used year-round for more than just Minnesota Vikings football games (HKS). CLICK IMAGES TO ENLARGE THEM.
Haslams consider two stadium sites
According to two sources close to the Cleveland Browns and its owner the Haslam Sports Group, the National Football League (NFL) team is leaning toward building a new stadium versus renovating the existing FirstEnergy Stadium. And the sources say the team already has at least two sites picked out as options for a new stadium that will likely cost in excess of $1 billion.
The sources said the Haslams are not happy with the condition of the existing stadium and how poorly it is aging. Furthermore, the sources contend that the stadium was poorly built and the expense necessary to rebuild and add a roof to it approaches the cost of a new stadium. And since the underutilized, open-air stadium occupies prime lakefront land whose development can create revenues to support a new stadium, moving the stadium and developing more lakefront land would increase the Haslams' capacity to afford a new stadium. Indeed, major league sports franchises are trying to develop ballpark villages near their venues to provide revenue streams for their upkeep and/or eventual replacement.
Peter John-Baptiste, senior vice president of communications for the Browns and Haslam Sports Group, said in a brief phone interview that NEOtrans was "a little too far out in front of the story" right now and was not prepared to comment on it. He said the Haslams are continuing to do feasibility studies on the potential of developing up to 70 acres of mostly city-owned lakefront land west of North Coast Harbor and East 9th Street, east of West Third Street and north of the bluff overlooking the railroad tracks. The city is working exclusively with Haslam Sports Group to develop that land.
NEOtrans has learned that while the feasibility studies aren't completed, there are preliminary findings which show that redeveloping the entire 70 acres of land, including where the existing stadium stands, offers great promise and would likely be successful. Much of that development would be housing along with supportive retail, hospitality, recreation plus some office or co-working spaces. And, the revenues that can be generated by that development would help fund a significant portion of the cost of a new stadium and supportive developments around it such as new parking facilities, hotel, retail and possibly housing.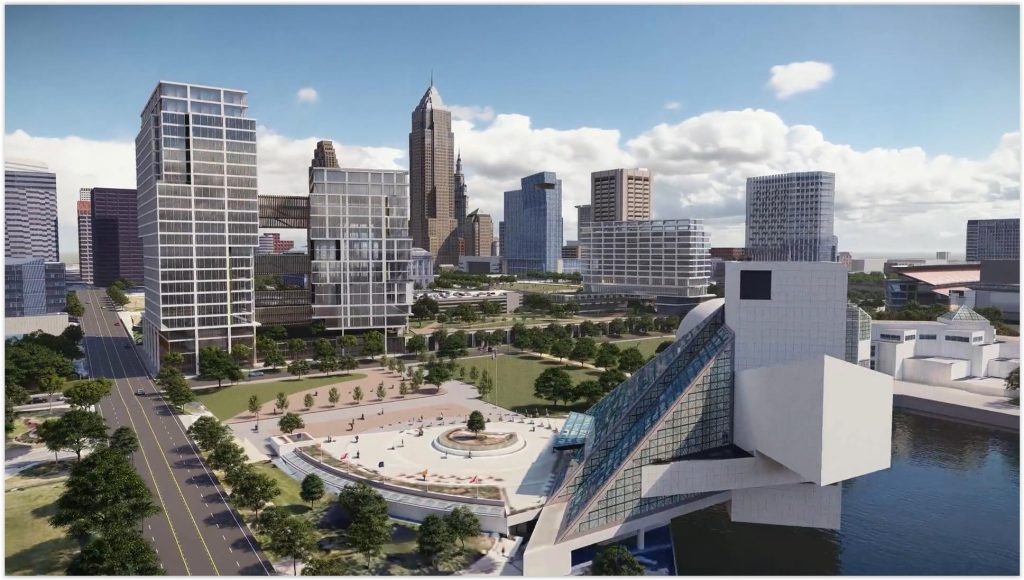 Haslam Sports Group plans an ambitious Cleveland lakefront development covering at least 50 acres. But if expanded to where FirstEnergy Stadium now stands, that development could grow to 70 acres and provide more revenues that can be leveraged to afford building a new stadium elsewhere (AoDK). CLICK IMAGES TO ENLARGE THEM.
Advancement of two key pieces of public infrastructure would have to be set in motion first before Jimmy and Dee Haslam can say for certain that they are pursuing a new stadium. One is to construct a $200+ million land bridge over the lakefront railroad tracks owned by Norfolk Southern Corp. and the Greater Cleveland Regional Transit Authority (GCRTA).
The land bridge would be an extension of the downtown malls — parks that extend north from near Public Square and over the Huntington Convention Center of Cleveland. The land bridge would be like a box within which would be a multi-modal transportation center for GCRTA, Amtrak and possibly Greyhound. Under part of the bridge would be a large parking facility. The city and the Greater Cleveland Partnership are taking the lead on securing funding for the land bridge and for the other infrastructure piece.
That other infrastructure piece is to convert the Shoreway (Ohio Route 2) into a boulevard east of West 6th Street to near its interchange with Interstate 90's at Dead Man's Curve. That includes removing the flyover bridge that currently runs alongside FirstEnergy Stadium and redirecting the traffic flow to what would become a revamped Shoreway Boulevard. The city and the Northeast Ohio Areawide Coordinating Agency (NOACA) are conducting a traffic study to determine the impact of the Route 2 transformation for Cleveland and Northeast Ohio residents.
If those two projects move forward, the Haslams will probably talk more openly about a new stadium. They've already made some noise about it. The Browns' 30-year lease at the city-owned FirstEnergy Stadium runs out at the end of 2028. After Buffalo opens its new $1.4 billion stadium in 2026, Cleveland's 1999-built stadium will be the 10th oldest stadium in the 32-team NFL that includes Chicago's Soldier Field and Green Bay's Lambeau Field. Both were renovated in 2003 for $1.1 billion and $511 million, respectively, in today's dollars. FirstEnergy Stadium was renovated in 2014 for $120 million, or $150 million today.
The Haslams reportedly want a year-round stadium with either a permanent dome or retractable roof to attract to Cleveland more non-football related events such as bigger concerts and shows, larger and annual Rock Hall induction ceremonies, college sporting events including basketball tournament games and more. Unfortunately, FirstEnergy Stadium is used only about 10-12 times per year, underutilizing 20 acres of prime lakefront land.
If built, where might a new stadium rise?
One of the two sources says it would be built where the Main Post Office currently stands at 2400 Orange Ave., southeast of downtown. The 565,000-square-foot postal service complex comprised of three buildings sets on 36 acres. Next to it is nearly 48 acres of vacant land owned by the Ohio Department of Transportation. It previously belonged to Norfolk Southern for its intermodal rail terminal before relocating it to Maple Heights. Nowhere else near downtown are there two contiguous pieces of land so large.
The question is, what happens to Cleveland's 40-year-old Main Post Office? Much of the mail and packages that come through Cleveland's Main Post Office are going to customers throughout Greater Cleveland, not so much in the city of Cleveland. In fact, during peak shipping times such as around Christmas, the U.S. Postal Service uses 400,000 square feet of space it leased at the 575,000-square-foot former General Motors-Chevrolet Transmission Plant in Parma to handle the extra shipments.
In February, an affiliate of American Postal Infrastructure, based in the Chicago suburb of Oakbrook, bought the old Chevy plant for $34 million, according to Cuyahoga County property records. But even if the Postal Service makes greater use of the Parma site, a Cleveland Main Post Office would likely still have to be provided somewhere although not necessarily in such a large facility.
The post office site has the benefit of being accessible from Interstates 90 and 77 as well as from all three GCRTA rapid transit lines and possibly a downtown extension of the Cuyahoga Valley Scenic Railroad. If combined with a nearby 10,000-seat soccer stadium, the Browns' parking facilities could serve visitors to football and soccer games as well as to the Guardians' Progressive Field. But the interstates and rail lines that could serve the football stadium also isolate it from walking to/from downtown/Flats restaurants, bars, hotels and other hospitality offerings. It might mean building many of those things from scratch next to the new stadium.
Such is not the case for the other site. The second source says a potential stadium site is just east of downtown's central business district, north of St. Clair Avenue, perhaps between East 13th and East 17th streets. The source contends that such a site holds attraction to the Haslams not only because of its pedestrian access to downtown, but because it would support development that would expand downtown farther east along the bluff overlooking Lake Erie, including new hotels, high-rise housing, parking garages and supportive retail and restaurants.
The proposed site east of downtown also is accessible by highway but not nearly as well. It is near I-90's Inner Belt and, if East 18th Street is extended north to the Shoreway, as proposed by NOACA, it will increase access to the proposed stadium site. That site is also an easy walk to the Municipal Parking Lots where Browns fans already park and party before each game. And it's accessible to the South Harbor Station on GCRTA's light-rail Waterfront Line, an extension of the Blue/Green Lines from Shaker Heights and Tower City.
But the site's big drawback is the dozens of small properties that would need to be acquired and nearly as many buildings demolished to make way for the stadium. As we've seen with the planned Irishtown Bend Park, all it takes is one property owner to stall a project that promises larger community benefits. Some of the larger properties are publicly owned/used, however. One of them, the FBI Building, 1501 Lakeside Ave., is actually owned by the Kassouf Family. The Federal Bureau of Investigation along with the Bureau of Alcohol Tobacco & Firearms were considering relocating to new offices in the suburbs but that apparently is no longer being considered.
One thing is certain — some public funding will be involved whether the Browns play in a renovated or replaced stadium. Only three NFL facilities – Gillette Stadium in New England, MetLife Stadium in New Jersey/New York City and SoFi Stadium in Greater Los Angeles – were built without any public funding, according to a recent article in The Buffalo News.
Cuyahoga County voters first enacted a "sin tax" on alcohol and cigarette purchases in 1991 to build the Gateway complex, including Progressive Field and Quicken Loans Arena. It was due to expire in 2006. In 1995 voters approved a 10-year extension of the sin tax to help fund a renovated Cleveland Municipal Stadium before Art Modell moved the team to Baltimore.
Those funds were instead used by the city to build a new stadium for the new Browns which also tapped parking tax revenues, state dollars and a funding contribution from the NFL. Voters in 2014 extended the tax on alcohol and cigarettes another 20 years to help the Cavs basketball and Guardians baseball teams fund their facilities' improvements. The sin tax generates about $15 million a year. Look for the an extension of the sin tax on the ballot again before 2036 regardless of whether the Browns want a new or renovated stadium.
In addition to those public funds and revenues from lakefront development, there may also be financial contributions from a private company seeking naming rights, the State of Ohio and from the NFL. The league has contributed anywhere from tens of millions to as much as $500 million for new stadiums. The NFL has been most generous where one facility is shared by two teams. To benefit the Los Angeles Rams and Los Angeles Chargers, the NFL gave a $500 million loan to help build the $5 billion SoFi stadium — the most expensive sports venue ever built. A similar split was done by the NFL for MetLife Stadium in East Rutherford, NJ, with $150 million loaned to each the New York Giants and New York Jets.
Meanwhile the city of Cleveland continues to make repairs at FirstEnergy Stadium. The latest, approved by city council one week ago, total $10 million and include replacing crumbling, rusted ramps, deteriorated concrete elsewhere in the stadium, plus new lighting, heating and doors. About $8 million will be paid by the countywide sin tax and most of the rest will come from the city's general fund. The city is responsible for emergency repairs per the lease with the Browns.
Carrying out the work will be construction managers M. A. Mortenson Company of Minneapolis and Independence Construction of the Cleveland suburb of Independence, a third source said. Mortenson has completed more than 160 development and construction projects in 25 states in the past decade alone. However, Ohio has not been one of the states in which they've built anything.
That changed in April when the Cleveland Guardians and the Gateway Economic Development Corporation of Greater Cleveland hired Mortenson as their construction manager at risk for the $435 million renovation of Progressive Field. Mortenson is partnering with Independence on updating the Guardians' ballpark as well, with work starting after the baseball season ends this fall.
END