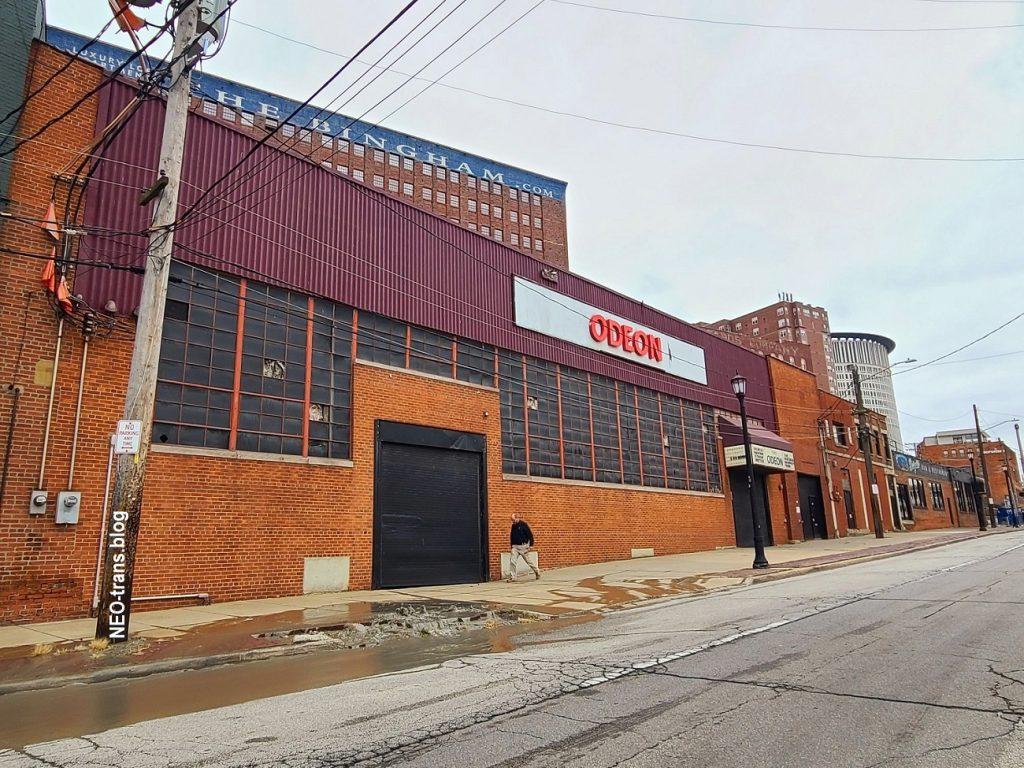 The Odeon concert club and three other parcels on Old River Road on Cleveland's Flats East Bank sold to local real estate development financier GBX Group. The same company is part of ambitious plans for several neighboring buildings which belonged to the Samsel Supply Co. (KJP). CLICK IMAGES TO ENLARGE THEM
Source: Odeon to stay a concert club
ARTICLE UPDATED DEC. 14, 2022
The Odeon concert club, 1295 Old River Rd., was among four contiguous parcels on Cleveland's Flats East Bank sold last week to Cleveland-based GBX Group, a real estate development financier which specializes in structuring financing for historic rehabilitation projects. However, when contacted by NEOtrans, a GBX representative said their plans for the site would not be officially announced for at least two months.
The Odeon, which opened in 1993 in a former machine shop, closed in 2006. It was reopened in 2015 and has stayed in business ever since. Through the years, it has hosted many more unknown rock bands than it has famous ones. But it can still count the likes of Metallica, Marilyn Manson, Nine Inch Nails, Eminem, Björk, The Ramones, Mushroomhead, Iggy Pop, Weezer and Todd Rundgren among its many acts. And it intends to host more of concerts plus upcoming private events including weddings, according to its marquee as well as The Odeon's Web site.
In addition to the 7,789-square-foot Odeon concert venue with its 1,600-square-foot mezzanine, the property transaction includes the neighboring 3,604-square-foot Odeon office/restaurant to the south. Just beyond it, a third building, the 3,902-square-foot Frozen Daiquiri Bar & Restaurant, 1313 Old River, was included in the deal along with an adjacent 0.043-acre parking lot. The combined size of all properties totals 0.383 acres. Selling the properties was Mike Tricarichi, president at Telecom Acquisition Corp. of Las Vegas, NV. No sale amount was listed in public records.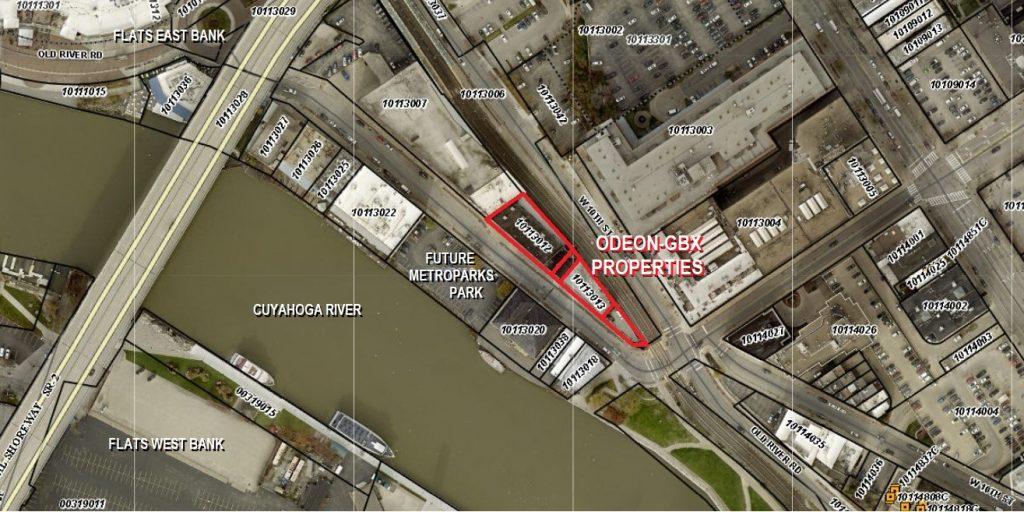 The Odeon and other contiguous properties acquired last week by GBX Group are visible on this property map from the county (MyPlace.CuyahogaCounty.us)
"We will have more news on the property in late February," said Phil Winton, vice president of Strategic Messaging at GBX Group. He declined to reveal the purchase amount. "We do not comment on transaction financials."
But a source who was familiar with the deal and spoke off the record said The Odeon will remain a concert club. It will be renovated but it isn't known who will operate it or if it will see a change of format. The source did not have information regarding the other properties.
Each building is more than a century old. While the Frozen Daiquiri building was remodeled last year according to Cuyahoga County property records, the Odeon hasn't been extensively renovated for 29 years. It was freshened up when it was reopened in 2015. The same records show the four parcels were appraised by the county for taxes at $1,123,700. Tricarichi paid $1.22 million for them, acquiring the properties between 2006-13.
One of GBX's specialties is financing projects using tax credits, and Feb. 28, 2023 is when Ohio Historic Preservation Tax Credits applications are due for Round 30. Once the application deadline passes, the applications become a matter of public record anyway so a public announcement may coincide with that event. The historic tax credits in Round 30 will be announced on or shortly before June 30, 2023.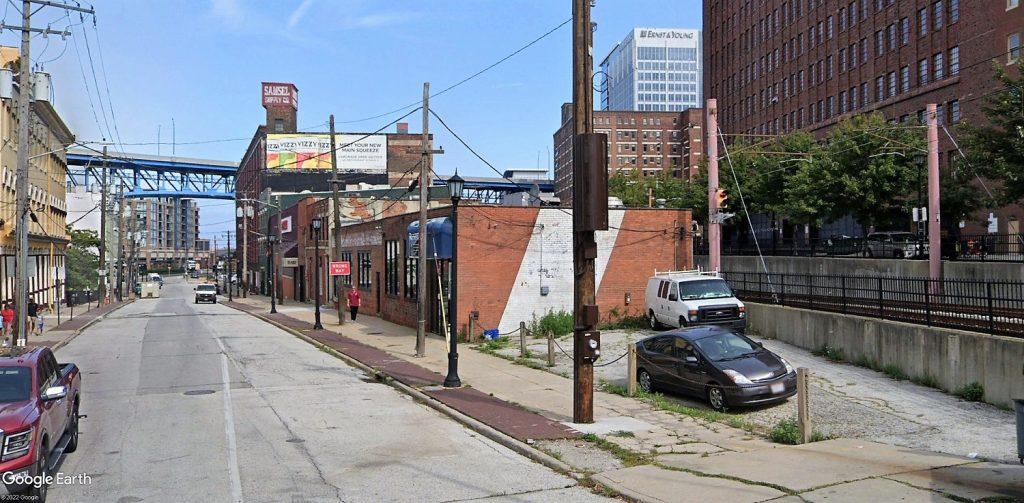 All four parcels acquired by GBX Group last week are visible here, including the parking lot at right and the three buildings beyond it. Last January, GBX acquired other buildings along Old River Road on the Flats East Bank including all those visible beyond The Odeon to the high-level Shoreway bridge and the white building across the street (Google).
Round 29 historic tax credits will be announced this week or next. Among the applicants is a redevelopment project involving neighboring buildings — formerly owned but still used by the Samsel Supply Co. — to the north and on both sides of the street. Those buildings were sold last January to GBX in a partnership with developer Bobby George who is seeking to convert them to apartments, a wellness hotel, spa, fitness center and riverside restaurants. Partners in the $41.7 million project want to tap into the federal Opportunity Zone program and are hoping to win $4.17 million in historic tax credits.
Through an affiliate 1285 Old River Road LLC, GBX and George also requested $2,935,000 from Ohio's Transformational Mixed Use Development (TMUD) tax credit program to redevelop the historic Samsel properties. But the project was bypassed when the 2023 TMUD awards were announced last week. It isn't yet known if the partners will resubmit their application next year, seek alternative funding or redesign the project. It is unlikely they will abandon that project given GBX's latest property acquisitions.
"It would make sense to control that real estate as well as the Samsel Supply real estate," said Jim Haviland, executive director of Flats Forward. "As you know, Bobby George has purchased other property on Old River Road from the owner of the Odeon."
Concurrently, GBX, George and new investor/developer Turn Cap/Turn Dev are actively investing in the Superior Arts District in the Campus District on the east side of downtown, once the largest garment district outside of New York City. Among the projects are CrossCountry Mortgage's new headquarters, conversion of the ArtCraft Building into the new Cleveland Division of Police headquarters, plus smaller renovations and conversions of historic commercial structures into residential, modern offices and restaurants/cafes.
END
Our latest Greater Cleveland development news