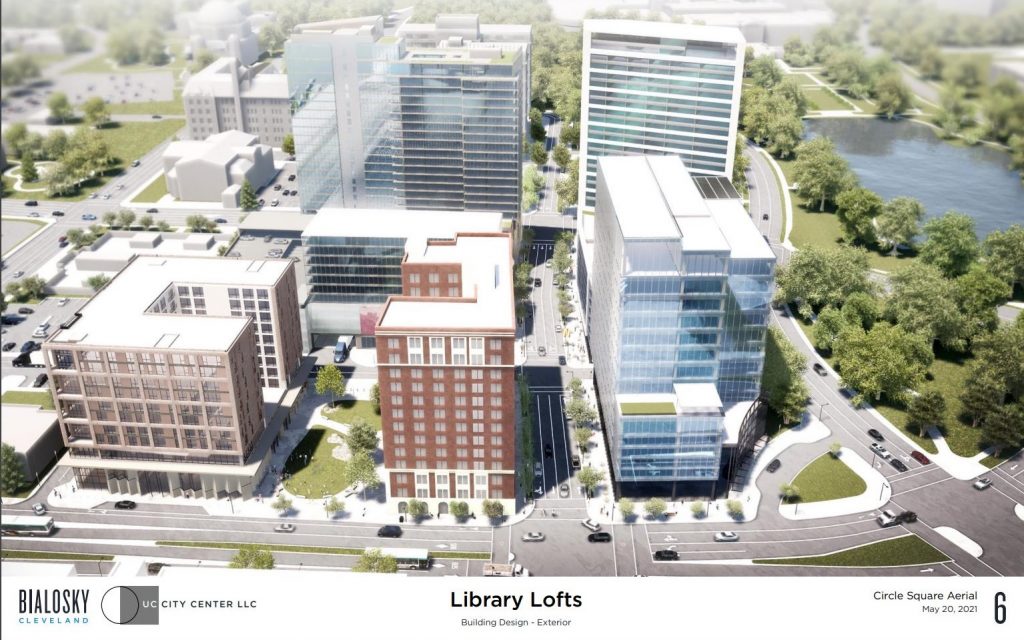 One of the most significant developments underway in Northeast Ohio is the Circle Square megaproject between Euclid and Chester avenues at Stokes Boulevard. At left is Library Lofts. Behind it is The Artisan apartments, now the tallest building in University Circle. Front and center is the historic and recently renovated Fenway Manor Apartments. Behind it is a future hotel. The two buildings to the right are also future projects — an office building in the foreground with an apartment tower in the background. (Bialosky). CLICK IMAGES TO ENLARGE THEM
Two Cleveland projects, Painesville & Canton win
In the first round of Ohio's Transformational Mixed Use Development (TMUD) tax credit program, more than half of the major-city credits went to Cleveland. Today, more than half of those credits went to just two projects in Columbus. That left enough TMUD credits to benefit two projects in Cleveland — the Erieview redevelopment in downtown Cleveland and the Circle Square megaproject in University Circle. Unfortunately, that also meant that several other projects in Cleveland and Cuyahoga County were left out.
Out of 36 applicants statewide, 12 mixed-use development projects won TMUD credits that are expected to create more than $1.29 billion in new payroll and $2.3 billion in investments across Ohio, according to the Ohio Department of Development. Projects will include the construction or redevelopment of more than 5.3 million square feet of transformational space to create new housing, retail, dining, office, lodging and entertainment opportunities.
"These projects will transform not only the sites themselves, but also the look and feel of entire neighborhoods," Governor Mike DeWine said in a written statement. "We're changing the face of these communities and bringing Ohio into the future. I'm looking forward to seeing the tremendous change these projects create in their communities."
The projects announced today include the construction of the Merchant Building Development at the Columbus North Market which won $34 million in credits and the Grandview Crossing development in Columbus at $6.3 million. A complete list and description of projects and their TMUD awards approved for so-called megaproject tax credits in 2023 are available here.
Northeast Ohio developments that won round-two credits from an $80 million pot for major-city developments and from $20 million category for general projects were:
Circle Square Phase 1 — with a total development cost of $416,681,048 and a total tax credit: $8,000,000 — is part of a larger development encompassing 4.5 acres in Cleveland's University Circle district, creating a walkable, urban center in the heart of this historic neighborhood. Upon completion, the project will include approximately 505 residential apartments, 36,000 square feet of retail and restaurant space, a 125-room hotel, parking, and the 27,000 square foot Martin Luther King Jr. public library. The project is expected to create more than 200 construction jobs and 500 permanent jobs.
Erieview Tower — with a total development cost of $162,391,499 and a total tax credit of $13,089,149.90 — is located in downtown Cleveland. The Erieview Tower project will include the complete rehabilitation of the historic Erieview Tower and attached Galleria. Currently underutilized, both sites will be redeveloped to house 227 residential apartments, 210 hotel rooms and 300,000 square feet of office space. The project is expected to create more than 2,000 full-time jobs, targeted at surrounding low-income communities, and 274 construction jobs.
Downtown Painesville to Grand River Corridor — with a total development cost of $54,815,763 and a total tax credit of $5,449,076.30 — in Lake County includes the construction of a new, five-story, mixed-use 147,784 square foot building overlooking the Grand River and renovation of two existing buildings including the historic Victoria Place. Upon completion, the project will house approximately 88,000 square feet of residential apartments, 11,600 square feet of retail space, 5,400 square feet of restaurant space, parking, and recreational areas including a pool, fitness center and outdoor patio seating. The project is expected to create more than 1,200 full-time jobs and 85 construction jobs.
Hall of Fame Village — with a total development cost of $536,356,521 and a total tax credit of $15,886,612 — in Canton, Stark County, will construct a 180-room hotel and 120,000 square feet water park surrounding the Pro Football Hall of Fame Museum in Canton. Part of a larger vision of transforming the area, the project is the final step in the Hall of Fame redevelopment project including youth fields, a field house and an assisted living facility focused on memory care and drug addiction for former professional football players and coaches. The project is expected to create more than 1,000 permanent jobs and 473 construction jobs.
Several Northeast Ohio major-city projects lost out in this round. A complete list of Northeast Ohio TMUD applicants is available here. The largest application that missed out was $16,249,000 for Valor Acres in suburban Brecksville. It was followed by $9,299,608.90 for Bridgeworks in Cleveland's Ohio City, $7,471,528 for 20 Federal Place in Youngstown, $7 million for Van Aken District in Shaker Heights, $6,229,062.07 for Studio West 117 in Lakewood, $2,935,000 for repurposing eight historic buildings at Cleveland's Flats East Bank, and $2 million for turning the former Liberty Ford site on Aurora Road in Solon in a mixed-use downtown district.
NEOtrans reached out to developers for all of the applicants and heard back from several of them. That includes Circle Square's developer Midwest Development Partners led by Principal Steven Rubin. He said he was happy to win the TMUD credit after missing out last time. In round one, the developer sought $19 million in TMUD credits. He said the funding will help build a structure with ground-floor retail facing Stokes Boulevard where the old MLK Branch Library is now. Once the new library opens on the ground floor of Library Lofts in about a year, the old library will be razed. The structure that will replace it will also act as a podium for a future hotel.
"We're building from the edges in," Rubin said. "The library is an important community asset. Keeping it open and accessible during construction is a promise we're keeping to the community. Once the library moves, we basically have the middle of the U-shaped space, what we call the infill space, to connect everything from The Artisan to the (new) library and Library Lofts to Fenway (Manor). Our hope is to create an urban-style main street (on Stokes) with shops on the ground floor with parking and a podium above for buildings on the block west of Stokes."
Other applicants weren't so fortunate. Bridgeworks applied for a TMUD credit for a second time but came up short again. Project leader Michael Panzica said it's too early answer where his development partners will turn next to fill a gap in financing the $100 million project to build a 15-story mixed-use tower in the booming Hingetown section of Ohio City. But it appears that some alternative sources of funding are already being considered for the project.
Some of those sources of funding were already tapped by Gaslamp Capital for its Studio West 117 development centering around a redevelopment of the historic Phantasy Theater. That includes an Ohio Brownfield Remediation Program grant to demolish and clean up the vacant National Tire & Battery property that was previously a car dealership and service garage with in-ground hydraulic lifts. Having the TMUD available would allow for the construction of a mid-rise apartment building on the NTB site that offered affordable housing.
"We are still undertaking all of the brownfield and selective demolition and abatement work on the Phantasy and NTB properties and look forward to reviewing the TMUD scoring to help determine next steps," said Daniel Budish, president of Gaslamp Capital.
The TMUD program caps major-city awards at $80 million but only recommends that $20 million be for general projects in smaller Ohio cities. In today's awards, $74.1 million went to major-city projects and $25.9 million was awarded to general projects. In the first round, the Ohio Tax Credit Authority (TCA) awarded $23.3 million for general projects and $76.7 million for major projects.
"The Ohio Revised Code states that not more than $80 million can be approved for major city projects, and that for any requests over $80 million for major city or $20 million for general projects, the TCA shall rank and order those projects," said Megan Nagy, public information officer at the Ohio Department of Development, in a spring interview with NEOtrans. "The next highest-scoring major city project (in 2022) would have put the major city funding amount over the $80 million cap. General funding projects (in total) are allowed to exceed $20 million."
Major city projects must be located within 10 miles of a corporation limit of Akron, Cincinnati, Cleveland, Columbus, Dayton and Toledo. Eligible costs include land acquisition, building acquisition, demolition, site improvement and new construction of the site.
"Projects approved today will not only spur development, but also create opportunities for the local community," said Lydia Mihalik, director of the Ohio Department of Development. "We're creating jobs and tourism destinations that will improve the livelihood of entire regions."
END
Our latest Greater Cleveland development news