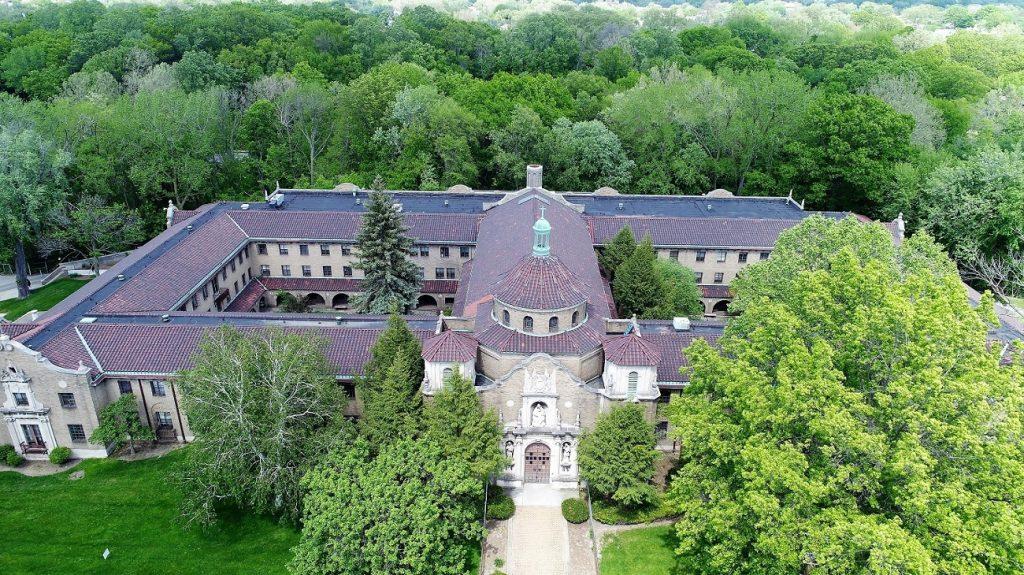 If the 98-year-old St. Mary Seminary overlooking Rockefeller Park in Cleveland's Glenville neighborhood seems older than its 98 years, it's because some of it is. A number of decorative features on the building were imported from Europe and date from the 1400s to 1600s. Since 1992, the property has been owned by the Hitchcock Center for Women which provides addiction treatment services. It will be expanding into a new building planned next door while the historic facility may be redeveloped into offices (Tom Truelson/Cleveland Restoration Society). CLICK IMAGES TO ENLARGE THEM
Century-old building may become offices
It's a place where few women wanted to go. And after their experiences at the Hitchcock Center for Women, many say they never wanted to leave. While each person tends to enter the center facing an abyss wrought by addiction, many leave feeling loved and hopeful. The Hitchock Center hopes their new home will be able to provide at least as much care as the old.
One of Cleveland's overlooked architectural masterpieces is the former St. Mary Seminary, 1227 Ansel Rd. in Cleveland's Glenville neighborhood. It sets atop a bluff overlooking Rockefeller Park and its Cleveland Cultural Gardens along busy Martin Luther King Jr. Boulevard, on which cars speed between Interstate 90 and University Circle. But few motorists have seen the Spanish-style gem from its more ornate uphill side.
On an oversized parking lot and a grassy area northwest of the existing Hitchcock Center, developer Finch Group of Boca Raton, FL and general contractor Marous Brother Construction of Willoughby plan to build a 76,386-square-foot residential treatment and supportive housing facility. In it will be 42 suites in the residential treatment wing and 53 supportive housing units in the long-term residential wing, according to plans submitted to the City Planning Commission whose Design Review Committee that will begin reviewing the designs soon.
The new building is actually smaller than the 95,000-square-foot old building but will offer more rooms because of the more efficient layout that will also reduce operating expenses, plans and presentations show. That was ultimately what caused Hitchcock officials to go with a new building even though the cost of renovating the existing building roughly equaled the $24 million cost of constructing the new structure. Both buildings will fit on the site's 5.8 acres while still providing 91 parking spaces for the new facility.
The Hitchcock Center for Women was founded in 1978 by Jayne Mazzarella, a nurse working at Women's General Hospital in Cleveland, according to the Cleveland Restoration Society. She recognized that women recovering from addiction had different needs from men, so she set out to establish a center that catered to women. The first center was located on Magnolia Drive in University Circle in a house donated by the Hitchcock Family, founders of Reliance Electric. It was then moved to the former Euclid Avenue Congregational Church, 9606 Euclid Ave. that burned down in 2010, before landing at St. Mary Seminary in 1993.
St. Mary Seminary dates back to 1848 when it was located downtown at East 6th Street and St. Clair Avenue. It was moved in 1925 to Glenville, overlooking Rockefeller Park. And if the building looks older than 98 years, it's because some of it is much older. One of the building's most noticeable features is its two-story Italian Renaissance Baroque entry with arches, niches and sculpture. Some of the decorative elements on the building were imported from Europe and date from the 15th to 17th centuries.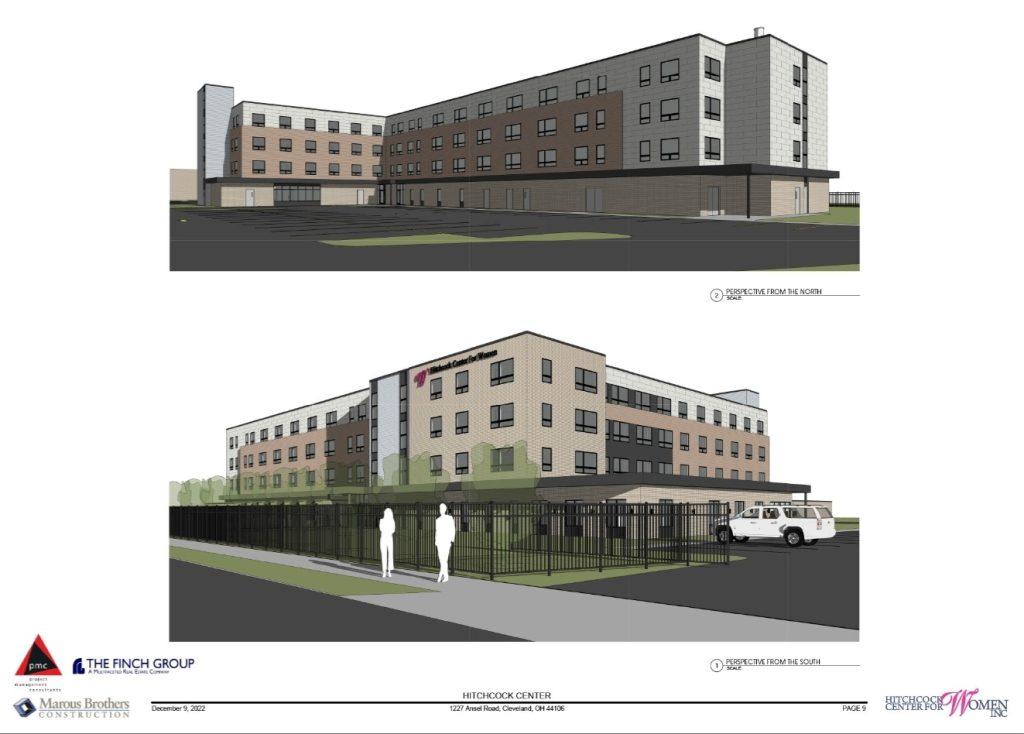 Two views of the planned new Hitchcock Center for Women show its modern, clean lines. The new facility will offer 50 percent more beds and is anticipated to reduce the operating costs of being in the historic seminary building. But the experience of being in a more ornate, spiritual setting will no longer be provided (PMC)
A mosaic in the chapel presenting the Blessed Mother was imported from Germany at a cost of $18,150, the restoration society said. The center of the complex is the Bruening Library which features a tiled dome. But a consolidation of facilities in the Cleveland Catholic Diocese in 1989 combined its services with those of St. Borromeo Seminary in Wickliffe. The diocese sold the St. Mary Seminary property to the Hitchcock Center for Women in 1992.
Hitchock officials said they liked the site because of its transit accessibility and because mothers can live with their children up to age 12 at the center. A short walk in one direction in Wilson Elementary School and St. Thomas Aquinas School in the other. They said they considered alternative sites in the suburbs but rejected them because of their transit inaccessibility. Residents typically spend 30-45 days in treatment and up to a year in supportive housing.
Funding for the new building is coming from a variety of sources, mostly public sector. That includes $11.2 million from the sale of Low Income Housing Tax Credits from the Ohio Housing Finance Agency, $3.5 million from the city of Cleveland, $2.7 million from Cuyahoga County, $2.5 million from Cleveland Clinic Foundation and $750,000 from the Alcohol, Drug Addiction and Mental Health Services Board of Cuyahoga County. Additional funds are still needed, but enough is in hand to start the city approvals process.
Some funding may come from the sale of the existing seminary building to Finch Group. It intends to buy it and redevelop the building with offices and issued on Dec. 30 requests for proposals via a construction industry bidding platform for approximately $1.5 million worth of work to stabilize the building, including tuckpointing brick, making roof repairs and other work, according to the Construction Journal. The listing notes that a general contractor was selected for this project but a firm construction timeline for this project has not been released.
END
Our latest Greater Cleveland development news