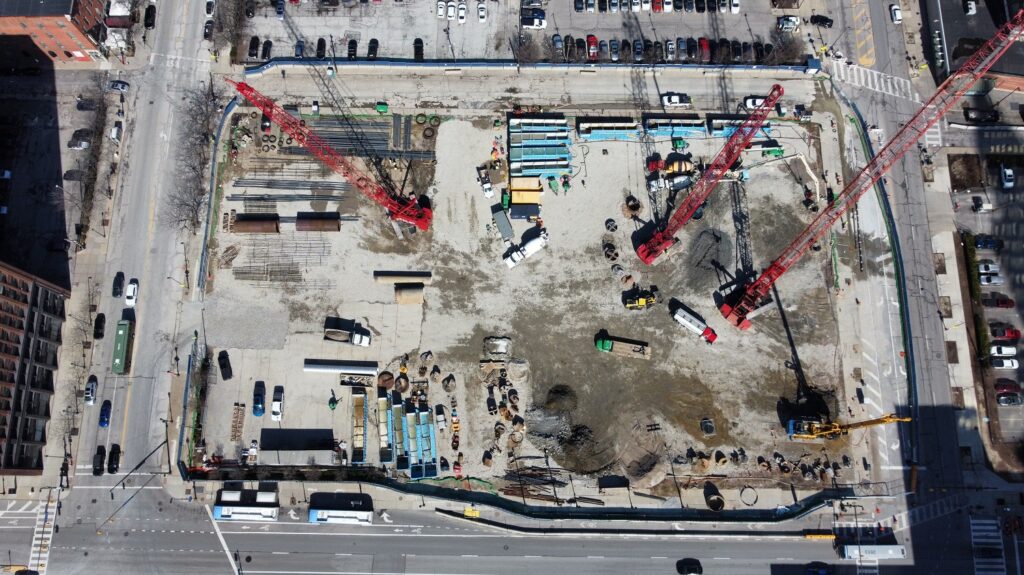 A drone's view of the Sherwin-Williams headquarters construction site at the end of March in downtown Cleveland. Crews were drilling 26 reinforced concrete caissons to bedrock 200 feet below to support the weight of the massive skyscraper. Several of the caisson cans are visible on site as are blue tanks for removing groundwater. West Superior Avenue is at the bottom of the image, West 3rd Street at the right, West 6th at the left, and vacated Frankfort Avenue across the top (Adam Greene). CLICK IMAGES TO ENLARGE THEM
Landscaping, lighting, signage up for city reviews in June
At the end of last week's Cleveland Landmarks Commission meeting, the commission's Secretary Donald Petit advised members to keep their schedules clear on June 3 for a special meeting with Sherwin-Williams (SHW) regarding its 616-foot-tall headquarters project in downtown Cleveland. That caught the attention of at least a few attendees.
Since construction is already underway on the project, with the first of two tower cranes due onsite by August and work about to wrap up on the digging and pouring of 26 200-feet-deep reinforced concrete caissons to bedrock, commission members and others were curious as to the subject of the meeting.
Today, that curiosity can be satisfied as SHW's design team, led by architecture firm Pickard Chilton, will deliver to the city exterior features for review and approval for the global coating company's $300+ million tower that's due to be completed in 2024 west of Public Square. The latest renderings will be posted to SHW's Building Our Future section on its Web site.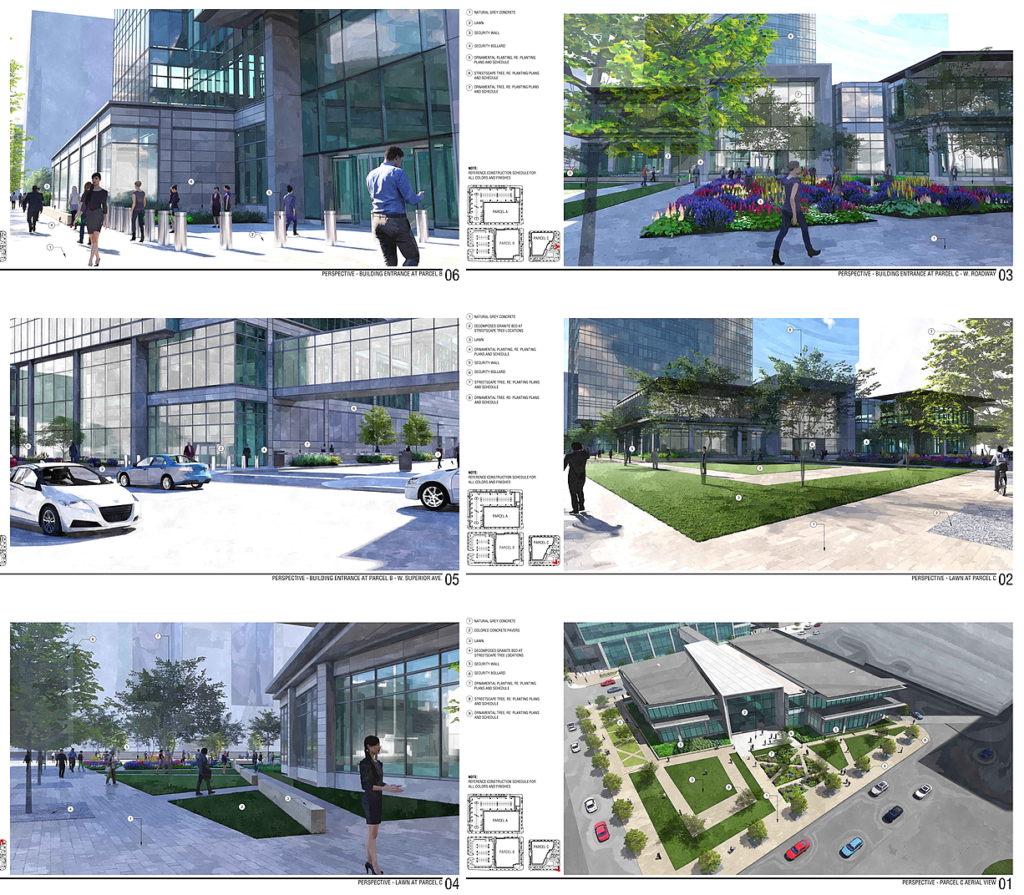 A sneak peak at some of the renderings of landscaping and site amenity designs that will reportedly be provided to the City Planning Commission today for review and possible approval. Shown are locations of various lawns, plantings, ornamental trees, bollards, security walls and colored concrete pavers (contributed).
"Sherwin-Williams will be submitting for final approval its updated project material on landscaping/site amenities, tower lighting and site signage," said Julie Young, SHW's vice president of global corporate communications, in an e-mail to NEOtrans. "These materials will be reviewed with the joint design review committee on June 2 and with the joint planning commission on June 3."
NEOtrans is able to share a sneak-peak at some of the renderings which are presented above. They show the locations of various lawns, plantings, ornamental trees, bollards, security walls and colored concrete pavers in the public spaces outside the headquarters tower as well as the so-called two-story-tall Welcome Center pavilion next to Public Square.
There have also been rumors in recent weeks that SHW executives were rethinking their approach to allowing public access, at least on a limited basis, to the Welcome Center and possibly even to a café or retailer on the ground floor of the 1-million-square-foot headquarters tower. Alas, those rumors proved false.
"There has been no change in the company's approach to our headquarters campus and public access," Young advised.
Corporate identity signage, including company names, logos and other markings will also be presented to the city for review of their designs and especially their sizes and placements. And lighting on the property won't just be confined to the programmable lights going up what will be the fourth-tallest skyscraper in downtown Cleveland.
Additional lighting will include illumination of the Public Square Welcome Center pavilion, as well as the new, 920-space parking garage north of Frankfort Avenue and west of West 3rd Street. There will be about 3,100 people working the new headquarters tower. A second-phase tower could be built in the future at the corner of Superior and West 6th. There have been no recent rumors about the timing of phase two.
In past planning commission meetings, city officials urged making the now-vacated Frankfort more pedestrian friendly, rather than just be a staging area for SHW employees' cars entering the parking garage or delivery trucks serving the tower's loading docks. The reason is that residents and workers in the Warehouse District use Frankfort as a pedestrian access to Public Square and Euclid Avenue.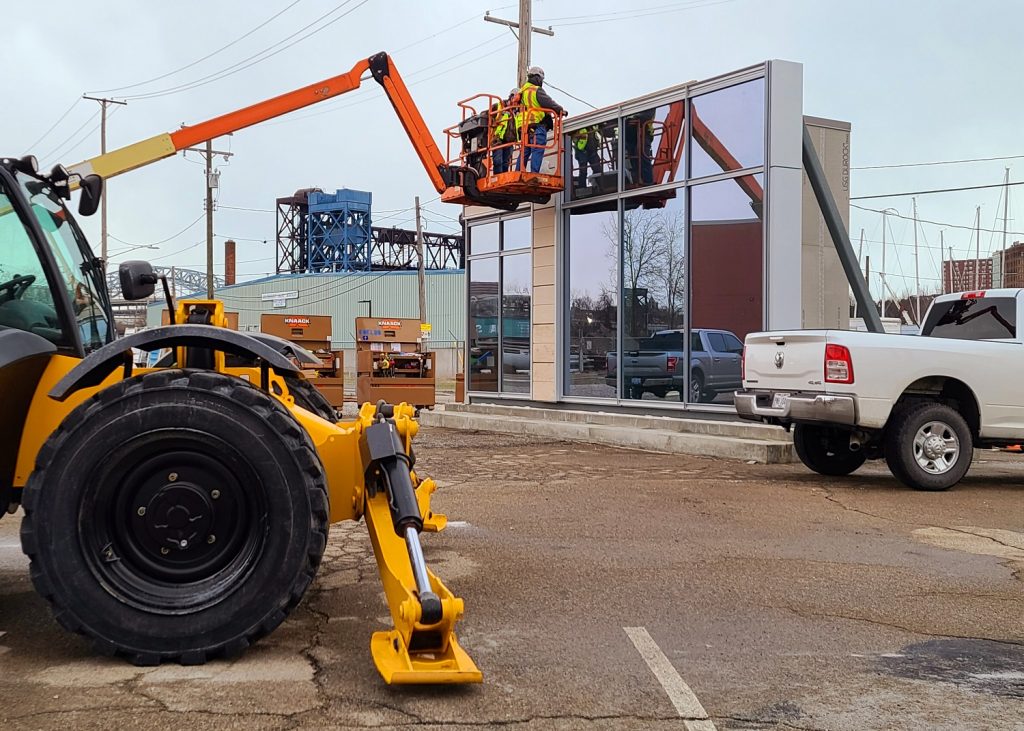 Construction contractors are temporarily assembling pieces of the SHW HQ plus the research and development facility underway in suburban Brecksville at a testing site near the corner of Scranton and Carter roads in Cleveland's Flats. Crews are testing construction materials and methods before they are finally installed on their respective buildings (KJP).
Along Frankfort, commission members urged everything from decorative lighting, vegetation and murals along the south façade of the parking garage. The renderings provided to NEOtrans show that there will be ornamental trees and plantings on at least a portion of Frankfort and along with some bollards offering subtle lighting from them.
NEOtrans' last report on the progress of the SHW HQ was in March. We reported on testing work that was being done by Enclos Corp. as it temporarily assembled sections of the downtown HQ tower and the research center in suburban Brecksville. Young said crews were studying the glass, stone and metal materials used on the exterior of SHW's new global HQ.
Construction on SHW's HQ started Nov. 29, 2021 on the west side of downtown's Public Square but the formal groundbreaking ceremony wasn't until Dec. 15. SHW held its R&D center groundbreaking ceremony Oct. 22, 2021.
NEOtrans also recently reported that SHW will sell to Detroit-based Bedrock Real Estate its existing R&D property, the Breen Technology Center at 601 Canal Rd. where SHW has had a presence since 1873. There is no word yet on the disposition of SHW's current HQ, the 900,000-square-foot Landmark Building, 101 W. Prospect Ave. downtown.
END