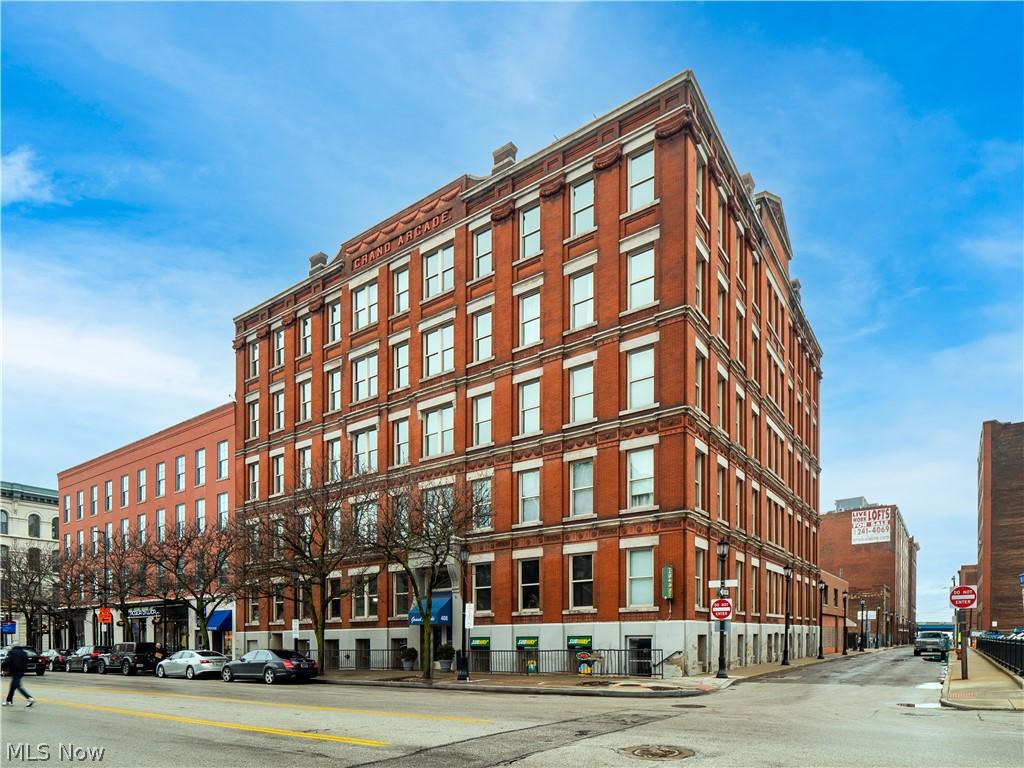 The 19th-century Grand Arcade in downtown Cleveland's Warehouse District is often thought of as a residential property. But it also has office condos. The wife of the founder of Herman Legal Group bought one and is renting it out to the immigration law firm which will move into it next month (REmax). CLICK IMAGES TO ENLARGE THEM
Three firms relocating within downtown
Three legal and financial service firms in downtown Cleveland are on the move to new addresses in the central business district, with two firms seeking smaller spaces as part of an ongoing trend by many office-based employers to downsize their work spaces after the pandemic. The third firm moved to accommodate significant new growth in Cleveland. And each firm is staying downtown, investing in their new office locations, with none of the three seeking a reduction in employment. Indeed, even as some office spaces shrink, the number of employees at those tenants' aren't shrinking. Instead, they are taking advantage of remote working and web-based contact with clients.
Herman Legal Group LLC, a noted immigration law firm locally, is moving from the century-old Superior Building, 815 Superior Ave., to an even older building — the 141-year-old Grand Arcade, 408 W. St. Clair Ave. in downtown's Warehouse District. Founded in 1995, the Herman Legal Group has called the 21-story Superior Building its home for all but four years of its business life.
That will change starting April 15. While the Herman Legal Group will retain its 14 employees, its office space will shrink from 2,400 square feet to just under 1,700 square feet. Seven people will continue to work on-site and seven off-site. Law firm founder Richard Herman said his wife purchased an office condo in the renovated Grand Arcade and will rent it to the law firm. They also sold their home in suburban Moreland Hills, bought a condo in Tremont, and often bike to work.
"Since we are an immigration law firm, practicing federal law, our clientele is based all over the country and around the world," Herman said in an e-mail to NEOtrans. "We don't need a lot of space to meet with clients — and as a result of people becoming more comfortable with zoom and virtual tech, we are doing more and more remote work."
He said he's sad to leave the Superior Building which is owned by E.V. Bishoff Co. of Columbus. Bishoff also owns two other properties in downtown Cleveland — the City Club Building at 850 Euclid Ave. and the Hamilton Garage, 1277 E, 12th St. Herman said there was no animosity in leaving. Quite the contrary. He recommended renting an office from Bishoff whose older office properties are still some of the most affordable downtown. Most older office buildings in downtown Cleveland have already been converted to residential, hotel or mixed uses, leaving few cheap office spaces for start-up companies like Herman Legal Group was in the 1990s.
"We both are excited about the opportunity to be in the Warehouse District, close to a lot of fun restaurants, and directly across the street from the new Sherwin Williams headquarters," Herman said. "It is not easy to find office condos for sale in downtown Cleveland. The location is also good for us because it is equidistant from the Immigration Court in the Stokes Federal Courthouse and the USCIS (U.S. Citizenship and Immigration Services) in the Celebrezze Federal Building."
In February, Akron-based law firm Brennan, Manna & Diamond (BMD) moved its Cleveland office nearly 200 feet lower in the 45-story 200 Public Square tower. Previously, the full-service law firm was located in Suite 3270 on the 32nd floor, according to older listings on various databases. That suite, measuring 6,778 square-foot, is currently listed as available for lease on LoopNet.
Now, BMD has a space that's nearly three times larger on the 18th floor after the law firm and building owner DRA Advisors of New York City invested approximately $684,447 to renovate it. Renovation work includes a new reception area, three new conference rooms, nine new offices will all-glass fronts, new break room and administrative office, according to a construction permit application filed with the city by HSB Architects & Engineers of Cleveland.
"During February, our BMD Cleveland office moved from the 32nd floor of 200 Public Square to the 18th floor to position ourselves for anticipated growth," said Kate Hickner, BMD's Cleveland office managing partner in an e-mail to NEOtrans. "We currently have approximately 15,044 square feet — all located on the 18th floor — and 19 employees in our Cleveland office."
That's nearly 800 square feet per employee. Typically, office space requirements are based on less than 200 square feet per employee. If BMD was typical, it would have at least 75 employees in its Cleveland office. Although Hickner would not comment on BMD's growth expectations, those numbers offer an indication of how significant that growth could be.
Finally, the Cleveland office of Chicago-based RSM, one of the world's largest accounting and professional service firms, is spending big bucks to move from the 20th floor at North Point Tower, 1001 Lakeside Ave. East where the global firm has located its Cleveland presence for more than two decades. Later this year, North Point Tower is gaining a new tenant in EY, formerly Ernst & Young and possibly a new name as EY is reportedly paying for naming rights to North Point.
RSM is moving to downtown's most prestigious address and Cleveland's tallest skyscraper, Key Tower, 127 Public Square. There it will invest $3 million to renovate a space on the 57-story building's 23rd floor, according to a building permit application submitted by architecture and engineering firm Shive-Hattery, Inc. of Valparaiso, IN. Shive-Hattery, which specializes in designing commercial building interiors, has a local office at Limelight CoWorking in Cleveland's Ohio City neighborhood.
"Tenant improvement buildout (is) to include approximately 15,967 square feet on the 23rd floor," wrote Kelli Richardson, an interior designer at Shive-Hattery, in the permit application. "The scope includes demolition of partitions, ceilings, finishes, mechanical, electrical, plumbing, millwork. Scope for new construction includes new partitions, ceilings, casework, and finishes. New mechanical, electrical and plumbing."
The buildout area's square footage noted by Richardson is net space, meaning the tenant's usable floor space that doesn't include the walls. But the gross square footage that includes interior walls and for which the tenant is renting is 20,990 square feet. Key Tower is owned by Cleveland-based Millennia Companies. In 2018, RSM acquired Bedford Heights-based SecureState, a global management consulting firm whose specialty is information security.
END