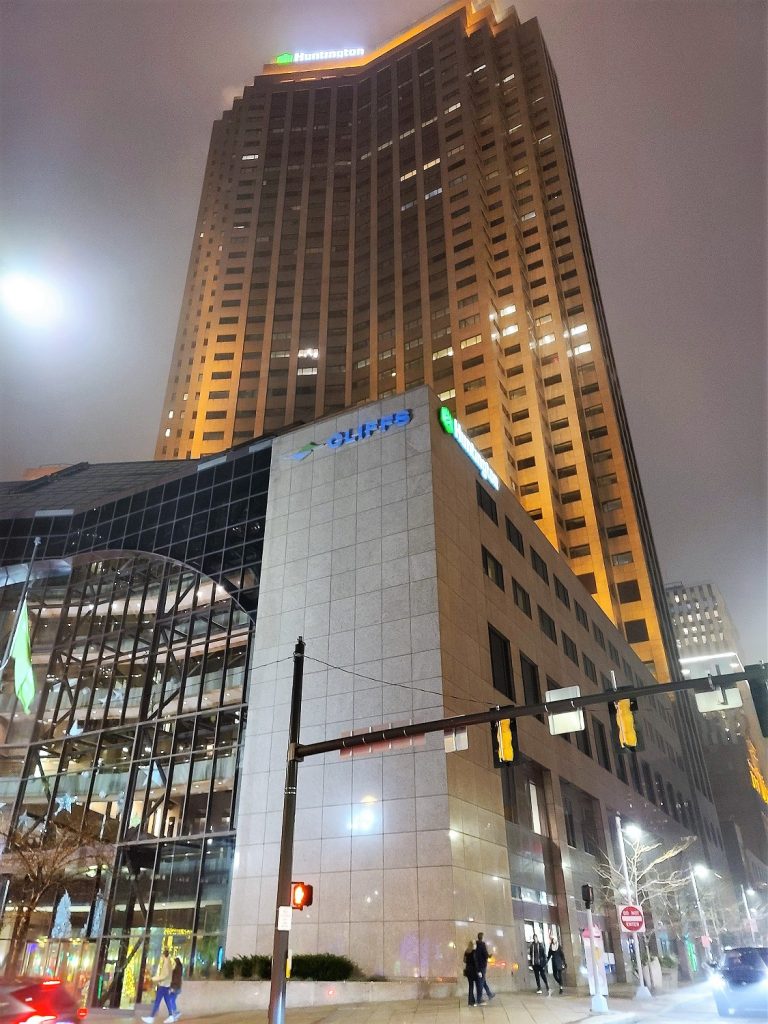 Downtown Cleveland's third-tallest building, 200 Public Square, is facing multiple challenges in the 2020s. The owner of the building is taking those challenges head-on by pumping millions of dollars worth of improvements into the building so it can better compete for tenants (KJP). CLICK IMAGES TO ENLARGE THEM
Downtown's third-tallest skyscraper addresses challenges
The pandemic, remote working, tenant downsizing and a flight to quality are challenges facing New York City-based DRA Advisors. In downtown Cleveland, they are fighting those challenges with a 37-year-old skyscraper, 200 Public Square.
To sharpen that weapon, DRA is about to start pumping millions of dollars into the 46-story tower to update the property with new and improved tenant amenities, technology and brighter, more inviting public spaces. DRA acquired the 1.27-million-square-foot tower, eight-story glass atrium and 757-space parking garage in 2018 from Harbor Group International for $187 million. The complex opened in 1985 as the headquarters of Standard Oil of Ohio (Sohio) before it was taken over by BP America and moved its offices to Chicago in 1998.
Joining forces with DRA is architect Vocon of Cleveland, construction manager The Albert M. Higley Company of Cleveland, lighting consultant Ambia Lighting Design of Cincinnati, plus mechanical, electrical and plumbing consultant Karpinski Engineering of Cleveland. Together, they will take on the task of turning this red and mahogany granite behemoth from the era of new-wave music, leg warmers and Swatch watches into a 21st-century magnet for office tenants.
Their first effort will primarily be to update the building's third level and a small part of the first level, featuring a brighter lobby, new café space, enhanced conference center and improved fitness center, according to plans submitted last week to the city's Building & Housing Department.
First-floor improvements are limited to renovated bathrooms and a modernized garage lobby featuring a reflective ceiling and lighting. The goal is to brighten what has been a dim interior space that isn't near any windows. This lobby is below the Level 3 escalator lobby. The total area to be improved on the first and third levels measures 35,420 square feet and amount to $2.95 million worth of improvements.
A source close to DRA who wasn't authorized to speak publicly said the building's owner is just getting started, with more improvements due to be announced in the next 30-60 days.
"(DRA) is in fact considering a wealth of building improvements in various areas which is quite typical of any sophisticated investor for a building like 200 Public Square," the source said.
Planned for the building's third level is a brighter plaza overlooking the atrium thanks to a new reflective ceiling and lighting. There will also be a refreshed café near the escalator lobby, cardio room and fitness lobby on the north side, improved locker rooms in the northwest corner, four renovated conference rooms including one with retractable seating on risers along the south side, plus new technology and better heating-ventilating-air conditioning, plans show.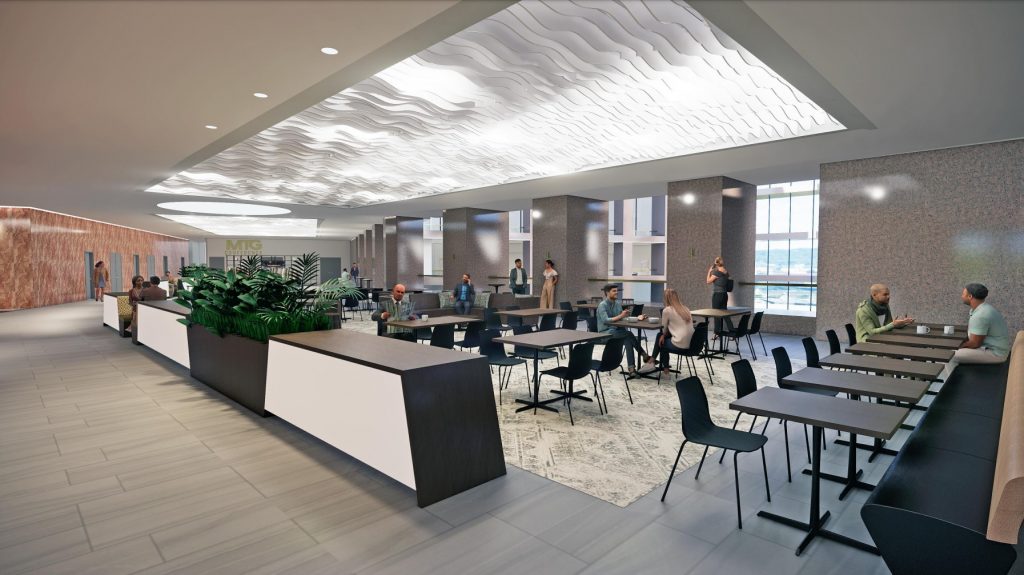 Rendering of the renovated café and amenity space on the third level of 200 Public Square. The improvements include reflective lighting panels in the ceilings. These will be provided in multiple locations on the third level to brighten up an otherwise dim interior (Vocon).
The building has offices for many well-known companies. Huntington Bank has primary naming rights to the building. It is also the headquarters for steelmaking-mining giant Cleveland-Cliffs Inc. and law firm Benesch, Friedlander, Coplan & Aronoff LLP. Cliffs is making improvements to its office space but Benesch may still be looking for a new, higher-end space to call its own. Brian Hurtuk, managing director of Colliers Cleveland who handles leasing at 200 Public Square, did not respond to an e-mail seeking more information about the improvements.
But 200 Public Square, which was considered a solid Class A building, may have slipped a bit in its ranking in the absence of recent facility upgrades. It has taken hits to its occupancy since October 2020 when real estate brokerage and market researcher JLL said the building was 83 percent leased at an average asking rent of $29.50 per square foot.
Last fall, investment banking giant Morgan Stanley gave back nearly half of its space at 200 Public Square. The skyscraper averages 24,440 square feet per floor in the main part of the tower. Morgan Stanley recently occupied the entire 26th floor; it gave back 11,776 square feet to the landlord. That followed accounting powerhouse Pricewaterhouse Coopers, LLP (PwC) giving back 8,040 square feet of space on the 18th floor while retaining 9,334 square feet.
Meanwhile, financial security firm AML Rightsource decided to relocate its headquarters from the 31st floor at 200 Public Square to 43,415 square feet on the second and third floors at the 20-story AECOM Centre, 1300 E. 9th St. There, it is spending nearly $2.5 million on interior alterations for its new offices, according to plans filed with the city.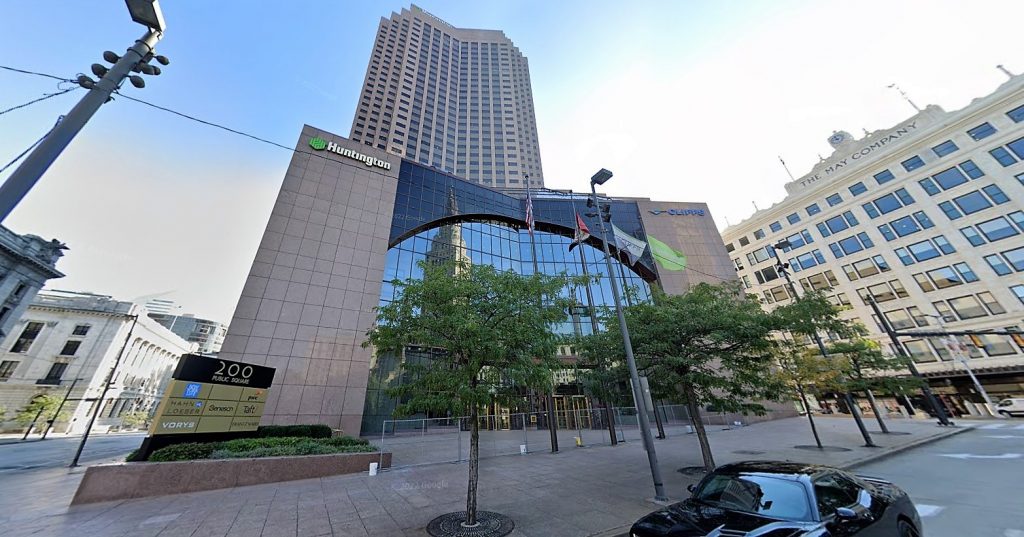 Two of downtown's tallest buildings are pictured here — 200 Public Square and reflected in its atrium is Terminal Tower which stands on the west side of Public Square. This view is from September 2021 (Google).
In the same 2020 JLL report referenced earlier, AECOM Centre was 45 percent vacant. But after Rugby Realty of Secaucus, NJ acquired the former Penton Building in 2018 for $36.9 million, the landlord invested $14 million to bring the property back up to Class A standards. The building began attracting office tenants again, including Perspectus Architecture, law firm Weston Hurd, plus the United Church of Christ and its Cornerstone Church Building & Loan Fund.
The building also has drawn in retail/restaurant tenants like Colossal Cupcakes, Anna in the Raw, Let's Talk Let's Eat and the Winking Lizard Tavern including its outdoor patio that just received favorable reviews from the City Planning Commission on Friday. Now, occupancy is pushing back up to near 80 percent according to Terry Coyne, vice chairman of real estate firm Newmark's Cleveland office, who handles leasing at AECOM Centre.
"We are easily the most successful building leasing during COVID," he said. "The future of office space can be seen in this building. Amenities matter. An active involve landlord matters. When you put those two together, you can still do well even in the worst of times."
Tenants are making such moves even in the midst of the pandemic due to what's called in real estate a "flight to quality." In short, tenants are seeking higher-quality spaces even if it means paying higher rents. Downtown Cleveland arguably has only two so-called "Trophy Class" buildings — Key Tower and the Ernst & Young Building. Key is Cleveland's tallest office tower at 947 feet and E&Y is its newest, opening in 2012. Both command top-of-the-market rents and are at least 90 percent full, JLL says.
"Flight to quality is a trend that has been much discussed over the last decade," JLL said in its Fourth Quarter 2021 Cleveland office market report. "However, the statistics have never been as striking as they were in 2021. Of the 735,681square feet of negative absorption recorded in 2021, 96.8 percent of the occupancy losses were recorded in Class B assets. Class A vacancy stands at a modest 15.3 percent while Class B vacancy has increased to 26 percent."
The report noted that downtown Class B office vacancy would be much higher if it wasn't for more than 1 million square feet in Class B office space being converted to residential, hotel or retail spaces. That includes 420,000 of Erieview Tower's 740,000 square feet of office space being converted to other uses. The 496,000-square-foot 45 Erieview office building will become apartments, co-working spaces and restaurant space. Innovation Landing, 1835-1845 Prospect Ave., will see its 64,000 square feet of office space become apartments. And the 51,443-square-foot Baker Building, 1940 E. 6th St., will become the Fidelity Hotel.
"A similar trend is playing out with asking rents," the JLL report added. "Class A asking rents have held steady through the pandemic while several Class B landlords have recently reduced rents by $1.00 per square feet or more in an effort to become more competitive."
Occupancy of office spaces in Greater Cleveland fell by 735,681 square feet in 2021, making it the second-worst drop in the last 20 years, exceeded only by the 776,412-square-foot decline in 2009 following the global financial crisis. Office vacancy in Cleveland now stands at 21.8 percent, an increase of 1.7 percent since the onset of the pandemic, the JLL report showed.
"As a result, negotiating leverage has shifted in favor of tenants, in part because of escalating vacancy, but also due to the long-term uncertainty around office demand brought on by shifting work patterns, mainly work from home and hybrid work policies," JLL said.
END