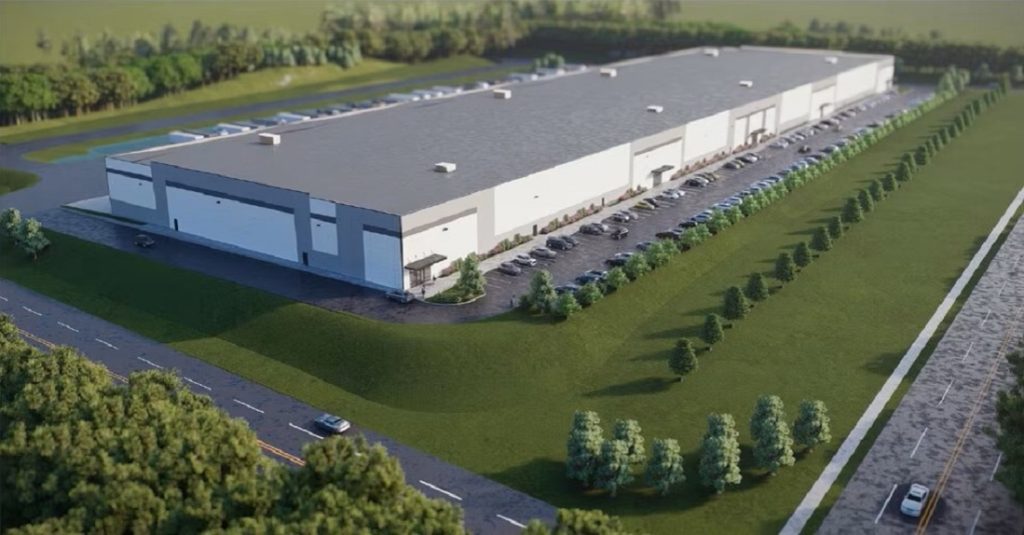 In its promotions for a proposed, massive new warehouse in Euclid, Weston Group used this rendering of its 2.1 million square foot distribution center in Walton Halls. The Euclid warehouse will be about one-third that size, but final plans are not yet available (LoopNet). CLICK IMAGES TO ENLARGE THEM.
New facility to replace closed General Electric Wire Works
Keeping Euclid's industrial facilities modern and competitive to attract new jobs is the goal of a large, new warehouse/light industrial facility called Tech Park 90 that could see construction start as early as June, said a representative of its developer, the Weston Group. Even more impressive is that the project is being pursued as a speculative development, meaning that an anchor tenant hasn't been secured prior to Weston's decision to move forward on it.
Proposed on the site of a 1913-built General Electric (GE) Wire Works plant at 21800 Tungsten Rd. is a 434,000-square-foot facility for firms engaged in distribution and/or light manufacturing and assembly work. Dozens if not hundreds of workers could be employed at the site. The project's name, Tech Park 90, is a reference to the 27-acre site's proximity to Interstate 90. But Weston is also marketing its planned new facility's location next to railroad tracks that connect it to mainlines for Norfolk Southern Corp. and CSX Transportation Inc. According to the Construction Journal, a database of planned development projects, the cost of Weston's project is estimated at $46 million.
Jason Stump, development project manager for Weston, said the Warrensville Heights-based commercial development firm hopes to start construction on Tech Park 90 as early as June. Project designs and site plans have been delivered to the city of Euclid for review and hoped-for approval. But until a final version of the plans appear on the docket of the Euclid Planning and Zoning Commission, Stump said he could not release any renderings.
The commission has approved two variances that allowed design work to continue, however. One allows Weston to provide only 311 parking spaces for a building that big for which 543 spaces would normally be required for that Industrial and Manufacturing District. The other allows the building to be constructed 75.5 feet from Tungsten Road whereas a setback of 50 feet from the road would otherwise be required. The larger setback was requested to accommodate the parking lot between the building and Tungsten.
"We have only 27 acres so we're going to pretty much build out the site with this building," Stump said. "It will be a white box that we can adjust to the tenant's needs."
Although the warehouse will be built on "spec" without a tenant named, Weston's marketing materials show that only 153,700 square feet of space is available. That space can be divisible among more than one tenant and offer 32 feet of clear height inside the building plus 50-by-50-foot lateral spacing between columns that will support the roof. July 2024 is the delivery date for completing the project for prospective tenants. There are a number of local shippers nearby including Amazon which has one of its sprawling Fulfillment Centers in Euclid which could lease space at the new facility.
Stump also noted that there is a mothballed electrical substation at the rear of the property near the railroad tracks that will remain and be reactivated after GE's Wire Works is demolished. He said that power supply will be very attractive to potential tenants seeking abundant electrical power for their needs. Site cleanup and demolition of the plant is already underway, Stump said, aided by a $4.5 million state brownfield grant it won in June 2021 and a $600,000 forgivable loan from Cuyahoga County.
"Everyone is looking for properties that have power capabilities like this," Stump added. "We're very fortunate to be able to offer this."
Through an affiliate Tungsten Industrial LLC, Weston acquired the property from GE in September 2022 for a mere $100,000, according to Cuyahoga County property records. GE has been trying to sell off its unwanted properties in the Cleveland area, including demolishing old factories and cleaning the sites of any pollutants. Their goal, GE officials said, is to return the properties to productive use.
GE's Wire Works, also referred to as the Tungsten Products Plant, was built when its address and vehicle access was off nearby Chardon Road. A part of the property still contains that original driveway. The road's Tungsten name came from the plant's original purpose — to manufacture on a large scale tungsten wire, a product whose efficient processing was discovered by GE in 1909.
The Euclid plant was built only four years later to capitalize on this innovation. It's peak years came after World War Two when as many as 600 people worked at the factory and the Refractory Metals Laboratory was relocated here in 1955 from Schenectady, NY. The plant closed in 2010 and components and machinery within the plant were auctioned off before the company decided to sell the entire property, Stump said.
"One cool fact is they actually used one of the gun turret barrels from a decommissioned World War Two battleship at the plant to compact the tungsten," Stump said. "I don't know which battleship it was from but they auctioned it off before we (Weston) got the property."
END